Open Access This article is
freely available
re-usable
Article
Co3O4 Nanoparticle-Decorated N-Doped Mesoporous Carbon Nanofibers as an Efficient Catalyst for Oxygen Reduction Reaction
1
College of Materials Science and Technology, Jiangsu Key Laboratory of Materials and Technology for Energy Conversion, Nanjing University of Aeronautics and Astronautics, Nanjing 210016, China
2
College of Chemical Engineering, Zhejiang University of Technology, Hangzhou 310014, China
*
Authors to whom correspondence should be addressed.
Academic Editors: Adam F. Lee, Jean-Philippe Dacquin and Karen Wilson
Received: 20 April 2017 / Accepted: 9 June 2017 / Published: 15 June 2017
Abstract
:
A low cost, durable, and efficient electrocatalyst for oxygen reduction reactions (ORR) is essential for high-performance fuel cells. Here, we fabricated Co3O4 nanoparticles (NPs) anchored on N-doped mesoporous carbon nanofibers (Co3O4/NMCF) by electrospinning combined with the simple heat treatment. Within this composite, carbon nanofibers possess a mesoporous structure, contributed to obtain a high surface area, which can facilitate the infiltration of electrolyte. Moreover, this one-dimensional (1D) carbon nanofiber also acts as a 1D conductive channel, effectively improving the transmission of electrons. In addition, the doping of the N element with high content combined with homogenously distributed Co3O4 NPs can significantly enhance the ORR electrocatalytic activity. Benefiting from the advantages of material and structure, the Co3O4/NMCF catalyst favors a four electron transfer process in alkaline media, exhibiting good ORR electrocatalytic activity, and its durability is much better than that of commercial Pt/C.
Keywords:
Co
3
O
4
nanoparticles; N-doped mesoporous carbon nanfiber; electrospinning; electrocatalyst; oxygen reduction reaction; fuel cell
1. Introduction
In order to meet the requirements of the global energy demand, fuel cells (FCs) are a promising choice for the clean and sustainable energy storage and conversion devices, profiting from their high energy density, low cost, long cycle life, and safety [
1
,
2
]. However, the catalyst, especially for oxygen reduction reactions (ORR), has been a technological bottleneck for the large-scale commercialization of FCs [
3
,
4
]. Traditionally, Pt-based materials have been the most widely used as typical catalysts for ORR in FCs. However, high cost, poor durability, sluggish oxygen reduction, and carbon monoxide (CO) poisoning have limited Pt-based catalysts to expand their commercial application [
2
]. Consequently, intensive research efforts are aimed at developing nonprecious metal-based electrocatalysts to replace Pt-based catalysts [
5
,
6
]. To date, transition metal oxide-based (TMOs) materials have attracted more attention of researchers, because of their respectable ORR catalytic activity, low cost, and high catalytic durability [
7
,
8
,
9
,
10
,
11
,
12
,
13
,
14
].
Of the various TMOs materials, cobalt-based TMOs with high cost effective have been considered as a promising alternative candidate for Pt-based catalysts [
9
,
10
,
11
,
12
,
13
,
14
]. Unfortunately, pure cobalt-based TMOs—the same as other TMOs—are semiconductors, so poor electrical conductivity limits their catalytic performance. In order to meet the requirement for commercial application in FCs, it is necessary to further explore some efficient strategies to improve the catalytic performance of the pure cobalt-based TMOs. Recently, cobalt-based TMOs nanoparticle (NP) decorated N-doped carbon materials were found to exhibit excellent ORR catalytic performance [
9
,
10
,
13
,
14
]. Chen et al. [
10
] constructed CoO nanoparticles decorated 3D crumpled nitrogen-doped graphene (CG) hybrid material through an aerosolization method. In an alkaline electrolyte, the ORR catalytic activity of CG-CoO catalyst is comparable with that of the commercial Pt/C and its durability is much better than of the Pt/C. Dai et al. [
13
] reported a Co
3
O
4
/N-doped reduced graphene oxide (N-G) hybrid material prepared by using a simple two-step method, which exhibits high catalytic activity for ORR. They also synthesized CoO/nitrogen-doped carbon nanotube (N-CNT) composite, in which the CoO nanocrystals are directly grown on oxidized CNTs. This high-performance catalyst with the four-electron reduction pathway shows high ORR current density, which outperformed commercial Pt/C catalyst [
14
]. Therefore, the fabrication of cobalt-based TMOs NP-decorated N-doped carbon catalysts appears to be an effective approach to obtain ORR catalysts with high catalytic performance.
Despite the above promising results, the practical application of the cobalt-based TMOs NP-decorated N-CNT or N-G is still hindered by several key problems. Both N-CNT and N-G are confronted with numerous difficulties, such as high cost, low yield, and sophisticated fabrication. Thus, it is necessary to develop low cost, simple, and scalable strategies to design and synthesize cobalt-based TMOs NP-decorated N-doped carbon catalysts with excellent ORR catalytic performance for practical applications. Because of their high electrochemical stability and good electrical conductivity, unique one-dimensional (1D) porous carbon nanofibers (CNFs) have received considerable attention [
15
,
16
,
17
]. More importantly, the inexpensive CNFs have high specific surface area and various controlled structures in comparison to CNTs. Hence, we report a facile method of Co
3
O
4
NP-decorated N-doped mesoporous carbon nanofibers (Co
3
O
4
@NMCF) by using electrospinning combined with thermal treatment. As a result, the high content N element (~6.51 At. %) was successfully doped into the mesoporous carbon nanofibers (MCFs) and existed in the form of pyridine- and quaternary-N. Moreover, Co
3
O
4
NPs uniformly disperse in the 1D MCFs. Benefiting from enhanced surface properties, optimized porous structure, perfect 1D conductive channel of NMCFs, and high catalytic activity of Co
3
O
4
NPs, the as-prepared Co
3
O
4
@NMCF catalyst possesses good ORR catalytic activity in alkaline aqueous electrolyte.
2. Results and Discussion
3. Materials and Methods
3.1. Fabrication of Co3O4 NP-Decorated N-Doped Mesoporous Carbon Nanofibers
The Co
3
O
4
NP-decorated N-doped mesoporous carbon nanofibers (Co
3
O
4
@NMCFs) were synthesized by using an electrospinning technique combined with the subsequent multi-step heat treatments. Typically, the cobalt acetylacetonate (Co(acac)
2
) (0.2 g) and PVP (0.5 g) were dissolved into the
N
,
N
-dimethylformamide (DMF) (5 mL) under vigorous stirring (50 °C, 2 h) to obtain the PVP solution. For PAN solution, the same as PVP solution, the PAN (0.5 g) was dissolved into DMF (5 mL) and then followed by vigorous stirring (80 °C, 1 h). Then, the above two solutions were mixed with vigorous stirring at 80 °C. The resultant hybrid solution was loaded into a syringe with a single needle of the diameter 0.5 mm. In this experiment, the distance between the collector (aluminum foil) and needle (12 cm), applied voltage (12 kV) and flow rate (0.1 mm min
−1
) were adopted in the electrospinning process. After drying in the vacuum oven (70 °C, 24 h), the as-electrospun polymer film was used to heat for multi-step procedure. Details are as follows: the dried polymer film was firstly heated in air (250 °C, 1.5 h, air), then heated in N
2
(350 °C, 5 h, N
2
), further heated (800 °C, 1 h, N
2
), and finally annealed (300 °C, 20 min, air) by using the heating rates of 5 and 1 °C min
−1
in air and N
2
, respectively. The as-prepared Co
3
O
4
NP-decorated N-doped carbon nanofibers film was denoted as Co
3
O
4
@NMCF.
3.2. Material Characterizations
For the samples, their crystal structure was investigated by X-ray diffraction (XRD) (D8 Advance, Bruker Company, Karlsruhe, Germany). X-ray photoelectron spectroscopy (XPS) analysis (PHI 5000 VersaProbe, Ulvac-Phi Company, Kanagawa, Japan) was used to characterize the chemical compositions. Thermogravimetric/Differential thermal analysis (TG/DTA) (TGA 7, Perkin Elmer Company, Waltham, MA, USA) was used to calculate the weight retention of Co3O4. The morphology and microstructures were observed by field-emission scanning electron microscope (FE-SEM) (S-4800, Hitachi Company, Tokyo, Japan), transmission electron microscopy (TEM) (Tecnai-20, FEI Company, Hillsboro, OR, USA) and high-resolution transmission electron microscopy (HR-TEM) (JEM-2100, JEOL Company, Tokyo, Japan), respectively. The Brunauer–Emmett–Teller (BET) method was used to analyze the surface area analysis tested on Micromeritics ASAP 2010 (Micromeritics ASAP 2010, Norcross Company, Norcross, GA, USA).
3.3. Electrochemical Measurement
The Co3O4@NMCF and commercial Pt/C (20%) catalyst electrodes with a thin-film (0.1256 cm2) was prepared by dropwise loading the catalyst ethanol suspension (5 mg of Co3O4@NMCF or commercial Pt/C (20%) catalyst, 50 μL of Nafion ethanol solution (5 wt %) and 1 mL of ethanol) on the GC electrode (4 mm in diameter) and then drying. The as-prepared catalyst loading was 625 µg cm−2, and the commercial Pt/C (20%) was tested with Pt loading of 25 µg cm−2. The electrochemical measurements were tested by using an electrochemical workstation (CH Instruments 660C, Chenhua Company, Shanghai, China), including cyclic voltammetry (CV) and rotating ring-disk electrode (RRDE). For RRDE electrode, its collection efficiency is 37%, the inner and outer diameters of ring electrode (GC) are 6.92 and 7.92 mm, and the diameter of disk electrode (Pt) is 5.61 mm. A typical three-electrode system was adopted, consisted of the Co3O4@NMCF catalyst electrode (working electrode), saturated calomel electrode (SCE) (reference electrode), and Pt foil electrode (counter electrode), respectively. The scan rates of RDE and CV experiments were 5 and 20 mV s−1, respectively, tested in the O2-saturated KOH solution (0.1 M).
4. Conclusions
In summary, the Co3O4 NPs uniformly anchored on the N-doped mesoporous carbon nanofiber (Co3O4/NMCF) has been successfully prepared by electrospinning combined with thermal treatment. Its mesoporous structure offers high specific surface area, which is beneficial to facilitate the infiltration of electrolyte; the favorable conductive channel of 1D carbon nanofiber is conducive to the fast transfer of electrons. In addition, the homogenously distributed Co3O4 NPs and doping of the N element provide high catalytic activities for ORR. Therefore, the Co3O4/NMCF catalyst favors a four-electron transfer process and exhibits good electrochemical property. Moreover, its durability is much better than the commercial Pt/C catalyst during the ORR. Because of its superior electrochemical performance, Co3O4/NMCF composite is a promising choice, serving as an efficient electrocatalyst for ORR.
Acknowledgments
The authors express their appreciations for the financial support from the Natural Science Foundation of Jiangsu Province (BK20160795), the National Natural Science Foundation of China (51372115, 51602153 and 11575084), the Research Start-Up Fund of NUAA (90YAH16008), and a project funded by the Priority Academic Program Development of Jiangsu Higher Education Institutions (PAPD).
Author Contributions
Hairong Xue wrote the paper; Hairong Xue, Tao Wang, and Jianping He designed the experiments; Hairong Xue done the experiments; Hao Gong, Hu Guo, and Xiaoli Fan analyzed the date; Li Song, Wei Xia, and Yaya Feng contributed analysis tools and reagents.
Conflicts of Interest
The authors declare no conflict of interest.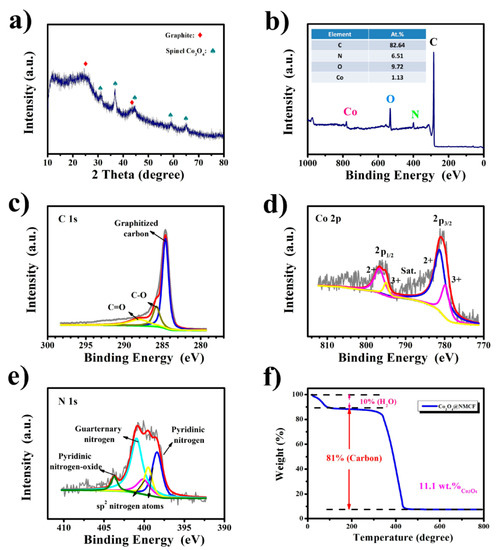 Figure 2. (a) XRD patterns, (b–e) X-ray photoelectron spectrum, (f) TG curve of the Co3O4@NMCF composite; The table (inset of (b)) summarizes the elemental composition for Co3O4@NMCF obtained from XPS measurement.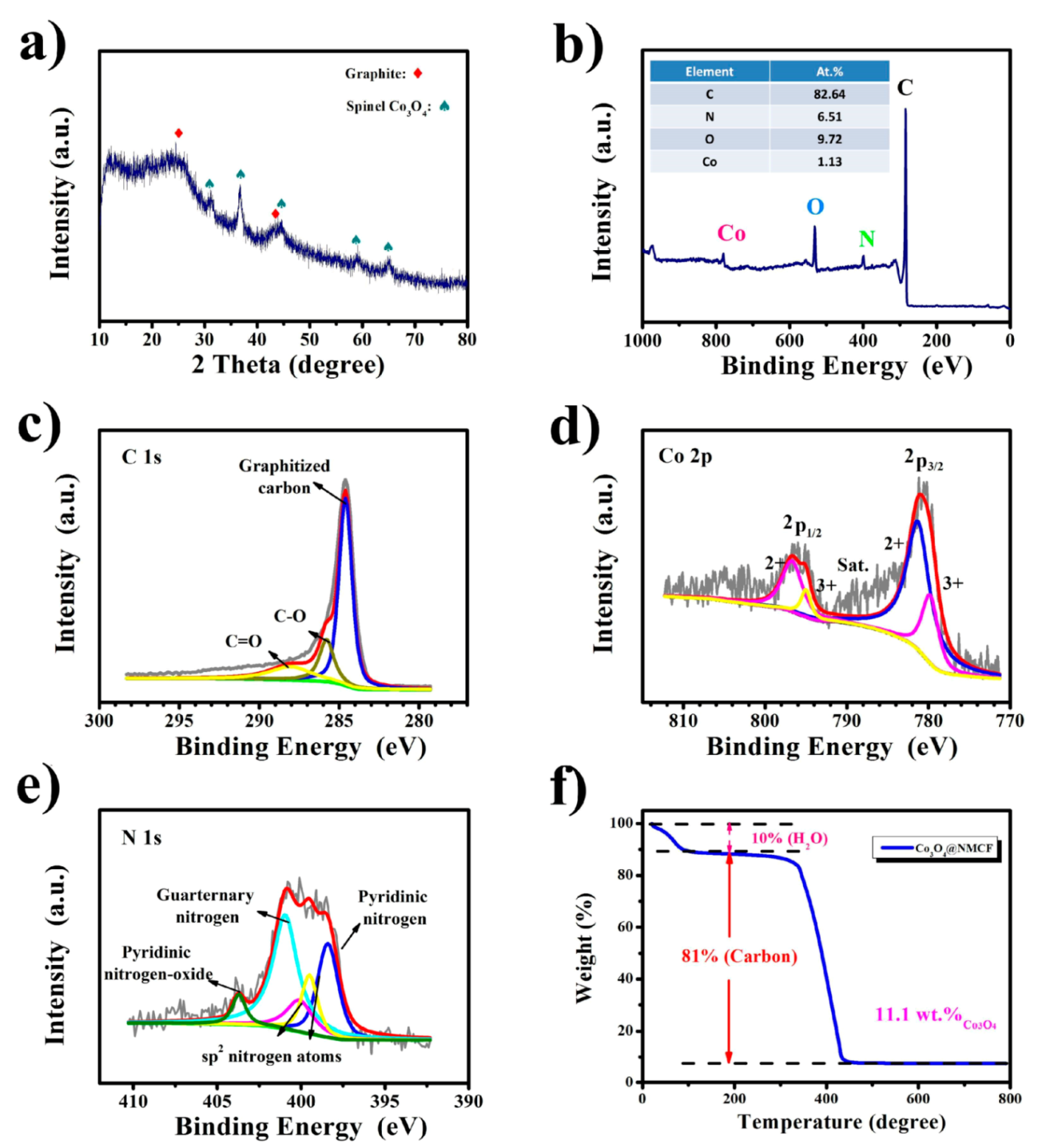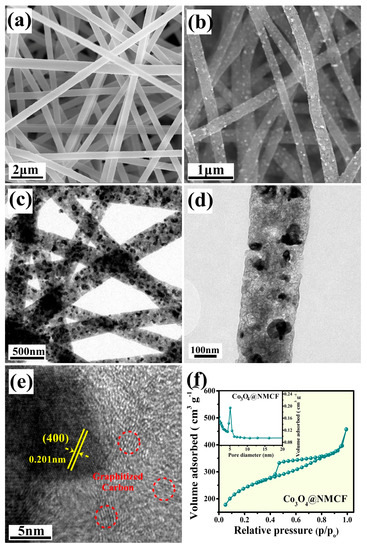 Figure 3. (a) SEM image of the polymer hybrid nanofibers; (b) SEM, (c,d) TEM, (e) HRTEM images; (f) N2 adsorption/desorption isotherms and pore-size distribution curves (inset) of the Co3O4@NMCF composite.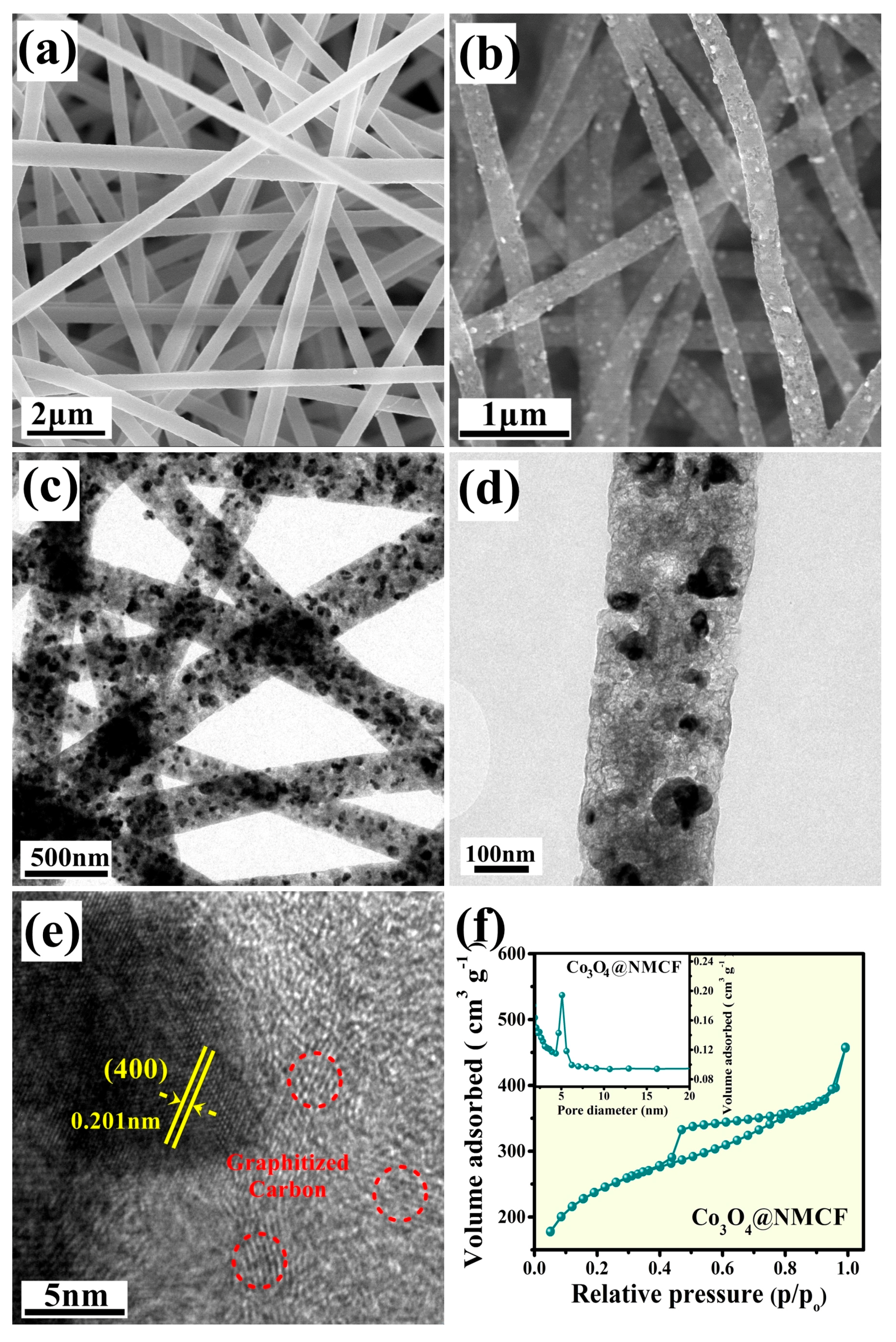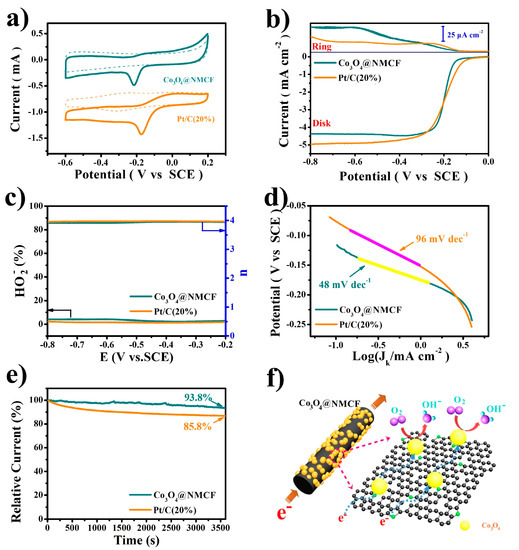 Figure 4. (a) CV curves (dash line: N2; solid line: O2), (b) RRDE voltammograms at 1600 rpm, (c) OH2− yield and corresponding electron transfer number, (d) the Tafel slope, (e) chronoamperometric responses of Co3O4@NMCF and commercial Pt/C catalysts; (f) The catalytic mechanism for ORR of the Co3O4@NMCF catalyst; the scanning rates of CV and RRDE tests are 20 and 5 mV s−1 respectively.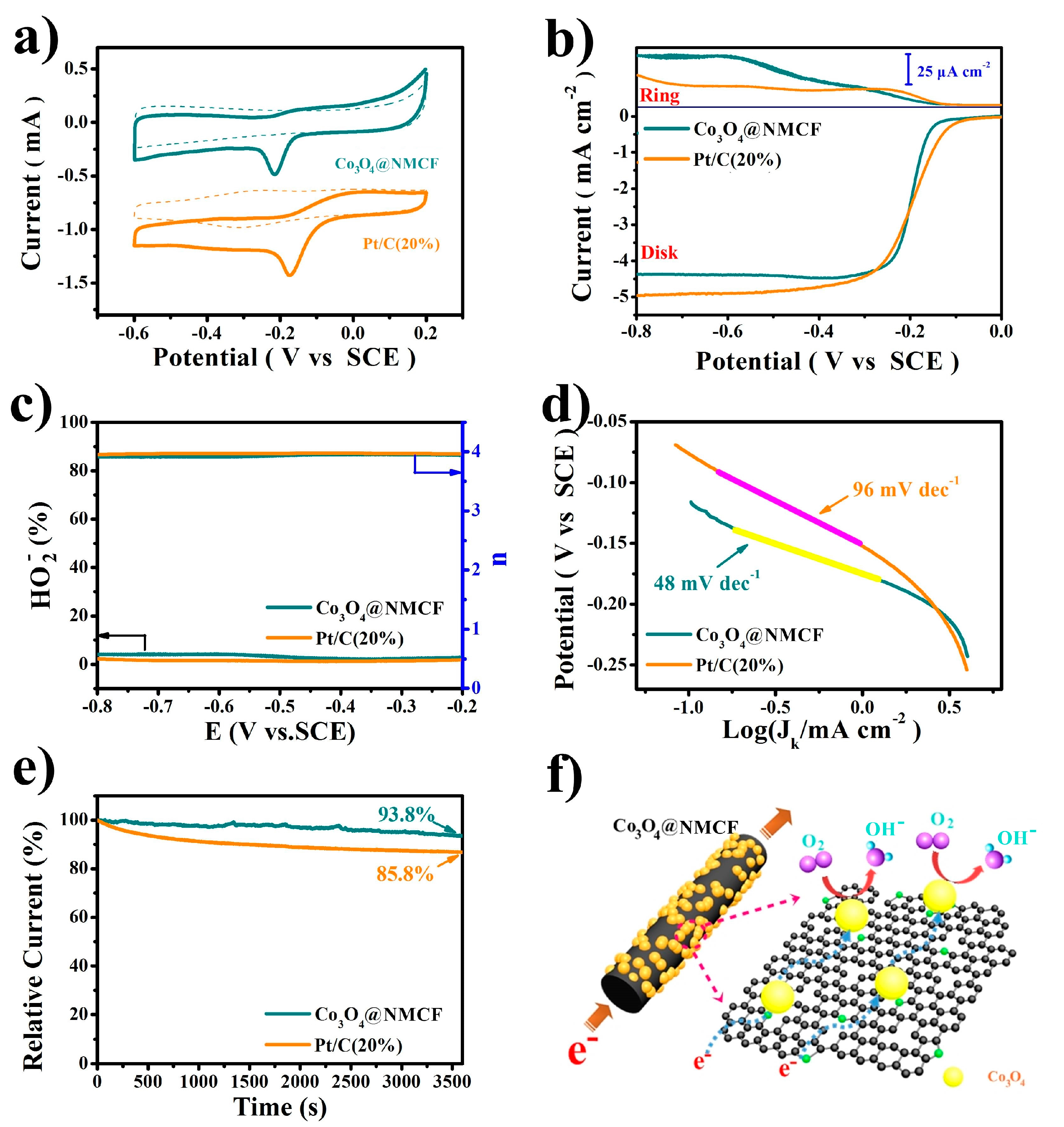 © 2017 by the authors. Licensee MDPI, Basel, Switzerland. This article is an open access article distributed under the terms and conditions of the Creative Commons Attribution (CC BY) license (http://creativecommons.org/licenses/by/4.0/).