Zirconium Phosphate Heterostructures as Catalyst Support in Hydrodeoxygenation Reactions
Departamento de Química Inorgánica, Cristalografía y Mineralogía (Unidad Asociada al ICP-CSIC), Facultad de Ciencias, Universidad de Málaga, Campus de Teatinos, 29071 Málaga, Spain
*
Authors to whom correspondence should be addressed.
Academic Editor: Monica Pica
Received: 30 April 2017 / Revised: 23 May 2017 / Accepted: 27 May 2017 / Published: 2 June 2017
Abstract
A porous phosphate heterostructure (PPHs) formed by a layered zirconium(IV) phosphate expanded with silica galleries was prepared presenting a P/Zr molar ratio equal to 2 and a (Si + Zr)/P ratio equal to 3. This pillared zirconium phosphate heterostructure was used as a catalyst support for bi-functional catalysts based on noble metals (Pt or Pd) and molybdenum oxide containing a total metallic loading of 2 wt % and Pt(Pd)/Mo molar ratio equal to 1. The catalysts prepared were characterized by different experimental techniques and evaluated in the hydrodeoxygenation (HDO) reaction of dibenzofuran (DBF) as a model compound present in biomass derived bio-oil, at different reaction pressures. The catalyst characterization evidenced that a high dispersion of the active phase can be achieved by using these materials, as observed from transmission electron microscopy (TEM) characterization, where the presence of small particles in the nanometric scale is noticeable. Moreover, the textural and acidic properties of the phosphate heterostructure are barely affected by the incorporation of metals into its structure. Characterization results evidenced that the presented material is a good candidate to be used as a material support. In both cases, high conversions and high selectivities to deoxygenated compounds were achieved and the active phase played an important role. Thus, Pt/Mo presented a better hydrogenolysis capability, being more selective to O-free products; whereas, Pd/Mo showed a greater hydrogenation ability being more affected by changes in pressure conditions.
View Full-Text
►

▼

Figures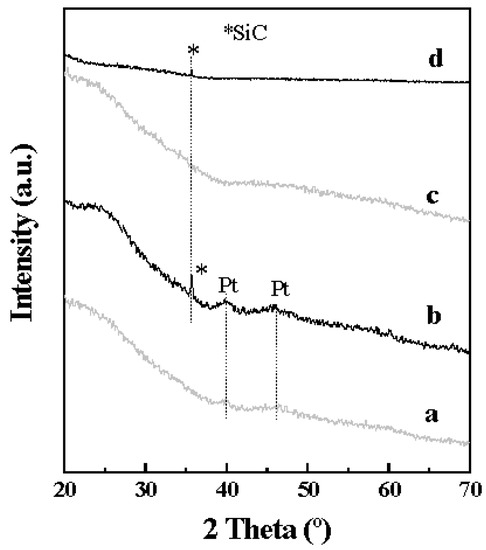 Figure 1
This is an open access article distributed under the
Creative Commons Attribution License
which permits unrestricted use, distribution, and reproduction in any medium, provided the original work is properly cited (CC BY 4.0).

Share & Cite This Article
MDPI and ACS Style
Ballesteros-Plata, D.; Infantes-Molina, A.; Rodríguez-Aguado, E.; Braos-García, P.; Jiménez-Jiménez, J.; Rodríguez-Castellón, E. Zirconium Phosphate Heterostructures as Catalyst Support in Hydrodeoxygenation Reactions. Catalysts 2017, 7, 176.
Note that from the first issue of 2016, MDPI journals use article numbers instead of page numbers. See further details here.
Related Articles
Comments
[Return to top]