Reactivity of Copper Electrodes towards Functional Groups and Small Molecules in the Context of CO2 Electro-Reductions
1
Siemens AG, Corporate Technoloy, Research for Energy & Electronics, Guenther Scharowsky Strasse 1, 91058 Erlangen, Germany
2
Lehrstuhl für Anorganische und Allgemeine Chemie, Friedrich Alexander Universität Erlangen-Nürnberg, Egerlandstraße 1, 91058 Erlangen, Germany
3
Lehrstuhl für Physikalische Chemie I, Friedrich-Alexander-Universität Erlangen Nürnberg, Egerlandstraße 1, 91058 Erlangen, Germany
*
Author to whom correspondence should be addressed.
Academic Editor: Rajendra S. Ghadwal
Received: 28 March 2017 / Revised: 2 May 2017 / Accepted: 4 May 2017 / Published: 18 May 2017
Abstract
The direct electro-reduction of CO
2
to functional molecules like ethene is a highly desirable variant of CO
2
utilization. The formation of, for example, ethene from CO
2
is a multistep electrochemical process going through various intermediates. As these intermediates are organic species, the CO
2
reducing electro-catalyst has to be competent for a variety of organic functional group transformations to yield the final product. In this work, the activity of an in situ-grown nano-structured copper catalyst towards a variety of organic functional group conversions was studied. The model reagents were selected from the product spectrum of actual CO
2
reduction reaction (CO
2
RR) experiments and from proposals in the literature. The CO
2
bulk electrolysis benchmark was conducted at 170 mAcm
−2
current density with up to 43% Faradaic Efficiency (FE) for ethene and 23% FE for ethanol simultaneously. To assure relevance for application-oriented conditions, the reactivity screening was conducted at elevated current densities and, thus, overpotentials. The found reactivity pattern was then also transferred to the CO reduction reaction (CORR) under benchmark conditions yielding additional insights. The results suggest that at high current density/high overpotential conditions, also other ethene formation pathways apart from acetaldehyde reduction such as CH
2
dimerization are present. A new suggestion for a high current density mechanism will be presented, which is in agreement with the experimental observations and the found activity pattern of copper cathodes toward organic functional group conversion.
View Full-Text
►

▼

Figures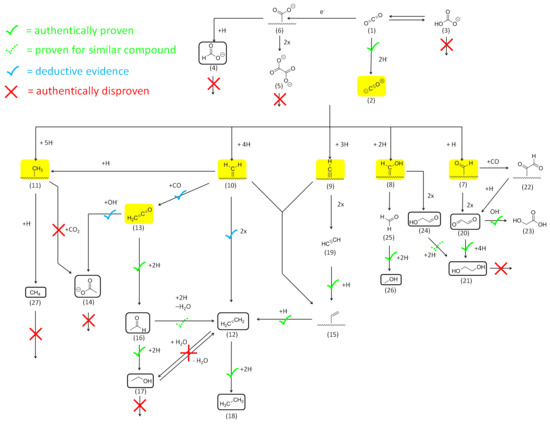 Graphical abstract
This is an open access article distributed under the
Creative Commons Attribution License
which permits unrestricted use, distribution, and reproduction in any medium, provided the original work is properly cited (CC BY 4.0).

Share & Cite This Article
MDPI and ACS Style
Schmid, B.; Reller, C.; Neubauer, S.S.; Fleischer, M.; Dorta, R.; Schmid, G. Reactivity of Copper Electrodes towards Functional Groups and Small Molecules in the Context of CO2 Electro-Reductions. Catalysts 2017, 7, 161.
Note that from the first issue of 2016, MDPI journals use article numbers instead of page numbers. See further details here.
Related Articles
Comments
[Return to top]