A Review on Selective Catalytic Reduction of NOx by NH3 over Mn–Based Catalysts at Low Temperatures: Catalysts, Mechanisms, Kinetics and DFT Calculations
1
Department of Environmental Engineering, University of Science and Technology Beijing, Beijing 100083, China
2
Beijing Key Laboratory of Resource-Oriented Treatment of Industrial Pollutants, Beijing 100083, China
*
Author to whom correspondence should be addressed.
Academic Editor: Rajendra Ghadwal
Received: 23 April 2017 / Revised: 18 June 2017 / Accepted: 21 June 2017 / Published: 29 June 2017
Abstract
It is a major challenge to develop the low–temperature catalysts (LTC, <250 °C) with excellent efficiency and stability for selective catalytic reduction (SCR) of NO
x
by NH
3
from stationary sources. Mn-based LTC have been widely investigated due to its various valence states and excellent redox performance, while the poisoning by H
2
O or/and SO
2
is one of the severe weaknesses. This paper reviews the latest research progress on Mn-based catalysts that are expected to break through the resistance, such as modified MnO
x
–CeO
2
, multi-metal oxides with special crystal or/and shape structures, modified TiO
2
supporter, and novel carbon supporter (ACF, CNTs, GE), etc. The SCR mechanisms and promoting effects of redox cycle are described in detail. The reaction kinetics will be a benefit for the quantitative study of Eley–Rideal (ER) and Langmuir–Hinshelwood (LH) mechanisms. This paper also introduces the applications of quantum-chemical calculation using density functional theory to analyze the physic-chemical properties, explicates the reaction and poisoning mechanisms, and directs the design of functional catalysts on molecule levels. The intensive study of H
2
O/SO
2
inhibition effects is by means of the combination analysis of in situ diffuse reflectance infrared Fourier transform spectroscopy (DRIFTS) and density functional theory (DFT), and the amplification of tolerance mechanisms will be helpful to design an excellent SCR catalyst.
View Full-Text
►

▼

Figures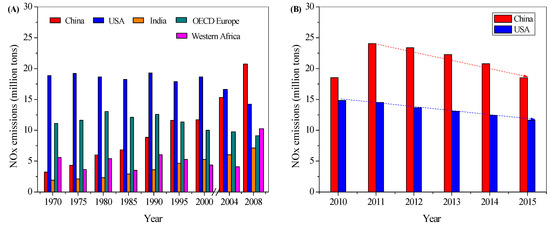 Figure 1
This is an open access article distributed under the
Creative Commons Attribution License
which permits unrestricted use, distribution, and reproduction in any medium, provided the original work is properly cited (CC BY 4.0).

Share & Cite This Article
MDPI and ACS Style
Gao, F.; Tang, X.; Yi, H.; Zhao, S.; Li, C.; Li, J.; Shi, Y.; Meng, X. A Review on Selective Catalytic Reduction of NOx by NH3 over Mn–Based Catalysts at Low Temperatures: Catalysts, Mechanisms, Kinetics and DFT Calculations. Catalysts 2017, 7, 199.
Note that from the first issue of 2016, MDPI journals use article numbers instead of page numbers. See further details here.
Related Articles
Comments
[Return to top]