Catalytic Behaviour of CuO-CeO2 Systems Prepared by Different Synthetic Methodologies in the CO-PROX Reaction under CO2-H2O Feed Stream
1
Departamento de Química Inorgánica, Facultad de Ciencias, Universidad de Malaga, 29071 Malaga, Spain
2
Departamento de Química, Universidad de La Laguna, 38200 La Laguna, Tenerife, Spain
3
Instituto de Materiales y Nanotecnología, Universidad de La Laguna, 38200 La Laguna, Tenerife, Spain
4
Dipartimento di Scienze Molecolari e Nanosistemi, Università Ca'Foscari Venezia, Via Torino 155/b, 30172 Mestre-Venezia, Italy
*
Author to whom correspondence should be addressed.
Academic Editor: Jean-François Lamonier
Received: 10 April 2017 / Revised: 10 May 2017 / Accepted: 15 May 2017 / Published: 18 May 2017
Abstract
CuO-CeO
2
catalysts, with 6 wt % of Cu, have been synthesised by different preparation methods (calcination of nitrate precursors, thermal urea-nitrate combustion, freeze-drying method, using polymethyl metacrylate PMMA microspheres as template and precipitation using NaOH or the decomposition of urea as precipitating agents). The obtained materials have been characterised by X-ray powder diffraction (XRD), scanning electron microscopy (SEM), transmission electron microscopy (TEM), Raman spectroscopy, N
2
adsorption-desorption at −196 °C, H
2
thermoprogrammed reduction (H
2
-TPR) and X-ray photoelectron spectroscopy (XPS). The catalysts displayed high dispersion of copper oxide, obtaining CO conversion values of 90–100% at 115 °C in the CO preferential oxidation in excess of hydrogen (CO-PROX) and maintaining this activity even after 48 h of time on stream. The incorporation of CO
2
and H
2
O in the feed stream (simulating a PROX unit) caused a decrease in the CO conversion, except for the catalyst synthesised using PMMA microspheres as a template which maintained a CO conversion of 95% at 115 °C. This catalyst exhibits an excellent catalytic performance, also under real operating conditions, thanks to many and concomitant factors, such as the very small CeO
2
particle size (5.6 nm), the surface being rich in copper (atomic ratio Cu/Ce = 0.35) that is easily reducible, and the peculiar morphology and porosity of the material.
View Full-Text
►

▼

Figures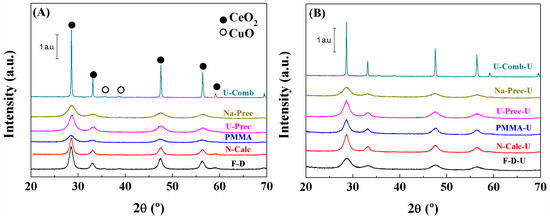 Figure 1
This is an open access article distributed under the
Creative Commons Attribution License
which permits unrestricted use, distribution, and reproduction in any medium, provided the original work is properly cited (CC BY 4.0).

Share & Cite This Article
MDPI and ACS Style
Cecilia, J.A.; Arango-Díaz, A.; Marrero-Jerez, J.; Núñez, P.; Moretti, E.; Storaro, L.; Rodríguez-Castellón, E. Catalytic Behaviour of CuO-CeO2 Systems Prepared by Different Synthetic Methodologies in the CO-PROX Reaction under CO2-H2O Feed Stream. Catalysts 2017, 7, 160.
Note that from the first issue of 2016, MDPI journals use article numbers instead of page numbers. See further details here.
Related Articles
Comments
[Return to top]