Catalytic Dehydration of Glycerol to Acrolein over a Catalyst of Pd/LaY Zeolite and Comparison with the Chemical Equilibrium
1
Escuela Superior de Ingeniería Química e Industrias Extractivas, Instituto Politécnico Nacional, Av. Instituto Politécnico Nacional s/n, Col. San Pedro Zacatenco, C.P. 07738 Ciudad de Mexico, Mexico
2
Departamento de Energía, CBI, Universidad Autónoma Metropolitana-Azcapotzalco, Av. San Pablo 180, Col. Reynosa, C.P. 02200 Ciudad de Mexico, Mexico
3
Instituto Mexicano del Petróleo, Eje Central Lázaro Cárdenas 152, Col. San Bartolo Atepehuacán, C.P. 07730 Ciudad de Mexico, Mexico
*
Author to whom correspondence should be addressed.
Academic Editor: Christophe Len
Received: 9 December 2016 / Revised: 26 January 2017 / Accepted: 13 February 2017 / Published: 25 February 2017
Abstract
Glycerol dehydration to acrolein was studied with three catalysts using zeolite-Y. This zeolite in its protonic form (HY), with La (LaY) and Pd with La (Pd/LaY), was characterized by X-ray diffraction (XRD), Fourier-transform-infrared spectroscopy (FTIR) with pyridine, BET, Scanning Electron Microscope (SEM)–Energy-Dispersive Spectroscopy X-ray (EDS) and the catalytic activity tests were carried out under H
2
atmosphere. It was found that La ions exchanged in the zeolite-Y resulted in the improvement of both glycerol conversion and yield to acrolein, also a relatively constant glycerol conversion was achieved up to three hours, due to the presence of Pd on the catalyst and H
2
in the feed. The comparison of the calculated and experimental yields obtained from the catalytic tests of the Pd/LaY catalyst indicates a greater activity for the reaction to acrolein than for the reaction to acetol. The calculated equilibrium yields of the dehydration reaction from glycerol to acrolein, acetol, ethanal, methanol, and water and the experimental yields of a Pd/LaY catalyst were compared. Thermodynamically, a complete conversion of glycerol can be achieved since the general system remains exothermic and promotes the path to acetol below 480 K. Above this temperature the system consumes energy and favors the production of acrolein, reaching its maximum concentration at 600 K.
View Full-Text
►

▼

Figures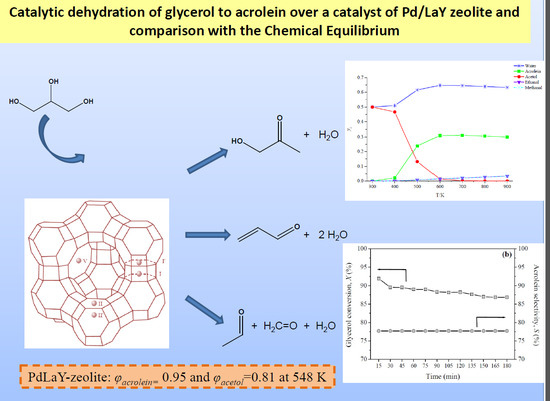 Graphical abstract
This is an open access article distributed under the
Creative Commons Attribution License
which permits unrestricted use, distribution, and reproduction in any medium, provided the original work is properly cited (CC BY 4.0).

Share & Cite This Article
MDPI and ACS Style
Pala Rosas, I.; Contreras, J.L.; Salmones, J.; Tapia, C.; Zeifert, B.; Navarrete, J.; Vázquez, T.; García, D.C. Catalytic Dehydration of Glycerol to Acrolein over a Catalyst of Pd/LaY Zeolite and Comparison with the Chemical Equilibrium. Catalysts 2017, 7, 73.
Note that from the first issue of 2016, MDPI journals use article numbers instead of page numbers. See further details here.
Related Articles
Comments
[Return to top]