Improved CO Oxidation Activity of 3DOM Pr-Doped Ceria Catalysts: Something Other Than an Ordered Macroporous Structure
1
Department of Inorganic Chemistry, University of Alicante, Carretera de San Vicente s/n, E03080 Alicante, Spain
2
Technical Research Services (SSTTI), University of Alicante, Carretera de San Vicente s/n, E03080 Alicante, Spain
*
Author to whom correspondence should be addressed.
Academic Editor: Keith Hohn
Received: 10 January 2017 / Revised: 10 February 2017 / Accepted: 11 February 2017 / Published: 17 February 2017
Abstract
It is demonstrated that the synthesis procedure for preparing three-dimensionally ordered macroporous (3DOM) Pr-doped ceria catalysts using a polymethylmethacrylate (PMMA) template not only affects the porous structure, but also the chemistry of the ceria surface. The PMMA template does not affect the crystalline features (type of phases, crystallite size, and cell parameter) of Pr-doped ceria, Ce and Pr location into the particles, and the bulk reduction of the Ce-Pr mixed oxide catalysts. On the contrary, the utilization of the PMMA template improves both the porosity and surface redox properties. 3DOM Ce-Pr mixed oxide catalysts combine micro, meso, and macropores, the most area being in the macropore range, while a reference unshaped catalyst presents poor porosity in all ranges. However, the catalyzed CO oxidation rates do not correlate with the surface area of the catalysts (neither micro nor meso/macro). The Ce-Pr-3DOM catalyst also presents improved surface reducibility with regards to the counterpart reference material prepared without the template, and improved redox behavior under reaction conditions; that is, it has a higher area and this area is reduced and reoxidized more easily. X-ray photoelectron spectroscopy analysis evidences that this is mainly attributed to praseodymium cations, which accomplish redox cycles more easily than cerium cations.
View Full-Text
►

▼

Figures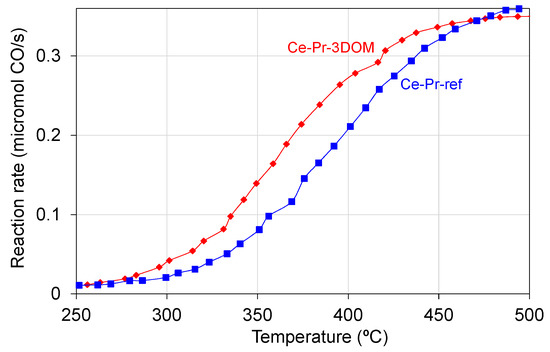 Figure 1
This is an open access article distributed under the
Creative Commons Attribution License
which permits unrestricted use, distribution, and reproduction in any medium, provided the original work is properly cited (CC BY 4.0).

Share & Cite This Article
MDPI and ACS Style
Davó-Quiñonero, A.; González-Mira, J.; Such-Basañez, I.; Juan-Juan, J.; Lozano-Castelló, D.; Bueno-López, A. Improved CO Oxidation Activity of 3DOM Pr-Doped Ceria Catalysts: Something Other Than an Ordered Macroporous Structure. Catalysts 2017, 7, 67.
Note that from the first issue of 2016, MDPI journals use article numbers instead of page numbers. See further details here.
Related Articles
Comments
[Return to top]