Production of Renewable Hydrogen from Glycerol Steam Reforming over Bimetallic Ni-(Cu,Co,Cr) Catalysts Supported on SBA-15 Silica
Department of Chemical and Energy Technology, ESCET, Rey Juan Carlos University, 28933 Móstoles, Spain
*
Author to whom correspondence should be addressed.
Received: 11 December 2016 / Revised: 23 January 2017 / Accepted: 6 February 2017 / Published: 10 February 2017
Abstract
Glycerol steam reforming (GSR) is a promising alternative to obtain renewable hydrogen and help the economics of the biodiesel industry. Nickel-based catalysts are typically used in reforming reactions. However, the choice of the catalyst greatly influences the process, so the development of bimetallic catalysts is a research topic of relevant interest. In this work, the effect of adding Cu, Co, and Cr to the formulation of Ni/SBA-15 catalysts for hydrogen production by GSR has been studied, looking for an enhancement of its catalytic performance. Bimetallic Ni-M/SBA-15 (M: Co, Cu, Cr) samples were prepared by incipient wetness co-impregnation to reach 15 wt % of Ni and 4 wt % of the second metal. Catalysts were characterized by inductively coupled plasma atomic emission spectroscopy (ICP-AES), N2-physisorption, X-ray powder diffraction (XRD), hydrogen temperature programmed reduction (H2-TPR), transmission electron microscopy (TEM), scanning electron microscopy (SEM), and thermogravimetric analyses (TGA), and tested in GSR at 600 °C and atmospheric pressure. The addition of Cu, Co, and Cr to the Ni/SBA-15 catalyst helped to form smaller crystallites of the Ni phase, this effect being more pronounced in the case of the Ni-Cr/SBA-15 sample. This catalyst also showed a reduction profile shifted towards higher temperatures, indicating stronger metal-support interaction. As a consequence, the Ni-Cr/SBA-15 catalyst exhibited the best performance in GSR in terms of glycerol conversion and hydrogen production. Additionally, Ni-Cr/SBA-15 achieved a drastic reduction in coke formation compared to the Ni/SBA-15 material.
View Full-Text
►

▼

Figures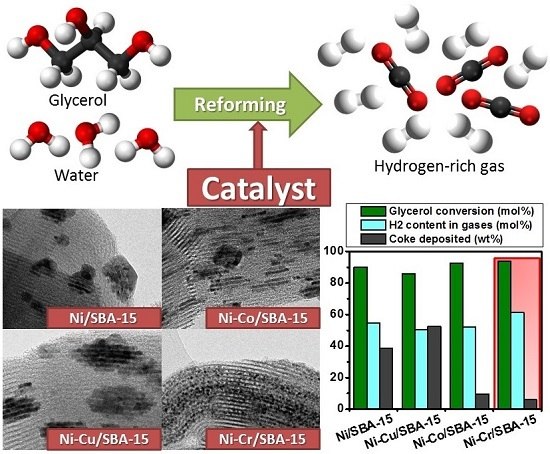 Graphical abstract
This is an open access article distributed under the
Creative Commons Attribution License
which permits unrestricted use, distribution, and reproduction in any medium, provided the original work is properly cited (CC BY 4.0).

Share & Cite This Article
MDPI and ACS Style
Carrero, A.; Calles, J.A.; García-Moreno, L.; Vizcaíno, A.J. Production of Renewable Hydrogen from Glycerol Steam Reforming over Bimetallic Ni-(Cu,Co,Cr) Catalysts Supported on SBA-15 Silica. Catalysts 2017, 7, 55.
Note that from the first issue of 2016, MDPI journals use article numbers instead of page numbers. See further details here.
Related Articles
Comments
[Return to top]