Engineering Pyrite-Type Bimetallic Ni-Doped CoS2 Nanoneedle Arrays over a Wide Compositional Range for Enhanced Oxygen and Hydrogen Electrocatalysis with Flexible Property
1
Tianjin Key Laboratory of Composite and Functional Materials, School of Materials Science and Engineering, Tianjin University, Tianjin 300072, China
2
Key Laboratory of Advanced Ceramics and Machining Technology (Ministry of Education), Tianjin University, Tianjin 300072, China
3
Key Laboratory of Advanced Energy Materials Chemistry (Ministry of Education), Nankai University, Tianjin 300071, China
*
Author to whom correspondence should be addressed.
Received: 12 November 2017 / Revised: 23 November 2017 / Accepted: 23 November 2017 / Published: 27 November 2017
Abstract
The development of cheap and efficient catalytic electrodes is of great importance, to promote the sluggish overall water-splitting systems associated with the large-scale application of clean and renewable energy technologies. In this work, we report the controlled synthesis of pyrite-type bimetallic Ni-doped CoS
2
nanoneedle (NN) arrays supported on stainless steel (SS) (designated as Ni
x
Co
1
−
x
S
2
NN/SS, 0 ≤
x
≤ 1) and the related compositional influence on electrocatalytic efficiencies for the oxygen and hydrogen evolution reaction (OER/HER). Impressively, the Ni
0.33
Co
0.67
S
2
NN/SS displays superior activity and faster kinetics for catalyzing OER (low overpotential of 286 mV at 50 mA cm
−2
; Tafel value of 55 mV dec
−1
) and HER (low overpotential of 350 mV at 30 mA cm
−2
; Tafel value of 76 mV dec
−1
) than those of counterparts with other Ni/Co ratios and also monometallic Ni- or Co-based sulfides, which is attributed to the optimized balance from the improved electron transfer capability, increased exposure of electrocatalytic active sites, and favorable dissipation of gaseous products over the nanoneedle surface. Furthermore, the conductive, flexible SS support and firmly attached in-situ integrated feature, result in the flexibility and remarkable long-term stability of as-prepared binder-free Ni
0.33
Co
0.67
S
2
NN/SS electrode. These results demonstrate element-doping could be an efficient route at the atomic level to design new materials and further optimize the surface physicochemical properties for enhancing the overall electrochemical water splitting activity.
View Full-Text
►

▼

Figures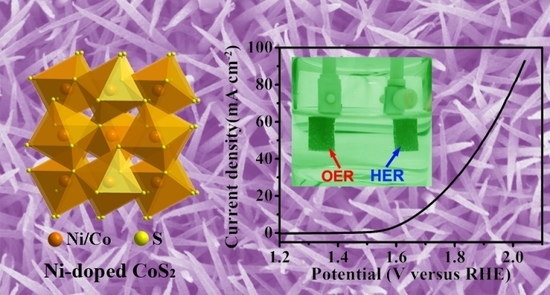 Graphical abstract
This is an open access article distributed under the
Creative Commons Attribution License
which permits unrestricted use, distribution, and reproduction in any medium, provided the original work is properly cited (CC BY 4.0).

Share & Cite This Article
MDPI and ACS Style
He, G.; Zhang, W.; Deng, Y.; Zhong, C.; Hu, W.; Han, X. Engineering Pyrite-Type Bimetallic Ni-Doped CoS2 Nanoneedle Arrays over a Wide Compositional Range for Enhanced Oxygen and Hydrogen Electrocatalysis with Flexible Property. Catalysts 2017, 7, 366.
Note that from the first issue of 2016, MDPI journals use article numbers instead of page numbers. See further details here.
Related Articles
Comments
[Return to top]