Design and Application of Magnetic Photocatalysts for Water Treatment. The Effect of Particle Charge on Surface Functionality
1
Department of Chemical Technology, Faculty of Chemistry, Gdansk University of Technology (GUT), G. Narutowicza 11/12, 80-233 Gdansk, Poland
2
Department of Solid State Physics, Faculty of Applied Physics and Mathematics, Gdansk University of Technology (GUT), 80-233 Gdansk, Poland
3
NanoBioMedical Center, Adam Mickiewicz University, Umultowska 85, 61-614 Poznan, Poland
*
Author to whom correspondence should be addressed.
Received: 6 October 2017 / Revised: 30 October 2017 / Accepted: 21 November 2017 / Published: 27 November 2017
Abstract
Core-interlayer-shell Fe
3
O
4
/SiO
2
/TiO
2
, CoFe
2
O
4
/SiO
2
/TiO
2
and BaFe
12
O
19
/SiO
2
/TiO
2
magnetic photocatalysts were obtained. A water-in-oil microemulsion system with suitable surfactants was used for functionalization of the magnetic core with silica interlayer and TiO
2
-based photocatalyst. Uncoated and coated particles were characterized by electrophoretic measurements, X-ray diffractometry (XRD), scanning electron microscopy (SEM), transmission electron microscopy (TEM), specific surface area (BET) measurements, diffuse reflectance spectroscopy (DRS) and vibrating sample magnetometer (VSM) analysis. The pH of the solution and corresponding zeta potential was found to be essential for appropriate formation of ferrite core/silica interlayer/TiO
2
shell nanocomposite, since the electrical charge controls interactions during functionalization of the magnetic core particles. Thus, the development of multilayer structure in the isoelectric point (IEP) region enhanced adhesion of ferrite, silica and titania particles. The obtained Fe
3
O
4
/SiO
2
/TiO
2
, CoFe
2
O
4
/SiO
2
/TiO
2
and BaFe
12
O
19
/SiO
2
/TiO
2
nanocomposites revealed superparamagnetic behavior. The decomposition rate of phenol and carbamazepine allowed to estimate their photocatalytic activity. Progress of photocatalytic mineralization of organic compounds was evaluated by total organic carbon (TOC) measurements. Photocatalytic activity measured in four subsequent cycles showed good reusability as no loss of efficiency of phenol degradation was observed.
View Full-Text
►

▼

Figures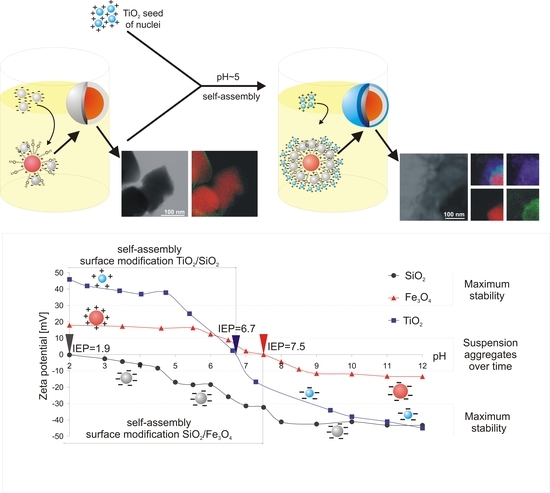 Graphical abstract
This is an open access article distributed under the
Creative Commons Attribution License
which permits unrestricted use, distribution, and reproduction in any medium, provided the original work is properly cited (CC BY 4.0).

Share & Cite This Article
MDPI and ACS Style
Zielińska-Jurek, A.; Bielan, Z.; Dudziak, S.; Wolak, I.; Sobczak, Z.; Klimczuk, T.; Nowaczyk, G.; Hupka, J. Design and Application of Magnetic Photocatalysts for Water Treatment. The Effect of Particle Charge on Surface Functionality. Catalysts 2017, 7, 360.
Note that from the first issue of 2016, MDPI journals use article numbers instead of page numbers. See further details here.
Related Articles
Comments
[Return to top]