Styrene Oxidation to Valuable Compounds over Nanosized FeCo-Based Catalysts: Effect of the Third Metal Addition
1
Departamento de Química Analítica e Físico-Química, Campus do Pici, Bloco 940, Universidade Federal do Ceará, Fortaleza 60455-760, Brazil
2
Departamento de Física, Campus do Pici-Bloco 922, Universidade Federal do Ceará, Fortaleza 60455-760, Brazil
3
Faculdade de Educação Ciências e Letras do Sertão Central, 63.900 Quixadá/CE, Brasil, Universidade Estadual do Ceará, Quixadá, Brazil
4
Universidade do Estado do Rio Grande do Norte, BR 110-km 48, Mossoró 59625-620, Brazil
5
Campus Universitário de Marabá, Universidade Federal do Sul e Sudeste do Pará, Marabá 68505-080, Para, Brazil
6
Centro de Tecnologias Estratégicas do Nordeste-CETENE, Av. Prof. Luiz Freire, 1, Cidade Universitária, Recife 50740-540, Brazil
*
Author to whom correspondence should be addressed.
Academic Editors: Tian-Yi Ma, Jian-Rong (Jeff) Li and Cláudia Gomes Silva
Received: 3 September 2017 / Revised: 22 October 2017 / Accepted: 23 October 2017 / Published: 30 October 2017
Abstract
Nanosized FeCo-based solids were prepared via distinct preparation procedures. The catalytic performances of the solids for styrene oxidation in the presence of hydrogen peroxide were evaluated. The addition of promoters in FeCo such as Sn, Mo, or Cu was also investigated. The catalysts were characterized with XRD, Raman spectroscopy, TEM, chemical analyses, EPR and SEM-EDS. Of these solids obtained via four different methods, the catalyst prepared via the NC and CM procedures enabled a partial incorporation of the Sn into the FeCo matrix forming a very active phase, namely the Heusler alloy. This was ascribed to the high initial dispersion of Sn as a promoter into the FeCo matrix, which led to available FeCoSn (FCS) particles well dispersed and stable on the catalyst surface. In the case of incorporating Mo or Cu to the nanosized FeCo catalyst, a poor stability towards leaching was observed when operating under the same reaction conditions. Cu was much less active than both Sn and Mo, mainly leading to acetophenone, ethylbenzene, 2-phenyl ethanol, 2-phenyl acetic acid, and 2-phenyl acetaldehyde products. The best catalytic results under the optimized reaction conditions, especially at 50 °C and styrene/H
2
O
2
molar ratio of 1 were achieved with nanosized FCS. This solid had a conversion of ca. 70% and selectivity for aldehydes of ca. 27%, and the selectivity for the condensation products was 29%.
View Full-Text
►

▼

Figures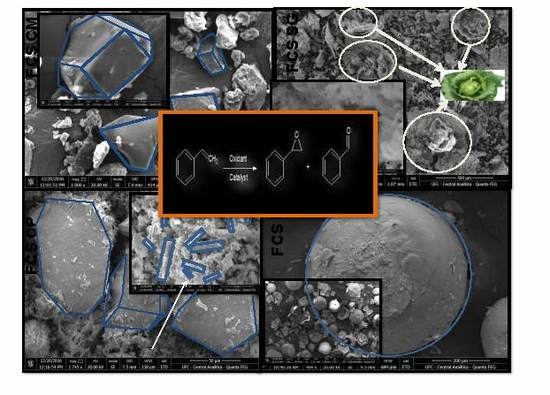 Graphical abstract
This is an open access article distributed under the
Creative Commons Attribution License
which permits unrestricted use, distribution, and reproduction in any medium, provided the original work is properly cited (CC BY 4.0).

Share & Cite This Article
MDPI and ACS Style
Oliveira, A.P.S.; Gomes, I.S.; Oliveira, A.C.; Filho, J.M.; Saraiva, G.D.; Soares, J.M.; De Sousa, F.F.; Campos, A. Styrene Oxidation to Valuable Compounds over Nanosized FeCo-Based Catalysts: Effect of the Third Metal Addition. Catalysts 2017, 7, 323.
Note that from the first issue of 2016, MDPI journals use article numbers instead of page numbers. See further details here.
Related Articles
Comments
[Return to top]