Synergetic Effect of Ni2P/SiO2 and γ-Al2O3 Physical Mixture in Hydrodeoxygenation of Methyl Palmitate
1
Boreskov Institute of Catalysis, Lavrentieva Ave. 5, 630090 Novosibirsk, Russia
2
Department of Physics, Novosibirsk National Research University, Pirogova St. 2, 630090 Novosibirsk, Russia
*
Author to whom correspondence should be addressed.
Received: 9 October 2017 / Revised: 26 October 2017 / Accepted: 31 October 2017 / Published: 6 November 2017
Abstract
The Ni
2
P/SiO
2
catalyst, which was prepared by in situ temperature-programmed reduction and in the mixture with the inert (SiC, SiO
2
) or acidic (γ-Al
2
O
3
) material was studied in methyl palmitate hydrodeoxygenation (HDO). Methyl palmitate HDO was carried out at temperatures of 270–330 °C, H
2
/feed volume ratio of 600 Nm
3
/m
3
, and H
2
pressure of 3.0 MPa. Ni
2
P/SiO
2
catalyst, diluted with γ-Al
2
O
3
showed a higher activity than Ni
2
P/SiO
2
catalyst diluted with SiC or SiO
2
. The conversion of methyl palmitate increased significantly in the presence of γ-Al
2
O
3
most probably due to the acceleration of the acid-catalyzed reaction of ester hydrolysis. The synergism of Ni
2
P/SiO
2
and γ-Al
2
O
3
in methyl palmitate HDO can be explained by the cooperation of the metal sites of Ni
2
P/SiO
2
and the acid sites of γ-Al
2
O
3
in consecutive metal-catalyzed and acid-catalyzed reactions of HDO. The obtained results let us conclude that the balancing of metal and acid sites plays an important role in the development of the efficient catalyst for the HDO of fatty acid esters over supported phosphide catalysts.
View Full-Text
►

▼

Figures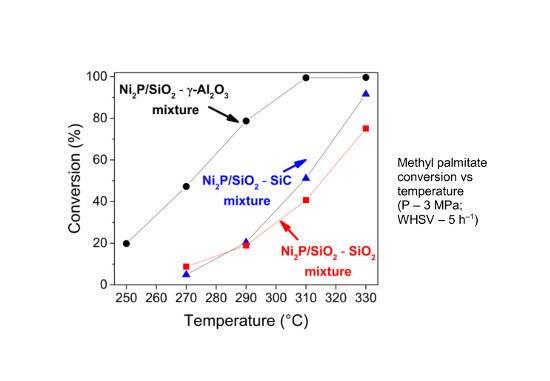 Graphical abstract
This is an open access article distributed under the
Creative Commons Attribution License
which permits unrestricted use, distribution, and reproduction in any medium, provided the original work is properly cited (CC BY 4.0).

Share & Cite This Article
MDPI and ACS Style
Shamanaev, I.V.; Deliy, I.V.; Gerasimov, E.Y.; Pakharukova, V.P.; Kodenev, E.G.; Aleksandrov, P.V.; Bukhtiyarova, G.A. Synergetic Effect of Ni2P/SiO2 and γ-Al2O3 Physical Mixture in Hydrodeoxygenation of Methyl Palmitate. Catalysts 2017, 7, 329.
Note that from the first issue of 2016, MDPI journals use article numbers instead of page numbers. See further details here.
Related Articles
Comments
[Return to top]