Fabrication of Hierarchically Porous Reduced Graphene Oxide/SnIn4S8 Composites by a Low-Temperature Co-Precipitation Strategy and Their Excellent Visible-Light Photocatalytic Mineralization Performance
1
Key Laboratory of Jiangxi Province for Persistent Pollutants Control and Resources Recycle, Nanchang Hangkong University, Nanchang 330063, China
2
Department of Biomedical, Chemical and Environmental Engineering (DBCEE), University of Cincinnati, Cincinnati, OH 45221-0012, USA
*
Authors to whom correspondence should be addressed.
Academic Editor: Keith Hohn
Received: 11 June 2016 / Revised: 5 July 2016 / Accepted: 12 July 2016 / Published: 29 July 2016
Abstract
Hierarchically porous reduced graphene oxide/SnIn
4
S
8
(RGO/SnIn
4
S
8
) composites with visible-light response and strong mineralization ability were first successfully prepared by a facile low-temperature co-precipitation method, and were characterized by X ray diffraction (XRD), scanning electron microscope (SEM), Brunauer-Emmet-Teller (BET), UV-Visible spectrophotometer (UV-Vis), Raman spectra and Photoluminescence (PL) techniques. RGO/SnIn
4
S
8
composite exhibits strong absorption in UV and visible-light range. The optimized 5% RGO/SnIn
4
S
8
possesses the optimal photocatalytic degradation efficiency and the best mineralization performance with complete degradation of Rhodamine B (RhB) within 70 min and 73.17% mineralization yield within 160 min under visible-light irradiation, which is much higher than that of pure SnIn
4
S
8
. The main reactive species, which play crucial roles in the degradation and mineralization of RhB, follow the order of h
+
> ·O
2
−
> ·OH. The intermediate products of RhB degradation were analyzed by using high performance liquid chromatography-tandem mass spectrometry (HPLC-MS), and the possible degradation pathways and mechanism were proposed. Moreover, 5% RGO/SnIn
4
S
8
exhibits excellent reusability and stability without an obvious decrease in photocatalytic activity after four consecutive photocatalytic degradation-regeneration experiments.
View Full-Text
►

▼

Figures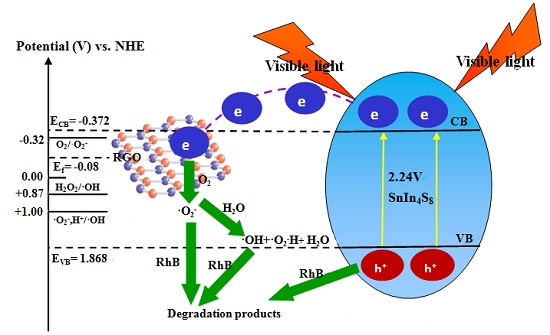 Graphical abstract
This is an open access article distributed under the
Creative Commons Attribution License
which permits unrestricted use, distribution, and reproduction in any medium, provided the original work is properly cited (CC BY 4.0).

Share & Cite This Article
MDPI and ACS Style
Deng, F.; Pei, X.; Luo, Y.; Luo, X.; Dionysiou, D.D.; Wu, S.; Luo, S. Fabrication of Hierarchically Porous Reduced Graphene Oxide/SnIn4S8 Composites by a Low-Temperature Co-Precipitation Strategy and Their Excellent Visible-Light Photocatalytic Mineralization Performance. Catalysts 2016, 6, 113.
Note that from the first issue of 2016, MDPI journals use article numbers instead of page numbers. See further details here.
Related Articles
Comments
[Return to top]