Open Access This article is
freely available
re-usable
Article
Physico-Chemical and Catalytic Properties of Mesoporous CuO-ZrO2 Catalysts
1
Chemistry Department, Faculty of Science, King Abdulaziz University, Jeddah 21589, Saudi Arabia
2
Chemistry Department, College of Science & General Studies, Alfaisal University, Riyadh 11533, Saudi Arabia
3
Chemistry Department, Faculty of Science, Sohag University, Sohag, P.O. Box 82524, Egypt
4
Chemistry Department, College of Science, University of Hail, Hail 81451, Saudi Arabia
*
Authors to whom correspondence should be addressed.
Academic Editor: Keith Hohn
Received: 2 February 2016 / Accepted: 31 March 2016 / Published: 13 April 2016
Abstract
:
Mesoporous CuO-ZrO2 catalysts were prepared and calcined at 500 °C. The performance of the synthesized catalysts for benzylation of benzene using benzyl chloride was studied. The bare support (macroporous ZrO2) offered 45% benzyl chloride conversion after reaction time of 10 h at 75 °C. Significant increase in benzyl chloride conversion (98%) was observed after CuO loading (10 wt. %) on porous ZrO2 support. The conversion was decreased to 80% with increase of CuO loading to 20 wt. %. Different characterization techniques (XRD, Raman, diffuse reflectance UV-vis, N2-physisorption, H2-TPR, XPS and acidity measurements) were used to evaluate physico-chemical properties of CuO-ZrO2 catalysts; the results showed that the surface and structural characteristics of the ZrO2 phase as well as the interaction between CuO-ZrO2 species depend strongly on the CuO content. The results also indicated that ZrO2 support was comprised of monoclinic and tetragonal phases with macropores. An increase of the volume of monoclinic ZrO2 phase was observed after impregnation of 10 wt. % of CuO; however, stabilization of tetragonal ZrO2 phase was noticed after loading of 20 wt. % CuO. The presence of low-angle XRD peaks indicates that mesoscopic order is preserved in the calcined CuO-ZrO2 catalysts. XRD reflections due to CuO phase were not observed in case of 10 wt. % CuO supported ZrO2 sample; in contrast, the presence of crystalline CuO phase was observed in 20 wt. % CuO supported ZrO2 sample. The mesoporous 10 wt. % CuO supported ZrO2 catalyst showed stable catalytic activity for several reaction cycles. The observed high catalytic activity of this catalyst could be attributed to the presence of a higher number of dispersed interactive CuO (Cu2+-O-Zr4+) species, easy reducibility, and greater degree of accessible surface Lewis acid sites.
Keywords:
CuZr nanocomposite; Cu
2+
-O-Zr
4+
species; dispersion; acid sites; benzylation
2. Results and Discussion
3. Reusability of CuZr Nanocomposite Catalysts
It is a known fact that reusability is one of the main advantages of heterogeneous catalysts over homogenous catalysts. The most active catalyst, 10-CuZr catalyst, was used to test the reusability of CuZr nanocomposites. The reaction was performed at 75 °C, using same conditions as described in the experimental section. The conversion levels of benzyl chloride of this catalyst for six consecutive reaction cycles were determined. The fresh catalyst showed 98% conversion after 600 min. The first and second cycles of reused catalysts offered exactly the same conversion levels. A slight decrease of conversion level (94%) was observed in fourth, fifth and sixth cycles. The decrease in conversion levels in the later cycles could be due to loss of catalyst during the filtration of catalyst after completion of the cycle. The observed results indicate that the catalyst could be recycled several times without losing activity.
4. Experimental Section
4.1. Reagents
All the purchased analytical grade reagents were used as received without any treatments. Zirconyl chloride octahydrate [(ZrOCl2∙8H2O)], cupric nitrate trihydrate [Cu(NO3)2∙3H2O], aqueous ammonia solution and tetrabutyl ammonium bromide [(CH3CH2CH2CH2)4N(Br)], benzene [C6H6] and benzyl chloride [C6H7Cl] were purchased from Aldrich, Dorset, UK.
4.2. Synthesis of Nanosized Porous CuO-ZrO2 Materials
Tetrabutyl ammonium bromide was used as templating agent to synthesize nanocrystalline porous ZrO2 support by a simple sol-gel method. The typical synthesis method is as follows: the calculated amount of ZrOCl2∙8H2O (26.1 g) was dissolved in 100 mL of distilled water. To this solution, 100 mL of 0.88 mol tetrabutyl ammonium bromide solution was added under constant stirring. The temperature of the solution was maintained at 50 °C in a water bath and then subjected to ultrasonication for 5 h. Then the solution was aged at 80 °C for four days to obtain a gel. The obtained gel was then washed with ethanol five times and dried at 100 °C for 24 h. Bare ZrO2 support was obtained by calcination of dried powder at 500 °C in a Muffle furnace for 3 h. The calcined material was labelled as ZrO2.
CuO supported ZrO2 nanocomposites were prepared by a simple impregnation method. The calculated amount of Cu(NO3)2∙3H2O, which corresponded to 10.0 wt. % and 20.0 wt. % of CuO, was dissolved in distilled water, and the calculated amount of dried ZrO2 powder was added to cupric nitrate solution under continuous stirring. The excess water was removed by drying the contents at 100 °C in an electric oven. A portion of the prepared CuO-ZrO2 material was thermally treated at 500 °C in a Muffle furnace and kept at this temperature for 3 h. The calcined materials were labelled using the following nomenclature: 10-CuZr and 20-CuZr, for 10 wt. % and 20 wt. % CuO supported ZrO2 samples respectively.
4.3. Characterization of Catalysts
The elemental composition of the synthesized materials was determined by using ICP-AES, Optima 7300DV (Perkin Elmmer Corporation, Waltham, MA, USA) instrument. The sample preparation for elemental analysis was carried out as follows: approximately 100 mg of material was placed in a Teflon beaker and the material was dissolved in a mixture of acids (10 mL of 40% HF, 4 mL of HNO3 and 4 mL HCl) and then 20 mL of deionized H2O was added to the solution. The solution was then kept in an ultrasonic bath for 10 min to obtain homogeneous dissolution. Then, the solution was transferred into a centrifuge tube and centrifuged at 3000 rpm for five minutes. The clear supernatant solution was decanted and used to prepare 250 mL stock solution.
Powder X-ray diffraction (XRD) measurements were carried out using a Bruker diffractometer (Bruker D8 advance target) (Bruker, Karlsruhe, Germany). The patterns were obtained using Cu Kα
1
and a monochromator (λ = 1.5405Å) at 40 kV and 40 mA. The crystallite size of the ZrO
2
phase was calculated using Scherrer Equation (3):
where
D
is the average crystallite size of the phase under investigation,
B
is the Scherrer constant (0.89), λ is wavelength of the X-ray beam used (1.5405 Å), β
1/2
is the full width at half maximum (FWHM) of the diffraction peak and θ is the diffraction angle. The identification of different crystalline phases in the samples was performed by comparing the data with the Joint Committee for Powder Diffraction Standards (JCPDS) files. A Bruker Equinox 55 FT-IR spectrometer equipped with an FRA106/S FT Raman module and a liquid N
2
cooled Ge detector using the 1064 nm line of a Nd:YAG laser with an output laser power of 200 mW was used to obtain Raman spectra for the synthesized samples. Diffuse reflectance UV-vis (DRUV-vis) spectra for all the samples were collected using a Thermo-Scientific evolution 600 UV-vis spectrophotometer combined with an integrating sphere in the wavelength range of 200–800 nm to measure the reflectance spectra of a sample. A small amount of the sample in powder form was dispersed and pressed firmly between two microscope glass plates to create a thin absorbing film.
Scanning Electron Microscopy (SEM) measurements were carried out using a JEOL JSM840A instrument (JEOL, Tokyo, Japan). For measurements, the powder sample was attached to an aluminum block using double sided carbon tape. The textural properties of the synthesized samples were determined from the N
2
physisorption measurements at −196 °C using a NOVA 3200e automated gas sorption system (Quantachrome, Boynton Beach, FL, USA). Prior to measurement, the sample was outgassed for 6 h at 150 °C. The specific surface area was determined by using the Brunauer-Emmett-Teller (BET) equation. The average pore radius was estimated from the relation 2Vp/S
BET
, where Vp is the total pore volume (at P/P
0
= 0.975). Pore size distribution patterns were generated by the Barrett-Joyner-Halenda (BJH) analysis of the desorption branches, and the values for the average pore radius were calculated. The X-ray photoelectron spectroscopy (XPS) measurements for all the samples were carried out using a SPECS GmbH XPS spectrometer (SPECS, Berlin, Germany). Prior to analysis, the samples were outgassed under vacuum inside the load lock for 16 h. The binding energy (BE) of the adventitious carbon (C
1s
) line at 284.6 eV was used for calibration, and the positions of other peaks were corrected according to the position of the C
1s
signal. For the measurements of high resolution spectra, the analyzer was set to the large area lens mode with energy steps of 25 m eV and in Fixed Analyzer Transmission (FAT) mode with pass energies of 34 eV and dwell times of 100 ms. The XPS spectra of the materials were recorded with the acceptance area and angle of 5 mm in diameter and up to ±5°, respectively. The base pressure during all measurements was 5 × 10
−9
mbar. A standard dual anode excitation source with Mg Kα (1253.6 eV) radiation was used at 13 kV and 100 W.
Perkin-Elmer Spectrum 100 FTIR spectrometer was used to obtain DRIFT spectra of calcined materials. Then, DRIFT measurements for the samples after pyridine adsorption was carried out using the same instrument. The analysis was performed over a calculated amount of catalyst which was treated at 100 °C under vacuum for 5 h. Then, the sample was treated with pyridine vapor and finally heated at 100 °C under vacuum for 30 min to remove physically adsorbed pyridine. DRIFT spectra were collected at room temperature. The number of Brönsted (B) and Lewis (L) acid sites presented in the sample was determined via integration of the area of the absorption bands showing the maximum values of intensity at 1443 and 1545 cm−1, respectively. A blank spectrum of catalyst sample was recorded before pyridine adsorption and hence it is subtracted before the calculations of Brönsted and Lewis concentration. Integrated absorbance of each band was obtained using the software by applying the corresponding extinction coefficient and normalized by the weight of the samples used for the analysis.
Ammonia temperature programmed desorption (NH3-TPD) measurements were performed to titrate the total number of acid sites, using CHEMBET-3000 (Quantachrome, Boynton Beach, FL, USA) equipped with TCD detector, PID-controlled furnace heated flow micro-reactor. Calculated amount of catalyst sample (250 mg) was pretreated at 120 °C for 2 h under helium gas flow (80 mL·min−1). The gas flow was switched to ammonia to saturate the sample for 1 h and then the sample flushed by flowing helium gas at 100 °C for 2 h to remove physisorbed ammonia prior to recording the TCD signal. The NH3 desorption patterns were recorded by ramping the temperature of the sample to 800 °C at a rate of 10 °C min−1 under a steady flow (80 mL·min−1) of helium gas. The amount of ammonia evolved was determined by comparing the areas desorbed from the sample with those of known amounts of injected ammonia.
H2-Temperature programmed reduction (H2-TPR) experiments were carried out using CHEMBET-3000 instrument (Quantachrome, Boynton Beach, FL, USA). Approximately 80 mg of catalyst was loaded into a quartz tube and the sample treated with 10% oxygen + 90% helium gas mixture at 120 °C for 30 min, and then the gas flow was switched to helium gas to flush the sample. Then, the sample temperature was brought down to 25 °C and the flow of the gas was changed to 5% hydrogen + 95% helium gas mixture. Finally, the TCD signal was recorded by raising the sample temperature to 600 °C at the rate of 5 °C min−1 to obtain the H2-TPR pattern of a sample.
4.4. Benzylation of Benzene Using Benzyl Chloride
A three necked round-bottomed glass flask equipped with a reflux condenser was used to carry out the liquid phase benzylation of benzene with benzyl chloride (BC) under atmospheric pressure. The temperature of the reaction was monitored and electrically heated in a precisely controlled oil bath. In a typical run, 0.1 g of activated catalyst was transferred into a round bottom flask, which contained 15 mL of benzene. Then, the temperature of the flask was increased to the required reaction temperature and then 1 mL of BC was added to flask to start the reaction and the moment BC added was regarded as the initial reaction time. Liquid samples were withdrawn at regular intervals and analyzed by gas chromatography (HP-6890) equipped with an FID detector and HP-5 capillary column. The products were also identified by GC-MS (HP-5975C) analysis. Because the benzene was in excess, the performance of the catalyst was determined based on the conversion of the benzylating reagent,
i.e.
, BC. The conversion of BC selectivity to the major product diphenylmethane (DPM) and other minor products, turnover number (TON) and turnover frequency (TOF) of catalysts were measured by using the following equations.
5. Conclusions
Mesoporous CuO-ZrO2 catalysts were successfully synthesized by adopting modified sol-gel method using tetrabutyl ammonium bromide as a templating agent. Bare ZrO2 support was composed of mixture of tetragonal and monoclinic ZrO2 phases; however, the ZrO2 phase was mostly transformed into tetragonal after impregnation of 20 wt. % CuO. The XPS results evidently indicated that 10-CuZr sample possessed more interactive species than 20-CuZr sample. Preferential formation of interactive species on the surface of ZrO2 support and the dispersion of the Cu2+ species depended on the CuO loading. H2-TPR results suggested that these Cu2+ species strongly interacted with ZrO2, resulting in the formation of easily reducible Cu2+–O–Zr4+ bonds. On other hand, the 20-CuZr sample showed formation crystalline CuO particles on the ZrO2 surface. The 10-CuZr catalyst offered higher catalytic activity than 20-CuZr in benzylation of benzene under identical reaction conditions. The superior catalytic activity of 10-CuZr catalyst is attributed to possession of more CuO-ZrO2 interactive species and a mesoporous structure, which provided larger active sites with easy reducibility and accessible strong Brönsted and Lewis acid sites.
Supplementary Materials
Figure S1: Raman spectra of the samples, Figure S2: EDX spectra of (
a
) ZrO
2
(
b
) 10-CuZr and (
c
) 20-CuZr samples, Figure S3: Arrhenius plots of benzylation reaction for all the catalysts, Table S1: Activation energies (
Ea
), TON and TOF for the catalytic reaction conducted over different catalysts, Table S2: Crystal Lattice parameters measured from XRD analysis.
Acknowledgments
This project was funded by the National Plan for Science, Technology and Innovation (MAARIFAH)-King Abdulaziz City for Science and Technology-the Kingdom of Saudi Arabia-award number (11-NAN 2057-03). The authors also, acknowledge with thanks Science and Technology Unit, King Abdulaziz University for technical support.
Author Contributions
S.N.B. and M.M. conceived and designed the experiments; E.H.A., T.T.A., H.A.M. and K.N. performed all experiments and characterization tests as well as share in analysis of the data. Both T.T.A. and K.N. wrote the paper, share in data analysis and revised the manuscript; M.M. and T.T.A. proofread the manuscript.
Conflicts of Interest
The authors declare no conflict of interest.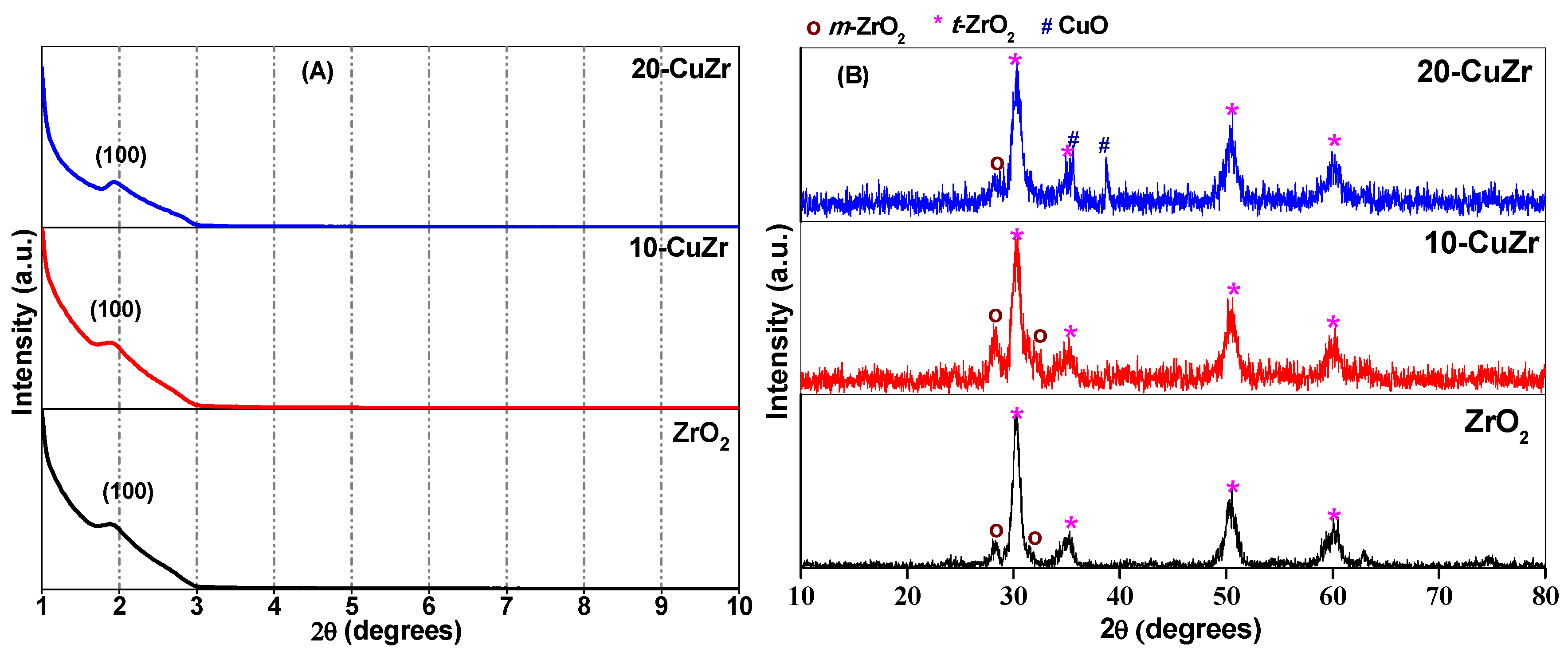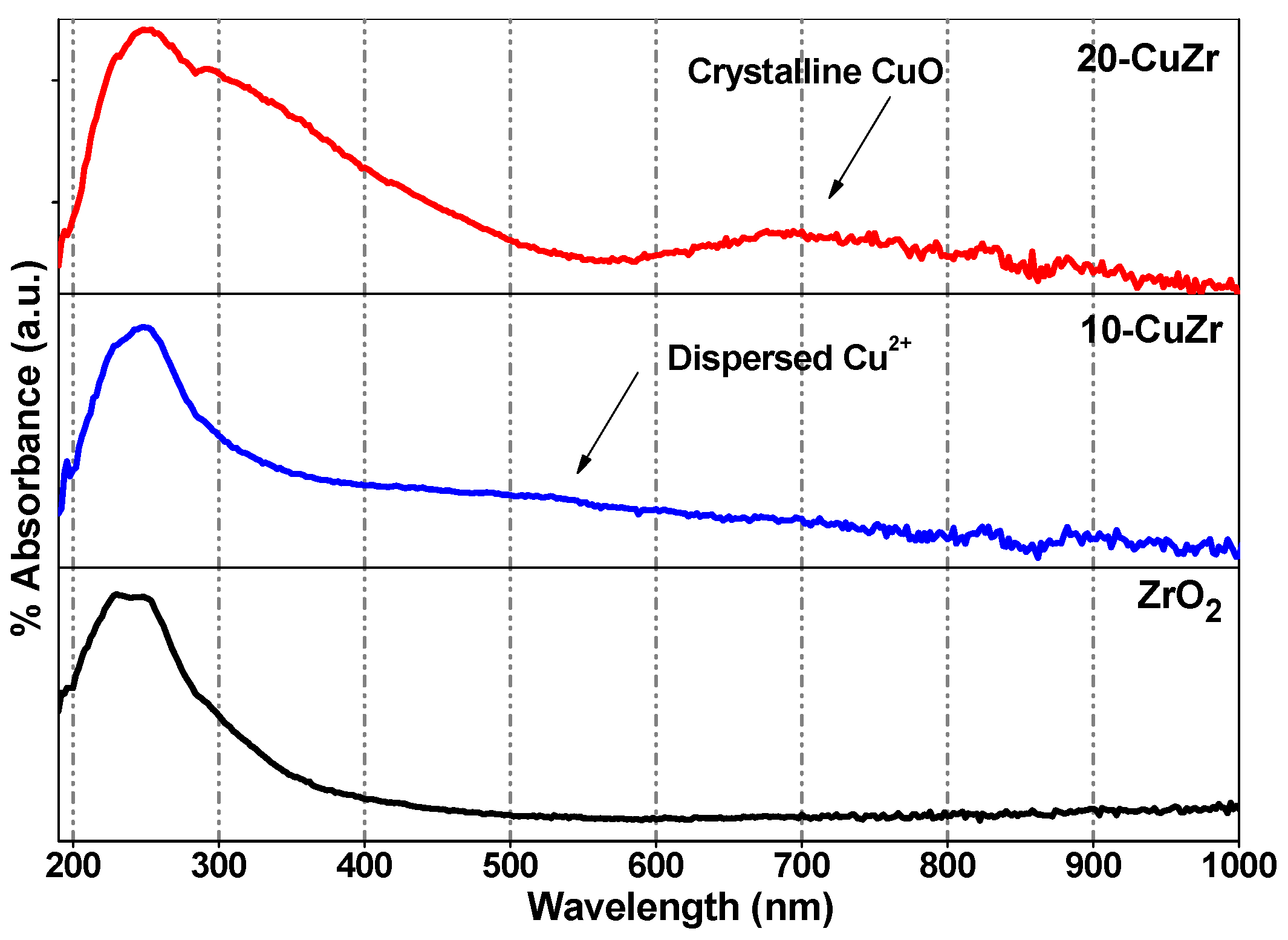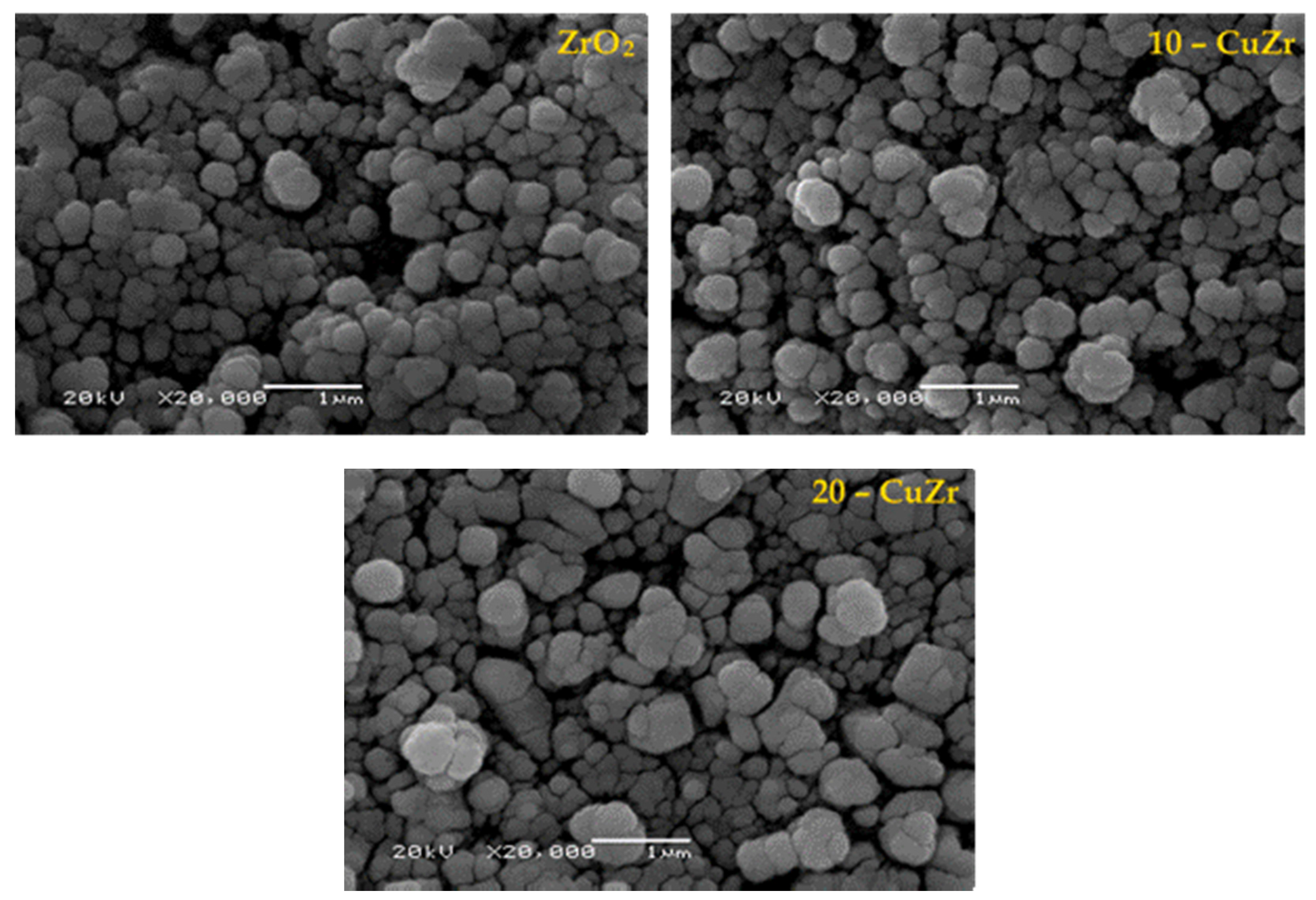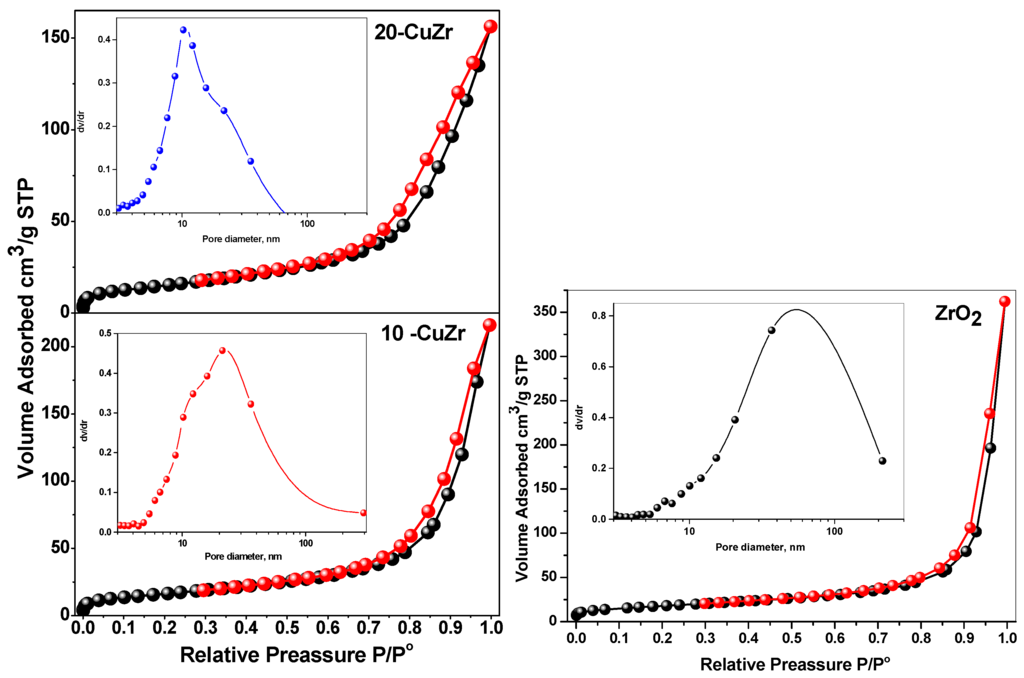 Figure 4. Nitrogen adsorption-desorption isotherms for all the samples (inset pore size distribution patterns).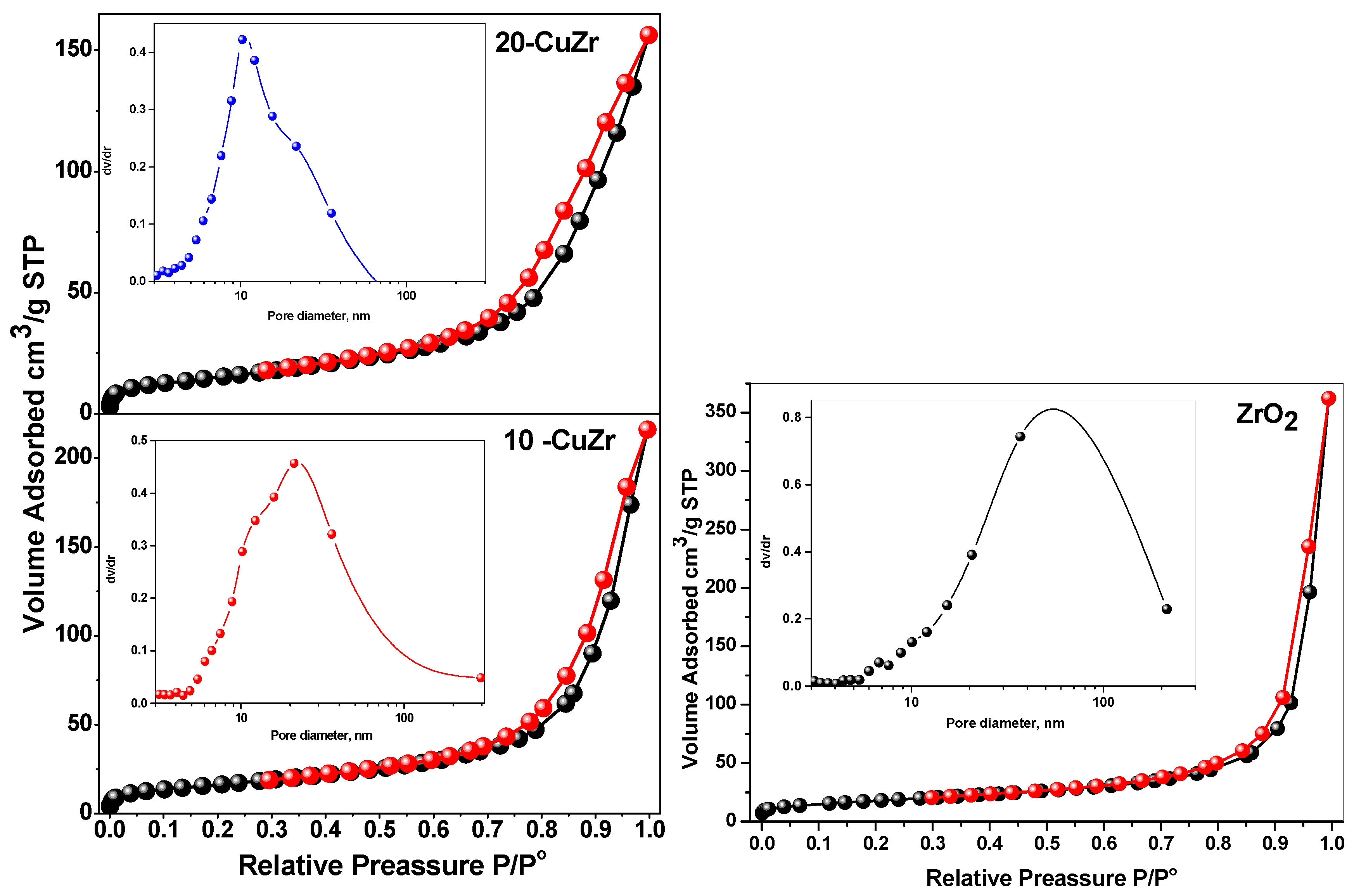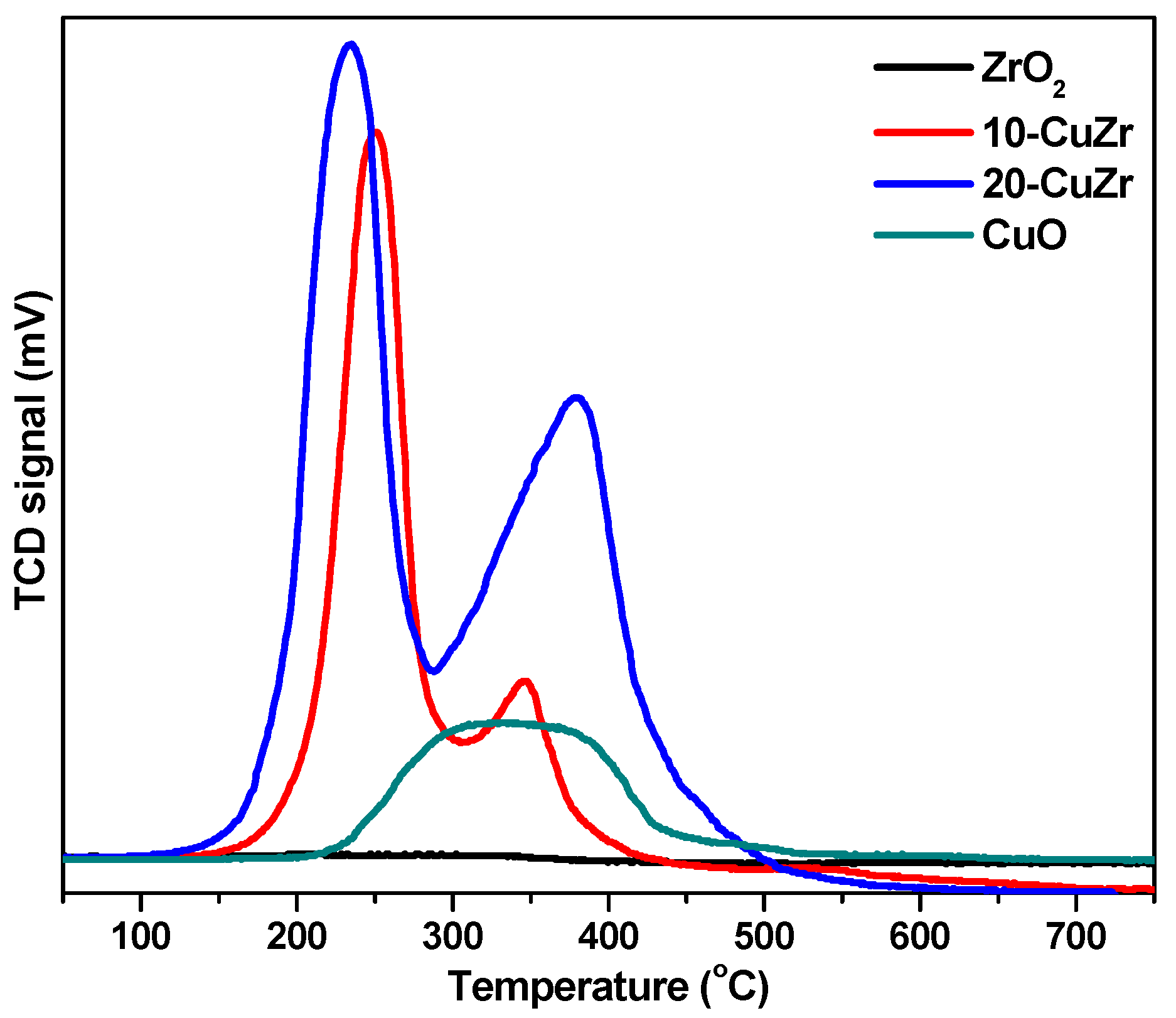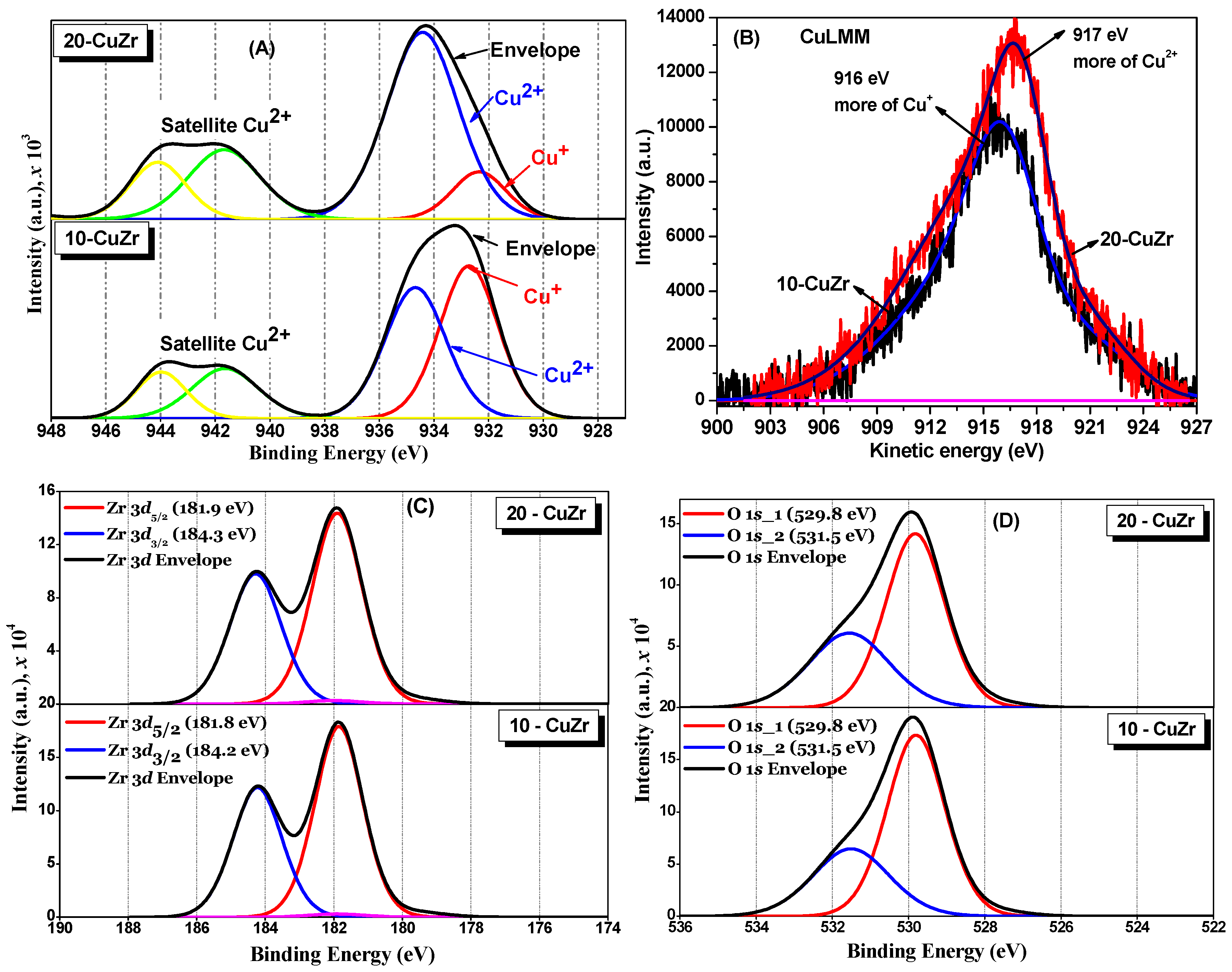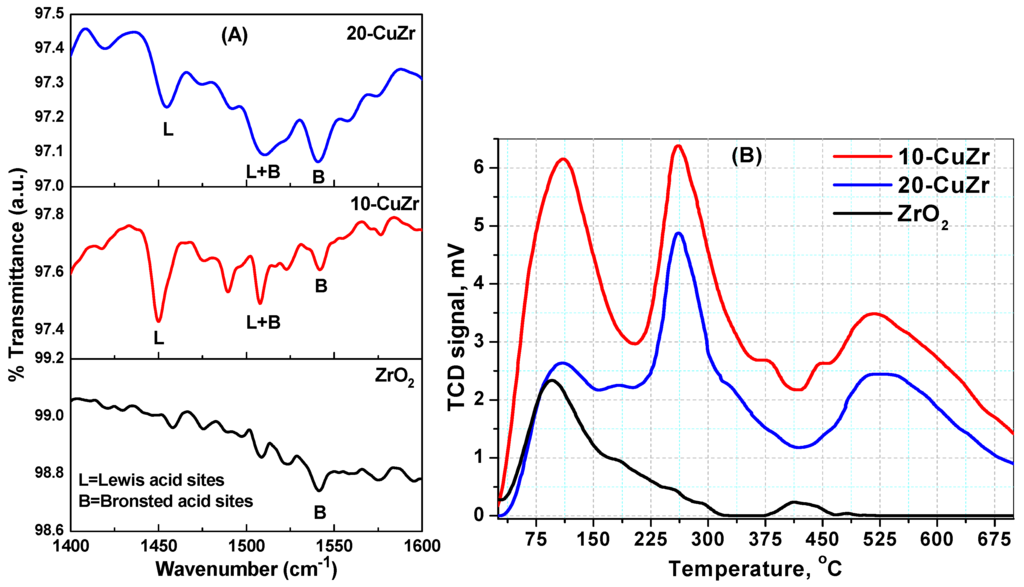 Figure 7. (A) FTIR spectra after pyridine adsorption (B) NH3-TPD patterns for ZrO2 and CuZr nanocomposite samples.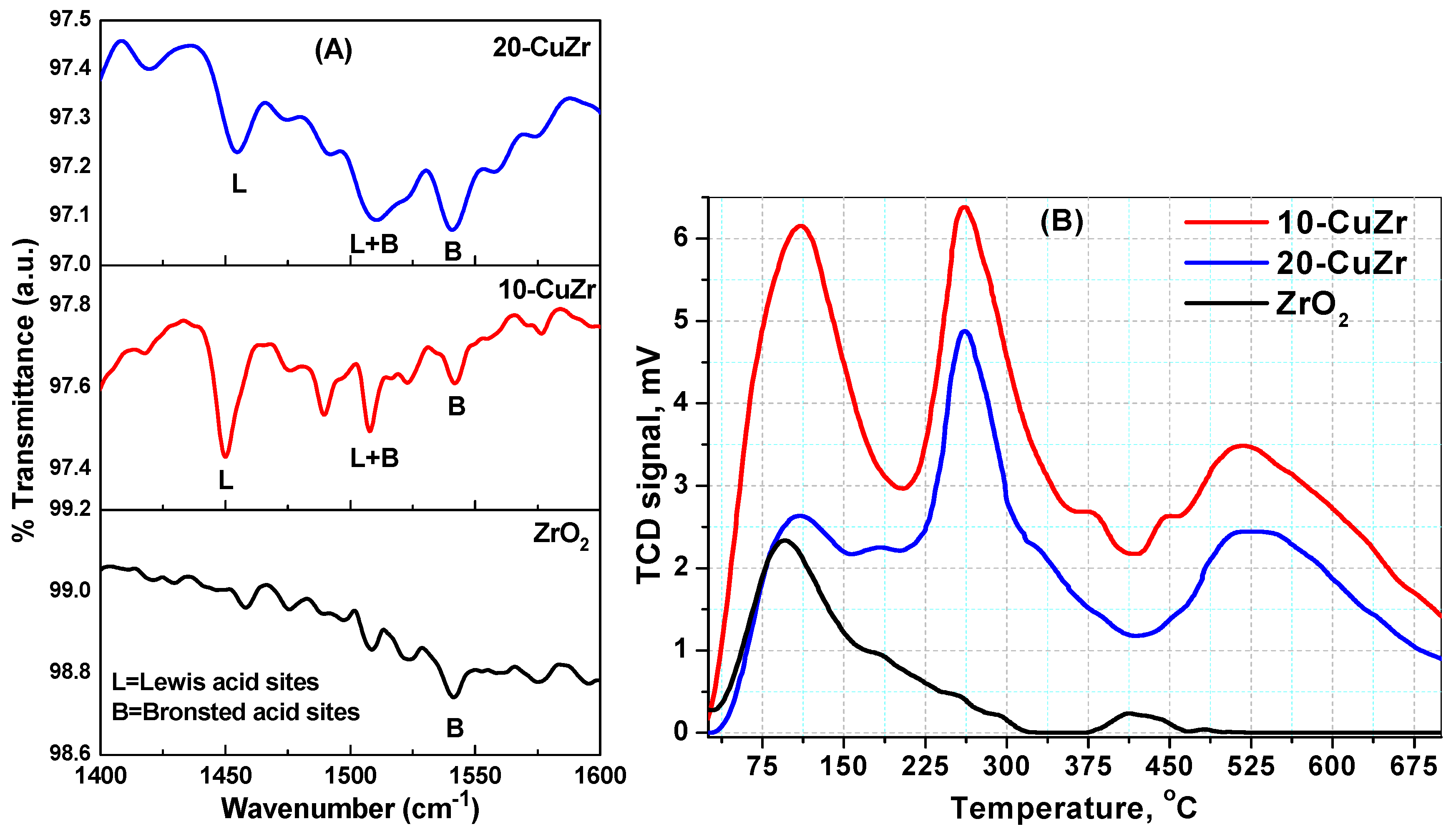 Figure 8. Benzyl chloride conversion levels and diphenylmethane (DPM) selectivities with reaction time over ZrO2 support, CuZr catalysts at different reaction temperatures (benzne/benzyl chloride stoichiometric ratio = 15 and 0.1 g of catalyst).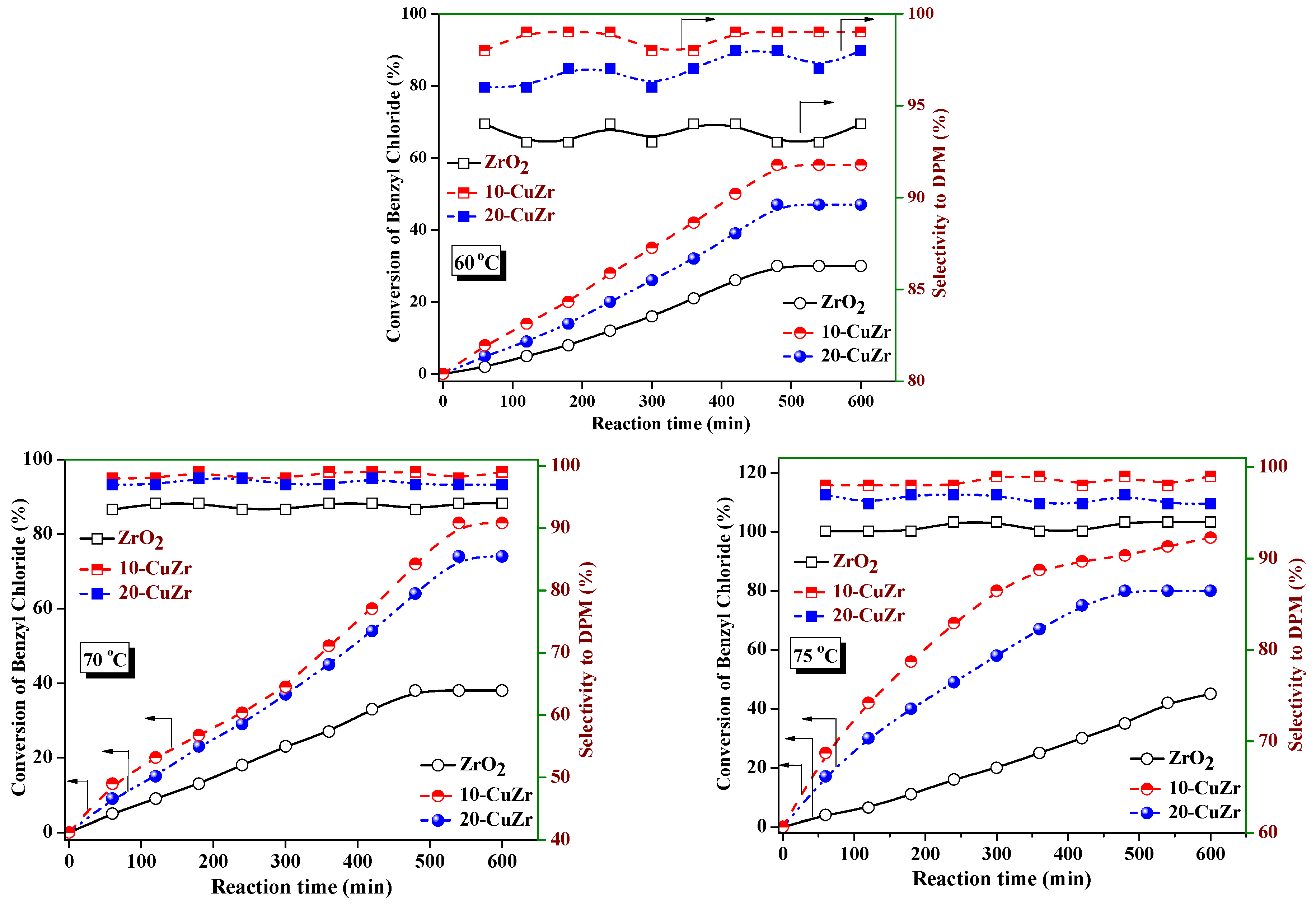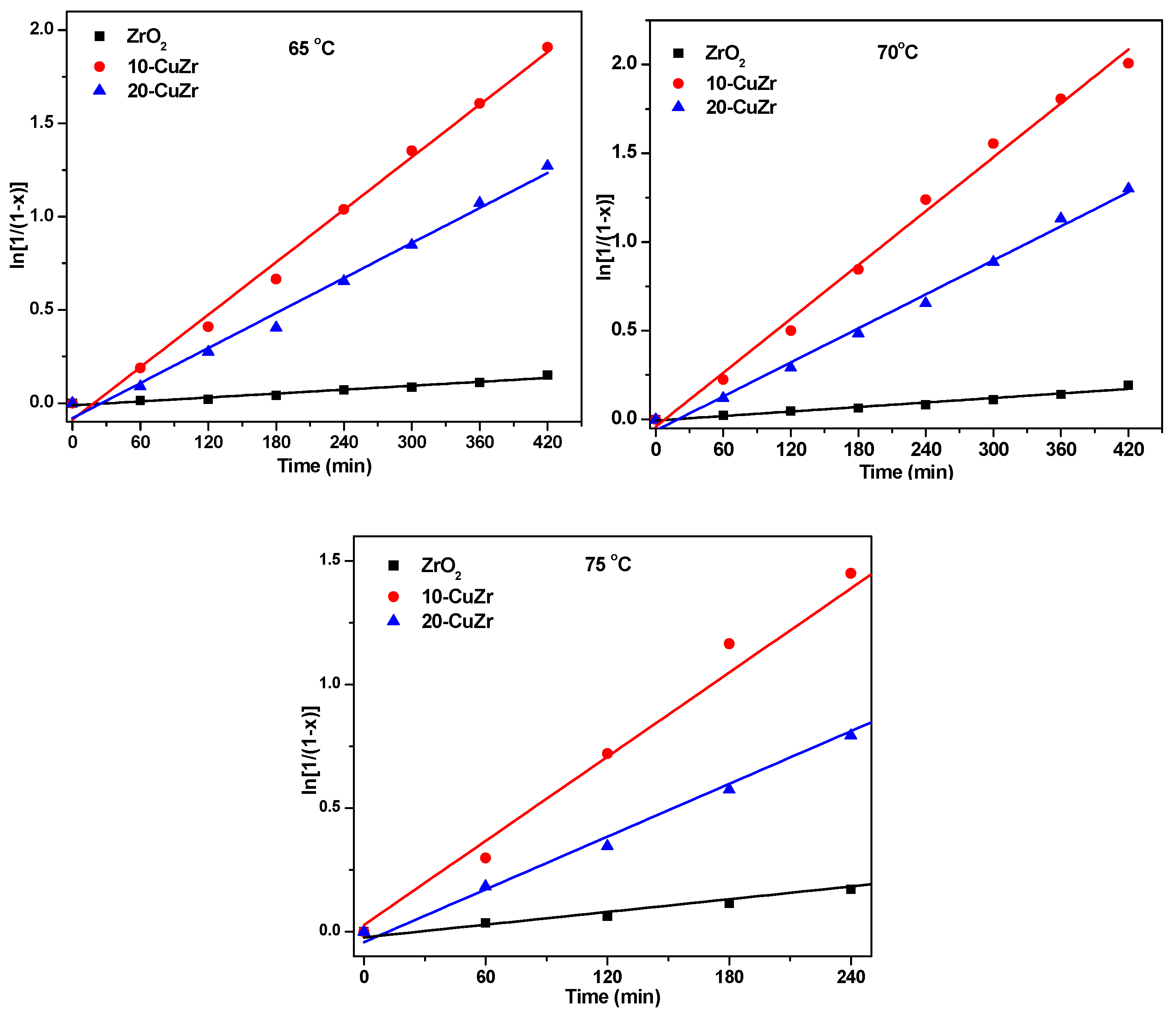 Table 1. Results from XRD and H2-Temperature programmed reduction (H2-TPR) measurements.
Catalyst
Phase Composition (vol %) a
Crystallite Size (nm) a
Hydrogen Uptake (mmol·g−1) b
Vm
Vt

m

-ZrO2

t

-ZrO2
ZrO2
10.3
89.7
26.06
20.92
0.05
10-CuZr
27.4
72.6
26.06
20.92
0.45
20-CuZr
4.4
95.6
26.06
17.44
0.59
a XRD analysis; b H2-TPR analysis.
Table 2. Results from N2-physisorption, ICP-AES and XPS analysis of the samples.
Catalyst
SBET (m2·g−1)
Vp (cm3·g−1)
Av. Pore Diameter (nm)
ICP-AES Chemical Analysis a (mass%)
XPS Chemical Analysis b (mass%)
Zr
Cu
Zr
Cu
ZrO2
64
0.5619
54
66.6
-
67.8
-
10-CuZr
59
0.3342
23
57.9
7.8
59.4
5.6
20-CuZr
45
0.2413
17
51.5
15.8
52.6
12.5
a Bulk composition; b Surface composition.
Table 3. Results from FTIR analysis of pyridine adsorption and NH3-TPD measurements.
Catalyst
Number of Acid Sites a (µmol·g−1)
Number of Acid Sites a (µmol·g−1)
Amount of NH3 Desorbed b (mmol·g−1)
Density of Acid Sites b (mmol m−2)
Brönsted (B)
Lewis (L)
ZrO2
0.7
0
0.0
0.25
0.023
10-CuZr
22.3
42.6
0.52
1.48
0.081
20-CuZr
14.4
20.8
0.69
1.12
0.062
a FTIR spectra after pyridine adsorption; b NH3-TPD analysis.

Table 4. Selectivity to diphenylmethane and reaction rate per unit surface area for ZrO2 and CuZr nanocomposite catalysts at different reaction temperatures after 10 h of reaction.
Table 4. Selectivity to diphenylmethane and reaction rate per unit surface area for ZrO2 and CuZr nanocomposite catalysts at different reaction temperatures after 10 h of reaction.
Catalyst
65 °C
70 °C
75 °C
Selectivity (%)
(min−1·m−2·g), 10−5
Selectivity (%)
(min−1·m−2·g), 10−5
Selectivity (%)
(min−1·m−2·g), 10−5
ZrO2
94
0.69
94
0.98
94
1.50
10-CuZr
99
2.27
99
4.18
99
5.79
20-CuZr
98
1.79
97
2.68
96
3.75
© 2016 by the authors; licensee MDPI, Basel, Switzerland. This article is an open access article distributed under the terms and conditions of the Creative Commons by Attribution (CC-BY) license (http://creativecommons.org/licenses/by/4.0/).