Physico-Chemical and Catalytic Properties of Mesoporous CuO-ZrO2 Catalysts
1
Chemistry Department, Faculty of Science, King Abdulaziz University, Jeddah 21589, Saudi Arabia
2
Chemistry Department, College of Science & General Studies, Alfaisal University, Riyadh 11533, Saudi Arabia
3
Chemistry Department, Faculty of Science, Sohag University, Sohag, P.O. Box 82524, Egypt
4
Chemistry Department, College of Science, University of Hail, Hail 81451, Saudi Arabia
*
Authors to whom correspondence should be addressed.
Academic Editor: Keith Hohn
Received: 2 February 2016 / Revised: 23 March 2016 / Accepted: 31 March 2016 / Published: 13 April 2016
Abstract
Mesoporous CuO-ZrO
2
catalysts were prepared and calcined at 500 °C. The performance of the synthesized catalysts for benzylation of benzene using benzyl chloride was studied. The bare support (macroporous ZrO
2
) offered 45% benzyl chloride conversion after reaction time of 10 h at 75 °C. Significant increase in benzyl chloride conversion (98%) was observed after CuO loading (10 wt. %) on porous ZrO
2
support. The conversion was decreased to 80% with increase of CuO loading to 20 wt. %. Different characterization techniques (XRD, Raman, diffuse reflectance UV-vis, N
2
-physisorption, H
2
-TPR, XPS and acidity measurements) were used to evaluate physico-chemical properties of CuO-ZrO
2
catalysts; the results showed that the surface and structural characteristics of the ZrO
2
phase as well as the interaction between CuO-ZrO
2
species depend strongly on the CuO content. The results also indicated that ZrO
2
support was comprised of monoclinic and tetragonal phases with macropores. An increase of the volume of monoclinic ZrO
2
phase was observed after impregnation of 10 wt. % of CuO; however, stabilization of tetragonal ZrO
2
phase was noticed after loading of 20 wt. % CuO. The presence of low-angle XRD peaks indicates that mesoscopic order is preserved in the calcined CuO-ZrO
2
catalysts. XRD reflections due to CuO phase were not observed in case of 10 wt. % CuO supported ZrO
2
sample; in contrast, the presence of crystalline CuO phase was observed in 20 wt. % CuO supported ZrO
2
sample. The mesoporous 10 wt. % CuO supported ZrO
2
catalyst showed stable catalytic activity for several reaction cycles. The observed high catalytic activity of this catalyst could be attributed to the presence of a higher number of dispersed interactive CuO (Cu
2+
-O-Zr
4+
) species, easy reducibility, and greater degree of accessible surface Lewis acid sites.
View Full-Text
►

▼

Figures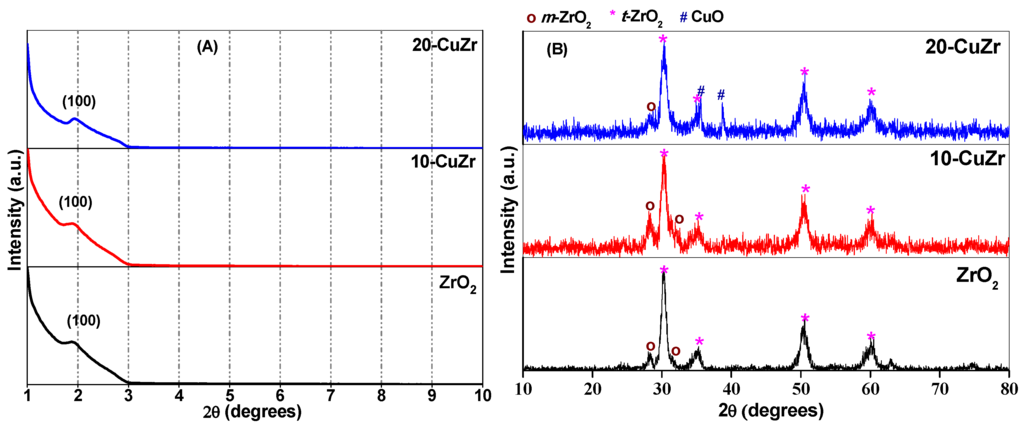 Figure 1
This is an open access article distributed under the
Creative Commons Attribution License
which permits unrestricted use, distribution, and reproduction in any medium, provided the original work is properly cited (CC BY 4.0).

Share & Cite This Article
MDPI and ACS Style
Basahel, S.N.; Mokhtar, M.; Alsharaeh, E.H.; Ali, T.T.; Mahmoud, H.A.; Narasimharao, K. Physico-Chemical and Catalytic Properties of Mesoporous CuO-ZrO2 Catalysts. Catalysts 2016, 6, 57.
Note that from the first issue of 2016, MDPI journals use article numbers instead of page numbers. See further details here.
Related Articles
Comments
[Return to top]