Open Access This article is
freely available
re-usable
Communication
A Cellulose Electrolysis Cell with Metal-Free Carbon Electrodes
1
Graduate School of Environmental Studies, Nagoya University, Nagoya 464-8601, Japan
2
School of Materials Science and Engineering, Ocean University of China, Qingdao 266100, China
*
Author to whom correspondence should be addressed.
Received: 16 December 2019 / Accepted: 10 January 2020 / Published: 11 January 2020
Abstract
:
Biomass raw materials, including agricultural residues, collected weeds, and wood chips, are important feedstocks for hydrogen production. Numerous attempts have been made to electrolyze biomass directly or indirectly to hydrogen because these processes allow for the production of hydrogen with less power consumption than water electrolysis. However, expensive metal-based electrocatalysts are needed, especially for the cathode reaction, in the electrolysis cells. Results from the present study demonstrate the production of hydrogen directly from cellulose, using an optimal mesoporous carbon as the cathode in addition to a partially oxygenated carbon anode at a temperature of 150 °C, with an electrolysis onset voltage of ca. 0.2 V, a current density of 0.29 A cm−2 at an electrolysis voltage of 1 V, and a current efficiency of approximately 100% for hydrogen production. These characteristics were comparable to those recorded when using a Pt/C anode and cathode under the same conditions. The sp2 planes of the carbon allowed π electrons to be donated to protons at the cathode. In addition, the mesoporous structure provided a sufficient amount of sp2 planes on the surface of the cathode.
Keywords:
cellulose; electrolysis; hydrogen production; metal-free electrodes
1. Introduction
Hydrogen is a cleaner energy source and more reliable carrier than fossil fuels [
1
,
2
,
3
]. A major challenge in the utilization of hydrogen as a fuel is the lack of sustainable production methods [
4
,
5
]. Water electrolysis ensures low-carbon-footprint hydrogen production using renewable energy resources, but has limitations of high cost; the electricity energy required is approximately 5 kWh (Nm
3
)
−1
[
6
]. Furthermore, the use of precious metals as electrocatalysts is needed for the anode and cathode reactions [
7
]. Operating an electrolysis cell at elevated temperatures provides some advantages over water electrolysis at room temperature [
8
,
9
]. The onset cell voltage decreased as temperature increases (1.16 V at 130 °C), due to the decrease in the enthalpy required for water splitting [
10
,
11
]. In addition, at elevated temperatures, various biomass derivatives, including alcohols, ethylene glycol, glycerol, and lignin, can also be used as hydrogen resources, which enables hydrogen production at lower onset cell voltages (0.4–0.5 V at 80–150 °C), depending on the fuel species or operation temperature [
12
,
13
,
14
].
Electrolysis at elevated temperatures is also advantageous for the kinetic characteristics of the used electrodes. A recent report indicated a lignocellulosic biomass electrolysis cell using partially oxygenated carbon as the anode at temperatures above 125 °C [
15
,
16
]. However, Pt was still necessary for the hydrogen evolution reaction (HER) at the cathode in this cell. Although carbides, sulfides, and phosphides of transition metals (e.g., Mo [
17
,
18
], W [
19
], and Co [
20
,
21
]) have received attention as important HER catalysts, their material costs are not much less than that of Pt. The present study describes an inexpensive mesoporous carbon that exhibited HER activity comparable to that obtained for a Pt/C cathode. Consequently, efficient hydrogen production was achieved using cellulose as a model biomass at temperatures between 100 and 150 °C in an electrolysis cell with a metal-free anode and cathode.
2. Results and Discussion
In conclusion, a partially oxygenated carbon and a structurally optimized carbon could act as the anode and cathode, respectively, in place of Pt/C. In particular, the present study focused on the design of a carbon cathode and determination of its structural and electronic effects. A porous carbon prepared using an MgO-template method had a partially ordered and highly graphitic mesoporous structure, which catalyzed hydrogen evolution on a scale comparable to that found for a Pt/C cathode.
3. Materials and Methods
Vulcan XC-72R, KB EC-600JDK, AB, and MgO-templated porous carbons (MJ10, MJ30, MJ150, and MH) were purchased from Cabot (Billerica, MA, USA), Akzo Nobel (Amsterdam, Netherlands), Denka (Tokyo, Japan), and Toyo Tanso (Osaka, Japan), respectively. The carbon samples were mixed with 85% H
3
PO
4
(Wako Chemicals, Osaka, Japan) in a mixer (Sankyo Seiki, Thinky AR-100, Kyoto, Japan) for 15 min. The mixture was printed on the surface of a gas diffusion electrode (Toray, TGP-H-090, Tokyo, Japan). All carbon loadings were adjusted to 8 mg cm
−2
, unless otherwise stated. A Pt/C (Electrochem, Woburn, MA, USA, Pt loading: 2 mg cm
−2
) was employed as a control anode and cathode. A proton-conducting Sn
0.9
In
0.1
P
2
O
7
-polytetrafluoroethylene (PTFE, Mitsui-Du Pont, Tokyo, Japan) membrane (thickness: 200 μm) was selected as the electrolyte, as reported previously [
38
,
39
]. Cellulose (Wako Chemicals, Osaka, Japan) was used as the model biomass without further purification.
Nitrogen isotherms at −196 °C were obtained using a Nihon Bell Belsorp-28SA instrument (Osaka, Japan) after degassing at 200 °C. SEM and TEM micrographs were taken using Keyence VE-8800 (Osaka, Japan) and Jeol JEM2100F (Tokyo, Japan) instruments, respectively. Raman spectra were recorded using a Jasco NRS-1000 spectrophotometer (Tokyo, Japan). ESR measurements were performed using a Jeol JES-FE3XG instrument with a Mn2+ marker. The samples were evacuated in a quartz tube at room temperature. The outlet gases from the electrodes were analyzed using a Pfeiffer Vacuum ThermoStar mass spectrometer (MS; Asslar, Germany).
Electrolysis cells were fabricated as follows. Cellulose (15 mg) was impregnated with 85% H
3
PO
4
(ca. 270 mg), and the paste was stored on the surface of the anode in a similar manner to that reported previously [
15
,
16
]. The electrolyte membrane was sandwiched between the anode and cathode with effective areas of 2.0 and 0.5 cm
2
, respectively. The cathode was exposed to Ar at a flow rate of 100 mL min
−1
. Electrolysis of cellulose was conducted by the four-probe method using a Solartron 1287 potentiostat and a Solartron 1260 impedance/gain-phase analyzer (Hampshire, UK). The I–V curves were recorded at a scan rate of 20 mV s
−1
. Impedance spectra were obtained at an anodic bias voltage of 0.4 V in the frequency range from 0.1 to 10
6
Hz. An equivalent circuit model was used for the fitting of the impedance data.
Supplementary Materials
The following are available online at
https://www.mdpi.com/2073-4344/10/1/106/s1
, Figure S1: Electrolysis characteristics of cells using KB, AB, and Vulcan cathodes at 150 °C: (a) I–V curves and (b) impedance spectra. The blank test was conducted without the carbon catalyst at the cathode, Figure S2: SEM micrographs of (a) MH, (b) MJ10, (c) MJ30, and (d) MJ150, Figure S3: Impedance spectra of cells using KB, MH, MJ10, MJ30, and MJ150 cathodes at 150 °C. Black dotted lines represent curve-fitting results, Figure S4: Raman spectra of KB, MH, MJ10, MJ30, and MJ150, Table S1: Textural properties of AB, Vulcan, and KB, Table S2: Fitted values for R
bulk
, R
1
, and W of cells using the MH, MJ10, MJ30, and MJ150 cathodes.
Author Contributions
Conceptualization, T.H.; methodology, T.H., M.N., and Y.J.; investigation, Y.L. and K.K.; data analysis, all authors; writing—original draft preparation, Y.L.; writing—review and editing, T.H., M.N., and Y.J.; supervision, T.H.; funding acquisition, M.N. and T.H. All authors have read and agreed to the published version of the manuscript.
Funding
This research was funded by a Kakenhi Grant-in-Aid (Nos. 17H01895 and 17K14834) from the Japan Society for the Promotion of Science (JSPS), and by a grant (No. JPMJCR18R2) from the CREST program of the Japan Science and Technology Agency (JST).
Conflicts of Interest
The authors declare no conflict of interest.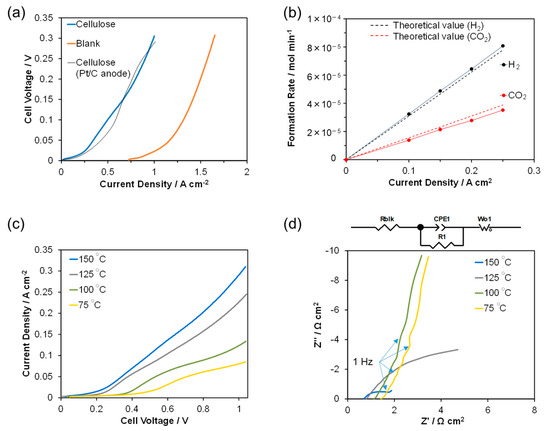 Figure 1. Characteristics for cellulose electrolysis of the cell using a partially oxygenated Ketjen Black (KB) anode and Pt/C cathode: (a) I–V curves at 150 °C with and without cellulose. Data for an electrolysis cell using a Pt/C anode and cathode are included for comparison. (b) Formation rates of hydrogen at the cathode and CO2 at the anode. Theoretical values are shown by the dotted lines. (c) I–V curves and (d) Nyquist impedance plots between 75 and 150 °C.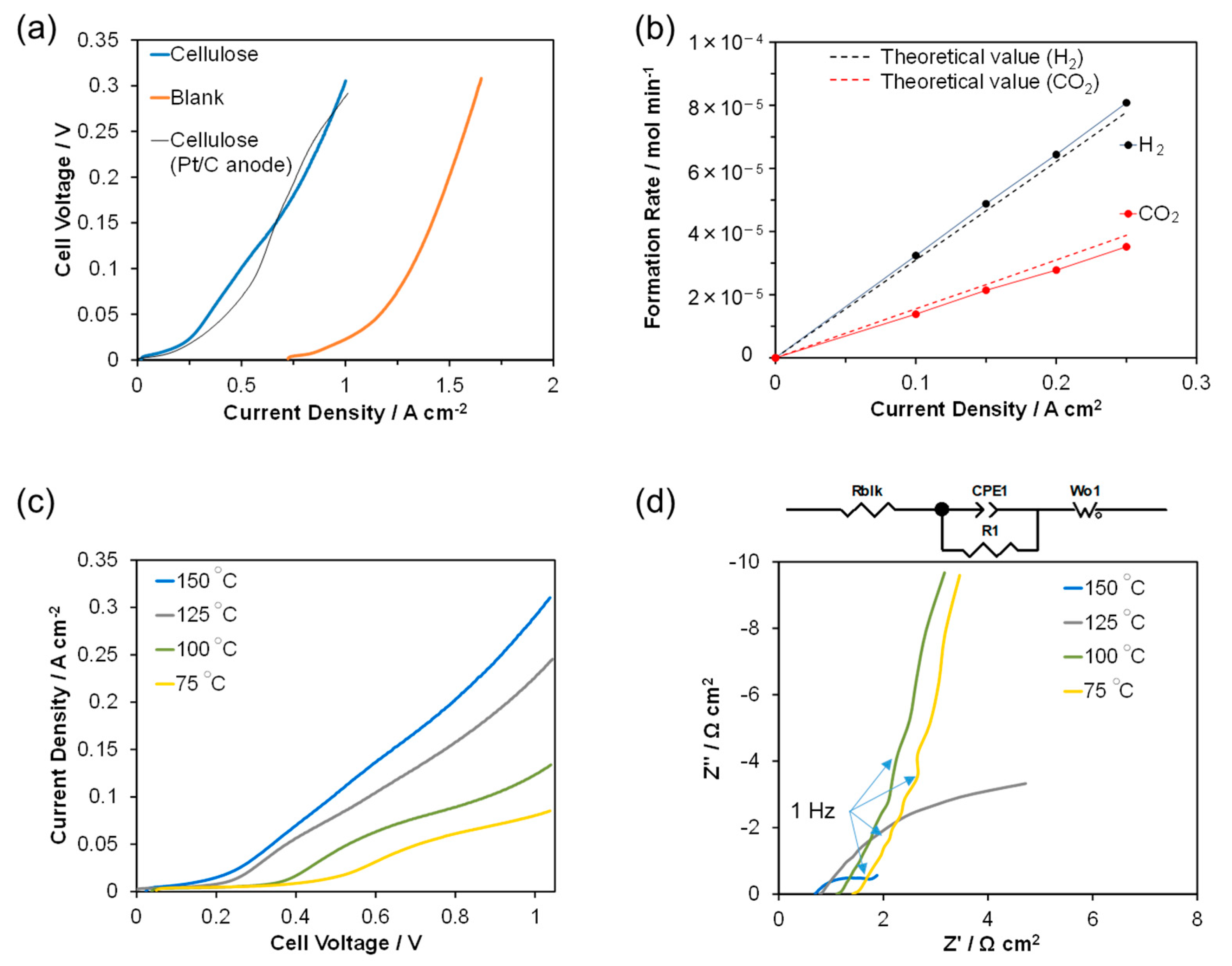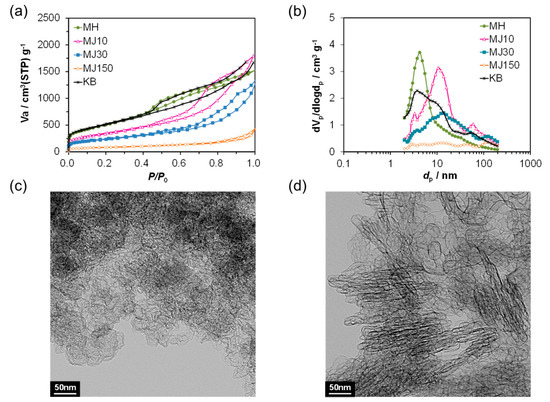 Figure 2. Characterization of KB, MH, MJ10, MJ30, and MJ150: (a) Nitrogen adsorption/desorption isotherms at −196 °C and (b) Barrett–Joyner–Halenda (BJH) pore size distributions. Transmission electron microscopy (TEM) micrographs of (c) KB and (d) MJ10.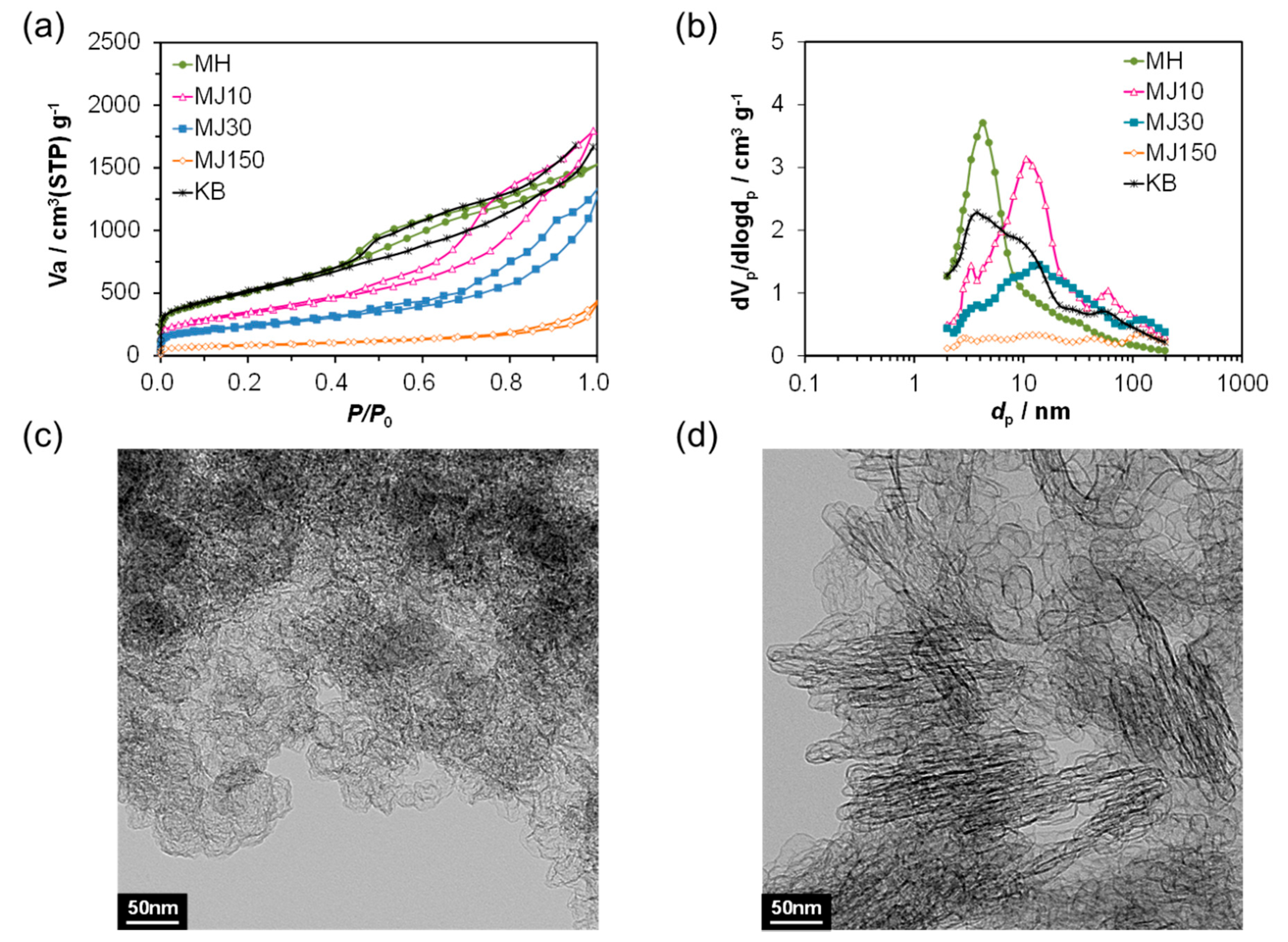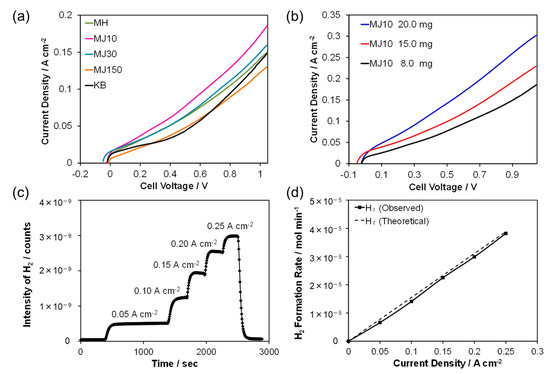 Figure 3. Characteristics for cellulose electrolysis of cells using carbon cathodes at 150 °C: I–V curves of (a) cells using KB, MH, MJ10, MJ30, and MJ150 cathodes and of (b) the cell using the MJ10 cathode. (c) Mass spectrometer (MS) spectra for hydrogen and (d) hydrogen formation rates at the MJ10 cathode. Theoretical values are shown by the dotted lines.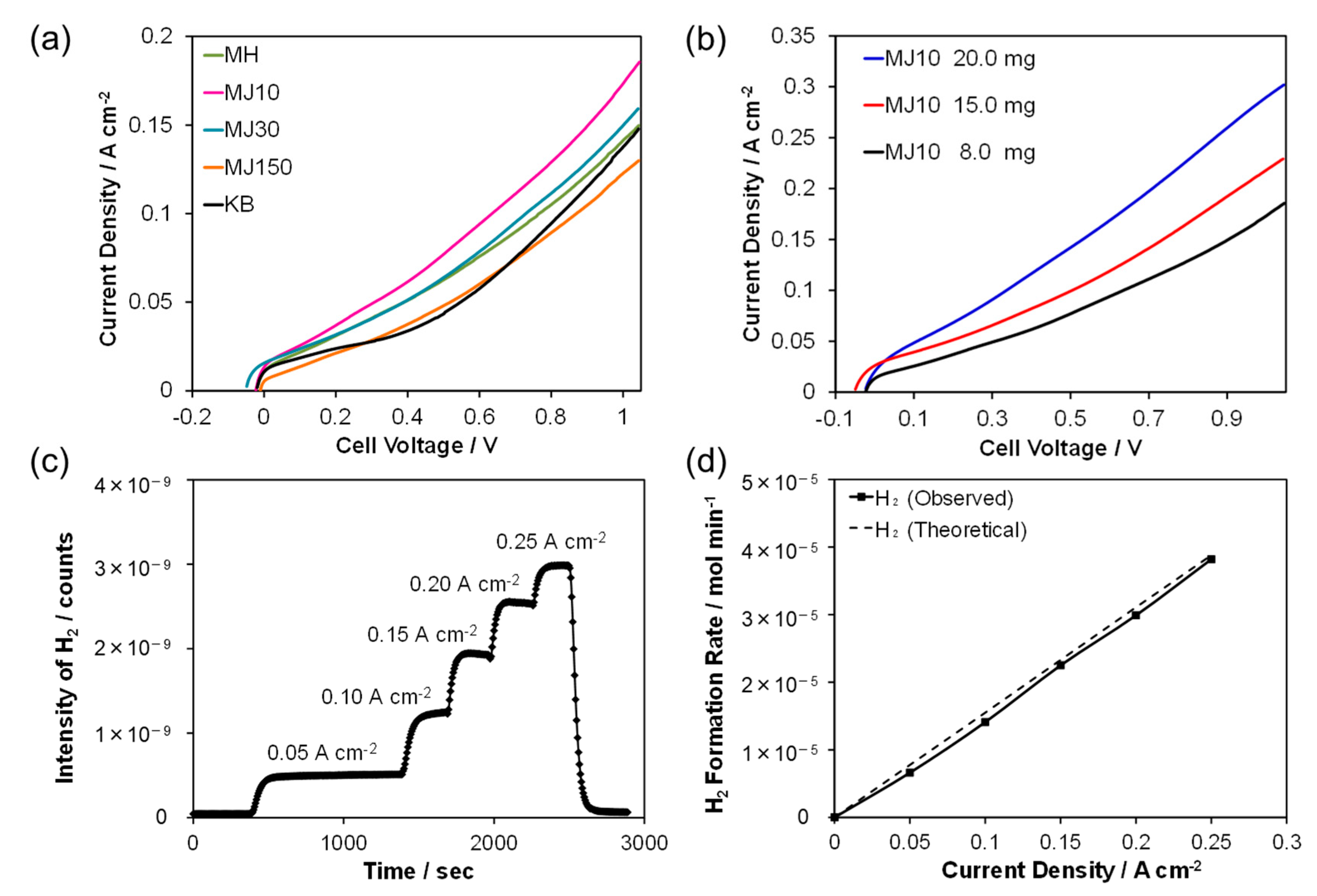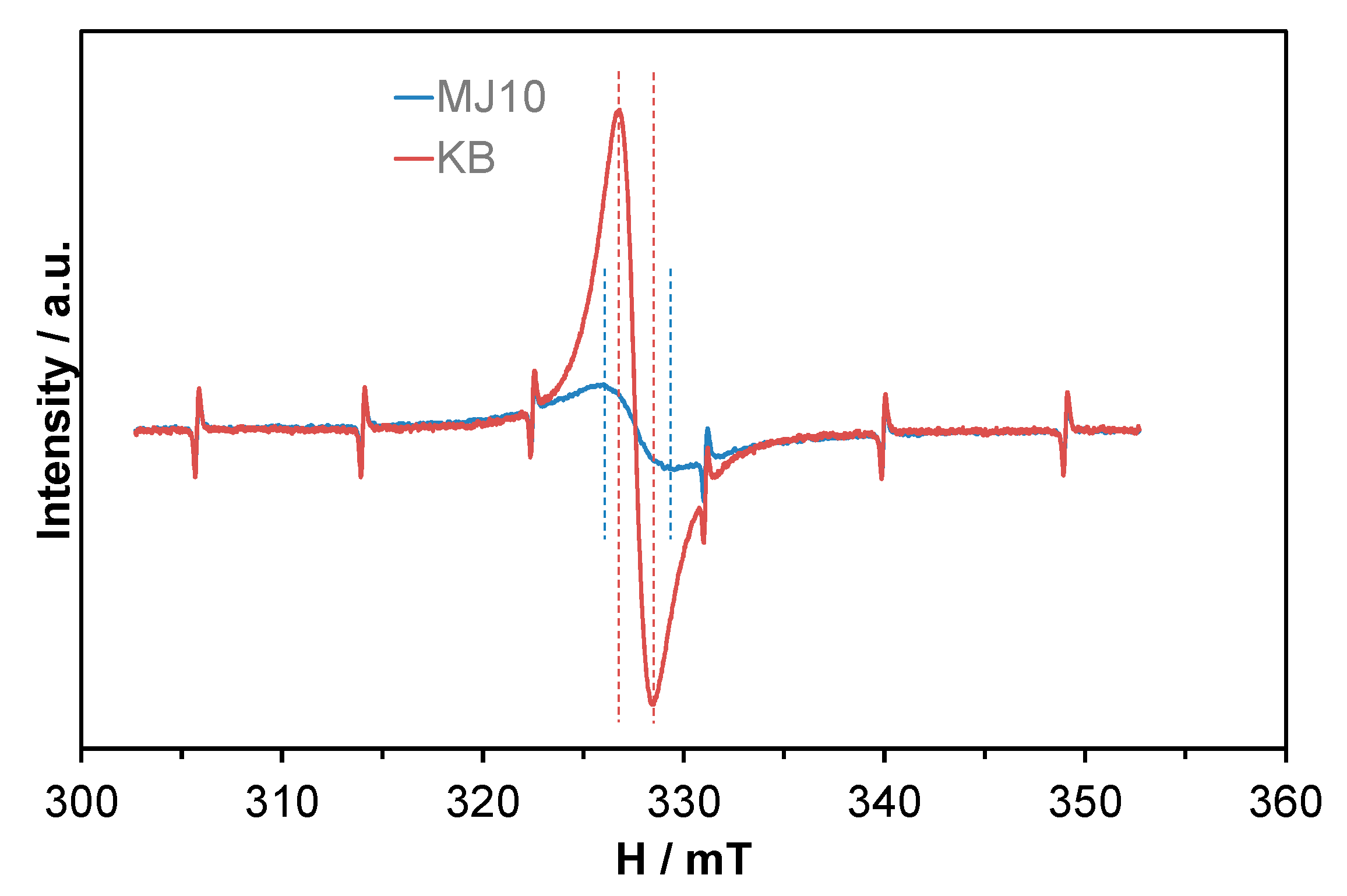 V

p (cm3 g−1)
(BJH)

d

p (nm)
(BJH)

d

av (nm)
(BJH)

S

BET (m2 g−1)
(BET)
KB
2.40
3.80
5.90
1830
MH
2.25
4.20
4.80
1875
MJ10
2.71
10.6
8.60
1223
MJ30
1.76
13.9
9.30
830
MJ150
0.53
-
10.0
282
V

p = pore volume determined using the BJH method;

d

p = BJH pore diameter;

d

av = BJH pore average diameter;

S

BET = specific surface area determined using the Brunauer–Emmett–Teller (BET) method.

© 2020 by the authors. Licensee MDPI, Basel, Switzerland. This article is an open access article distributed under the terms and conditions of the Creative Commons Attribution (CC BY) license (http://creativecommons.org/licenses/by/4.0/).