Open Access This article is
freely available
re-usable
Article
Mean-Field Type Games between Two Players Driven by Backward Stochastic Differential Equations
Department of Mathematics, KTH Royal Institute of Technology, 100 44 Stockholm, Sweden
Received: 3 September 2018 / Accepted: 23 October 2018 / Published: 1 November 2018
Abstract
:
In this paper, mean-field type games between two players with backward stochastic dynamics are defined and studied. They make up a class of non-zero-sum, non-cooperating, differential games where the players' state dynamics solve backward stochastic differential equations (BSDE) that depend on the marginal distributions of player states. Players try to minimize their individual cost functionals, also depending on the marginal state distributions. Under some regularity conditions, we derive necessary and sufficient conditions for existence of Nash equilibria. Player behavior is illustrated by numerical examples, and is compared to a centrally planned solution where the social cost, the sum of player costs, is minimized. The inefficiency of a Nash equilibrium, compared to socially optimal behavior, is quantified by the so-called price of anarchy. Numerical simulations of the price of anarchy indicate how the improvement in social cost achievable by a central planner depends on problem parameters.
Keywords:
mean-field type game; non-zero-sum differential game; cooperative game; backward stochastic differential equations; linear-quadratic stochastic control; social cost; price of anarchy
Acknowledgments
Financial support from the Swedish Research Council (2016-04086) is gratefully acknowledged. The author would like to thank Boualem Djehiche and Salah Choutri for fruitful discussions and useful suggestions, and the anonymous reviewers, whose remarks helped to substantially improve this work.
Conflicts of Interest
The author declares no conflict of interest.
Abbreviations
The following abbreviations are used in this manuscript:
| | |
| --- | --- |
| BSDE | Backward stochastic differential equation |
| FBSDE | Forward-backward stochastic differential equation |
| LQ | Linear-quadratic |
| MFTC | Mean-field type control problem |
| MFTG | Mean-field type game |
| ODE | Ordinary differential equation |
| PoA | Price of Anarchy |
| SDE | Stochastic differential equation |
Appendix A. Differentiation and Approximation of Measure-Valued Functions
Derivatives of measure-valued functions will be defined with the lifting technique, outlined for example in [
14
,
15
,
50
]. Consider the function . We assume that our probability space is rich enough, so that for every , there exists a square-integrable random variable
X
whose distribution is
μ
, i.e., . For example, has this property. Then we may write and we can differentiate F in Fréchet-sense whenever there exists a continuous linear functional such that
where . is the Fréchet derivative of
f
at
μ
, in the direction
Y
and we have that
By Riesz' Representation Theorem, is unique and it is known [
14
] that there exists a Borel function , independent of the version of
X
, such that . Therefore, with for some random variable , (
A1
) can be written as
We denote , , and we have the identity
The Taylor approximation of a measure-valued function is given by (
A3
), and we will write
Assume now that
f
takes another argument,
ξ
. Then
where the expectation is
not taken over the tilded variable
. Note that is deterministic. In situations where the expected value is taken only over the directional argument of , we will write
The expected value in (
A7
) is a random quantity because of . Taking another expected value, and changing the order of integration, leads to
where the tilded expectation is taken only over the tilded variable. The notation for this will be
Appendix B. Proofs
Lemma 1
Let
then . An application of Ito's formula to yields
Let
D
denote the largest bound for all the derivatives of and present. By Jensen's and Young's inequalities,
The stochastic integrals in (
A12
) are local martingales and vanish under an expectation [
36
]. Therefore, with ,
Let , then
and by Hölder's and Young's inequalities,
By Assumption 5 and the definition of , we have for some ,
For , we conclude that
where depends on
δ
, the bound
D
, the Lipschitz coefficient of and the integration bound in the definition of . The steps above can be repeated for the intervals , , etc. until 0 is reached. After a finite number of iterations, we have
where depends on and
T
. This is the first estimate in (
22
). The second estimate follows from similar calculations.
Lemma 2
Integration by parts yields
Hence, the lemma is equivalent to that, under expectations, we have
We match coefficients and get
Linear-Quadratic MFTG–Derivation of ODE System
Under the ansatz, the adjoint equation is
and the expected value of solves
The initial conditions are given by a system of linear equations, which is derived is the same way as (
A25
) and (
A26
). Applying Ito's formula to the ansatz, and using (
A25
) and (
A26
), we get
We can now match these dynamics with the true state dynamics and we get the system of ODEs (
76
) and .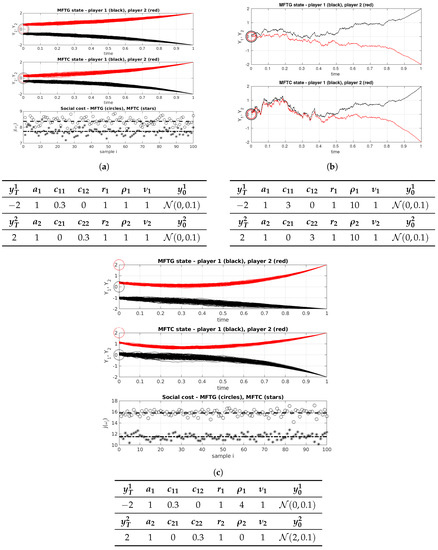 Figure 1. Numerical examples: (a) symmetric preference, (b) single path sample, (c) asymmetric attraction and initial position. Circles indicate the preferred initial positions.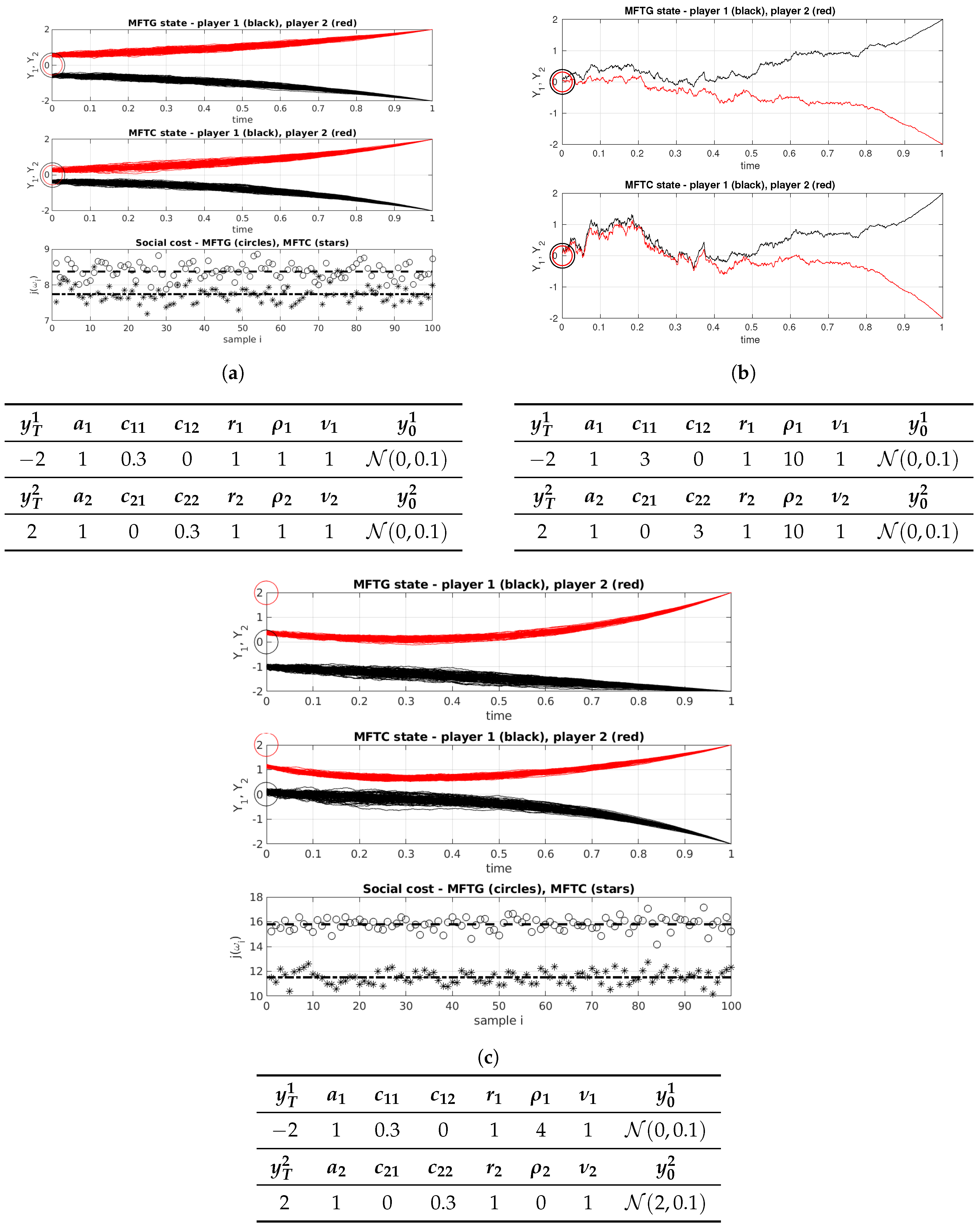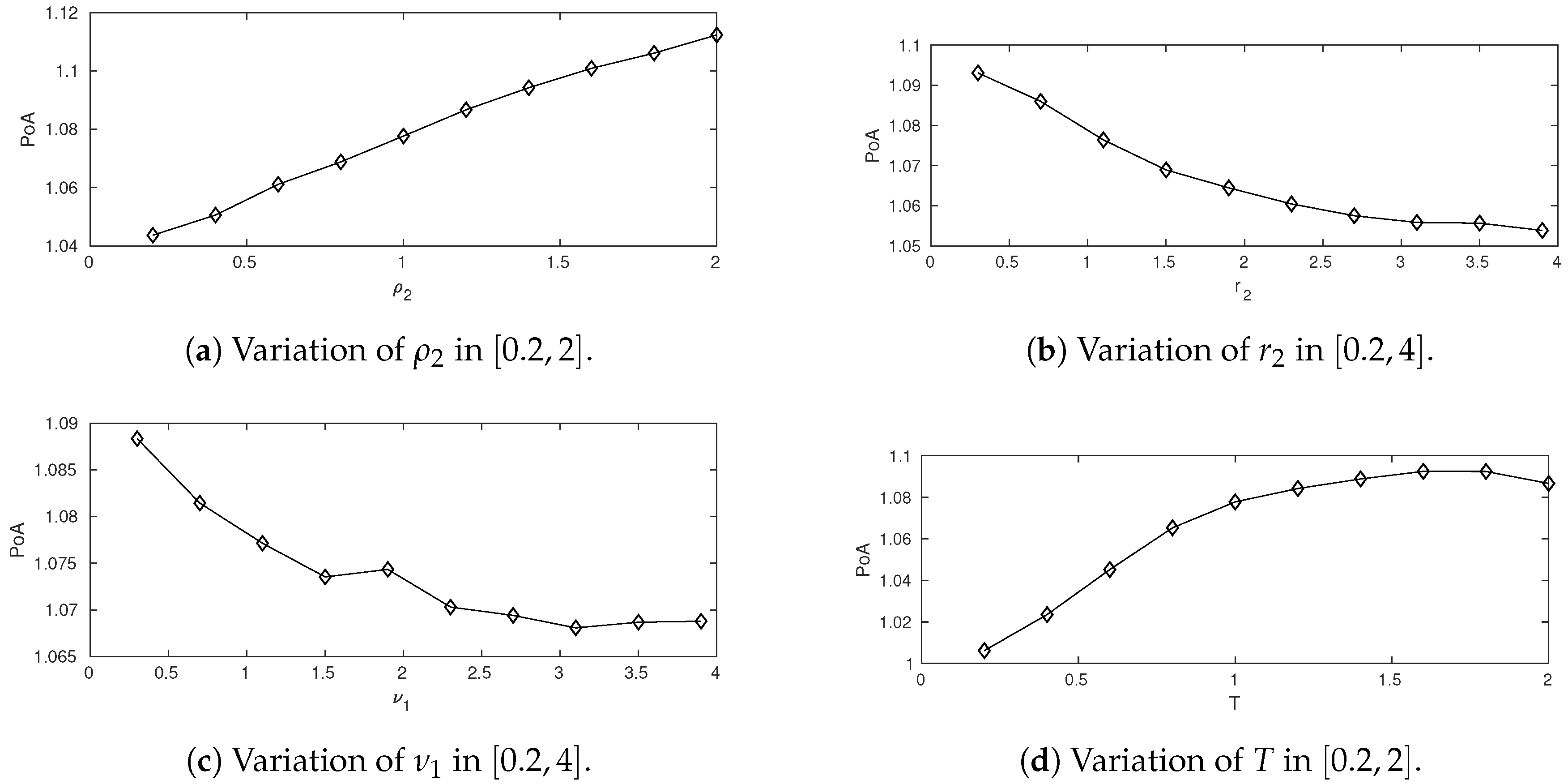 © 2018 by the author. Licensee MDPI, Basel, Switzerland. This article is an open access article distributed under the terms and conditions of the Creative Commons Attribution (CC BY) license (http://creativecommons.org/licenses/by/4.0/).