Open Access This article is
freely available
re-usable
Review
Seed-in-Soil: Pancreatic Cancer Influenced by Tumor Microenvironment
1
Department of Medical Laboratory Sciences, University of Delaware, Room 305, Willard Hall Education Building, 16 West Main Street, Newark, DE 19716, USA
2
Department of Biochemistry and Molecular Biology, Molecular Medicine Graduate Program, University of Maryland School of Medicine and Comprehensive Cancer Center, 108 N. Greene Street, Baltimore, MD 21201, USA
*
Author to whom correspondence should be addressed.
Academic Editor: Samuel C. Mok
Received: 29 June 2017 / Accepted: 18 July 2017 / Published: 21 July 2017
Abstract
:
Pancreatic ductal adenocarcinoma is a fatal malignancy with a five-year survival rate lower than 7%, and most patients dying within six months of diagnosis. The factors that contribute to the aggressiveness of the disease include, but are not limited to: late diagnosis, prompt metastasis to adjacent vital organs, poor response, and resistance to anticancer treatments. This malignancy is uniquely associated with desmoplastic stroma that accounts for 80% of tumor mass. Understanding the biology of stroma can aid the discovery of innovative strategies for eradicating this lethal cancer in the future. This review highlights the critical components in the stroma and how they interact with the cancer cells to convey the devastating tumor progression.
Keywords:
pancreatic ductal adenocarcinoma; tumor microenvironment; carcinoma-associated fibroblasts; signaling pathways; immune-suppression and microRNAs
1. Introduction
Pancreatic ductal adenocarcinoma (PDAC) accounts for >95% of pancreatic cancer, ranking third highest in cancer-related deaths in the US. Genetic analysis of pancreatic cancer has indicated that multiple mutations accumulate over time, including
KRAS
(about 90%),
p16/ INK4a/CDKN2A
(about 75%),
TP53
(about 65%), and
SMAD4
(about 50%)] [
1
,
2
]. Moreover, mutations of
KRAS
,
p16/INK4a/CDKN2A
, and
TP53
result in cells escaping senescence, which allows the tumors to expand [
3
]. Lack of early symptoms, routine screenings, and effective treatment options, followed by refractory to conventional therapies and the progression of early metastasis to the neighboring vital organs, have led to <5% of patients surviving for more than five years [
4
]. Only 10–20% of PDAC patients are candidates for surgery at the time of diagnosis, and merely <20% who undergo curative resection are alive after five years [
5
]. Hence, understanding the biology of PDAC is important in developing improved and effective treatment regimens.
One of the unique characteristics associated with PDAC is that the malignant epithelial cells account for only approximately 20% of the tumor bulk, while the desmoplastic stroma constitute roughly 80% of tumor mass [
6
]. Hence, it is reasonable to theorize that the aforementioned malignant features may pertain to the unique roles that stroma plays in the aspects of initiating malignancy, escaping immune surveillance, promoting tumor progression and growth, as well as conveying drug resistance and metastasis [
7
,
8
,
9
]. This review highlights the impact of these stromal components on PDAC, with an ultimate goal of eradicating such a deadly cancer. Yet, due to the space limitation, authors regret that some of the outstanding findings cannot be mentioned in this report.
2. Cancer-Associated Fibroblasts
4. Signaling Pathways in PDAC Stroma
5. MicroRNAs
MicroRNAs (miRNAs), the short non-coding RNAs involved in the post-transcriptional suppression of target genes, have been defined as the imperative controllers in tumor proliferations, invasions, and resistance to chemotherapeutic agents. The crosstalk between the malignant epithelia in PDAC and the tumor microenvironment was shown to be interplayed by some miRNAs, such as miR-21 and miR-221 [
78
]. Ali et al. demonstrated that these miRNAs stimulated the expression of Kras (a target of
miR-221
) as well as enhanced migration and invasion features leading to advanced PDAC [
78
]. Moreover, miR-155-secreting pancreatic cancer cells furthered the conversion from the normal fibroblasts to CAFs, an event preluded the aggressive malignancy by targeting and downregulating p53-induced nuclear protein 1 (TP53INP1) [
79
]. Conversely, loss of miR-29 was a common occurrence of activated PSCs, and this phenomenon was correlated with a significant increase in ECM [
80
]. Hence, correcting and sustaining these miRNAs at their normal levels could likely become promising targets for developing innovative medicine.
Valadi et al. denoted that exosomes can shuttle miRNAs between the donor and the recipient cells that subsequently exerted important biological impacts on the recipient cells [
81
]. For example, Fabbri et al. revealed that the binding of miR-21 and miR-29a in the exosomes secreted from cancer cells to the Toll-like receptors on the immune cells resulted in an inflammatory response that promoted tumor expansion and metastasis [
82
]. As exosomes acted as a carrier for miRNAs imperative for conveying a tumor microenvironment conducive to metastasis, they shall not be too far away from constituting potential treatment regimens or becoming biomarkers.
6. Cancer Vaccines
Cancer vaccines stimulate the immune system to produce and infiltrate tumor-specific cytotoxic effector T cells by increasing the exposure of tumor-associated antigens to the immune system. The most promising vaccine was GVAX, which was composed of allogeneic PDAC cell lines engineered to secrete GM-CSF [
83
]. After been administered to the patients with resected or metastatic PDAC, GVAX was able to boost the production of anti-tumor CD8
+
T cells in peripheral lymphocytes, with an outcome correlated with an improved survival [
84
]. Another study testing the combination of GVAX and ipilimumab (an antibody blocking CTLA-4) compared to ipilimumab monotherapy showed an appreciative overall survival in metastatic PDAC patients [
85
]. Likewise, the combination of GVAX with PD-1/PD-L1 blockade together facilitated effector T cell infiltration into pancreatic tumors in a mouse model [
32
].
Recently, PDAC was recognized to be one of the "nonimmunogenic" malignancies, due to a shortage of tumor-infiltrating effector lymphocytes. Lutz et al. developed an adjuvant clinical trial by combining GVAX with low-dose cyclophosphamide to deplete Tregs. By inducing the infiltration of T cells, patients demonstrated improved survival, enhanced post-vaccination T-cell responses, and increased intratumoral T effector/Treg ratios [
86
]. Furthermore, Le et al. developed a chimeric GVAX-based vaccine known as GVAXCRS-207 that comprised not only GVAX, but also live-attenuated
Listeria monocytogenes
-expressing mesothelin to stimulate innate and adaptive immunity [
87
]. Mesothelin was reported to be a common antigen expressed in many human cancers, including PDAC [
88
]. The delivery of GVAXCRS-207 plus cyclophosphamide to the patients yielded encouraging outcomes with extended survival and minimal cytoxicity [
87
]. Taken together, GVAX appeared to be very specific, and vaccine therapies were relatively tolerated. Future innovative treatment regimens could adapt the synergistic effect from GVAX along with other target agents.
Another DNA-based vaccine comprised of Mucin 1 plus variable number tandem repeat (MUC1-VNTR
6
, each repeat of VNTR encodes 20 amino acids GVTSAPDTRPAPGSTAPPAH) was recently developed, and was transfected to immature dendritic cells [
89
]. Upon intake of the plasmid construct pVAX1-MUC1-VNTR
6
, dendritic cells not only yielded elevated immunogenicity, but their neighboring co-cultured T-cells also gained evident cytotoxicity, which was manifested by their growth inhibitory effect on PDAC in both laboratory cultivation experiments and tumor-bearing animal studies [
89
].
7. Concluding Remarks and Future Treatment Regimens
In summary,
Figure 1
depicted the progression of PDAC can be orchestrated by various tumor microenvironmental elements, and some of them have been utilized for developing targeted therapies (see
Table 1
). Future improved treatments for PDAC could include combination regimens aiming to normalize desmoplastic reaction, inhibit tumorigenic-signaling pathways, reprogram immune suppression (known as immunotherapy), correct aberrant miRNAs, and implement cancer vaccines.
Acknowledgments
This work was supported in part by the Interdisciplinary Collaborative Grants, Comprehensive Cancer Center, the Ohio State University to Huey-Jen Lin, as well as the University of Maryland School of Medicine and Comprehensive Cancer Center start-up fund and an AACR-Pancreatic Cancer Action Network grant to Jiayuh Lin.
Conflicts of Interest
The authors declare no conflict of interest.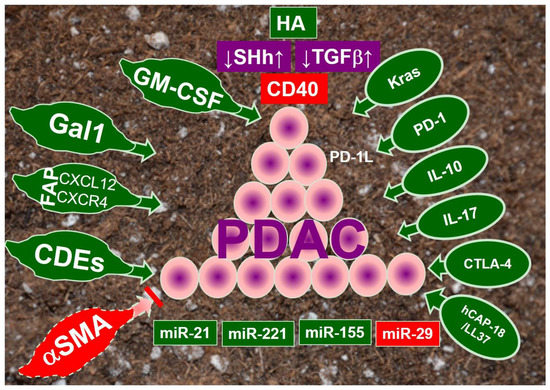 Figure 1. The pleiotropic influence of the tumor microenvironment on pancreatic ductal adenocarcinoma (PDAC). The progression of (PDAC) (pyramid spheres in the center) is controlled by various molecules and signaling pathways in the tumor microenvironment. While molecules associated with carcinoma-associated fibroblasts or pancreatic stellate cells were displayed in spindles at the left side of the figure, others involved with immune cells are presented in ova at the right side of figure. Moreover, the signaling pathways are presented in rectangles above PDAC, while the microRNAs (miR) are underneath. Tumor-promoting factors are shaded in green, while inhibiting factors are in red. Yet, ones shaded in purple are pleotropic, with both promoting and inhibiting effects, depending on the stage of tumors as well as the research studies. The abbreviations used are CDEs (CAFs-derived exosomes); CTLA-4 (cytotoxic T lymphocyte-associated protein 4); FAPa (fibroblast activation protein-a); Gal1 (glycan-binding protein galectin-1); GM-CSF (granulocyte macrophage colony-stimulating factor); HA (hyaluronan); IL-10 (interleukin 10); IL-17 (interleukin 17); Kras (constitutively oncogenic Kras); miR (microRNA); PD-1 (programmed cell death 1 receptor); PD-1L (ligand for PD-1); and SHh (Sonic hedgehog).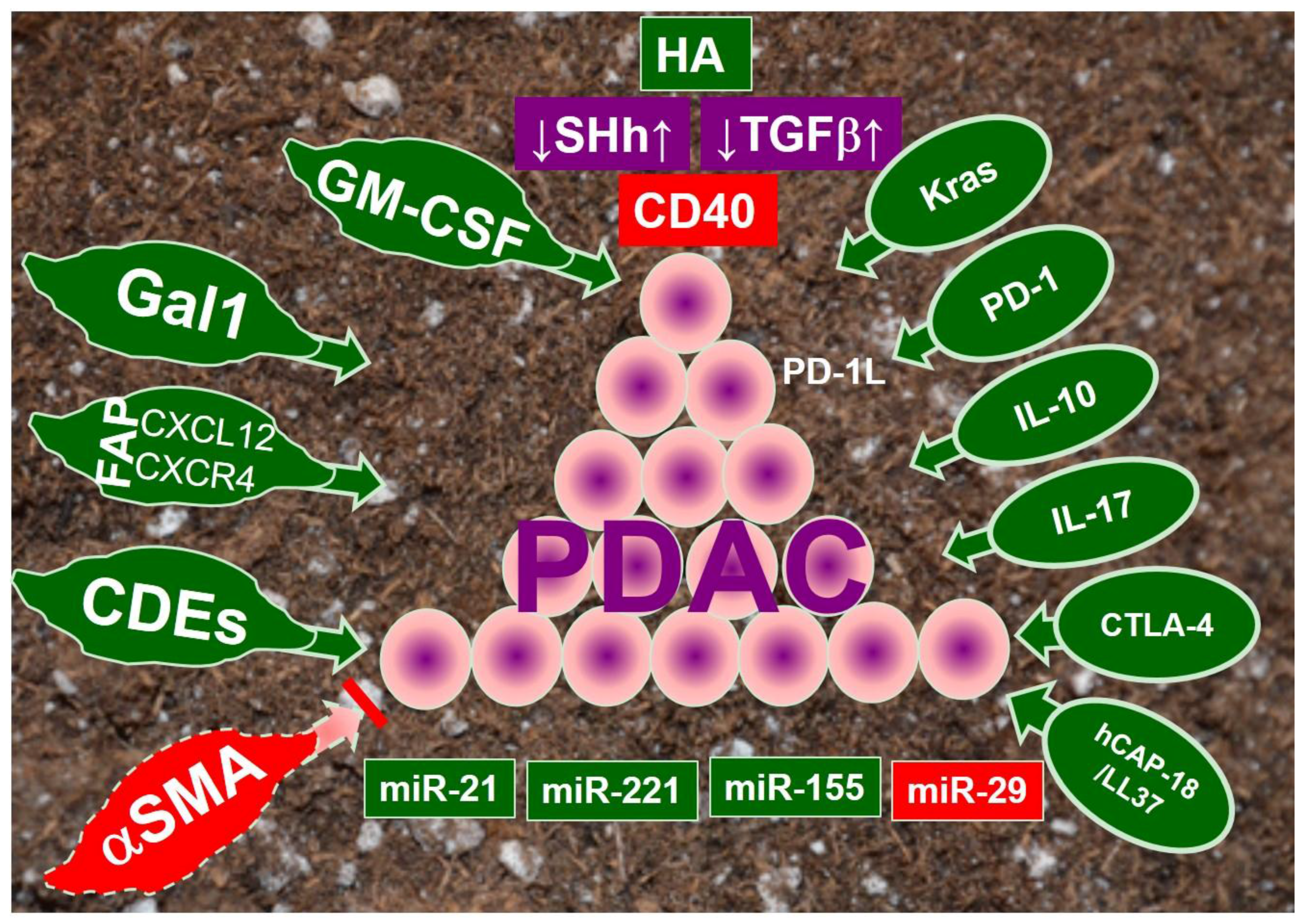 Target
Clinical Studies
Reference
Hyaluronan and chemotherapy agent
Phase 1b
PEGPH20 plus Gemcitabine
[50]
Transforming Growth Factor β
Orthotopic human tumor xenografts
TGFβr2 neutralizing antibody (2G8)
[62]
Cancer vaccine
GVAX. Phase 2
[83,84]
Cancer vaccine and CTLA-4
GVAX and ipilimumab
[85]
Cancer vaccine and Treg
GVAX and cyclophosphamide
[86]
Cancer vaccine, Treg, and mesothelin
Cyclophosphamide/GVAXCRS-207
[87]

© 2017 by the authors. Licensee MDPI, Basel, Switzerland. This article is an open access article distributed under the terms and conditions of the Creative Commons Attribution (CC BY) license (http://creativecommons.org/licenses/by/4.0/).