Open Access This article is
freely available
re-usable
Review
Role and Therapeutic Targeting of the HGF/MET Pathway in Glioblastoma
1
Department of Microbiology, Immunology & Cancer Biology, University of Virginia, Charlottesville, VA 22908, USA
2
Department of Neurology and The Cancer Center, Department of Microbiology, Immunology & Cancer Biology, University of Virginia, Charlottesville, VA 22908, USA
*
Author to whom correspondence should be addressed.
Academic Editor: Jill M. Siegfried
Received: 5 June 2017 / Accepted: 6 July 2017 / Published: 11 July 2017
Abstract
:
Glioblastoma (GBM) is a lethal brain tumor with dismal prognosis. Current therapeutic options, consisting of surgery, chemotherapy and radiation, have only served to marginally increase patient survival. Receptor tyrosine kinases (RTKs) are dysregulated in approximately 90% of GBM; attributed to this, research has focused on inhibiting RTKs as a novel and effective therapy for GBM. Overexpression of RTK mesenchymal epithelial transition (MET), and its ligand, hepatocyte growth factor (HGF), in GBM highlights a promising new therapeutic target. This review will discuss the role of MET in cell cycle regulation, cell proliferation, evasion of apoptosis, cell migration and invasion, angiogenesis and therapeutic resistance in GBM. It will also discuss the modes of deregulation of HGF/MET and their regulation by microRNAs. As the HGF/MET pathway is a vital regulator of multiple pro-survival pathways, efforts and strategies for its exploitation for GBM therapy are also described.
Keywords:
Glioblastoma; HGF; MET
1. Glioblastoma
Glioblastoma (GBM) is the most common and lethal primary malignant brain tumor with an incidence rate of approximately 3.19/100,000 per year [
1
]. Despite intensive therapy including surgical resection, chemotherapy and radiotherapy, prognosis remains poor with an average survival of 14 months [
2
]. The Cancer Genome Atlas Research Network (TCGA) identified genomic alterations present in GBM, classifying the tumors into four distinct subtypes: classical, proneural, mesenchymal and neural [
3
]. Characterized by overexpression of epidermal growth factor receptor (EGFR), classical GBM often lack TP53 mutation and display focal loss of 9p21.3. The majority of proneural GBM, on the other hand, harbor TP53 mutations (over 50%) along with mutations of the isocitrate dehydrogenase 1 gene (IDH1). In the mesenchymal subgroup, deletion of region 17q11.2, correlating to neurofibromatosis gene (NF1), is the most frequent alteration, followed by mutations in phosphatase and tensin homolog (PTEN), TP53 and mesenchymal epithelial transition (MET) overexpression. The neural subset of GBM encompassed mutations described in other subtypes but displayed no subtype specific mutations; additionally, this group of patients tended to be older [
4
]. Recently, the neural subtype of GBM has been called into question and is thought to represent normal brain contamination. Additionally, GBMs are further categorized based on the World Health Organization (WHO) classification. This updated classification separates central nervous system (CNS) tumors based on cell origin, grade, molecular alterations, such as IDH-mutation, and histology [
5
]. Three core pathways were found to be almost universally deregulated in GBM: the p53 (87%), retinoblastoma (RB) (78%) and receptor tyrosine kinase (RTK) (88%) signaling pathways. Within the p53 pathway dysregulation of GBM, homozygous deletion of p14/ARF is the predominate alteration, followed closely by mutation or deletion of the tumor suppressor (TP53) itself. Deletion or mutation of p16 and CDKN2B in the RB pathway was identified as another common alteration displayed by GBM. The most frequent RTK alteration identified remains amplification or mutation of EGFR (45%) followed by epidermal growth factor receptor (ERBB2) (8%), platelet-derived growth factor receptor α (PDGFRα) (13%) and MET (4%). Other common alterations in this pathway include mutation or deletion of tumor suppressors PTEN and NF1 [
6
,
7
].
Given the dismal prognosis of GBM, research has focused on identifying novel targets for therapy. A particular area of interest are RTKs that regulate many essential cellular processes within normal cells, such as cell proliferation, differentiation and survival [
8
,
9
]. Deregulation of RTKs is common in the initiation and progression of GBM, as highlighted by TCGA analysis, emphasizing their potential as targets for new anticancer therapies.
1.1. HGF and MET
The RTK MET is coded for by the MET proto-oncogene located on chromosome 7q21–31 [
10
,
11
]. MET is spontaneously deregulated in approximately 2–3% of cancers [
12
] and activated primarily in the mesenchymal high-grade subtype of GBM [
13
,
14
]. MET regulates multiple cellular functions such as proliferation, survival and motility and displays low activity in normal cells. Aberrant MET activation in tumor cells promotes enhanced tumor cell growth, angiogenesis and invasion and is associated with poorer overall survival [
8
,
15
,
16
]. Oncogenic MET activation can result from various mechanisms including amplification of MET, elevated levels of its ligand, hepatocyte growth factor (HGF), mutations within the promoter region of HGF, constitutive kinase activity due to mutation and loss of negative regulatory mechanisms such as microRNAs [
10
,
15
,
17
,
18
]. Since the MET pathway is predominately activated in high-grade GBM cells, targeting MET could lead to selective killing of tumor cells whilst sparing normal cells for optimal anticancer therapy [
15
].
The MET receptor is a dimeric, 190 kD tyrosine receptor kinase expressed on the surface of epithelial and endothelial cells and at low levels in the brain. The dimer features a 50 kD extracellular α-chain and a 140 kD transmembrane β-chain, linked together by disulfide bridges. The only known ligand for MET is hepatocyte growth factor (HGF) (also known as the scatter factor, SF), which is a multifunctional two-chain cytokine secreted by mesenchymal cells (
Figure 1
) [
10
,
19
]. HGF is initially synthesized as pro-HGF which is then cleaved into mature HGF [
20
]. Mature HGF consists of six protein domains: N-terminal domain, four kringle domains and a C-terminal domain [
11
,
21
]. When mature HGF binds to MET it sits within the ligand-binding pocket of the extracellular α-chain of MET, while the intracellular β-chain of MET contains the tyrosine kinase domain [
16
,
22
]. Binding of HGF to MET results in receptor dimerization and the autophosphorylation of multiple tyrosine residues—Y1234 and Y1235 responsible for receptor activity, and Y1349 and Y1356 responsible for the recruitment of downstream effectors [
15
,
19
]. The latter enables the binding of a variety of substrates to MET which in turn leads to the activation of multiple signaling pathways [
10
].
1.2. HGF/MET Downstream Signaling
The oncogenic effect of MET is mediated through the recruitment of multiple effectors including GRB2, GAB1, PI3K, Shc, Src and SHP-2, ultimately leading to the activation of several downstream signal transduction pathways (
Figure 2
) [
8
,
14
,
16
]. One such pathway is the mitogen-activated protein kinase (MAPK, a serine/threonine kinase) network, which is stimulated through GRB2-SOS and MET association and subsequently RAS activation. The MAPK signaling cascade includes extracellular signal-related kinase (ERK1/2), Jun amino-terminal kinases (JNK1/2/3), p38-MAPK and ERK5 and is vital in the regulation of cell proliferation, survival and differentiation [
10
]. Another effector mediated by MET is phosphoinositide 3-kinase (PI3K), which is activated either through direct binding of the p85 subunit to MET or indirectly through RAS recruitment causing subsequent phosphorylation of AKT. Like its counterpart, the MAPK cascade, this pathway is critical in many cell regulatory functions such as growth, proliferation and survival leading to the promotion of tumorigenesis [
10
,
23
]. Further downstream from traditional kinase activation routes, MET activation also leads to phosphorylation of the Janus kinase signal transducer and activator of transcription (STAT), which dissociates from the receptor and relocates to the nucleus to promote tumor cell proliferation, survival and invasion [
10
]. MET's role in mediating these pathways ultimately makes it a centralized regulatory node of many pro-survival signaling networks, many of which are often exploited by transformed cells (
Figure 2
).
1.3. HGF/MET Regulation by microRNAs
The prevalence and complexity of MET/HGF signaling in high-grade GBM such as MET amplification, elevated HGF and pathway orchestration through intricate miRNA networks emphasize the importance of novel therapeutic strategies for targeting MET/HGF signaling for optimal therapy. With this in mind, we will discuss below the different therapeutic approaches being developed and discuss past and ongoing clinical trials targeting MET/HGF for therapy.
1.4. HGF/MET Deregulation in GBM
Under normal conditions, HGF-induced MET activation is regulated by paracrine ligand delivery, ligand activation and ligand activated receptor internalization and degradation. Given the many molecular effectors that are known to enter into or result from MET recruitment, there are many mechanisms that lead to aberrant MET signaling including: overexpression of MET, elevated paracrine or autocrine ligand production, constitutive MET activation in the absence of MET gene amplification, and MET mutations [
31
]. Complications also arise from the fact that HGF/MET are highly expressed in GBM with expression correlating with grade [
11
]; indeed, this is compounded by co-expression of a HGF activator, a serine proteinase referred to as HGF activator (HGFA) [
32
], reinforcing an autocrine loop in highly malignant GBM [
33
]. Ultimately, the intrinsic feedback loop can amplify or promote the drivers of GBM through various mechanisms including inducing cell cycle progression, cell migration, invasion and angiogenesis and inhibition of apoptosis (
Figure 3
) [
11
].
1.5. HGF/MET Functions and Modes of Action in GBM
1.6. HGF/MET as GBM Therapeutic Targets
MET/HGF mutations and overexpression are present in a high percentage of GBM tumors and previous studies have demonstrated that inhibition of MET in tumor cells leads to growth inhibition, tumor regression and decreased metastatic potential. MET-amplification and overexpression has been reported in 5% and 13% of GBMs respectively, whereas MET gains are present in 47% of primary GBMs and 44% of secondary GBMs [
67
]. This finding is particularly effective for GBM cells that display high expression of both HGF and MET [
14
,
17
,
68
,
69
]. In that regard, targeting MET may prove beneficial for GBM therapy, where strategies to regulate the MET/HGF pathway have led to the development of several types of inhibitors: small-molecule tyrosine kinase inhibitors, monoclonal antibodies to the MET receptor and antagonists or monoclonal antibodies to HGF (
Figure 2
) [
18
].
2. Conclusions and Future Perspectives
Inhibition of MET has demonstrated clinical benefit for patients with multiple types of cancer. In addition to showing that MET inhibitors are generally well-tolerated, previous clinical trials (
Table 1
) have also highlighted that patient selection is an important consideration. A specific subset of patients, those that exhibit MET gene amplification, respond more successfully to MET targeted therapy emphasizing that clinical trials should be tailored to this subset of patients to achieve maximum therapeutic outcome. Additionally, we and others have established that autocrine production of HGF is a predictor of response to MET inhibition [
14
,
90
,
91
]. Furthermore, combining MET inhibitors with other RTK inhibitors, such as EGFR, may further enhance anticancer activity [
90
]. In the event that MET inhibitors alone are insufficient, they reportedly still act to enhance radiation and chemotherapeutic toxicity in a large cohort of patients, as well as reversing acquired resistance to other RTK inhibitors [
8
,
10
,
17
].
Furthermore, therapeutic regulation of miRNAs in GBM tumors will likely lead to increased survival for patients. In the past, lack of an efficient delivery system for miRNAs, especially into the central nervous system, was the main hurdle. In recent years, various delivery mechanisms have been investigated, for example, miRNAs can be conjugated to modified gold nanoparticles, which are able to carry miRNAs across the blood-brain barrier, as in the case of miR-182 [
29
]. Gold nanoparticles also demonstrate low toxicity, high stability and high cell uptake, making them the most promising delivery tool for miRNAs [
92
]. Other delivery mechanisms available include, adeno-associated virus [
93
], polymeric brain-penetrating nano-particles [
94
] and mesenchymal stem cells [
95
,
96
]. Both of which are capable of reliably transport miRNAs and have demonstrated brain-specific tropism. However, no studies to date have demonstrated in vivo effects against GBM using either of these miRNA carriers.
HGF/MET inhibitors, specifically small molecule inhibitors and monoclonal antibodies, have displayed mixed results in clinical trials in GBM patients that emphasize the importance of patient selection. Combining HGF/MET inhibitors with currently used chemotherapeutics or inhibitors for other growth pathways would prove to be a more effective treatment options for many cancer patients.
Acknowledgments
This article was supported by NIH R01 NS045209 (Roger Abounader).
Conflicts of Interest
The authors declare no conflict of interest.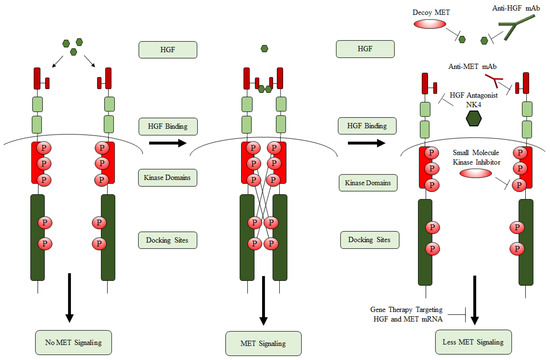 Figure 1. Mechanism of mesenchymal epithelial transition (MET) activation and current therapeutic strategies for hepatocyte growth factor (HGF)/MET inhibition. The MET receptor is activated through ligand (HGF) binding, which induces receptor dimerization and cross phosphorylation. Activation can be inhibited in several ways: (1) Decoy MET protein sequesters HGF from MET, (2) Anti-HGF and MET monoclonal antibodies competitively bind to the ligand and receptor, respectively. (3) HGF antagonists competitively bind to MET. (4) Small molecule kinase inhibitors prevent receptor activation by inhibiting kinase domain activity. (5) Gene therapy modulates HGF and MET mRNA production.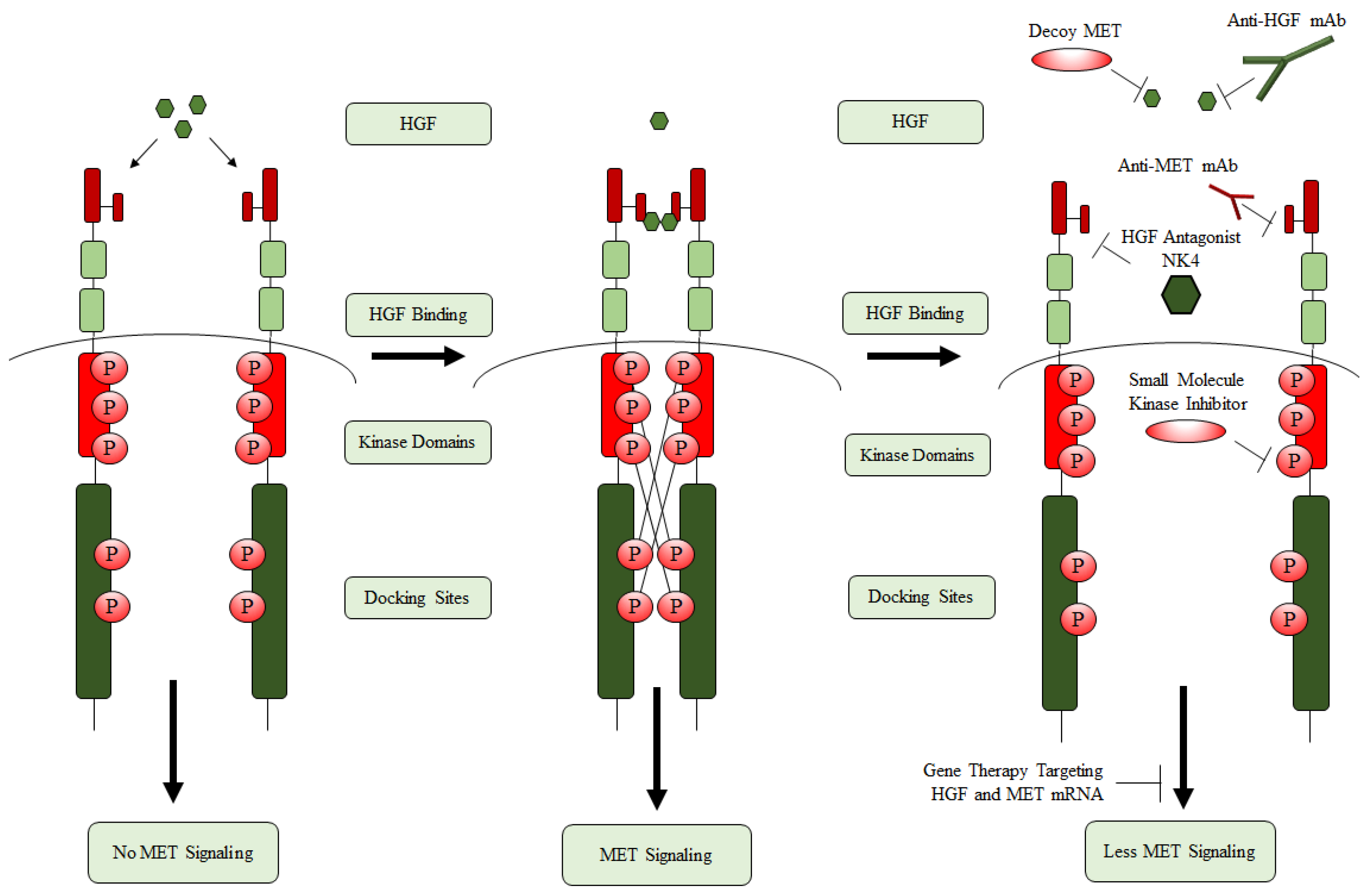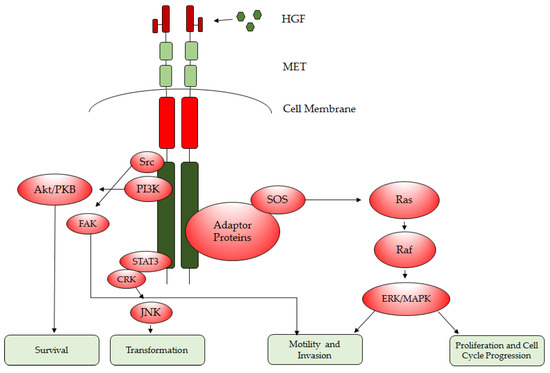 Figure 2. MET regulated signaling pathways implicated in the hallmarks of cancer. MET activation initiates the following downstream pathways: (1) phosphoinositide 3-kinase (PI3K) signaling conferring enhanced survival, (2) RAS/mitogen-activated protein kinase (MAPK) Pathway signaling resulting in enhanced proliferation, cell motility and invasion, (3) Jun amino-terminal kinases (JNK)/signal transducer and activator of transcription (STAT) signaling, which contributes to cell transformation and (4) focal adhesion kinase (FAK) signaling leading to increased cell motility and invasion.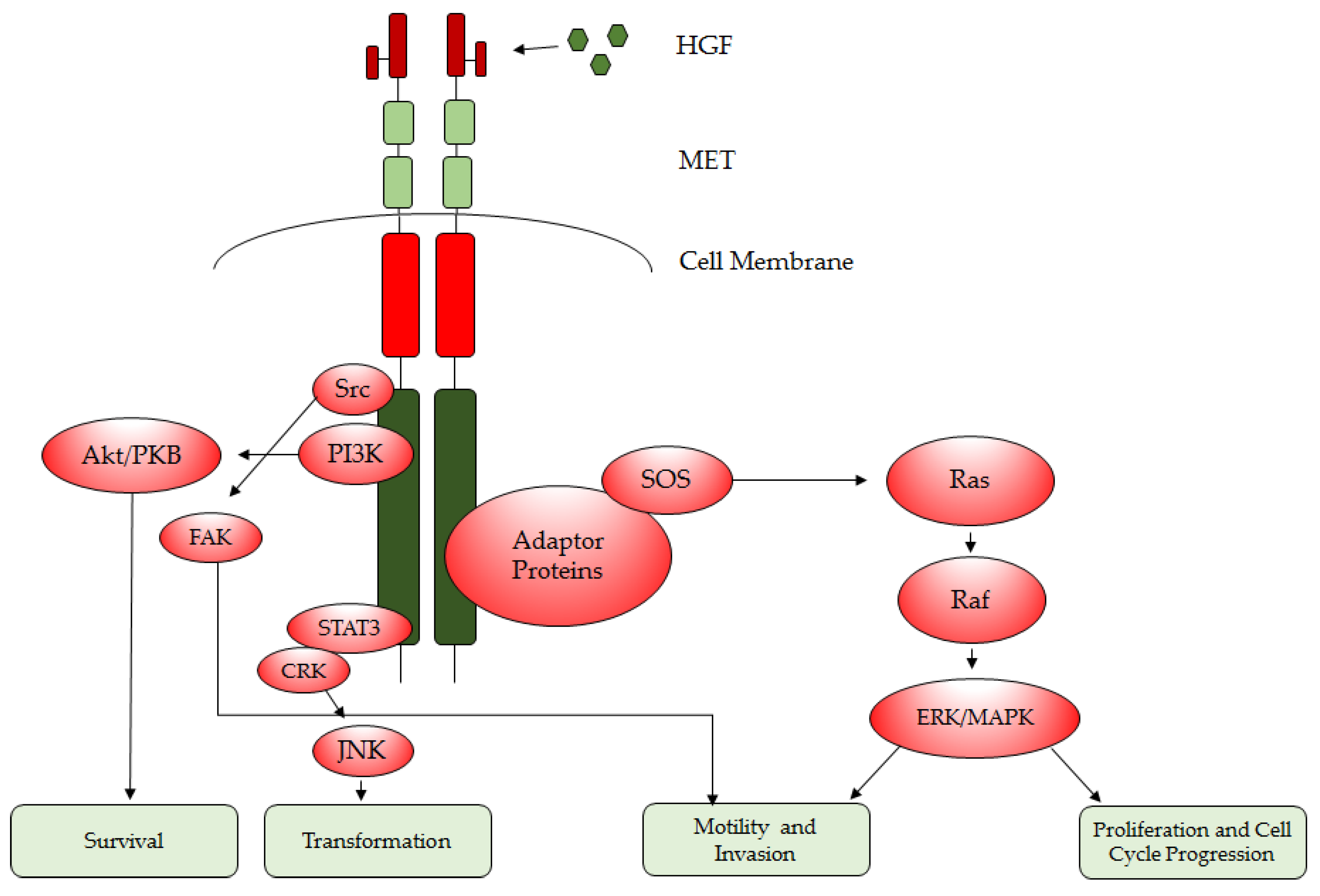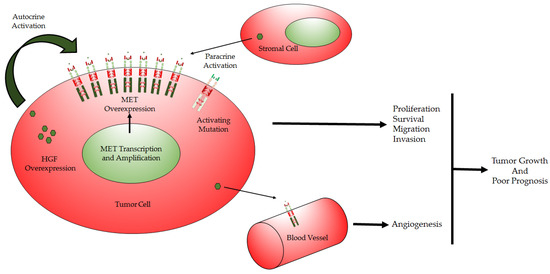 Figure 3. Modes of deregulation of HGF/MET in cancer: (1) Autocrine and paracrine overexpression of HGF, (2) Amplification of MET gene leading to MET protein overexpression, (3) An activating mutation resulting in a constitutively active protein product, (4) HGF overexpression by tumor cells activating MET in the tumor microenvironment.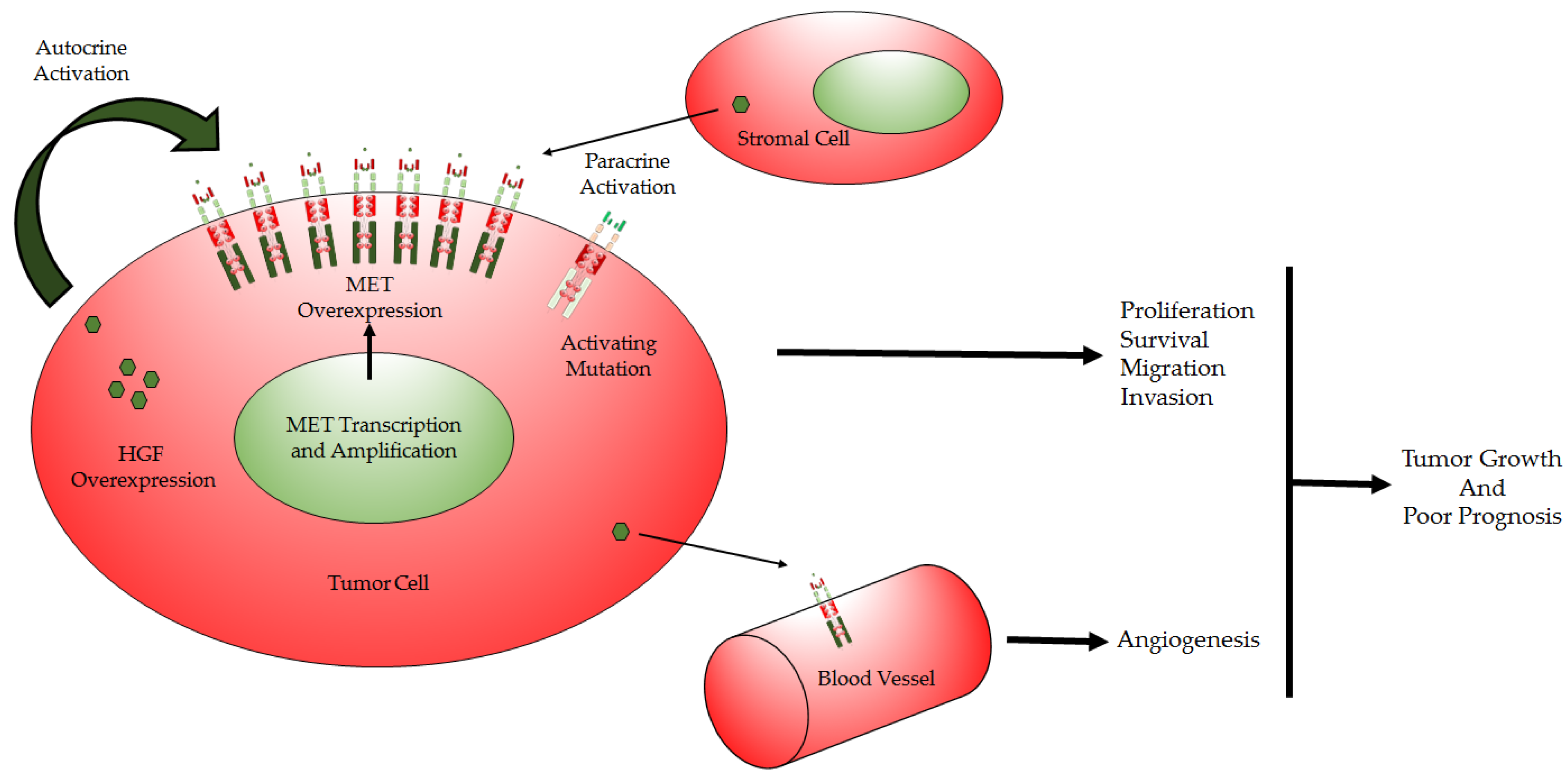 Table 1. Overview of previous and current MET/HGF inhibitor clinical trials.
Clinical Trial
Phase
Status
Drug
Combinations
Patient Population
Results
NCT
02386826
Ib
Recruiting
INCB28060 (INC280)
Bevacizumab
Recurrent GBM, Metastatic Colorectal Cancer (mCRC) Metastatic Renal Cell Carcinoma (mRCC)
None Reported
NCT
01870726
II
Completed
INCB28060 (INC280)
Buparlisib
Recurrent GBM
None reported
NCT
01441388
Ib
Withdrawn
Crizotinib
VEGF inhibitors, axitinib, sunitinib, bevacizumab and sorafenib
Advanced solid tumors in GBM, Renal Cell Carcinoma (RCC) and Hepatocellular Carcinoma (HCC)
None Reported
NCT
00939770
I/II
Active, not recruiting
Crizotinib
-
Relapsed/refractory solid tumors in brain and central nervous system, neuroblastoma and anaplastic large cell lymphoma
None Reported
NCT
01644773
I
Recruiting
Crizotinib
Dasatinib
High-grade glioma, diffuse intrinsic pontine glioma
None Reported
NCT
02034981
II
Recruiting
Crizotinib
-
MET amplified GBM
None Reported
NCT
01632228
II
Completed
Onartuzumab
Onartuzumab with bevacizumab versus bevacizumab alone or onartuzumab monotherapy
Recurrent GBM
None reported
NCT
01113398
II
Completed
Rilotumumab
Bevacizumab
Recurrent malignant glioma
16.67% of cohort experienced serious adverse events
NCT
00427440
II
Completed
Rilotumumab
-
Advanced malignant glioma
None reported
NCT
00960492
I
Completed
Cabozantinib
Temozolomide, radiation therapy
GBM, Giant Cell GBM and Gliosarcoma
None reported
NCT
00704288
II
Completed
Cabozantinib
-
Recurrent GBM
None reported
NCT
01189513
I
Withdrawn
Ficlatuzumab
-
GBM
None Reported
NCT
01433991
I/II
Active, not recruiting
Golvatinib
Lenvatinib
Recurrent GBM, unresectable stage III/IV melanoma
None Reported
© 2017 by the authors. Licensee MDPI, Basel, Switzerland. This article is an open access article distributed under the terms and conditions of the Creative Commons Attribution (CC BY) license (http://creativecommons.org/licenses/by/4.0/).