Activated HGF-c-Met Axis in Head and Neck Cancer
1
Departments of Otolaryngology, University of Kansas Medical Center, Kansas City, KS 66160, USA
2
Anatomy & Cell Biology, University of Kansas Medical Center, Kansas City, KS 66160, USA
3
Cancer Biology, University of Kansas Medical Center, Kansas City, KS 66160, USA
*
Author to whom correspondence should be addressed.
Received: 16 October 2017 / Revised: 6 December 2017 / Accepted: 7 December 2017 / Published: 12 December 2017
Abstract
Head and neck squamous cell carcinoma (HNSCC) is a highly morbid disease. Recent developments including Food and Drug Administration (FDA) approved molecular targeted agent's pembrolizumab and cetuximab show promise but did not improve the five-year survival which is currently less than 40%. The hepatocyte growth factor receptor; also known as mesenchymal–epithelial transition factor (c-Met) and its ligand hepatocyte growth factor (HGF) are overexpressed in head and neck squamous cell carcinoma (HNSCC); and regulates tumor progression and response to therapy. The c-Met pathway has been shown to regulate many cellular processes such as cell proliferation, invasion, and angiogenesis. The c-Met pathway is involved in cross-talk, activation, and perpetuation of other signaling pathways, curbing the cogency of a blockade molecule on a single pathway. The receptor and its ligand act on several downstream effectors including phospholipase C gamma (PLCγ), cellular Src kinase (c-Src), phosphotidylinsitol-3-OH kinase (PI3K) alpha serine/threonine-protein kinase (Akt), mitogen activate protein kinase (MAPK), and wingless-related integration site (Wnt) pathways. They are also known to cross-talk with other receptors; namely epidermal growth factor receptor (EGFR) and vascular endothelial growth factor receptor (VEGFR) and specifically contribute to treatment resistance. Clinical trials targeting the c-Met axis in HNSCC have been undertaken because of significant preclinical work demonstrating a relationship between HGF/c-Met signaling and cancer cell survival. Here we focus on HGF/c-Met impact on cellular signaling in HNSCC to potentiate tumor growth and disrupt therapeutic efficacy. Herein we summarize the current understanding of HGF/c-Met signaling and its effects on HNSCC. The intertwining of c-Met signaling with other signaling pathways provides opportunities for more robust and specific therapies, leading to better clinical outcomes.
View Full-Text
►

▼

Figures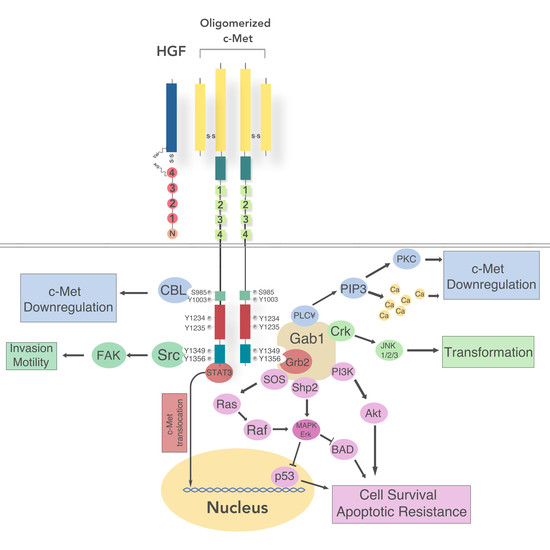 Graphical abstract
This is an open access article distributed under the
Creative Commons Attribution License
which permits unrestricted use, distribution, and reproduction in any medium, provided the original work is properly cited (CC BY 4.0).

Share & Cite This Article
MDPI and ACS Style
Arnold, L.; Enders, J.; Thomas, S.M. Activated HGF-c-Met Axis in Head and Neck Cancer. Cancers 2017, 9, 169.
Note that from the first issue of 2016, MDPI journals use article numbers instead of page numbers. See further details here.
Related Articles
Comments
[Return to top]