Open Access This article is
freely available
re-usable
Review
The Role of the Core Non-Homologous End Joining Factors in Carcinogenesis and Cancer
Department of Radiation Oncology, University of Texas Southwestern Medical Center, Dallas, TX 75390, USA
*
Author to whom correspondence should be addressed.
Academic Editor: Eddy S. Yang
Received: 19 June 2017 / Accepted: 3 July 2017 / Published: 6 July 2017
Abstract
:
DNA double-strand breaks (DSBs) are deleterious DNA lesions that if left unrepaired or are misrepaired, potentially result in chromosomal aberrations, known drivers of carcinogenesis. Pathways that direct the repair of DSBs are traditionally believed to be guardians of the genome as they protect cells from genomic instability. The prominent DSB repair pathway in human cells is the non-homologous end joining (NHEJ) pathway, which mediates template-independent re-ligation of the broken DNA molecule and is active in all phases of the cell cycle. Its role as a guardian of the genome is supported by the fact that defects in NHEJ lead to increased sensitivity to agents that induce DSBs and an increased frequency of chromosomal aberrations. Conversely, evidence from tumors and tumor cell lines has emerged that NHEJ also promotes chromosomal aberrations and genomic instability, particularly in cells that have a defect in one of the other DSB repair pathways. Collectively, the data present a conundrum: how can a single pathway both suppress and promote carcinogenesis? In this review, we will examine NHEJ's role as both a guardian and a disruptor of the genome and explain how underlying genetic context not only dictates whether NHEJ promotes or suppresses carcinogenesis, but also how it alters the response of tumors to conventional therapeutics.
Keywords:
NHEJ; cancer; genomic instability; carcinogenesis; cancer therapy; DSB repair
Acknowledgments
This work was supported by grants from the National Institutes of Health [CA092584 and CA162804] and support from the Department of Radiation Oncology at the University of Texas Southwestern Medical Center. The authors thank Jonathan Feinberg for editing the manuscript. Finally, the authors thank David J. Chen and Michael D. Story for their continuous support.
Author Contributions
Brock J. Sishc and Anthony J. Davis wrote the manuscript.
Conflicts of Interest
The authors declare no conflict of interest.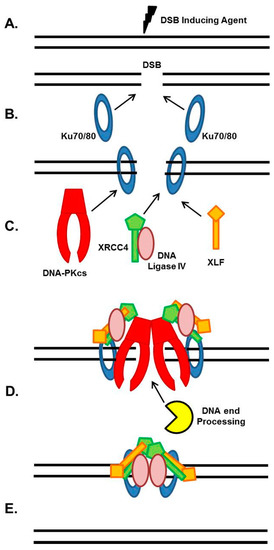 Figure 1. General NHEJ Mechanism. (A) and (B). A DNA double strand break (DSB) is induced and is quickly bound by the Ku heterodimer; (C). Ku70/80 serves as a scaffold to recruit the NHEJ machinery to the DSB; (D). If the DSB ends cannot be ligated, they will be processed by specific DNA end processing factors; (E). The DSB is ligated by DNA Ligase IV and NHEJ is complete.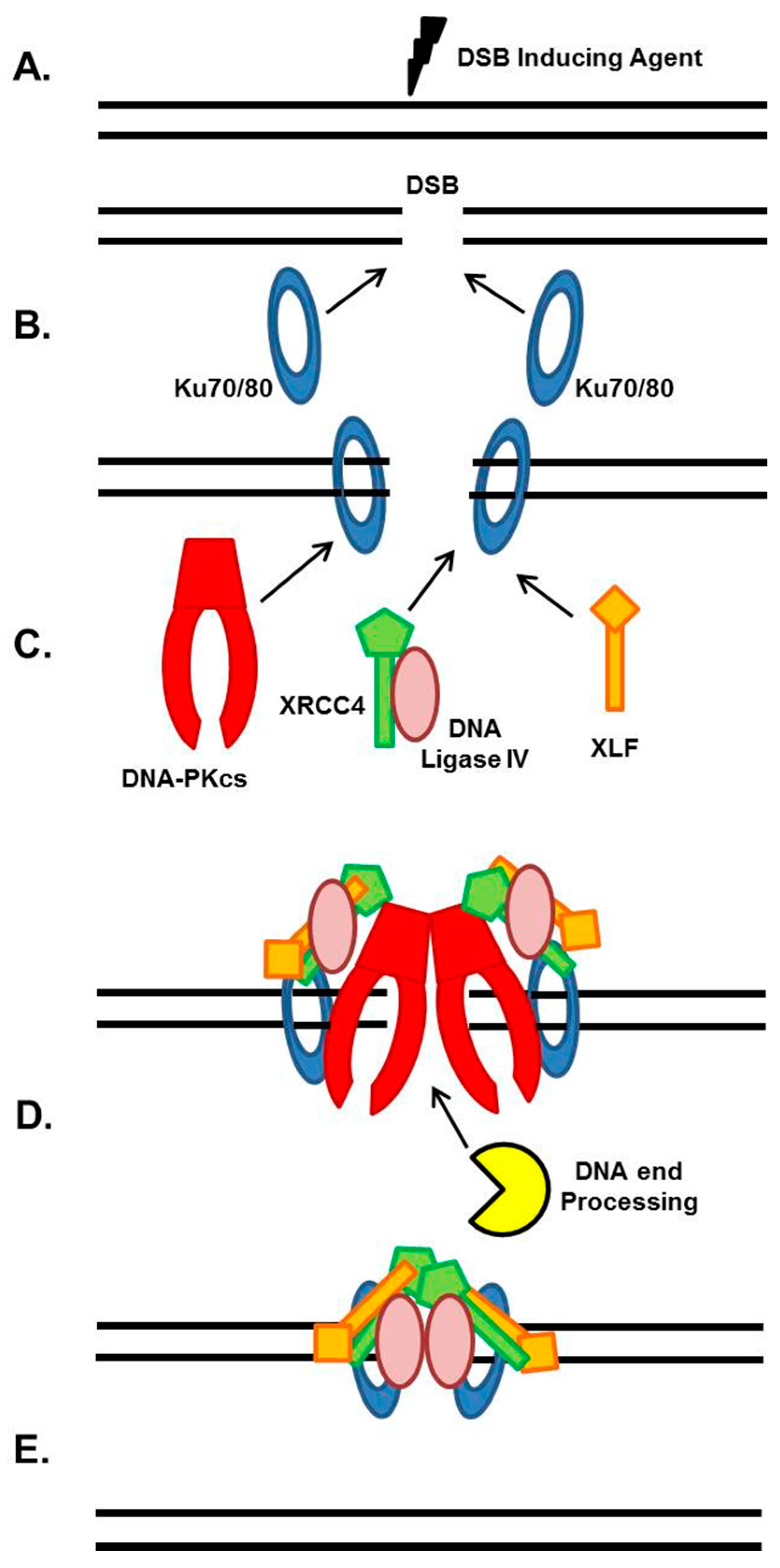 Figure 2. NHEJ-mediated chromosomal aberrations. (A). If the two junctions of the DSB (1.) are incompatible for ligation (2.), they will be processed (3.), which can result in small deletions, insertions via the fill-in polymerases, or indels (designated as a red rectangle) (4.); (B). Homologous recombination typically directs the repair of one-ended DSBs, which arise when a replication fork collapses or when the replication fork hits a DNA lesion (designated as a red star) (1.). However, if NHEJ attempts to repair one-ended DSBs (2.), it will do so by using a distal DSB to mediate repair (3.), resulting in a translocation (4.); (C). A single catastrophic event, termed chromothripsis (1.), can produce multiple DSBs of a chromosome (2.), which are then randomly rejoined by NHEJ in a chaotic genomic structure (3.).

Table 1. List of compounds targeting the core NHEJ factors.
Molecular Target
Compound Name
IC50
References
DNA-PKcs
Caffeine
ATM: 1.2 mM
[224]
ATR: 1.1 mM
DNA-PKcs: 10 mM/L
Wortmannin
ATM: 150 nM
[252]
ATR: 1.8 μM/L
DNA-PKcs: 16 nM/L
LY294002
PI3K: 1.4 μM
[229]
KU55933
ATM: 13 nM
[253]
ATR, DNA-PKcs: 16 nM/L
CP466722
[254]
NU7026
DNA-PKcs: 230 nM
[231]
ATM, ATR: 13 μM
NU7441
DNA-PKcs: 230 nM
[214,233,255]
ATM, ATR: ≥100 μM
KU0060648
DNA-PKcs: 0.019–0.17 μM
[256]
MSC2490484A
NCT02316197
NCT02516813
VX-984
NCT0264427
CC-115
NCT01353625
[257]
Ku70/80
STL127705
[247]
DNA Ligase IV
SCR-7
[248,249]
Compound #3101
[250]
© 2017 by the authors. Licensee MDPI, Basel, Switzerland. This article is an open access article distributed under the terms and conditions of the Creative Commons Attribution (CC BY) license (http://creativecommons.org/licenses/by/4.0/).