Chemotherapeutic Drugs: DNA Damage and Repair in Glioblastoma
Research Center, Policlinico di Monza Foundation, Via Pietro Micca 29, 13100 Vercelli, Italy
*
Author to whom correspondence should be addressed.
Academic Editor: Eddy S. Yang
Received: 10 March 2017 / Revised: 10 May 2017 / Accepted: 22 May 2017 / Published: 26 May 2017
Abstract
Despite improvements in therapeutic strategies, glioblastoma (GB) remains one of the most lethal cancers. The presence of the blood–brain barrier, the infiltrative nature of the tumor and several resistance mechanisms account for the failure of current treatments. Distinct DNA repair pathways can neutralize the cytotoxicity of chemo- and radio-therapeutic agents, driving resistance and tumor relapse. It seems that a subpopulation of stem-like cells, indicated as glioma stem cells (GSCs), is responsible for tumor initiation, maintenance and recurrence and they appear to be more resistant owing to their enhanced DNA repair capacity. Recently, attention has been focused on the pivotal role of the DNA damage response (DDR) in tumorigenesis and in the modulation of therapeutic treatment effects. In this review, we try to summarize the knowledge concerning the main molecular mechanisms involved in the removal of genotoxic lesions caused by alkylating agents, emphasizing the role of GSCs. Beside their increased DNA repair capacity in comparison with non-stem tumor cells, GSCs show a constitutive checkpoint expression that enables them to survive to treatments in a quiescent, non-proliferative state. The targeted inhibition of checkpoint/repair factors of DDR can contribute to eradicate the GSC population and can have a great potential therapeutic impact aiming at sensitizing malignant gliomas to treatments, improving the overall survival of patients.
View Full-Text
►

▼

Figures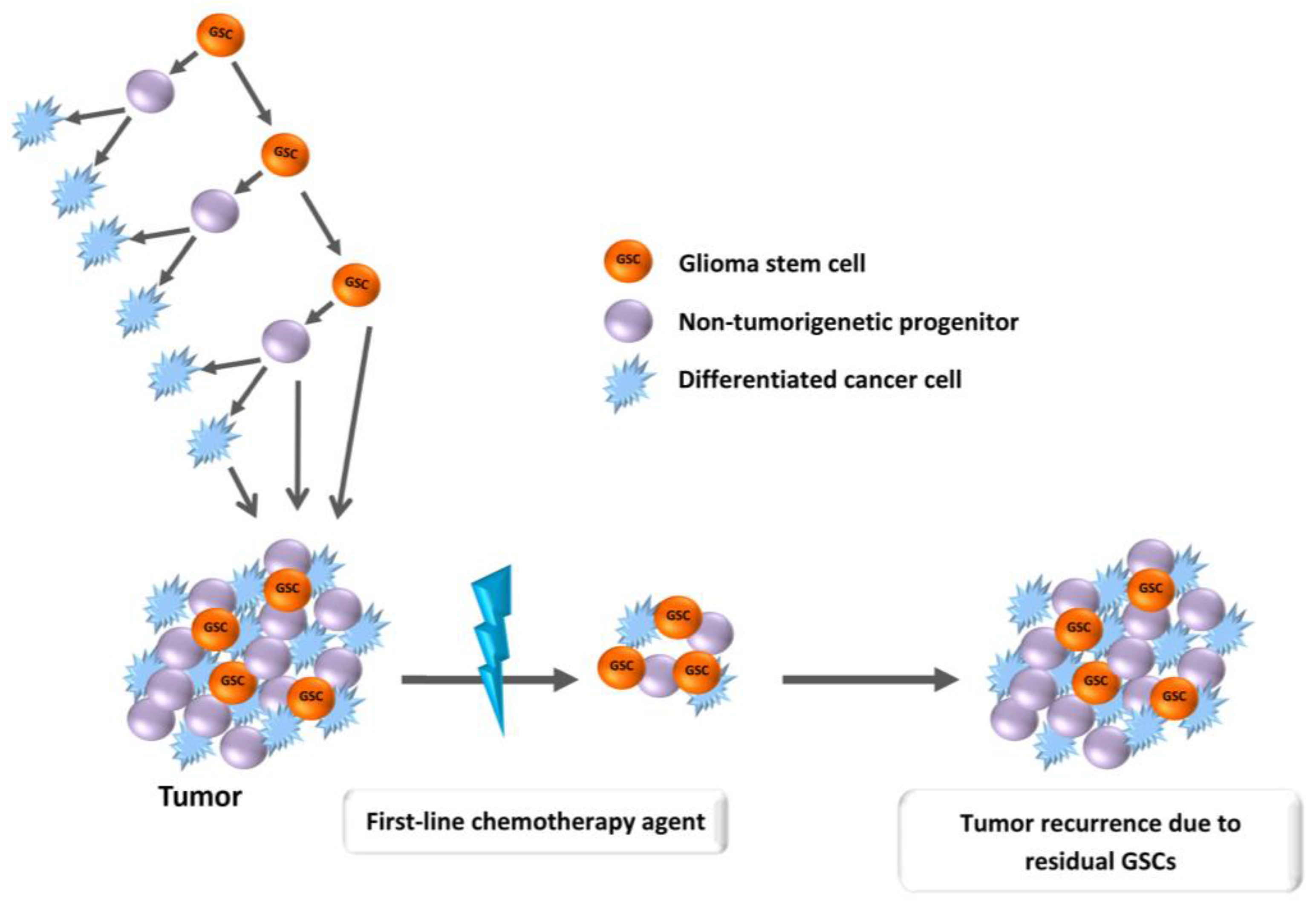 Figure 1
This is an open access article distributed under the
Creative Commons Attribution License
which permits unrestricted use, distribution, and reproduction in any medium, provided the original work is properly cited (CC BY 4.0).

Share & Cite This Article
MDPI and ACS Style
Annovazzi, L.; Mellai, M.; Schiffer, D. Chemotherapeutic Drugs: DNA Damage and Repair in Glioblastoma. Cancers 2017, 9, 57.
Note that from the first issue of 2016, MDPI journals use article numbers instead of page numbers. See further details here.
Related Articles
Comments
[Return to top]