Open Access This article is
freely available
re-usable
Review
HER2 in Breast Cancer Stemness: A Negative Feedback Loop towards Trastuzumab Resistance
Department of Medical Genetics, Faculty of Medicine and Dentistry, University of Alberta, 8-35 Medical Sciences Building, 114 St., Edmonton, AB T6G 2H7, Canada
*
Author to whom correspondence should be addressed.
Academic Editor: Samuel C. Mok
Received: 21 February 2017 / Accepted: 21 April 2017 / Published: 26 April 2017
Abstract
:
HER2 receptor tyrosine kinase that is overexpressed in approximately 20% of all breast cancers (BCs) is a poor prognosis factor and a precious target for BC therapy. Trastuzumab is approved by FDA to specifically target HER2 for treating HER2+ BC. However, about 60% of patients with HER2+ breast tumor develop de novo resistance to trastuzumab, partially due to the loss of expression of HER2 extracellular domain on their tumor cells. This is due to shedding/cleavage of HER2 by metalloproteinases (ADAMs and MMPs). HER2 shedding results in the accumulation of intracellular carboxyl-terminal HER2 (p95HER2), which is a common phenomenon in trastuzumab-resistant tumors and is suggested as a predictive marker for trastuzumab resistance. Up-regulation of the metalloproteinases is a poor prognosis factor and is commonly seen in mesenchymal-like cancer stem cells that are risen during epithelial to mesenchymal transition (EMT) of tumor cells. HER2 cleavage during EMT can explain why secondary metastatic tumors with high percentage of mesenchymal-like cancer stem cells are mostly resistant to trastuzumab but still sensitive to lapatinib. Importantly, many studies report HER2 interaction with oncogenic/stemness signaling pathways including TGF-β/Smad, Wnt/β-catenin, Notch, JAK/STAT and Hedgehog. HER2 overexpression promotes EMT and the emergence of cancer stem cell properties in BC. Increased expression and activation of metalloproteinases during EMT leads to proteolytic cleavage and shedding of HER2 receptor, which downregulates HER2 extracellular domain and eventually increases trastuzumab resistance. Here, we review the hypothesis that a negative feedback loop between HER2 and stemness signaling drives resistance of BC to trastuzumab.
Keywords:
HER2/ERBB2; breast cancer; cancer stem cell; stemness; signaling; EMT; trastuzumab; metalloproteinase; p95HER2
1. Introduction
Breast adenocarcinoma arises from the epithelial compartment of the breast that consists of epithelial cells lining lobules and ducts of mammary glands. A breast tumor is a complex tissue containing cancerous cells, and various other cell types with different morphological and phenotypic characteristics, including genetics, epigenetics, gene expression, metabolism, motility and "stemness" properties. Among all subtypes of breast cancers (BCs) two common ones include invasive ductal carcinoma that starts in a milk duct of the breast and invasive lobular carcinoma that starts in the lobules. These subtypes are able to undergo metastasis. BC cells are also classified into several subtypes based on three individual hormone receptors including estrogen receptor (ER), progestin receptors (PR), and human epidermal growth factor receptor-2 (HER2). These classes include (i) basal-like tumors that are often called triple-negative (ER−, PR− and HER2−) BCs (TNBC); (ii) luminal A and B BCs that are ER+; (iii) HER2+ BCs that overexpress HER2 and are responsive to HER2 targeting adjuvant therapies and (iv) claudin-low BCs that are often triple-negative and show weak cell-cell adhesion [
1
]. TNBC is associated with a poor patient prognosis because of lack of the triple receptors as exquisite targets for therapeutic adjuvants.
HER2+ BCs show faster growth and greater invasiveness, but are responsive to anti-HER2 therapy. HER2 sends growth signals from cell membrane to the nucleus, therefore its overexpression is associated with poor prognosis in BC [
2
,
3
,
4
,
5
]. In the past two decades HER2 has been exploited as a potential target to treat BCs for several reasons: (i) HER2 expression levels correlate directly with BC invasion and prognosis; (ii) HER2 is a receptor tyrosine kinase with high potency to activate downstream signaling pathways involving tumor growth; (iii) HER2+ tumors exhibit significantly more HER2 receptors on the cell surface, which serves as a useful hallmark to distinguish between normal cells in pathological characterizing; (iv) The extracellular domain of HER2 provides very stable epitopes and putative targets to design and test tumor cell-targeting neoadjuvants.
Mammary tissue contains mammary stem cells that can self-renew and can differentiate into luminal and basal epithelial cell layers including ductal, alveolar and myoepithelial cells of mammary gland. Like basal-like and claudin-low subtypes BC, normal mammary stem cells are triple-negative, with active stemness signaling such as Notch and Wnt/β-catenin pathways, and with high expression of the epithelial-mesenchymal transition (EMT) elements. Thus, the mammary stem cells may be the origin of normal and cancerous breast cells [
6
,
7
]. Transforming normal breast stem cell to BC stem cells (BCSCs) with the properties of both stem and cancer cells is a major step in breast tumorigenesis. BCSCs are able to self-renew and differentiate to epithelial cancer cells with various gene regulatory networks. BCSCs definition emerged shortly after the discovery of only a small fraction of mammary tumor cells being able to form colonies or new tumors. In 2003, All-Hajj et al. [
8
] reported that a small fraction of mammary tumor cells with self-renewal potency and expressing certain surface markers is able to form colonies or new tumors. They found that a small fraction of cells exhibiting CD44+/CD24−/Lineage (Lin)− phenotype on surface had higher tumor-forming ability in immunocompromised mice and self-renewal property in reiterated passage than CD44+/CD24+/Lin− cells. In this experiment only cells with CD44+/CD24−/Lin− phenotype (100 such cells) were able to grow to form tumors in the animals, whereas tens of thousands of cells with other phenotypes failed to form tumors [
8
]. Hence, there is a positive relationship between the size of the subpopulation of BCSCs and the tumorigenesis, tumor invasion and refractory [
8
,
9
,
10
]. In recent years, many reports have been published focusing on BCSCs in different subtypes of breast tumors. Among them, some results suggest positive role of HER2 receptor in the emergence of BCSCs inside breast tumors. In this paper, we review the interaction of HER2 with stemness signaling pathways, which enables HER2+ BC cells to attain stem cell properties and trastuzumab resistance.
2. CD44, CD24 and ALDH Are the BC Stemness Markers
3. HER2 Is Eminent in BC Stemness
4. HER2 Blockade May Target BCSCs
Lapatinib is a small molecule dual inhibitor of tyrosine kinase activity of HER2 and EGFR. It is used in combination with trastuzumab to treat advanced or metastatic HER2+ BC and is currently under phase III clinical evaluation [
62
,
63
]. Lapatinib inhibits HER2+ BC growth both in preclinical and clinical studies and improves survival rate of patients. lapatinib in combination with trastuzumab showed complementary effects of HER2 blockade and improved response in patients with HER2+ BC [
64
]. In addition, Lapatinib can cross the blood-brain barrier, therefore it provides an effective treatment option for patients with brain metastases [
65
]. Lapatinib targets cancer stem cells as well. Treatment with lapatinib inhibits mammosphere-formation of CD44+/CD24− BCSCs isolated from HER2+ BC cell lines [
57
]. It also decreases the percentage of ALDH+ cells by approximately 10–100-fold. Treatment with combination of lapatinib and doxorubicin increases cell death rate from 27.8% at single-agent treatment to 75.1% after combined treatment [
57
]. Li et al. [
40
] examined the post-chemotherapeutic CD44+/CD24− BCSC subpopulation in 31 BC patients with HER2− tumor who received docetaxel or doxorubicin and cyclophosphamide for 12 weeks at standard doses (group 1) and in 21 patients with locally advanced HER2+ BC who received lapatinib for 6 weeks followed by docetaxel and trastuzumab for 12 weeks at standard doses (group 2). Seven of 31 (23%) patients from group 1 showed pathological complete response for conventional chemotherapy, while the pathological complete response rate in the patients from group 2 was 62%. The percentage of CD44+/CD24− cancer stem cell in bulk tumor of group 1 group is increased from a mean of 4.7% at baseline to 13.6% (
p
< 0.001) after 12 weeks of chemotherapy. In addition, an increased mammosphere-formation efficiency (MSFE) from 13.3% at baseline to 53.2% (
p
< 0.001) is observed in the MSFE assay of tumor biopsies from these patients after conventional chemotherapy. Interestingly, the baseline CD44+/CD24− cell BCSC population in the HER2+ BCs is higher than in the HER2- tumors (10.0% versus 4.7%). This suggests that HER2 expression may be a positive factor for BCSC self-renewal. More interestingly, the post-chemotherapeutic percentage of CD44+/CD24− cancer stem cell in HER2+ tumors is reduced from 10% at baseline to under 8% after 6 weeks of lapatinib therapy [
40
]. These results demonstrate the role of HER2 in breast tumor invasion and chemoresistance through up-regulating BCSC inside the tumor and the hypothesis that BCSCs are mostly responsible to tumor resistance and post-therapeutic cancer relapse.
In a preclinical study, treatment with 2.5 μM lapatinib significantly inhibits mammosphere-forming ability of CD44+/CD24−/Lin− phenotype BCSCs more than 80% (
p
< 0.03) and reduces the subpopulation of the BCSCs from 16% to 3% (
p
< 0.002). In addition, treatment with 1 μM lapatinib dramatically reduces (by 5-fold less;
p
< 0.04) mammosphere-forming frequency of bulk cells in the second passage. In parallel with inhibitory effect of lapatinib on BCSCs, lapatinib therapy also restrains the growth of xenograft breast tumor in mice. Twice daily oral gavage treatment by lapatinib for 14 days, results in a significant decline in tumor progression to 3.5-fold less (
p
< 0.001) in tumor size than vehicle treated tumors. Moreover, tumors from lapatinib treated mice has 50% less (
p
< 0.02) BCSCs. These mice generate 6-fold less new tumors in secondary in vivo transplantation. Lapatinib-mediated reduction of BCSC subpopulation is correlated with the inhibition of phosphorylated HER2 inside the tumors by 40% [
66
]. Lapatinib also reduces mammosphere-formation and proliferation of BCSCs in both HER2+ and HER2-normal ductal carcinoma in situ (DCIS) cell lines as well as in DCIS cells derived from patient samples. Lapatinib also reduces acini size of HER2+ DCIS cells in 3D matrigel culture via suppressing cell proliferation. This suggests that lapatinib does not suppress BCSC self-renewal, but may inhibit proliferation of differentiated tumor cells regardless of HER2 status [
67
]. A recent study reports that a lapatinib-resistant oral squamous cell carcinoma cell line SAS develops sensitivity to lapatinib during sphere-formation through the activation of HER2/AKT/Cyclin D2 pathway [
68
]. Induced lapatinib resistance in HER2+ BC cells also shows an up-regulated Snail and Vimentin and down-regulated E-cadherin, therefor increasing intrinsic EMT capability [
69
].
Another effective anti-HER2 agent that targets HER2+ BCSCs is trastuzumab. Trastuzumab (trade name Herceptin
®
, Genentech, South San Francisco, CA, USA) is a fully humanized anti-HER2 monoclonal antibody approved by Food and Drug Administration (FDA) for the treatment of HER2+ BC [
70
,
71
]. Trastuzumab binds to domain IV of HER2 and is thought to block binding pocket for receptor homo-dimerization, thereby blocking HER2 homo-dimerization, phosphorylation and consequently inhibition of downstream signaling pathways [
70
,
71
]. Following mechanisms have been suggested for the tumor inhibitory effects of trastuzumab. (i) Trastuzumab binding to HER2 suppresses PI3K/AKT and MAPK pathways by inhibition of HER2 activation [
72
]. In this model, trastuzumab binding to HER2 may prevent tyrosine kinase Src signaling and up-regulates activity of the tumor suppressor PTEN [
73
,
74
]. This inhibition also leads to suppression of PI3K/AKT signaling, activation of the tumor suppressor p27 and suppression of CDK2 thus arresting cell cycle and growth in BC cells [
75
,
76
,
77
]; (ii) Trastuzumab causes endocytosis and degradation of HER2 through blocking the activity of tyrosine kinases [
78
]; (iii) Preclinical and clinical studies revealed that coating HER2 overexpressed tumor cells by trastuzumab summons more immune cells especially natural killer cells to attack tumor by antibody-dependent cellular cytotoxicity (ADCC) mechanism [
79
,
80
]. Many clinical trial studies have demonstrated effectiveness of trastuzumab in combination with docetaxel in HER2+ metastatic BCs [
81
,
82
,
83
,
84
]. However, the exact mode of action and resistance mechanism still remain ambiguous. Trastuzumab treatment ameliorates disease free survival (DFS) and overall survival (OS) of patients with early stage BC and with metastatic BC and reduces the recurrence rate by almost 50% in these patients [
81
,
82
,
83
,
84
,
85
,
86
,
87
,
88
,
89
]. It seems that metastatic HER2+ BCSC-enriched breast tumors do not respond well to conventional chemotherapy. A retrospective analysis revealed that chemotherapy combination with trastuzumab reduced cancer relapse in 5 of 18 (27%) patients with HER2+ BCSC-enriched tumors compared to the patients who received only chemotherapy (
p
= 0.019). This result indicates that trastuzumab therapy reduces metastasis by 2.4-fold in these patients. Trastuzumab also improved OS rate of HER2+ BCSC-enriched BC patients (by 2.9-fold;
p
= 0.008), but had no significant effect on the survival of patients with HER2− or with low BCSCs tumors [
58
]. Further, trastuzumab decreases the percentage of CD44+/CD24− phenotype, ALDH+ cells, and mammosphere counts in luminal mammary carcinoma cell but not in basal/claudin-low cells. Injection of HER2+ BCSCs to NOD/SCID mice generated bigger tumors in a shorter period compared with HER2- BCSCs mice group. Interestingly, treating HER2+ tumors with single-agent trastuzumab immediately after tumor inoculation (early-treatment), results in significant decrease in tumor size when compared with administration after the establishment of tumors (late treatment). These data indicate that trastuzumab may inhibit the tumor growth by targeting cancer stem cells [
56
].
5. EMT Drives Resistance to Trastuzumab
6. HER2 Promotes Stemness Signaling Pathways
6.1. TGF-β/Smad Signaling
6.3. Wnt/β-catenin Signaling
6.5. Hedgehog Signaling
The Hedgehog (Hh) signaling pathway regulates embryogenesis, organogenesis and adult tissue maintenance by controlling cell proliferation, renewal, differentiation, cell motility and adhesion as well as EMT. Aberrant activity of Hh signaling is directly linked to many human diseases including cancers. It has been reported that Hh signaling plays a key role in development of BC through transformation of adult stem cells into cancer stem cells [
275
]. In mammals, the canonical Hh signaling pathway is initiated by binding of three Hh ligands [
276
,
277
] to the twelve-pass transmembrane protein receptors Patched1 (Ptch1) and Patched2 (Ptch2) [
276
,
277
,
278
]. The three Hh ligands include Sonic Hedgehog (Shh, the most broadly expressed and best studied Hh molecule) [
276
], Indian Hedgehog (Ihh, primarily involved in bone differentiation) [
276
], and Desert Hedgehog (Dhh, involved in gonad differentiation) [
278
]. In the absence of Hh, Ptch1 constitutively represses GPCR-like protein Smoothened (Smo), a seven-transmembrane domain receptor [
279
]. Hh binding to Patch1 relieves the inhibition on Smo, which results in Smo accumulation in cilia and the phosphorylation of its cytoplasmic tail [
280
]. This signal facilitates the release of Glioma-associated oncogene (Gli) family of latent zinc-finger transcriptional mediators from kinesin-family proteins Kif7 and Sufu, leading to the activation and nuclear translocation of the Gli transcription factors. Gli transcription factors then regulate the transcription of the target genes [
281
,
282
,
283
,
284
].
Growing evidence suggests important role of Hh signaling pathway in maintaining BC stemness [
285
]. Recent clinical studies indicate that high expression of Ptch1 and Gli1 is associated with larger tumors, metastasis, pathological progression and with significantly shorter OS and DFS in BC patients with CD44+/CD24− BCSC-enriched tumors [
286
]. High RNA expression levels of Ptch1, Gli1 and Gli2 have been reported in CD44+/CD24−/Lin− BCSCs [
287
,
288
]. Activation of Hh signaling increases CD44+/CD24− cell population and mammosphere size. However, inhibition of Hh signaling pathway suppresses CD44+/CD24− BCSC subpopulation, mammosphere-forming and abrogates drug resistance of BCSCs [
288
,
289
,
290
,
291
]. Inhibition of Hh signaling also suppresses EMT by inhibiting Snail, Slug and ZEB2 [
292
]. It is recently found that salinomycin that shows selective toxicity in BCSCs, inhibits Shh-mediated Hh activation through down-regulating the expression of Ptch1, Smo, Gli1, and Gli2 as well as stemness markers Snail, Nanog, Oct4 and Sox2 [
291
,
293
,
294
]. Therefore, Hh signaling induces self-renewal and EMT of BC cells [
292
,
295
,
296
].
It is recently reported that high level expression of Shh and Gli1 is correlated with HER2 expression. Inhibition of Hedgehog acyltransferase, a key enzyme for Shh synthesis, reduces HER2+ BC growth [
297
,
298
,
299
]. The data regarding the crosstalk between HER2 and Hh signaling in BC are very limited. However, it is reported that HER2 downstream pathways PI3K/AKT and MAPK interact with Hh signaling pathway in regulating tumorigenesis and stemness in chronic lymphocytic leukemia [
300
], ovarian [
301
], pancreatic [
302
] and esophageal [
303
] cancers.
7. Concluding Remarks
HER2 is an important target for treatment of HER2+ BCs. Several HER2-targeting agents including trastuzumab have been approved by FDA to treat HER2 positive BC. However, the resistance to these HER2 targeting agents have become a huge obstacle for the treatment of HER2-positive BC patients. It is not clear how many HER2+ tumors developed resistance to trastuzumab. As discussed in this review, one likely mechanism could be attributed to cleavage/shedding of HER2 extracellular domain by MPs. In this review, we also described how HER2 interacts with stemness signaling such as TGF-β/Smad, Notch, Wnt/β-catenin and JAK/STAT pathways in epithelial BC cell to induce EMT and how this phenomenon leads to trastuzumab resistance (
Figure 2
). In summary, HER2 promotes EMT in HER2+ BC. During EMT, up-regulation of metalloproteinases is required to cleave cell-cell adhesion molecules, matrix proteins, differentiation factors and a wide range of cell surface receptors including HER2. EMT-mediated HER2 cleavage is characterized by decreased cell surface full length HER2 with extracellular domain, but increased intracellular p95HER2 that maintain kinase activity and is able to migrate to the nucleus to act as oncogenic nuclear factor. As trastuzumab exerts its anti-tumor activity by interacting with HER2 extracellular domain, it does not inhibit p95HER2. In conclusion, it is likely that a negative feedback loop between HER2, stemness signaling and EMT can explain HER2+ BC resistance to trastuzumab.
Thus, preventing this feedback loop by targeting EMT or metalloproteinases may be an important practical approach to overcome trastuzumab resistance in HER2+ tumors. In fact, various drugs targeting metalloproteinases and other EMT related molecules have been developed and test in laboratory and clinical setting [
304
,
305
]. Hence, dual inhibition of HER2 and metalloproteinases could be an effective treatment strategy to targeting HER2+ BC and overcome trastuzumab resistance. Future research should be conducted to test a combination of trastuzumab and metalloproteinase inhibitors on HER2+ BCs.
Acknowledgments
Babak Nami was supported by Graduate Studentship Program from University of Alberta, Women and Children's Health Research Institute (WCHRI). The authors apologize to the researchers whose outstanding work could not be cited owing to space limitations.
Conflicts of Interest
The authors declare no conflicts of interest.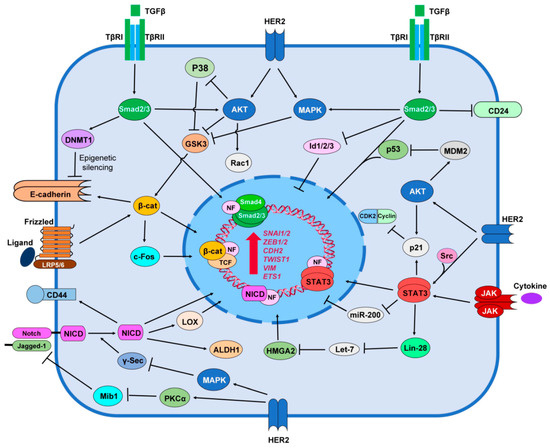 Figure 1. Crosstalk between HER2 and BC stemness signaling pathways. Active TGF-β/Smad induces EMT by direct regulation of transcription of EMT genes and indirectly by activating DNMT1, inactivating Id1/2/3 and GSK3 through AKT and MAPK. HER2 regulates TGF-β/Smad-mediated induction of EMT through activating AKT, MAPK, and the p53 inhibitor MDM2. Active Wnt/β-catenin signaling regulates EMT by β-catenin-mediated transcriptional regulation of EMT genes through activating c-Fos. HER2-mediated activation of AKT and MAPK inhibits β-catenin through inhibition of GSK3. Notch signaling induces EMT directly via transcriptional regulation of EMT genes by NICD. NICD also up-regulates LOX and ALDH. HER2-mediated activation of MAPK inhibits cleavage of Notch receptor by inhibition of γ-secretase. In addition, HER2 itself positively affects the activation of Notch by activating PKCα that is an inhibitor of Mib1. Inhibition of Mib1 causes up-regulation of Jagged-1 a ligand for Notch receptor. Active STAT proteins up-regulate expression of EMT genes directly. STATs also up-regulate EMT by three indirect paths including inhibiting mir-200 via activating Lin-28 that inhibits Let-7. Let-7 in turn inhibits HMGA2, an EMT marker. STATs also activate p21 that down-regulates CDK2. HER2 interacts with these axes by phosphorylating and activating STATs through Src and by activating p21 through AKT. Direct and indirect interactions are not distinguished in the figure. NF: nuclear factor.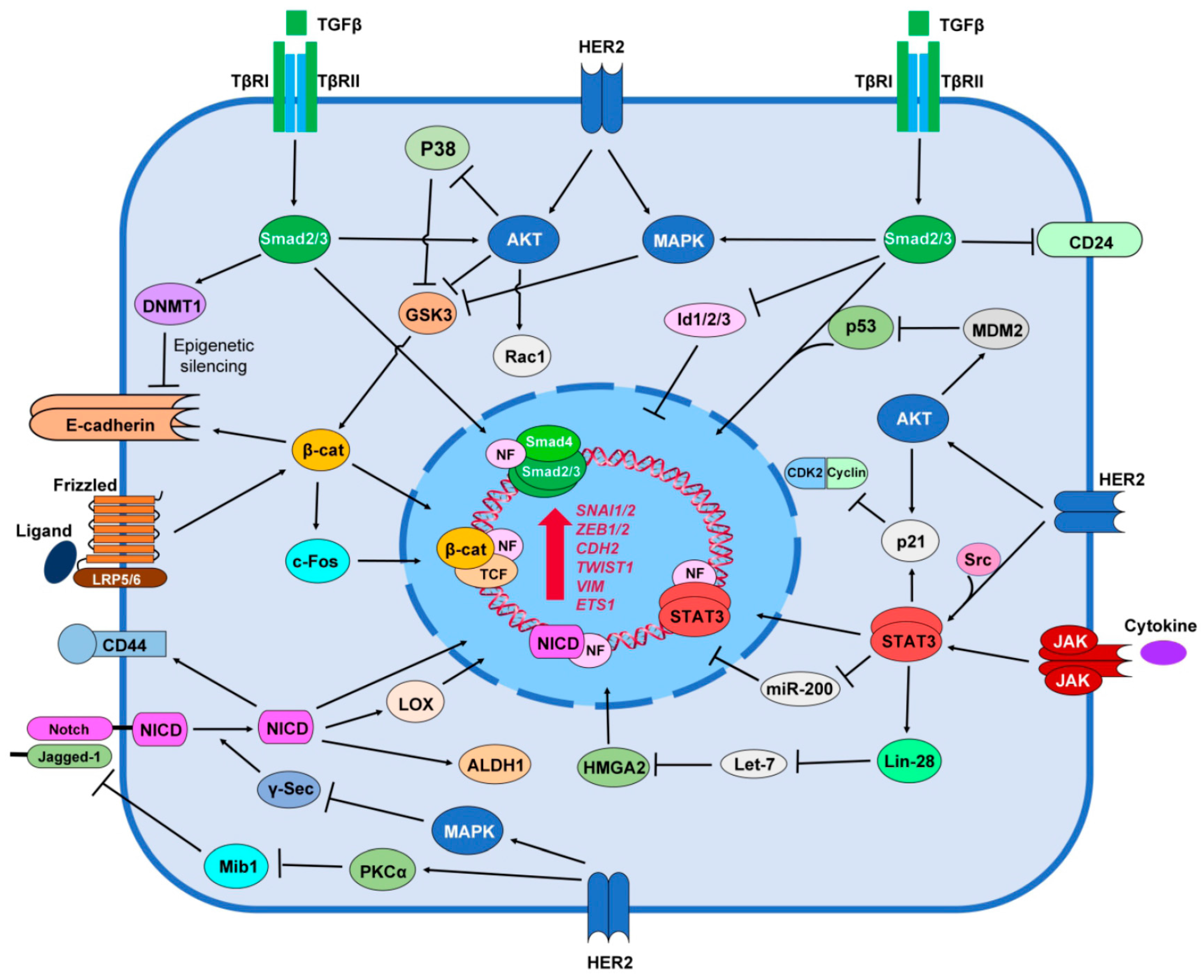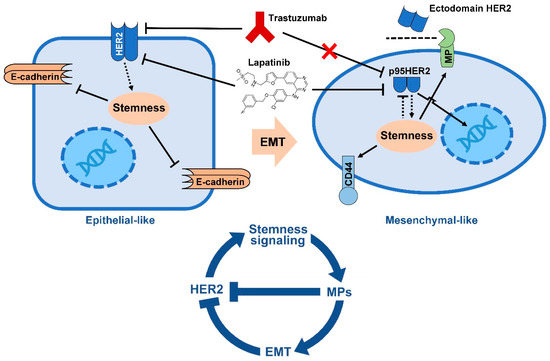 Figure 2. Negative feedback relationship between HER2 and BC stemness leading to trastuzumab resistance. HER2+ BC cell responds to trastuzumab and lapatinib in epithelial-like context. In this context, HER2 increases expression of stemness markers resulting in down-regulation of epithelial marker E-cadherin and up-regulation of EMT phenotype including MPs. In mesenchymal context MPs cleave HER2 receptor from juxtamembrane of the receptor that results HER2 shedding and expression of p95HER2. p95HER2 maintain its kinase activity and is able to activate AKT and MAPK pathways and to translocate to the nucleus where acts as transcription co-factor. Mesenchymal-like p95HER2+ cell respond to lapatinib but is resistant to trastuzumab.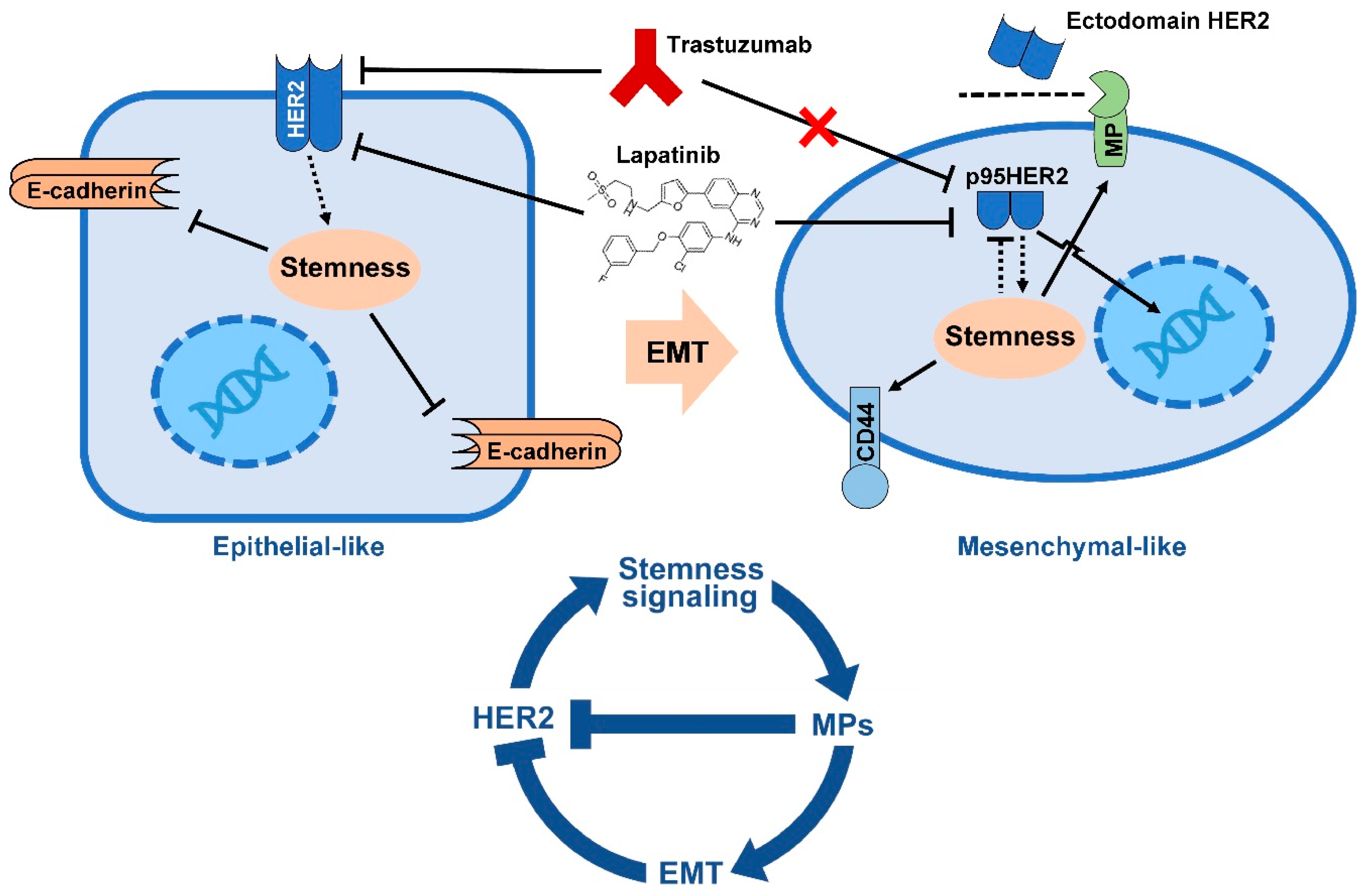 © 2017 by the authors. Licensee MDPI, Basel, Switzerland. This article is an open access article distributed under the terms and conditions of the Creative Commons Attribution (CC BY) license ( http://creativecommons.org/licenses/by/4.0/).