Regulation of EMT in Colorectal Cancer: A Culprit in Metastasis
1
Division of Hematology and Oncology, Department of Medicine, Comprehensive Cancer Center, University of Alabama at Birmingham, Birmingham, AL 35233, USA
2
Birmingham Veterans Affairs Medical Center, Birmingham, AL 35233, USA
*
Author to whom correspondence should be addressed.
Received: 9 November 2017 / Revised: 5 December 2017 / Accepted: 5 December 2017 / Published: 16 December 2017
Abstract
Epithelial to mesenchymal transition (EMT) is a process during which cells lose their epithelial characteristics, for instance cell polarity and cell–cell contact, and gain mesenchymal properties, such as increased motility. In colorectal cancer (CRC), EMT is associated with an invasive or metastatic phenotype. In this review, we discuss recent studies exploring novel regulation mechanisms of EMT in CRC, including the identification of new CRC EMT regulators. Upregulation of inducers can promote EMT, leading to increased invasiveness and metastasis in CRC. These inducers can downregulate E-cadherin and upregulate N-cadherin and vimentin (VIM) through modulating EMT-related signaling pathways, for instance WNT/β-catenin and TGF-β, and EMT transcription factors, such as zinc finger E-box binding homeobox 1 (ZEB1) and ZEB2. In addition, several microRNAs (miRNAs), including members of the miR-34 and miR-200 families, are found to target mRNAs of EMT-transcription factors, for example ZEB1, ZEB2, or SNAIL. Downregulation of these miRNAs is associated with distant metastasis and advanced stage tumors. Furthermore, the role of EMT in circulating tumor cells (CTCs) is also discussed. Mesenchymal markers on the surface of EMT CTCs were found to be associated with metastasis and could serve as potential biomarkers for metastasis. Altogether, these studies indicate that EMT is orchestrated by a complicated network, involving regulators of different signaling pathways. Further studies are required to understand the mechanisms underlying EMT in CRC.
View Full-Text
►

▼

Figures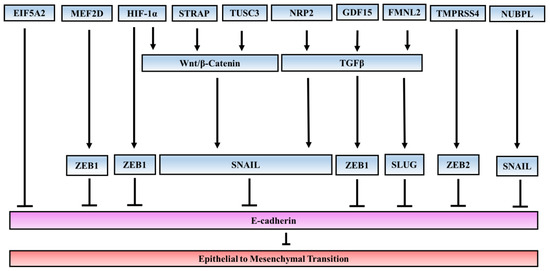 Figure 1
This is an open access article distributed under the
Creative Commons Attribution License
which permits unrestricted use, distribution, and reproduction in any medium, provided the original work is properly cited (CC BY 4.0).

Share & Cite This Article
MDPI and ACS Style
Vu, T.; Datta, P.K. Regulation of EMT in Colorectal Cancer: A Culprit in Metastasis. Cancers 2017, 9, 171.
Note that from the first issue of 2016, MDPI journals use article numbers instead of page numbers. See further details here.
Related Articles
Comments
[Return to top]