Open Access This article is
freely available
re-usable
Review
Alcohol and Cancer Stem Cells
Department of Pharmacology and Nutritional Sciences, University of Kentucky College of Medicine, 1095 Veterans Drive, Lexington, KY 40536, USA
*
Author to whom correspondence should be addressed.
Academic Editor: Samuel C. Mok
Received: 18 October 2017 / Accepted: 17 November 2017 / Published: 20 November 2017
Abstract
:
Heavy alcohol consumption has been associated with increased risk of several cancers, including cancer of the colon, rectum, female breast, oral cavity, pharynx, larynx, liver, and esophagus. It appears that alcohol exposure not only promotes carcinogenesis but also enhances the progression and aggressiveness of existing cancers. The molecular mechanisms underlying alcohol tumor promotion, however, remain unclear. Cancer stem cells (CSC), a subpopulation of cancer cells with self-renewal and differentiation capacity, play an important role in tumor initiation, progression, metastasis, recurrence, and therapy resistance. The recent research evidence suggests that alcohol increases the CSC population in cancers, which may underlie alcohol-induced tumor promotion. This review discusses the recent progress in the research of alcohol promotion of CSC and underlying cellular/molecular mechanisms. The review will further explore the therapeutic potential of CSC inhibition in treating alcohol-induced tumor promotion.
Keywords:
alcoholism; carcinogenesis; HER2/ErbB2; metastasis; stemness
1. Introduction
Alcohol abuse is a major public health concern. Ethanol, as the major constituent of alcoholic beverages, and its metabolite acetaldehyde were classified as carcinogenic to humans [
1
]. It is now well established that alcohol consumption is a risk factor for human cancer. It is estimated that 3.6% of all cancers worldwide (1.7% in women, 5.2% in men) are attributable to alcohol consumption [
2
]. Alcohol abuse also attributed 3.2% to 3.7% of cancer deaths in the United States [
3
]. While alcohol exposure may enhance the carcinogenesis or initiation of cancers, it may as well increase the aggressiveness and malignancy of existing tumors. However, the underlying mechanisms remain elusive. A better understanding of these mechanisms is critical in developing effective therapeutic strategies for cancer patients who drink alcoholic beverages.
Experimental studies clearly demonstrate that alcohol alters the behavior of cancer cells and transforms them into more aggressive phenotypes [
4
]. For example, in breast cancer cells, alcohol increased mobility and invasive potential; it also promoted the epithelial-mesenchymal transition (EMT), a hallmark of malignancy, and impaired endothelial integrity, thereby increasing the dissemination of breast cancer cells and facilitating metastasis. Alcohol also stimulated tumor angiogenesis through the activation of cytokines and chemokines, which promotes tumor growth. Recent research progress indicates that alcohol may target cancer stem cells (CSCs), a subpopulation of cancer cells with self-renewal and differentiation capacity. We will first review the evidence on alcohol's effects on CSCs, and then discuss the potential underlying cellular and molecular mechanisms.
2. Alcohol Alters CSC Population
3. Cellular and Molecular Mechanisms Underlying Alcohol Stimulation of CSCs
4. Summary, Future Studies, and Potential Therapeutic Approaches
Available evidence indicates that alcohol increases CSC population, and therefore may promote aggressiveness, recurrence, and therapy resistance of cancers. Alcohol may initially activate EGFR/ErbB2 and/or induce ROS, which stimulate critical signaling components, such as p38 MAPK, Wnt/GSK3β/β-catenin, and TLR4/Nanog, as well as alter tumor microenvironment, resulting in the promotion of CSCs (
Figure 1
). In addition to the signaling pathways discussed above, several signaling cascades also regulate the fate and properties of CSCs, such as, JAK/STAT, Hedgehog, Notch, TGF-β, and HIPPO-YAP/TAZ [
6
,
7
]. Future studies will need to carefully evaluate these signaling pathways in the context of alcohol-induced promotion of CSCs. So far, studies have been focusing on the action of alcohol. The role of acetaldehyde, a product of alcohol metabolism, is unclear. Acetaldehyde are mutagens which can form adducts with proteins and DNA, inducing gene mutation, DNA crosslinks and chromosomal aberrations and are involved in carcinogenesis. The effect of acetaldehyde on CSCs is worthy of investigation. Since alcohol affects multi-components/cascades involved in tumor progression and aggressiveness, therapeutic approaches may need to simultaneously target multiple components or cascades, which will likely yield more effective therapeutic outcomes particularly for alcoholic cancer patients. In addition to conventional therapeutic efforts, targeting stemness pathways and CSC niches may offer more effective treatments for alcoholic cancer patients. The use of novel approaches, such as small-molecule inhibitors of specific proteins in signaling pathways that regulate stemness, proliferation and migration of CSCs, or immunotherapy and noncoding microRNAs targeting CSCs, may provide better means of treating malignant cancers as well as cancer progression associated with alcohol exposure. For example, several drugs targeting CSC differentiation and cell death pathways are in clinical trial, [
53
,
54
]. More importantly, owing to the evidence that alcohol increases breast cancer progression, primary care givers should question breast cancer patients about their alcohol intake. If the consumption is determined excessive, the patient should be informed about its consequences and be recommended that alcohol intake be prohibited or reduced.
Acknowledgments
We thank Jacqueline Frank for reading this manuscript. This work is supported by grants from the National Institutes of Health (NIH) (AA017226 and AA015407).
Conflicts of Interest
The authors declare that there are no conflicts of interest.
Abbreviations
| | |
| --- | --- |
| ADH | alcohol dehydrogenase |
| ALDH2 | aldehyde dehydrogenase |
| CSC | cancer stem cells |
| CYP2E1 | cytochrome P450 2E1 |
| ECM | extracellular matrix |
| EGFR | epidermal growth factor receptor |
| HCC | hepatocellular carcinoma |
| HNSCC | head and neck squamous cell carcinoma |
| MMP | matrix metalloproteinase |
| ROS | reactive oxygen species |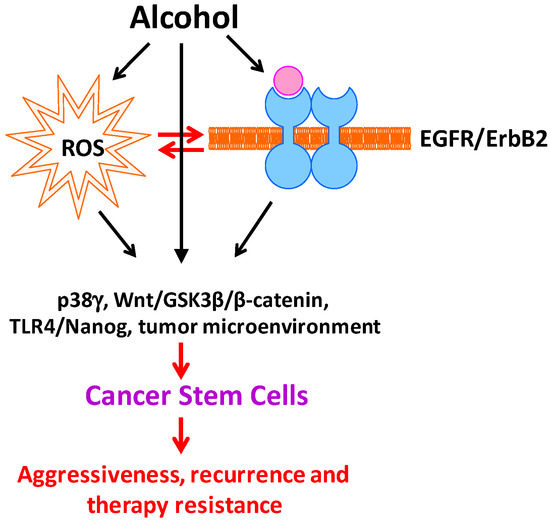 Figure 1. Effect of alcohol on cancer stem cells. Alcohol exposure induces oxidative stress and the activation of EGFR/ErbB2. There is a considerable interaction between ROS and EGFR/ErbB2 activation in response to alcohol exposure. Alcohol-induced ROS and EGFR/ErbB2 activation triggers signaling cascades and alters microenvironments that are responsible for stemness, differentiation, proliferation and survival of CSCs, therefore increasing CSC population. Increased CSCs convey aggressive, recurrence and therapy resistance.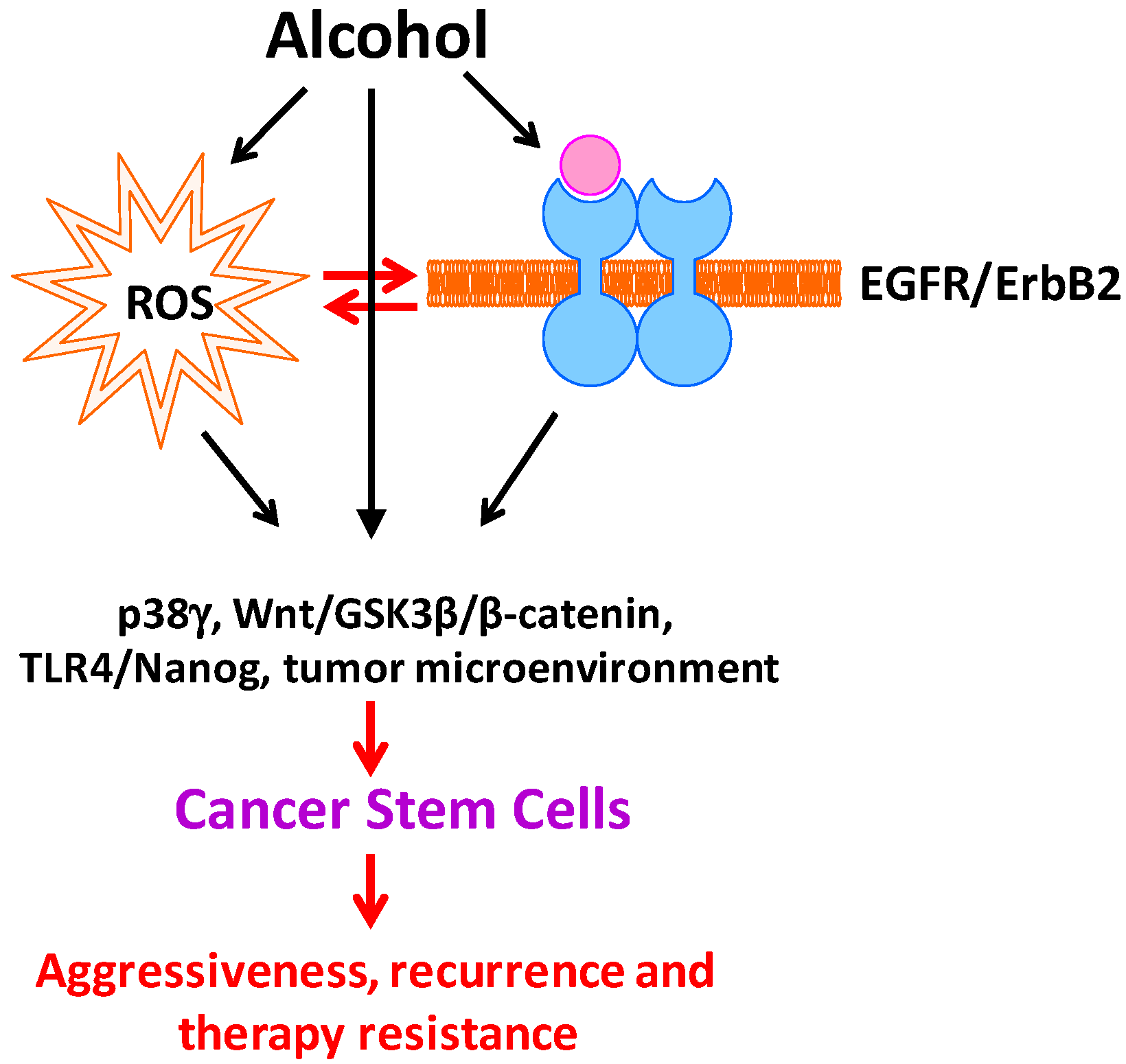 © 2017 by the authors. Licensee MDPI, Basel, Switzerland. This article is an open access article distributed under the terms and conditions of the Creative Commons Attribution (CC BY) license (http://creativecommons.org/licenses/by/4.0/).