Open Access This article is
freely available
re-usable
Review
Roles of microRNAs and RNA-Binding Proteins in the Regulation of Colorectal Cancer Stem Cells
1
Division of Molecular and Cellular Biology, Kobe University Graduate School of Medicine, Kobe, Hyogo 650-0017, Japan
2
Division of Gastrointestinal Surgery, Kobe University Graduate School of Medicine, Kobe, Hyogo 650-0017, Japan
3
Department of Pathology and Cell Biology, Department of Medicine (Division of Digestive and Liver Diseases) and Herbert Irving Comprehensive Cancer Center (HICCC), Columbia University, New York, NY 10032, USA
4
Division of Medical Oncology/Hematology, Kobe University Graduate School of Medicine, Kobe, Hyogo 6500017, Japan
*
Author to whom correspondence should be addressed.
Academic Editors: Takahiro Ochiya and Ryou-u Takahashi
Received: 26 September 2017 / Accepted: 17 October 2017 / Published: 24 October 2017
Abstract
:
Colorectal cancer stem cells (CSCs) are responsible for the initiation, progression and metastasis of human colorectal cancers, and have been characterized by the expression of cell surface markers, such as CD44, CD133, CD166 and LGR5. MicroRNAs (miRNAs) are differentially expressed between CSCs and non-tumorigenic cancer cells, and play important roles in the maintenance and regulation of stem cell properties of CSCs. RNA binding proteins (RBPs) are emerging epigenetic regulators of various RNA processing events, such as splicing, localization, stabilization and translation, and can regulate various types of stem cells. In this review, we summarize current evidences on the roles of miRNA and RBPs in the regulation of colorectal CSCs. Understanding the epigenetic regulation of human colorectal CSCs will help to develop biomarkers for colorectal cancers and to identify targets for CSC-targeting therapies.
Keywords:
cancer stem cell; colorectal cancer; microRNA; RNA binding protein
Acknowledgments
This work was supported by: (1) grants-in-aid from the Japan Society for the Promotion of Science (JSPS KAKENHI) 17K16555 (to Junko Mukohyama), 15K14381 (to Yohei Shimono); (2) Japan-Belgium Research Cooperative Program from the Japan Society for the Promotion of Science (to Yohei Shimono); (3) a grant from the Japan Foundation for Applied Enzymology (to Yohei Shimono); (4) a grant from the Itoh-Chubei Foundation (to Yohei Shimono); (5) an extramural collaborative research grant of Cancer Research Institute, Kanazawa University (to Yohei Shimono); (6) Postdoctoral Fellowship from the Uehara Memorial Foundation (to Junko Mukohyama); (7) Yasui Medical Scholarship for the Japanese Association of University Women (to Junko Mukohyama); (8) Research award for Young Scientist from the Japanese Society of Gastroenterological Carcinogenesis (to Junko Mukohyama).
Author Contributions
Concept and design: Junko Mukohyama, Yohei Shimono, Hironobu Minami, Yohei Shimono, Akira Suzuki. Drafting of the manuscript: Junko Mukohyama, Yohei Shimono.
Conflicts of Interest
Yohei Shimono is listed as a co-inventor on a patent application that describes the use of miRNAs as biomarkers for the identification and therapeutic targeting of cancer stem cells (US-20110021607). Junko Mukohyama, Hironobu Minami, Yoshihiro Kakeji and Akira Suzuki declare no conflicts of interest.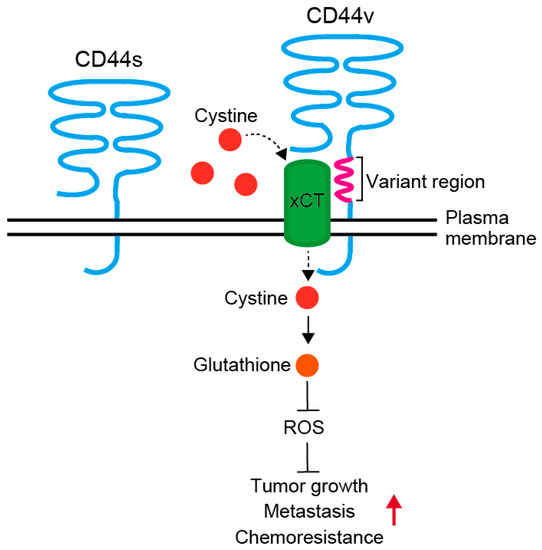 Figure 1. Regulation of oxidative stress by the CD44 variant isoform. Schematic illustration of a standard (CD44s) and variant (CD44v) isoforms of CD44. The variant region within CD44 molecule interacts with and stabilizes a subunit of a cystine/glutamate transporter (xCT), and promotes cystine uptake. Elevation of intracellular cystine level enhances the synthesis of antioxidant glutathione which detoxify reactive oxygen species (ROS), thereby promotes tumor growth, metastases and chemoresistance of CD44v expressing cells.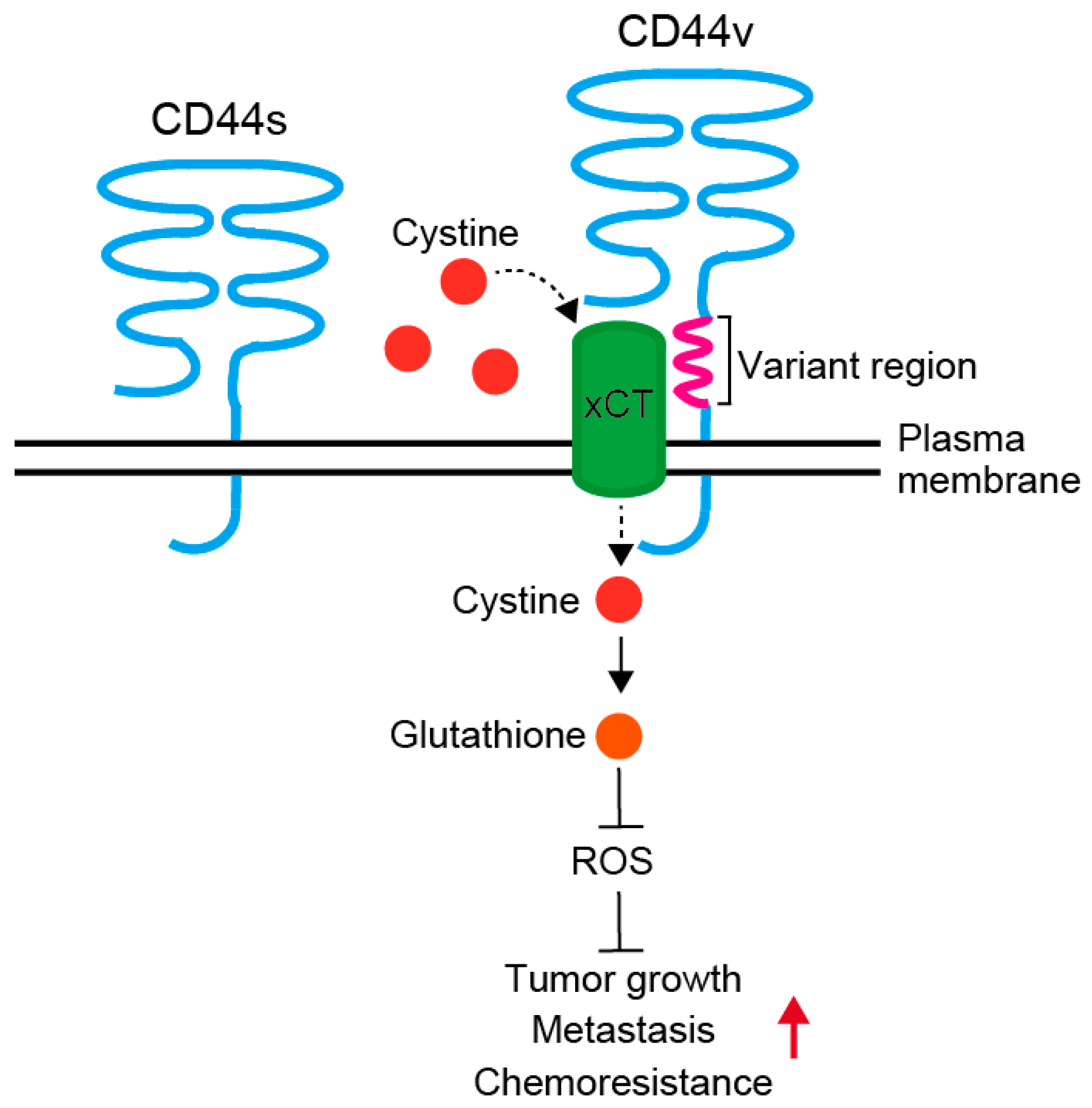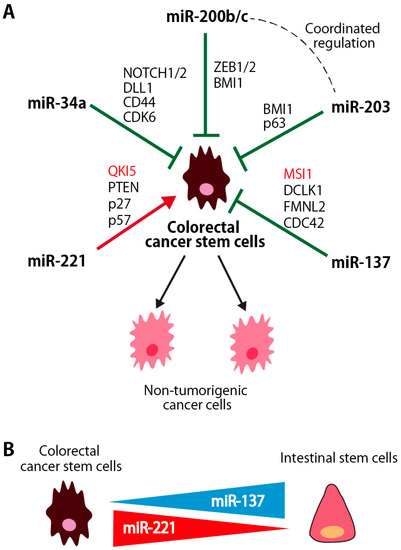 Figure 2. miRNAs involved in the regulation of colorectal CSCs. (A) Schematic illustration of the miRNAs that regulates colorectal CSC functions and their targets. miR-34a, miR-200b/c, miR-203 and miR-137 are downregulated in colorectal CSCs and suppress the stem cell properties of CSCs. Among them, the expression of miR-200bc and miR-203 is coordinately regulated, and these miRNAs coordinately function for the suppression of the stem cell properties of CSCs. In contrast, miR-221 is highly expressed in CSCs and enhances the stem cell properties of CSCs. These miRNAs target genes involved in the regulation of CSC properties. RNA-binding proteins shown in red font are described in detail in Chapter 4; (B) Differential expression of miRNAs between colorectal CSCs and normal intestinal stem cells. miR-221 and miR-137 are more highly expressed in colorectal CSCs and in normal intestinal stem cells than their counterpart, respectively.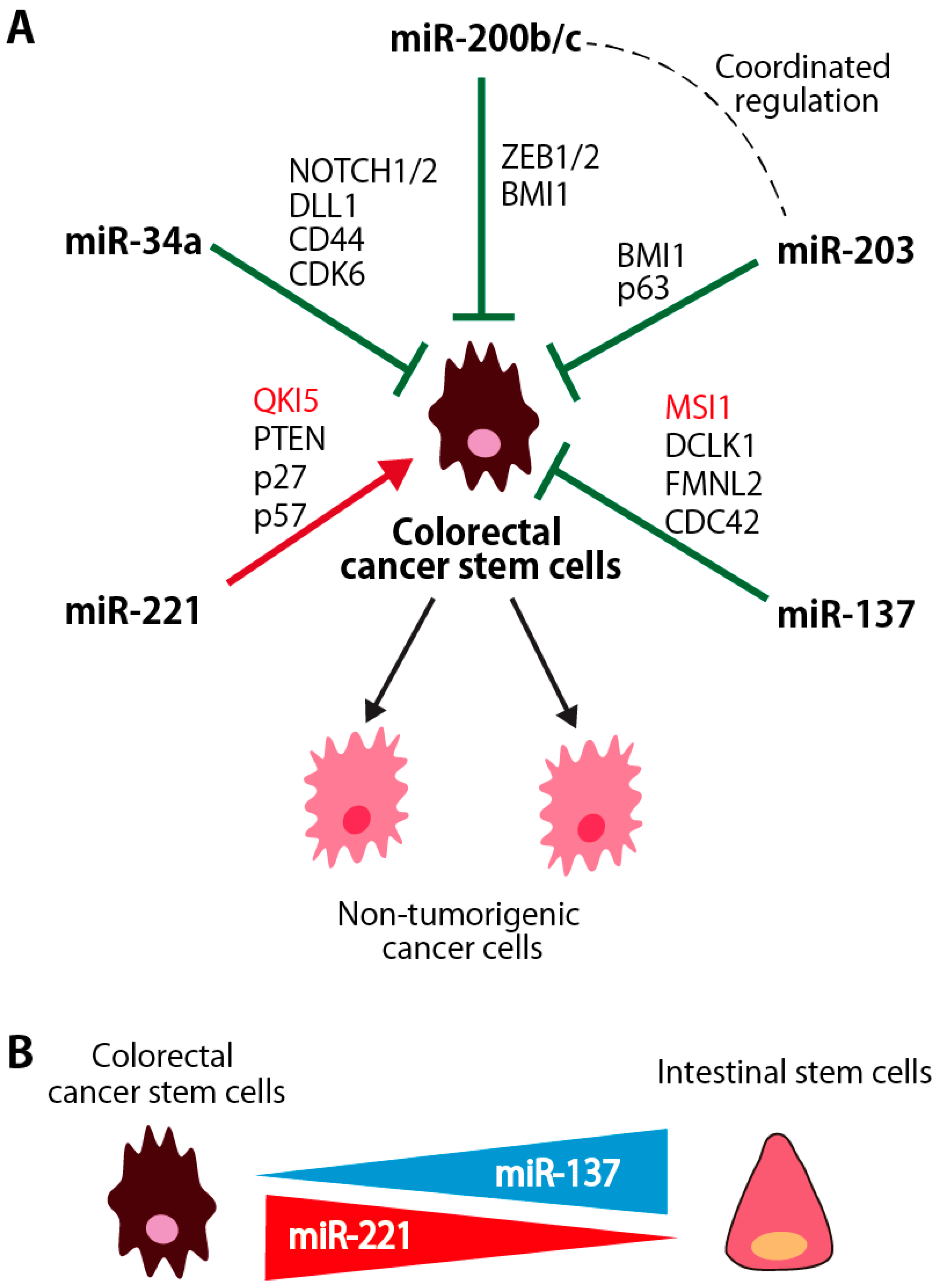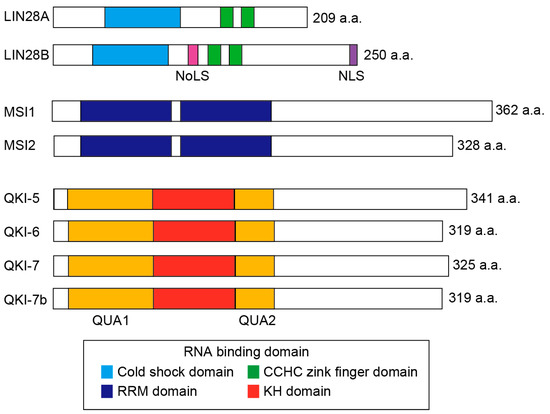 Figure 3. Domain structures of the RBPs. Schematics illustration of the three RBPs, LIN28A/B, MSI1/2, and QKI-5/6/7/7b. LIN28A/B have two types of the RNA-binding domains, a cold shock domain (CSD) and Cys-Cys-His-Cys (CCHC) zinc finger domains. MSI1/2 have two RNA recognition motif (RRM) domains. QKI-5/6/7/7b have an RNA binding domain, KH domain which is flanked by QUA1 and QUA2 regions. The structure of QKI proteins differ at their C-terminal. NLS, a nuclear localization signal; NoLS, a nucleolar localization signal.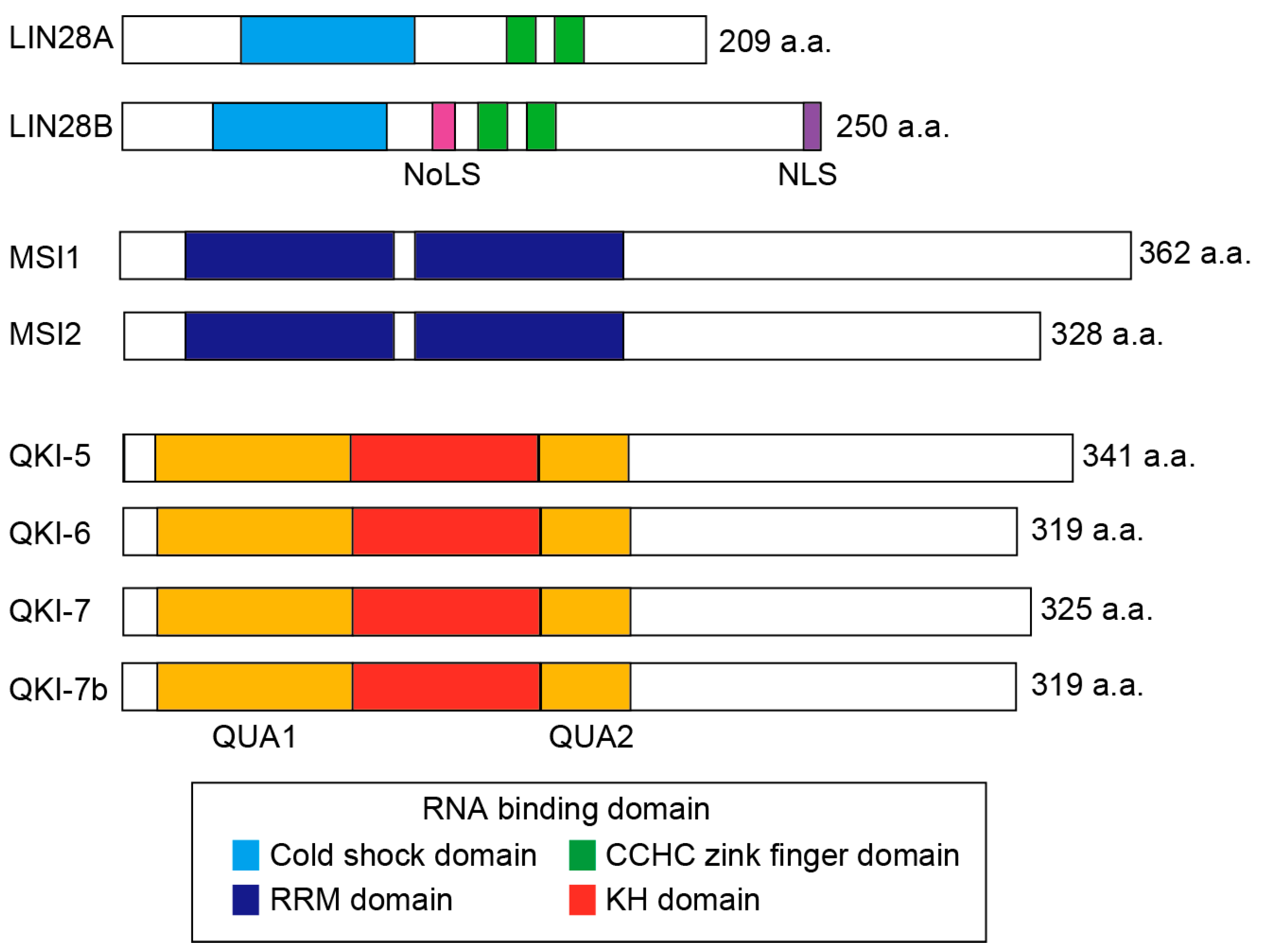 © 2017 by the authors. Licensee MDPI, Basel, Switzerland. This article is an open access article distributed under the terms and conditions of the Creative Commons Attribution (CC BY) license (http://creativecommons.org/licenses/by/4.0/).