Open Access This article is
freely available
re-usable
Review
Targeting PDK1 for Chemosensitization of Cancer Cells
Metabolic Signaling Group, School of Biomedical Sciences, Curtin Health Innovation Research Institute, Curtin University, Perth 6102, Western Australia, Australia
*
Author to whom correspondence should be addressed.
Academic Editor: Samuel C. Mok
Received: 21 September 2017 / Accepted: 19 October 2017 / Published: 24 October 2017
Abstract
:
Despite the rapid development in the field of oncology, cancer remains the second cause of mortality worldwide, with the number of new cases expected to more than double in the coming years. Chemotherapy is widely used to decelerate or stop tumour development in combination with surgery or radiation therapy when appropriate, and in many cases this improves the symptomatology of the disease. Unfortunately though, chemotherapy is not applicable to all patients and even when it is, there are many cases where a successful initial treatment period is followed by chemotherapeutic drug resistance. This is caused by a number of reasons, ranging from the genetic background of the patient (innate resistance) to the formation of tumour-initiating cells (acquired resistance). In this review, we discuss the potential role of PDK1 in the development of chemoresistance in different types of malignancy, and the design and application of potent inhibitors which can promote chemosensitization.
Keywords:
PDK1; phosphoinositides; PI3K; chemotherapy; chemoresistance
1. Introduction
1.1. The Journey to PDK1 Discovery
The 3-phosphoinositide-dependent protein kinase 1 (PDK1) was identified in 1997, in a strenuous attempt by a number of research groups to elucidate the insulin signaling pathway. Around 1990 it had been observed that within seconds of the interaction of insulin with its receptor, the phosphoinositide 3-kinases Class 1A (PI3K Class 1A) would be recruited to the plasma membrane and would mediate the generation of phosphatidylinositol (3,4,5)-trisphosphate (PtdIns(3,4,5)
P
3
) from phosphatidylinositol (4,5)-bisphosphate (PtdIns(4,5)
P
2
). During the same period, protein kinase B (PKB/Akt) was discovered by a number of research groups and it was shown that within just one-minute following cell stimulation, insulin could trigger the activation of Akt in a PI3K-dependent manner. The phosphorylation motif of Akt present in its substrates was determined and many proteins were shown to possess it and get activated following insulin stimulation, however the theory that another kinase—part of the PI3K pathway was responsible for these phosphorylations was still being investigated. In 1996, the interaction between Akt and PtdIns(3,4,5)
P
3
came to light, yet the activation mechanism of the first remained unknown. Studies showed that following insulin stimulation, Akt underwent phosphorylation at Thr308 (activation loop) and Ser473 (hydrophobic motif), with nonsynonymous substitution of either of the two leading to more than 85% reduction of Akt activation, and that membrane recruitment was required for phosphorylation of both residues (reviewed in [
1
]). It was not until 1997 that a protein responsible for Akt phosphorylation at Thr308 was detected, purified and cloned. This was the 3-phosphoinositide-dependent protein kinase 1 (PDK1), a protein which interacted with PtdIns(3,4,5)
P
3
and PtdIns(4,5)
P
2
through its pleckstrin homology (PH) domain and exhibited a dramatic increase in its ability to activate Akt in the presence of these phosphoinositides. The necessity of these phosphoinositides lies in the facts that they change the configuration of Akt in a way that the Thr308 residue is much more approachable for PDK1, and that they enable the simultaneous localization of both PDK1 and Akt in the membrane, allowing for the first to phosphorylate the latter [
2
,
3
]. PDK1 was later shown to phosphorylate more members of the AGC (cAMP-dependent, cGMP-dependent and protein kinase C) kinase family, including the serum-and glucocorticoid-induced protein kinases (SGKs), the ribosomal protein S6 kinase beta-1 (S6K1) and the protein kinase C (PKC) (reviewed in [
1
]). The next step was to elucidate the mechanism behind the regulation of PDK1, which possesses five constantly phosphorylated Ser residues that remain unaffected by the action of insulin. One of them, Ser241, is a prerequisite for PDK1 activity and it seems like the protein gets auto-phosphorylated on that residue [
4
]. After many observations it was proposed that PDK1 is constitutively active and that phosphoinositides are responsible for converting its substrate into a form susceptible to phosphorylation by PDK1 [
1
].
1.2. Physiological Roles of PDK1 and Its Correlation with Malignancies
The physiological importance of PDK1 was clear in knockout mice which exhibited lethality at the second embryonic week (E9.5) [
5
]. Lethality at the embryonic stage was also shown in knock-in models with mutations of either the PDK1-interacting fragment (PIF) pocket [
6
] or the PH domain [
7
]. To overcome the issue of embryonic lethality, any interventions performed in the mouse models would now be tissue-specific. Muscle and liver PDK1
−/−
mice would only be viable for up to 4 months, and would suffer heart failure, and glucose intolerance followed by liver failure, respectively [
8
,
9
,
10
]. Pancreas PDK1
−/−
mice would be viable but diabetic [
11
], whereas the models created with conditional knock-in tissue-specific strategies would exhibit different phenotypes ranging from hyperinsulinemia, glucose intolerance and smaller body size, depending on the mutation type [
12
,
13
]. The studies performed on hypomorphic mice revealed a number of roles of PDK1, including the management of gastric acid secretion levels [
14
] and the stimulation of the Na
+
/H
+
exchanger via the serum- and glucocorticoid-inducible kinase 1 (SGK1) and the consequent regulation of the transport of electrolytes in the intestine [
15
]. Decreased PDK1 activity leads to the distortion of amino acid transport in the jejunum and increased amino acid excretion in the urine, implying defective renal reabsorption and decreased transport of amino acids in the kidneys and the intestine.
The PDK1 protein is a member of the AGC kinases and it is encoded by the PDPK1 gene, located at 16p13.3. This specific locus amplification has been correlated with poor survival prognosis in breast cancer, and has also been detected in lung and prostate cancer [
16
,
17
]. In breast cancer in particular, PDK1 is the means by which upstream lesions such as
PTEN
,
PIK3CA
and
ERBB2
boost their signal output and reach to Akt, rendering the cells resistant to PI3K pathway inhibitors [
18
]. Increasing evidence suggests that PDK1 plays a pivotal role in cell migration [
19
], while it is able to control cell motility via ROCK1 and has a significant effect in three-dimensional (3D) environments [
20
]. It is interesting that whereas in monolayer cell culture the downregulation of PDK1 seems to have no effect, its inhibition in 3D environments decreases cancer cell invasion in an Akt-dependent manner, suggesting that this could be a target to counteract cancer invasiveness (reviewed in [
19
,
21
,
22
]). The PI3K pathway is often deregulated in malignancies and exhibits high PtdIns(3,4,5)P3 levels. Being part of the pathway PDK1 is also implicated in cancer, in the majority of the cases though it is the overexpression that leads to pathologic conditions, rather than mutations. For instance, increase in gene copy number and protein overexpression have been reported in breast cancer and acute myeloid leukaemia, among other malignancies [
23
]. During melanoma initiation, PDK1 is the intermediate for the PKC regulation by the tissue inhibitor of metalloproteinase-1 (TIMP1), and in later stages of progression and metastasis, it promotes resistance to
anoikis
[
24
]. In non-small cell lung cancer, glutamine shortage leads to the PDK1/Akt axis activation, which in turn promotes metastasis [
25
]. Tissue sample analysis of patients with hepatocellular carcinoma who underwent surgical resection but where not submitted to any other type of therapy, revealed that the PDK1 mRNA levels were the most potent factor regarding time to recurrence (TTR) prediction and were also correlated with decreased overall survival rate [
26
].
Due to the great matter of attention drawn to PI3K and Akt as the major molecules in order to target many aspects of cancer, the role of PDK1 in cancer has been overlooked. However, the ability of the latter to act independently of them two, has revamped the focus on this molecule and its pharmacological targeting [
7
]. Indeed, the ability of PDK1 to drive tumorigenesis in an Akt-independent manner has been recently demonstrated. More specifically, Vasudevan et al. demonstrated that in the context of existing
PIK3CA
mutations, Akt activity is deficient and SGK3 serves as the main PDK1 effector [
27
]. Mutations in
PIK3CA
seem to be a late event in tumorigenesis, and they mostly result in increase of the kinase activity, allowing for
PIK3CA
to act as an oncogene. Two significant hotspot mutations of
PIK3CA
occur in the helical domain in exon 9 (E545K) and the kinase domain in exon 20 (H1047R) [
28
,
29
]. Cells harbouring such
PIK3CA
mutations exhibit higher levels of phosphorylated PDK1, and these specific mutations seem to partially control the recruitment of PDK1 on the membrane. This can be attributed to a function that is not related to the kinase activity of PIK3CA; for instance maintenance of adaptor-proteins that facilitate membrane recruitment of PDK1 irrespectively of the PH domain. The
PIK3CA
mutant cells highly depend on SGK3 for their survival, and it is possible that PI3K exerts its signaling through the endosomes, where SGK3 localizes and subsequently engages PDK1. The study concluded that tumours with
PIK3CA
mutations exhibit Akt dependency when there is manifestation of defective feedback regulation or phosphate and tensin homolog (PTEN) signaling, whereas they exert Akt- independent signaling and they recruit SGK3 when such deficiencies are absent [
27
]. In addition to this, another study showed that although breast cancer cells growth is independent of PDK1, their ability for tumour initiation in vitro relies on it, regardless of their PIK3CA burden.
p53
and
K-RAS
mutated cells are more prone to inhibition of PDK1 than
PIK3CA
mutated ones, but their growth in 3D conditions remains uninfluenced by Akt inhibition, in contrast to the ones with mutated
PIK3CA
. Kinase activity of the molecule is a prerequisite for 3D growth, but the same does not apply for the PH domain, thus leading to the conclusion that Akt is not an effector molecule in the tumorigenic activity of PDK1. In line with this, constitutively active Akt was not able to redeem for PDK1 loss in regards to 3D growth and its chemical or genetic inhibition did not alter the PDK1 hyperactivation outcome [
30
].
Lately, many cases have been reported where PDK1 is directly or indirectly implicated in chemoresistance, with its inhibition resulting in re-sensitization of cancer cells to chemotherapeutic agents, and this is going to be the topic of discussion in the following sections.
2. PDK1 in Chemoresistance
2.3. Acute Myeloid Leukaemia
Acute myeloid leukaemia (AML) is another type of cancer with dismal prognosis due to lack of responsiveness to chemotherapy and common relapse, accountable for which are leukaemia stem cells (LSCs). Upon leukaemia patients' chemotherapy, a small LSCs population that exhibited resilience and managed to survive, starts to proliferate and turns into the dominant population, paving the way for disease relapse [
54
]. The characteristics of LSCs such as quiescence, low division rate and resistance to therapy, state them an intractable target; yet a recent study indicated PDK1 as a LSCs survival regulator and thus an appealing target for therapy [
55
]. Almost half of AML sufferers with poor prognosis exhibit overexpression of PDK1 [
56
] and hematopoietic malignancies including AML often exhibit inactivation of PTEN and Akt activation, which is strongly correlated with poor prognosis. This Akt activation is in part due to aberrant regulation of other signaling pathways such as Bcl-2-associated death promoter (BAD) and
p53
[
57
,
58
,
59
,
60
]. As abovementioned, recent studies revealed that
PDK1
deletion not only had a positive effect on the lifespan of an MLL-AF9 mouse model and reduced LSCs incidence following secondary transplantation, but also significantly enhanced
p53
and
Bax
expression [
55
], both of which are known for their pro-apoptotic properties [
61
]. In the clinical setting, tumours with high levels of
p53
are considered more responsive to chemotherapy, whilst
Bax
downregulation is linked to both limited drug sensitivity and decreased survival [
62
,
63
]. Another interesting observation of the same study was that
PDK1
deletion was coincident with lower
Stat5
levels, raising the notion that this might be the main LSCs maintenance pathway [
55
], since Stat5 is constitutively active in many types of leukaemia [
64
].
2.4. PDK1 and Chemoresistance in Multiple Types of Cancer
Metadherin (MTDH) is an oncogene thought to affect many cancer related pathways such as PI3K/AKT and Wnt, and its downregulation was shown to increase the chemosensitivity of many tumours such as prostate and breast cancer to 5-fluorouracil (5-FU), paclitaxel and doxorubicin; the exact mechanism though had remained unknown. A recent study came to unravel this mechanism of action, demonstrating that MTDH protects cancer cells by interfering with the cell cycle checkpoints and initiating pro-survival cascades. MTDH downregulation resulted in caspase-3 and -8 mediated endometrial cancer cell death, following treatment with tumour necrosis factor-α-related apoptosis-inducing ligand (TRAIL) and the LBH589 histone deacetylase (HDAC) inhibitor. MTDH depletion coincides with a decline in PDK1 phosphorylation which renders the cell prone to apoptosis via the invigoration of Bim expression. A protein of interest in this case is galectin-1, which has a strong presence in a number of tumour types and is implicated in the PI3K pathway. Knockdown of this protein was shown to avert PtdIns(3,4,5)
P
3
increase following stimulation with insulin growth factor 1 (IGF1) in glioblastoma cells, and this study denoted that MTDH-induced galectin-1 increase might result in an increase of PtdIns(3,4,5)
P
3
levels and activation of the PI3K cascade. Overall, these data exhibit that MTDH constitutes a target for more effective chemotherapy, with PDK1 and Bim playing key role in this procedure [
65
].
Whilst the constitutively active PDK1 does not undergo any further activation derived from mitogenic signals [
3
], its activity is modulated by interactions with other proteins-modulators; for instance the 14-3-3 protein which reduces its activity [
66
], the heat shock protein 90 (Hsp90) which protects it from the activity of the proteasome [
67
], and the tumour suppressor candidate 4 (TUSC4), which was found to be implicated in cancer cells chemosensitivity. More specifically, TUSC4 negatively regulates the PDK1 downstream cascade, as it is able to form a ternary complex with Src and PDK1 and attenuate the latter's Src-induced tyrosine sites phosphorylation; thus, hampering the S6K and Akt activation. Cells modulated to express TUSC4 were found to be more responsive to chemotherapeutic drugs including doxorubicin, taxol, cDDP and VP-16, than their control counterparts. This underscores the significance of PDK1 inhibition in overcoming resistance to anticancer drugs [
68
].
PDK1 can be also implicated in chemoresistance through another PDK1-binding protein, the tongue cancer resistance-related protein-1 (TCRP1), the levels of which are found to be increased in a number of cancers including pancreatic and ovarian ones [
69
]. TCRP1 is correlated with cisplatin resistance in lung cancer [
70
] and oral squamous cell carcinoma resistance to radiation [
71
]. Aberrant expression of this protein induces phosphorylation of PDK1 in a PTEN and PI3K-independent manner; TCRP1 binds to PDK1 via two amino-acid sequences (T109-A124 and R93-S107) and it is speculated to promote 14-3-3/PDK1 dissociation, leaving PDK1 in a monomer configuration that not only has the ability of auto-phosphorylation, but can also phosphorylate its downstream target, Akt. Nonetheless, further studies need to be carried out concerning the TCRP1-mediated PDK1 phosphorylation. TCRP1 was shown to induce cell transformation via PDK1 activation, and chemical (OSU-03012) or genetic downregulation of the latter reversed this phenomenon [
69
]. A summary of the aforementioned pathways where PDK1 is implicated can be found in
Figure 1
.
3. PDK1 Oncogenic Signaling in Chemoresistance: Beyond AKT
3.1. PDK1-PLK1-MYC Axis
Recently, there have been a number of reports showing that in some cancer cases PDK1 acts independently of the PI3K pathway to exert its oncogenic properties [
27
,
72
,
73
]. PDK1 has been shown to act through another route, that of Polo-like kinase 1 (PLK1)-MYC [
74
].
MYC
is a well-studied oncogene, with its respective protein being involved in the ability of cancer cells, as well as stem cells, to self-renew [
75
], and was lately proved to be PDK1-dependent in order to induce HEK cells transformation. PDK1 triggers the phosphorylation of PLK1, which is also upregulated in many cancers, and the latter interacts with MYC, phosphorylates it and results in its accumulation in cancer cells (
Figure 2
). MYC-driven breast cancer is shown to be more responsive to PDK1/PLK1 inhibitors than is MYC-independent one, and taking into consideration that a MYC inhibitor is not currently available in the clinic, targeting the PDK1-PLK1-MYC axis reveals a new potential therapeutic approach against MYC-induced cancers. It is also likely that chemoresistance will be affected as well, since inhibition of either PDK1 or PLK1 resulted in depletion of the CD44
+
/CD24
−/low
stem cell-like populations in the MDA-MB-231 cell line, a phenomenon not observed when the PI3K-AKT pathway was impaired [
74
].
3.2. PDK1-YAP/Hippo Pathway Axis
The Salvador/Warts/Hippo (SWH) pathway, alternatively named Hippo signaling pathway, was initially discovered and studied in Drosophila, where it coordinates organ size. The main core of the cascade is comprised of the tumour suppressor proteins Warts (Wts), Salvador (Sav), Hippo (Hpo) and Mob-as-tumour-suppressor (Mats) and mutations leading to loss of function of any of them results in an increased proliferation- or hippopotamus-like phenotype. The respective mammalian homologues are the Lats1/Lats2, Sav1 or WW45, Mst1/Mst2 and MOBKL1A/1B, which shape a conserved cassette that responds upon high cell density signals, and inactivates YAP by phosphorylation. More specifically, the kinase complex formed by Sav1 and Mst/HIPPO phosphorylates Lats kinase, which targets the Ser127-YAP and results in its restriction to the cytoplasmic compartment. Inactivation of the pathway leads in YAP nuclear translocation, where is acts as a transcriptional activator for genes related with proliferation (reviewed in [
76
]). This activation is mediated by TEA domain transcription factors (TEADs) and it has been demonstrated that the promoter of the connective tissue growth factor (CTGF) gene is bound by the YAP-TEAD1 complex in MCF10A and NIH-3T3 cells. In cancer cells overexpressing YAP, knockdown of either of the aforementioned complex components had a major impact on the CTGF mRNA levels, and knockdown of the CTGF itself abrogated cell growth [
77
]. In MCF10A serum starved cells which have reached the point of contact-inhibition, YAP is not detected in the nucleus, however this phenomenon is quickly reversed by epidermal growth factor (EGF) treatment. EGF acts via the Hippo pathway by inhibiting Lats, and therefore reduces Ser127 phosphorylation of YAP, promoting its recruitment in the nucleus and allowing it to exert its transcriptional activity. Treatments with inhibitors of PI3K, PDK1 and its downstream effectors revealed that it was only the first two kinases that were involved in YAP phosphorylation and nuclear accumulation, therefore it is the PI3K-PDK1 signal that links EGFR with the SWH pathway. Further experiments showed that signals unrelated to EGFR, such as horse serum or LPA, could initiate the PI3K cascade and cause nuclear accumulation of YAP, suggesting that signals upstream of this pathway are able to inhibit the Hippo cascade. PDK1 forms a complex with the core SWH pathway proteins (Sav1, Mst, Lats), which can be disrupted following EGF treatment. This dissociation can be prevented with the use of PDK1 and PI3K inhibitors. Analysis of the complex showed that since PDK1 lacks the domains needed to directly interact with all the components of the HIPPO pathway, Sav1 is the mediator molecule. Sav1 relates to PDK1 via its 145–162 residues and allows for the PDK1-Lats and PDK1-Mst interactions via its WW and SARAH domains, respectively. The proposed model connecting PDK1, YAP and EGF signaling was that in growth factor signaling absence, PDK1 is found in the cytoplasm in the form of a complex with the Hippo components, leading to phosphorylation and cytoplasmic retention of YAP. Cell stimulation with growth factors leads to plasma membrane recruitment of PDK1 and subsequent disruption of the complex, resulting to Lats inactivation, pSer147-YAP levels reduction and accumulation of the dephosphorylated protein in the nucleus, where it acts as a transcriptional activator for growth controlling genes [
78
] (
Figure 3
).
3.3. PDK1-SGK Axis
Aberrant expression of the PI3K/AKT/mTOR pathway is a frequent phenomenon in breast cancer and it is the result of a PIK3CA mutation, which corresponds to the PI3K p110 catalytic subunit, and more specifically to isoform α. Regardless of the development of specific PI3Kα inhibitors, not all tumours are responsive and the molecular mechanisms sustaining this resistance need to be defined. Even upon complete PI3K/AKT inhibition, there is a remaining mTORC1 activity which allows cancer cells to overcome PI3Kα- inhibitors treatment [
79
,
80
,
81
,
82
,
83
]. The classic pathway by which PI3K triggers mechanistic target of rapamycin complex 1 (mTORC1) activity, is initiated by G-protein-coupled receptors (GPCRs) or RTKs. As mentioned in previous sections, AKT is phosphorylated by PDK1 but can only exert its full activity following phosphorylation by mTORC2. Once fully active, AKT can inhibit the tuberous sclerosis complex (TSC) by phosphorylating it in four serine and one threonine residues (S1132, S1130, S981, S939 and T1462). The TSC acts as a GTPase activating protein (GAP) for the Ras homolog enriched in brain (Rheb) GTPase, and its inhibition results in activation of the latter, which in turn activates mTORC1. Consequently, AKT phosphorylates the inhibitory subunit 40-kDa proline-rich (PRAS40) causing it to dissociate from the complex, rendering mTORC1 accessible to substrates (extensively reviewed in [
84
]). Yet, this seems to not be the case in tumours resistant to PI3Kα inhibition, as recent research has shown that PDK1 is a new player actively underpinning this resistance. Experiments using breast cancer cell lines carrying PI3Kα mutations and therefore resistant to the specific PI3Kα- inhibitor BYL719, revealed that the observed residual mTORC1 activity was PtdIns(3,4,5)
P
3
- and thus AKT- independent, and stands in need of both PIF-binding pocket and kinase activity of PDK1. Results from simultaneous PI3Kα and PDK1 inhibition using BYL719 and GSK2334470 suggested that resistant cells were acquiring a transcriptional activity dependent on forkhead box proteins O (FOXOs), and more specifically on FOXO3 which showed robust nuclear sequestration upon dual treatment [
85
]. While in the presence of growth stimuli the 14-3-3 proteins restrain FOXO proteins in the cytoplasm, their cessation causes dephosphorylation and nuclear transport of the proteins in question, leading to expression of pro-apoptotic genes [
86
]. Despite the fact that FOXO1/3 have been identified as targets of AKT, its complete inhibition does not seem to result in the expected FOXO3 nuclear translocation in BYL719 resistant cells and so, researchers focused on the detection of a protein that would comprise a member of the AGC kinases, associate with the PDK1 PIF-binding pocket and be dependent on its catalytic activity, while it would concomitantly affect mTORC1 and FOXOs activity in an AKT unbiased manner. Transcriptomic analysis of a number of breast cancer cell lines with different BYL719-resistance status pointed out to SGK1, since the phosphorylation levels of its target N-Myc Downstream Regulated 1 (phosphoNDRG1) were significantly elevated compared to total protein in resistant cell lines [
85
]. Although SGK1 and pNDRG1 levels vary accordingly in vivo, and AKT has been shown to target NDRG1 in vitro [
87
,
88
] as well as in vivo in the case of mouse models with PDK1 K465E knock-in mutation [
89
], the significance of SGK1 in this mechanism was confirmed by the fact that pNDRG1 levels were not affected by BYL719 treatment in resistant cells. On the contrary, it was the combination of both the GSK2334470 and BYL719 inhibitors that sufficed to reduce this phosphorylation. The outcomes of this study showed that pharmacological targeting of SGK1 was a realistic and achievable objective and that complete inhibition of mTORC1 requires dual targeting of SGK1 and AKT. Apart from these, another novelty was the discovery that in fact it is the phosphorylation of TSC2 by SGK1 that is responsible for this residual mTORC1 activation. It should be kept in mind that although AKT and SGK1 may both be under the control of PDK1 and mTORC2, what makes a big difference is that AKT contains a PH domain which renders it dependent on plasma membrane recruitment, whereas SGK1 can be active even when PtdIns(3,4,5)
P
3
is unavailable. The partial reduction in SGK1 activity that follows PI3Kα inhibition in resistant cell lines, can be explained by the fact that PtdIns(3,4,5)
P
3
can affect mTORC2 in a mammalian stress-activated protein kinase interacting protein 1 (mSIN1)-dependent manner. There also exist other intracellular mTORC2 pools with ambivalent localization and different dependency on growth factors status, which can explain this observation [
85
].
Apart from SGK1, SGK3 also holds a key role in melanoma resistance to PI3K/Akt inhibition [
90
].
BRAF
mutations, and especially BRAF
V600E
, are an early and very frequent event in melanoma. This specific mutation promotes PTEN silencing to sustain the progress from a benign to a malignant state. It was recently shown that independently of their Akt and PTEN status, melanoma cells are prone to PI3K or BRAF
V600E
inhibition, and even more sensitive to a dual inhibition. Noticeably, mTORC1/2 inhibition was able to apprehend cell proliferation comparably to BRAF
V600E
or PI3K inhibition. It was further demonstrated that PI3K and BRAF
V600E
were able to control mTORC1 activity in an AKT-independent manner [
91
]. Following these studies, another group showed that SGK3 together with PDK1 are implicated in melanomas harbouring BRAF mutations and wild type PTEN, which in fact account for more than half the cases of melanomas occurrence. SGK3, being a substrate of PDK1, acts as its mediator, and inhibition of either of the two kinases leads to cell cycle arrest at G1 phase. Simultaneous inhibition of PDK1 and PI3K/mTOR or the proteasome exhibits synergism and has a higher impact on melanoma proliferation [
90
]. Due to the important role of Akt in the maintenance of cancer cells, it would be a natural consequence that following extended Akt or PI3K Class I inhibition, the cells would urge to recompense for that loss. Indeed, a very efficient strategy undertaken by malignant cells is the upregulation of SGK3, which has a high level of overlapping targets with Akt and can be activated by hVps34 in a PI3K Class I-independent manner. hVps34 acts by producing PtdIns(3)P, to which SGK3 can bind via its PX domain and be subsequently phosphorylated and activated by PDK1, and it is worth mentioning that SGK1 and SGK2 lack a PX domain and depend on PI3K for their activation. TSC2 phosphorylation and the resulting SGK3 and mTORC1 activation can comprise an Akt-independent cascade responsible for the occurrence of chemoresistance [
92
].
4. Conclusions
To conclude, we have here presented a thorough literature review assessing the value of PDK1 in chemosensitization of cancer cells, analyzed Akt-dependent and independent pathways, and reported the available inhibitors up to date, while providing information on the preclinical validation of these inhibitors and the studies outcome, as well as the potential role of PDK1 as a pharmacodynamic biomarker.
Acknowledgments
The authors acknowledge the infrastructure and staff support provided by Curtin Health Innovation Research Institute (CHIRI), School of Biomedical Sciences and Faculty of Health Sciences, Curtin University. Work in the Falasca lab is supported by Avner Pancreatic Cancer Foundation and Keith & Ann Vaughan Pancreatic Cancer Fund. A.E. is supported by AB Analitica.
Author Contributions
Aikaterini~Emmanouilidi and Marco~Falasca are equally contributing~authors.
Conflicts of Interest
The authors declare no conflicts of interest.
Abbreviations
3D
Three dimensional
5-FU
5-fluorouracil
AML
acute myeloid leukaemia
ATP
adenosine triphosphate
AurA
Aurora Kinase A
BAD
Bcl-2-associated death promoter
c/EBPβ
CCAAT/Enhancer Binding Protein Beta
CAMKK2
Ca2+/calmodulin-dependent protein kinase kinase 2
cDDP
cis-diamminedichloroplatinum(II)/cisplatin/cisplatinum
COL11A1
collagen type XI aplha1
COX2
cyclooxygenase-2
CTGF
connective tissue growth factor
EGF
epidermal growth factor
EMT
epithelial-to-mesenchymal transition
EOC
epithelial ovarian carcinoma
ERα
oestrogen receptor α
FABP5
fatty acid-binding protein 5
Foxo
forkhead box O
GAP
GTPase activating protein
GBM
glioblastoma multiforme
GPCR
G-protein-coupled receptor
HDAC
histone deacetylase
Hpo
Hippo
Hsp90
heat shock protein 90
IC50
half maximal inhibitory concentration
IGF1
insulin growth factor 1
K-RAS
Kirsten Rat Sarcoma Viral Oncogene Homolog
Lats
Large Tumor Suppressor Kinase 1
LPA
lysophosphatidic acid
LSC
leukaemia stem cells
Mats
Mob-as-tumour-suppressor
MLL-AF9
mixed lineage leukemia-ALL1- fused gene from chromosome 9 protein
MM
Multiple myeloma
MOBKL1A/1B
Mps one binder kinase activator-like 1A
mRNA
messenger ribonucleic acid
mSIN1
mammalian stress-activated protein kinase interacting protein 1
MTDH
metadherin
mTOR
mammalian/mechanistic target of rapamycin
MYC
v-myc myelocytomatosis viral oncogene homolog (avian)
NDRG1
N-Myc Downstream Regulated 1
nM
nanomolar
p21Cip1
cyclin-dependent kinase inhibitor 1
PDAC
pancreatic ductal adenocarcinoma
PDK1
3-phosphoinositide-dependent protein kinase 1
PH
pleckstrin homology
PI3K
phosphoinositide 3-kinase
PIF
PDK1-interacting fragment
PKB/Akt
protein kinase B
PKC
protein kinase C
PLCε
phospholipase Cε
PLK1
Polo-like kinase 1
PPAR

β

peroxisome proliferator-activated receptor

β

PRAS40
inhibitory subunit 40-kDa proline-rich
PtdIns(3,4,5)

P

3
phosphatidylinositol (3,4,5)-trisphosphate
PtdIns(4,5)

P

2
phosphatidylinositol (4,5)-bisphosphate
PTEN
phosphate and tensin homolog
RA
retinoic acid
RTK
receptor tyrosine kinase
Rheb
Ras homolog enriched in brain
S6K1
Ribosomal protein S6 kinase beta-1
Sav
Salvador
Ser
serine
sfRon
short-form Ron
SGK
Serum and glucocorticoid-induced protein kinase
Src
V-Src Avian Sarcoma (Schmidt-RuppinA-2) Viral Oncogene
SWH
Salvador/Warts/Hippo
TCRP1
tongue cancer resistance-related protein-1
TEADs
TEA domain transcription factors
Thr
threonine
TIMP1
tissue inhibitor of metalloproteinase-1
TNBC
triple negative breast cancer
TRAIL
tumour necrosis factor-α-related apoptosis-inducing ligand
TSC
tuberous sclerosis complex
TUSC4
tumour suppressor candidate 4
UPP
ubiquitin (Ub)-proteasome pathway
VEGF-A
vascular endothelial growth factor-A
VP-16
Etoposide Phosphate
Wts
Warts
YAP
Yes-associated protein 1
μΜ
micromolar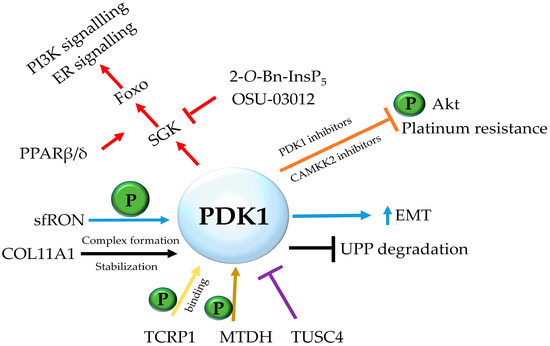 Figure 1.
Major signaling pathways in chemoresistance and PDK1 implication. PDK1 is implicated in a number of signaling pathways and cancers. Complex formation with COL11A1 results in PDK1 stabilization and resistance to ubiquitin (Ub)-proteasome pathway degradation in epithelial ovarian carcinoma, its instigation by sfRON leads to EMT in high-grade serous ovarian cancer, whereas PDK1 inhibition combined with CAMKK2 inhibition leads to reduction of phospho-Akt levels and decreased platinum resistance in ovarian cancer. Sensitization of breast cancer cells to drugs such as tamoxifen and paclitaxel is correlated with the effect and sustaining of PI3K and ER signaling through SGK1/3 and Foxo1/3 isoforms, where components such as PPARβ/δ have a stimulating effect, and PDK1 inhibitors such as 2-
O
-Bn-InsP
5
and OSU-03012 have proven to be effective. In other types of cancer, proteins such as MTDH and TCRP1 are shown to directly or indirectly activate PDK1, and the tumour suppressor TUSC4 is shown to form a complex with it and negatively regulate the signaling cascade.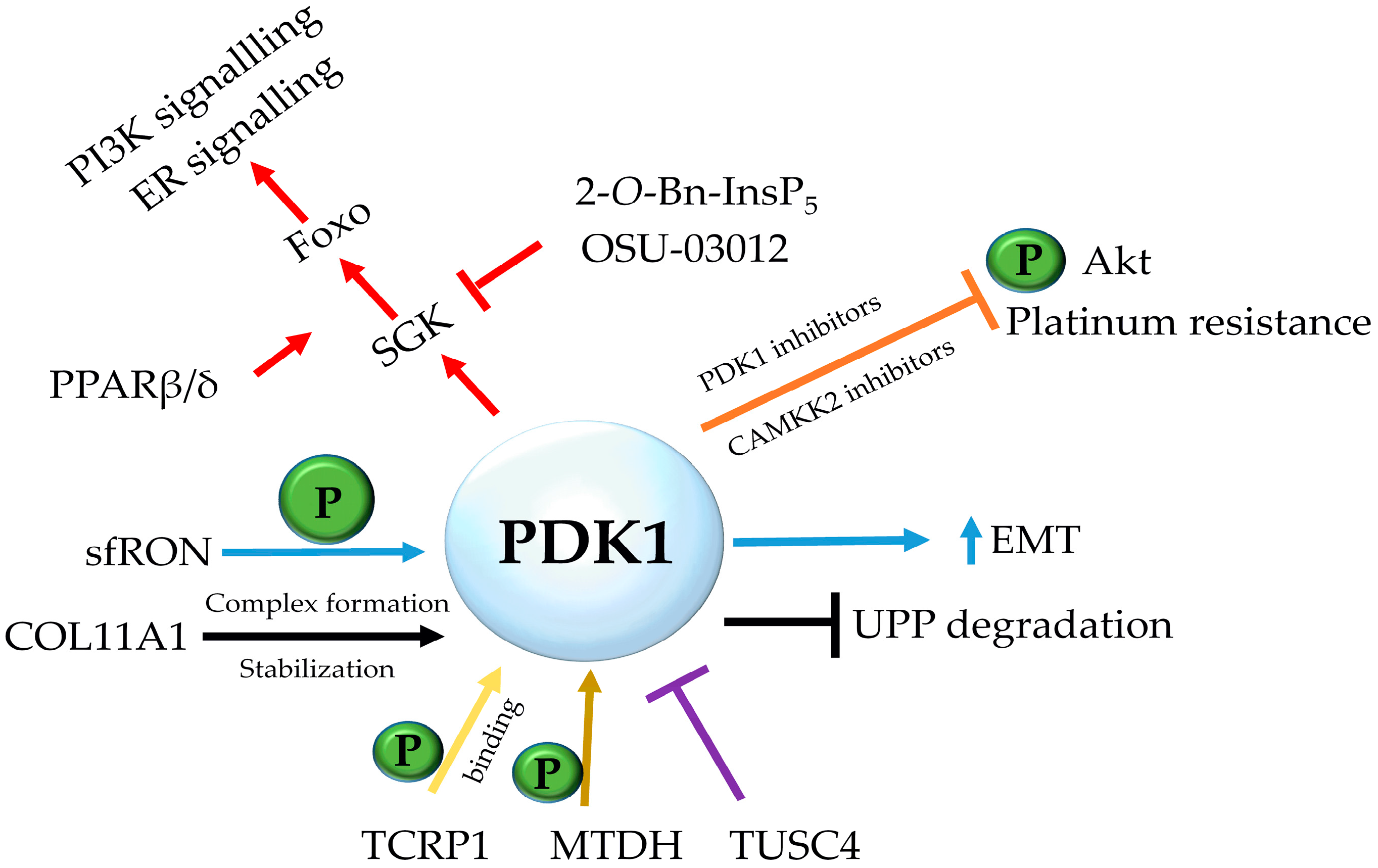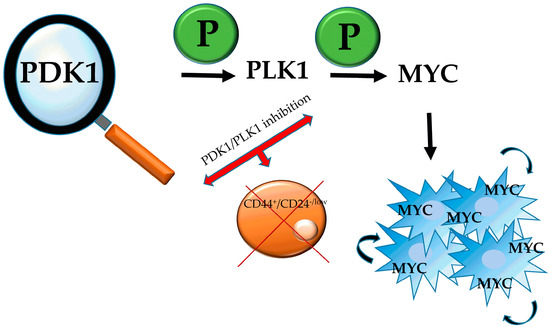 Figure 2. The PDK1-PLK1-MYC axis. PDK1, via PLK1 phosphorylation and subsequent MYC phosphorylation, results in the sequestration of the latter in cancer cells. MYC is known for its ability to promote self-renewal of cancer cells as well as stem cells, and therefore inhibition of either of the first two components of the axis leads to depletion of cancer stem-like cells.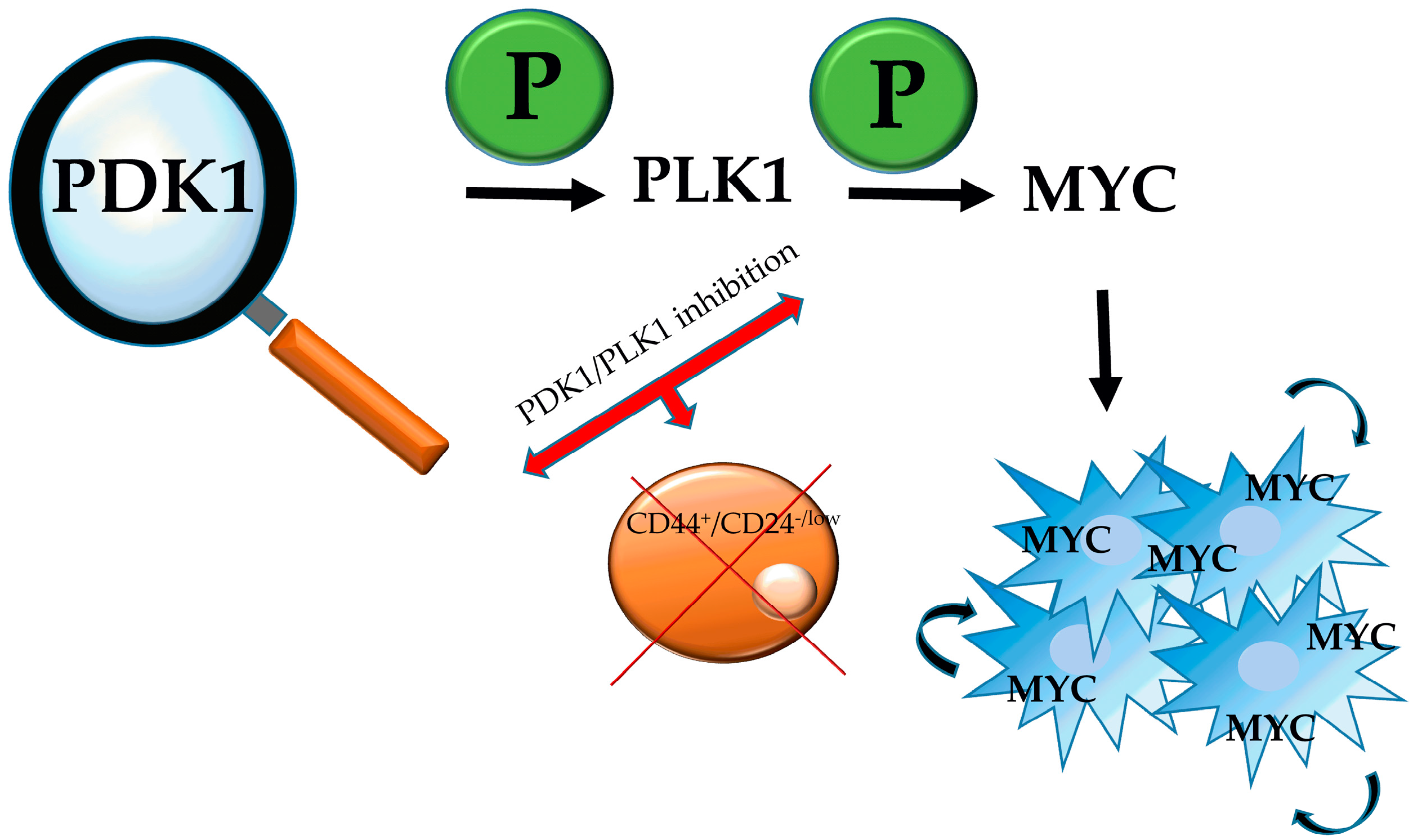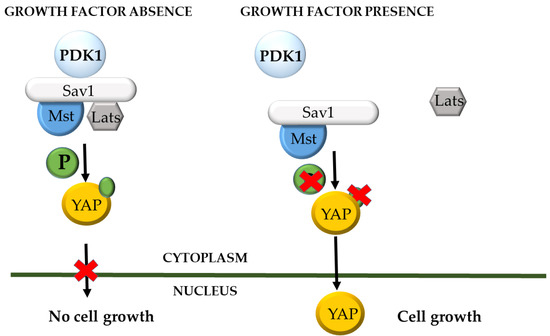 Figure 3. PDK1 and the Salvador/Warts/Hippo (SWH) pathway. When epidermal growth factor receptor (EGFR) signaling is active, PDK1 is recruited to the cell membrane and the core components of the HIPPO pathway are not forming a complex, thus YAP protein is in its inactive form and can insert the nucleus and act as a transcription factor for growth-promoting genes. On the opposite, in the absence of growth stimuli, a cytosolic complex is formed between the core proteins of the HIPPO pathway and PDK1, which phosphorylates YAP and renders it in the cytoplasm, excluding its nuclear entry.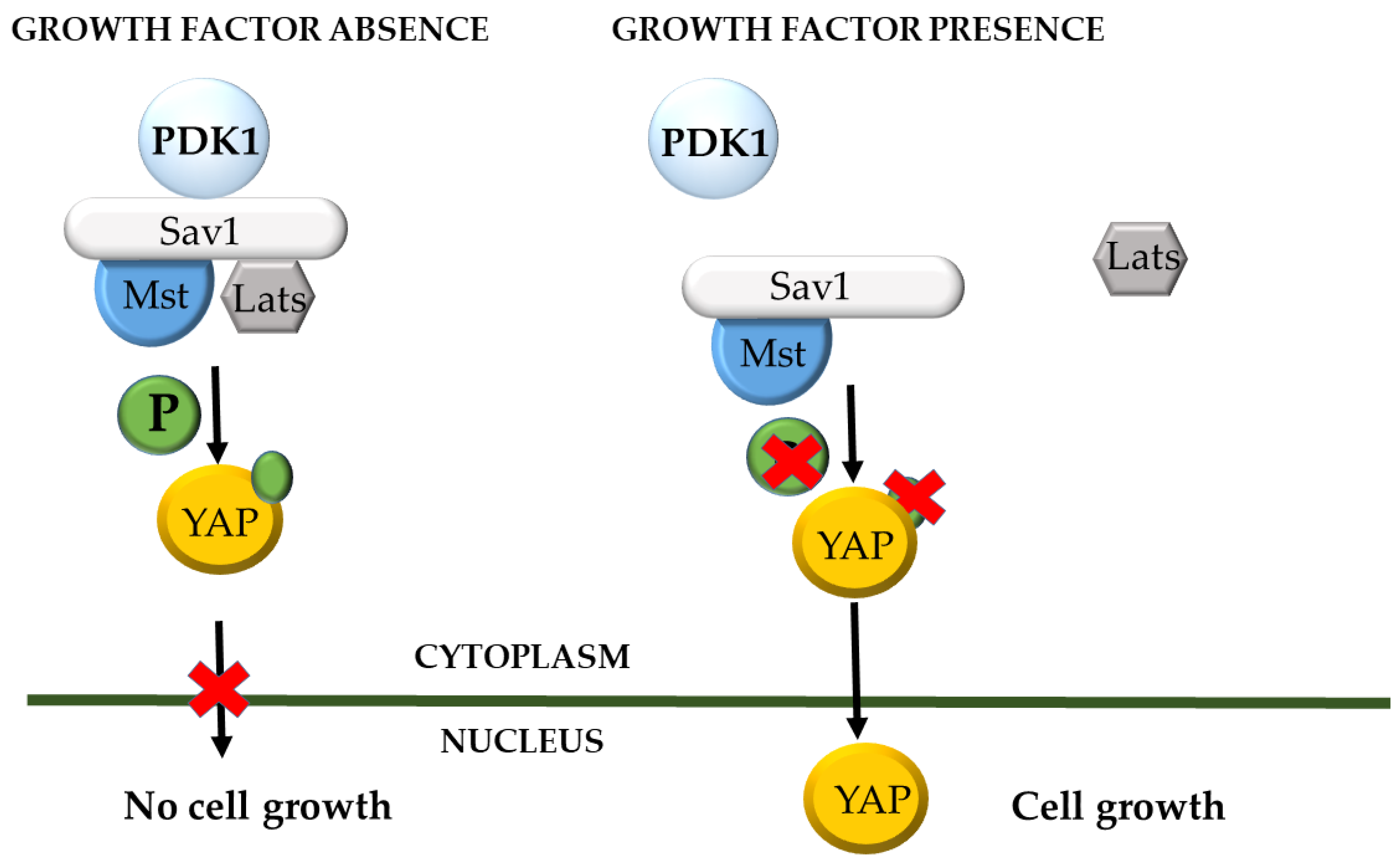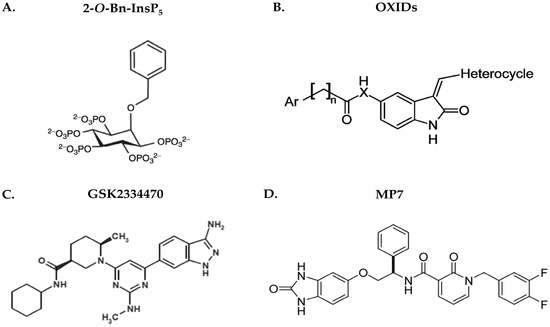 Figure 4.
Structures of commonly used PDK1 inhibitors. (
A
) 2-
O
-Bn-InsP
5
(M. Falasca Laboratory); (
B
) OXIDs (S. Rapposelli Laboratory); (
C
) GSK2334470 (GlaxoSmithKline); (
D
) MP7 (Merck).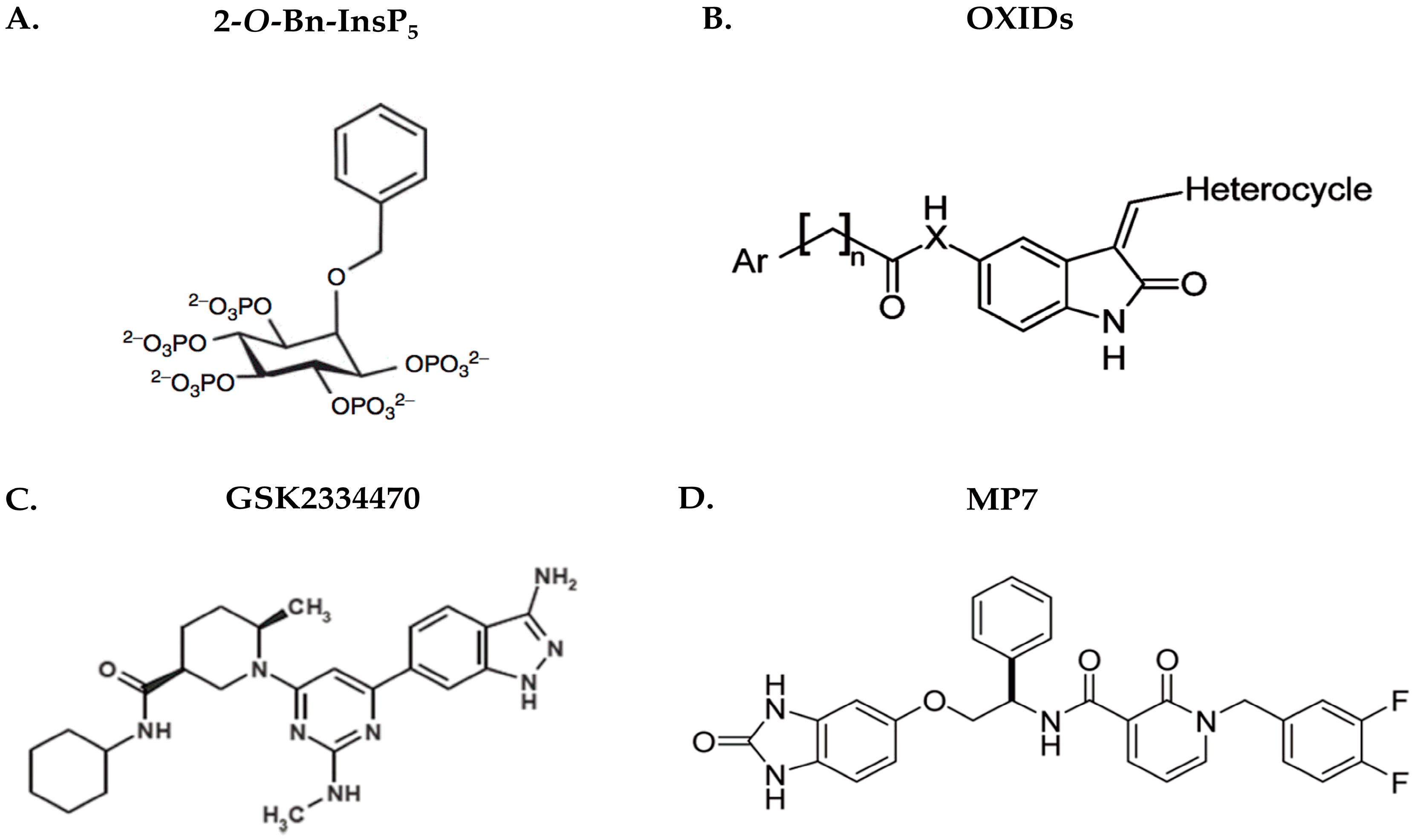 © 2017 by the authors. Licensee MDPI, Basel, Switzerland. This article is an open access article distributed under the terms and conditions of the Creative Commons Attribution (CC BY) license (http://creativecommons.org/licenses/by/4.0/).