Open Access This article is
freely available
re-usable
Review
Regulation of mTOR, Metabolic Fitness, and Effector Functions by Cytokines in Natural Killer Cells
1
Centre International de recherche en Infectiologie, CIRI, Inserm, U1111, Université Claude Bernard Lyon 1, CNRS, UMR5308, École Normale Supérieure de Lyon, University of Lyon, 69007 Lyon, France
2
Laboratoire d'Immunologie, Hospices Civils de Lyon, Centre Hospitalier Lyon Sud, 69310 Pierre-Bénite, France
*
Authors to whom correspondence should be addressed.
Academic Editors: Andrew R. Tee and James Murray
Received: 31 August 2017 / Accepted: 23 September 2017 / Published: 28 September 2017
Abstract
:
The control of cellular metabolism is now recognized as key to regulate functional properties of immune effectors such as T or Natural Killer (NK) cells. During persistent infections or in the tumor microenvironment, multiple metabolic changes have been highlighted in T cells that contribute to their dysfunctional state or exhaustion. NK cells may also undergo major phenotypic and functional modifications when infiltrating tumors that could be linked to metabolic alterations. The mammalian target of rapamycin (mTOR) kinase is a central regulator of cellular metabolism. mTOR integrates various extrinsic growth or immune signals and modulates metabolic pathways to fulfill cellular bioenergetics needs. mTOR also regulates transcription and translation thereby adapting cellular pathways to the growth or activation signals that are received. Here, we review the role and regulation of mTOR in NK cells, with a special focus on cytokines that target mTOR such as IL-15 and TGF-β. We also discuss how NK cell metabolic activity could be enhanced or modulated to improve their effector anti-tumor functions in clinical settings.
Keywords:
NK cells; metabolism; mTOR; IL-15; TGF-β
1. Introduction
Natural killer (NK) cells are Innate Lymphoid Cells (ILCs) able to kill abnormal cells recognized as targets and to produce large amounts of IFN-γ and other cytokines and chemokines upon activation [
1
]. This allows them to take part in the immuno-surveillance of cancers [
1
]. Indeed, they express a restricted set of receptors allowing them to discriminate normal from abnormal, pathogen-infected or tumor cells. NK cell receptors have activating or inhibitory properties upon engagement by molecules displayed at the surface of target cells. The balance between activating and inhibitory signals controls immediate effector functions: cytotoxicity and IFN-γ secretion. As previously reviewed, the triggering of these effector functions is metabolically demanding and requires energy, especially when triggering NK cell receptors or under limited exposure to IL-15 [
2
]. However, NK cell metabolism may be different than that of T cells, as unlike these cells, they do not need to proliferate to display effector functions upon activation.
Multiple articles have demonstrated the capacity of NK cells to limit tumor growth in vivo in mouse models of melanoma, myeloma, lymphoma, or other cancer cell types, as previously reviewed [
3
]. Yet, in most cases, NK cell anti-tumor activity is overwhelmed when large numbers of tumor cells are injected [
4
]. Tumor growth is also associated with a progressive impairment of NK cell function, manifested by reduced expression of activating receptors and decreased effector functions [
5
]. NK cell exhaustion can also be associated in some cases with up regulation of inhibitory receptors such as PD-1 [
6
]. The latter observation is more frequently made for exhausted T cells in various settings of cancer or chronic infection. T cell exhaustion is also linked with a progressive impairment of bioenergetics metabolism, both glycolytic and respiration-associated. For example, during chronic Lymphocytic choriomeningitis virus (LCMV) infection in mice or during the course of Hepatitis B virus (HBV) chronic infection in human, in parallel with the development of dysfunction, virus-specific CD8+ T cells are unable to match the bioenergetics of effector T cells generated during acute infection [
7
,
8
]. Suppression of T cell bioenergetics involved restricted glucose uptake and use, despite persisting mechanistic target of rapamycin (mTOR) signaling. Mechanistically, PD-1 regulated early glycolytic and mitochondrial alterations in part by repressing the transcriptional coactivator PGC-1α [
9
]. In another study, it was reported that T cells infiltrating tumors show decreases in mitochondrial function and mass, leading to loss of oxidative respiration. T cell mitochondrial biogenesis was repressed via Akt-mediated inhibition of PGC-1α [
10
]. T cell dysfunction was also linked to an increased expression of a gene module involved in zinc metabolism, suggesting that the adaptive gain of metabolic pathways in the tumor environment may also contribute to their altered function [
11
]. Importantly, improving bioenergetics by overexpression of PGC-1α may enhance function in exhausted T cells, both in cancer and infection settings. Whether this is also the case for NK cells requires further investigation but multiple recent articles reported that several cytokines may control NK cell metabolism by regulating the activity of the mTOR kinase. Here, we review the corresponding literature and discuss how metabolic activity could be reinvigorated in NK cells to enhance their anti-tumor activity.
2. IL-15 Activates mTOR in NK Cells and Boosts Cellular Metabolism
3. TGF-β Represses the mTOR Pathway in NK Cells
4. Strategies to Boost NK Cell Metabolism
5. Concluding Remarks
Here we reviewed how IL-15 controls NK cell metabolism and how TGF-β inhibits NK cell metabolism and function by blocking the mTOR pathway. The effects of IL-15 and TGF-β on NK cells were observed both in mice and humans, which suggests that this mechanism is conserved upon evolution. Numerous aspects still need to be deciphered. First of all, the relative contribution of mTORC1 and mTORC2 as well as the downstream effectors of these complexes are unknown. How the metabolic pathways enhance effector functions also remains mostly enigmatic. The identification of metabolites that positively regulate NK cell functions may pave the way for the development of novel therapies to boost anti-tumor responses. Moreover, NK cell exhaustion remains poorly defined, in spite of recent advances [
82
]. A better understanding of the exhaustion mechanism may also lead to novel strategies to improve the function of endogenous or transplanted NK cells. Finally, future works should concentrate on the impact of chemotherapeutics on NK cell activity for selection of the optimal clinical conditions for NK cell-based therapies.
Acknowledgments
The Thierry Walzer's lab is supported by the Agence Nationale de la Recherche (ANR BanK, Gambler and Mankind), the Institut National du Cancer (PLBIO-R16116CC) the ARC foundation (équipe labellisée), the European Research council (ERC-Stg 281025), and receives institutional grants from the Institut National de la Santé et de la Recherche Médicale (INSERM), Centre National de la Recherche Scientifique (CNRS), Université Claude Bernard Lyon1 and ENS de Lyon.
Conflicts of Interest
The authors declare no conflicts of interest.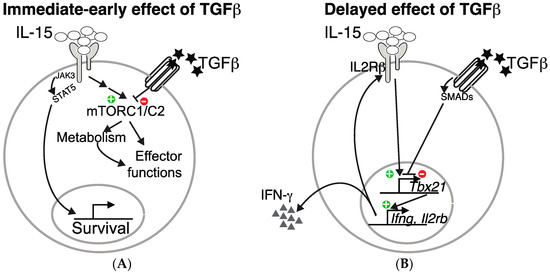 Figure 1. TGF-β inhibits IL-15-driven natural killer (NK) cell effector functions at two distinct levels. TGF-β inhibits IL-15 induced mTORC1/2 activation and the subsequent metabolic increase as well as effect on effector functions (A). In addition, it also inhibits the transcription of Tbx21, an IL-15 target, thus resulting in decreased IFN-γ production and IL2Rβ level (B).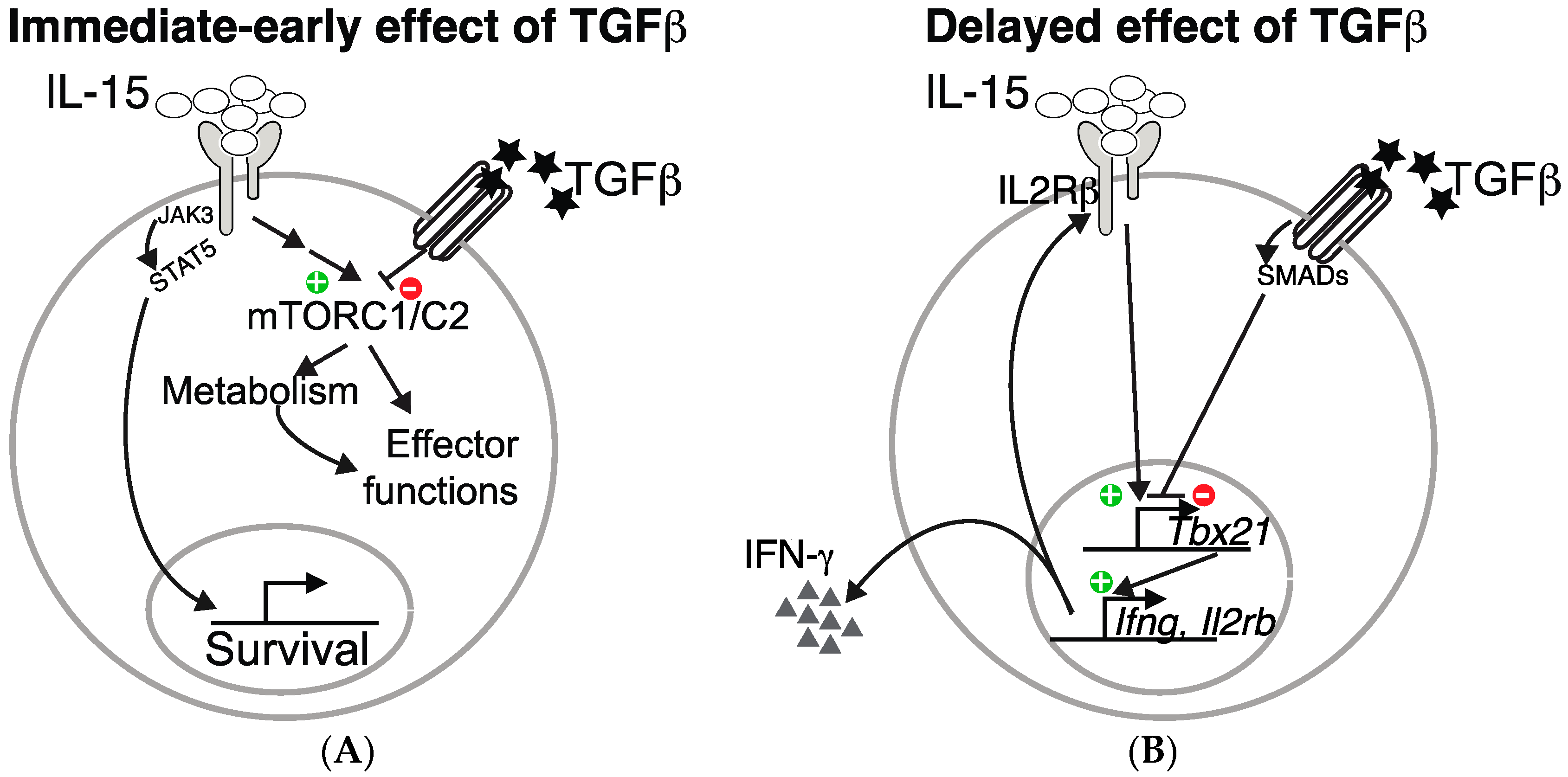 Table 1. Studies analyzing natural killer (NK) cell metabolic activity using Seahorse technology.
Species
NK Cell Metabolic Activity
Reference
Increased by
Decreased by
Murine NK cells
IL-2, IL-2/12, poly(I:C)
Rapamycin
[14]
IL-15, poly(I:C)
[12]
IL-15, IL-15+αTGF-β
Rapamycin, TGF-β
[16]
IL-15
[13]
Human NK Cells
IL-2, IL-12/15
Rapamycin
[15]
IL-2, IL-15
Torin
[17]
© 2017 by the authors. Licensee MDPI, Basel, Switzerland. This article is an open access article distributed under the terms and conditions of the Creative Commons Attribution (CC BY) license (http://creativecommons.org/licenses/by/4.0/).