Paradigm Shift in Radiation Biology/Radiation Oncology—Exploitation of the "H2O2 Effect" for Radiotherapy Using Low-LET (Linear Energy Transfer) Radiation such as X-rays and High-Energy Electrons
Hyogo Prefectural Kakogawa Medical Center, Kakogawa, Hyogo 675-8555, Japan
Academic Editors: Zhe-Sheng (Jason) Chen and Dong-Hua (Hana) Yang
Received: 8 December 2015 / Revised: 17 February 2016 / Accepted: 22 February 2016 / Published: 25 February 2016
Abstract
Most radiation biologists/radiation oncologists have long accepted the concept that the biologic effects of radiation principally involve damage to deoxyribonucleic acid (DNA), which is the critical target, as described in "Radiobiology for the Radiologist", by E.J. Hall and A.J. Giaccia [1]. Although the concepts of direct and indirect effects of radiation are fully applicable to low-LET (linear energy transfer) radioresistant tumor cells/normal tissues such as osteosarcoma cells and chondrocytes, it is believed that radiation-associated damage to DNA does not play a major role in the mechanism of cell death in low-LET radiosensitive tumors/normal tissues such as malignant lymphoma cells and lymphocytes. Hall and Giaccia describe lymphocytes as very radiosensitive, based largely on apoptosis subsequent to irradiation. As described in this review, apoptosis of lymphocytes and lymphoma cells is actually induced by the "hydrogen peroxide (H
2
O
2
) effect", which I propose in this review article for the first time. The mechanism of lymphocyte death via the H
2
O
2
effect represents an ideal model to develop the enhancement method of radiosensitivity for radiation therapy of malignant neoplasms. In terms of imitating the high radiosensitivity of lymphocytes, osteosarcoma cells (representative of low-LET radioresistant cells) might be the ideal model for indicating the conversion of cells from radioresistant to radiosensitive utilizing the H
2
O
2
effect. External beam radiation such as X-rays and high-energy electrons for use in modern radiotherapy are generally produced using a linear accelerator. We theorized that when tumors are irradiated in the presence of H
2
O
2
, the activities of anti-oxidative enzymes such as peroxidases and catalase are blocked and oxygen molecules are produced at the same time via the H
2
O
2
effect, resulting in oxidative damage to low-LET radioresistant tumor cells, thereby rendering them highly sensitive to irradiation. In this review, this potential paradigm shift in modern radiation biology/radiation oncology is discussed in detail in terms of overcoming drug/radiation resistance in radiation therapy and/or anti-cancer chemotherapy.
View Full-Text
►

▼

Figures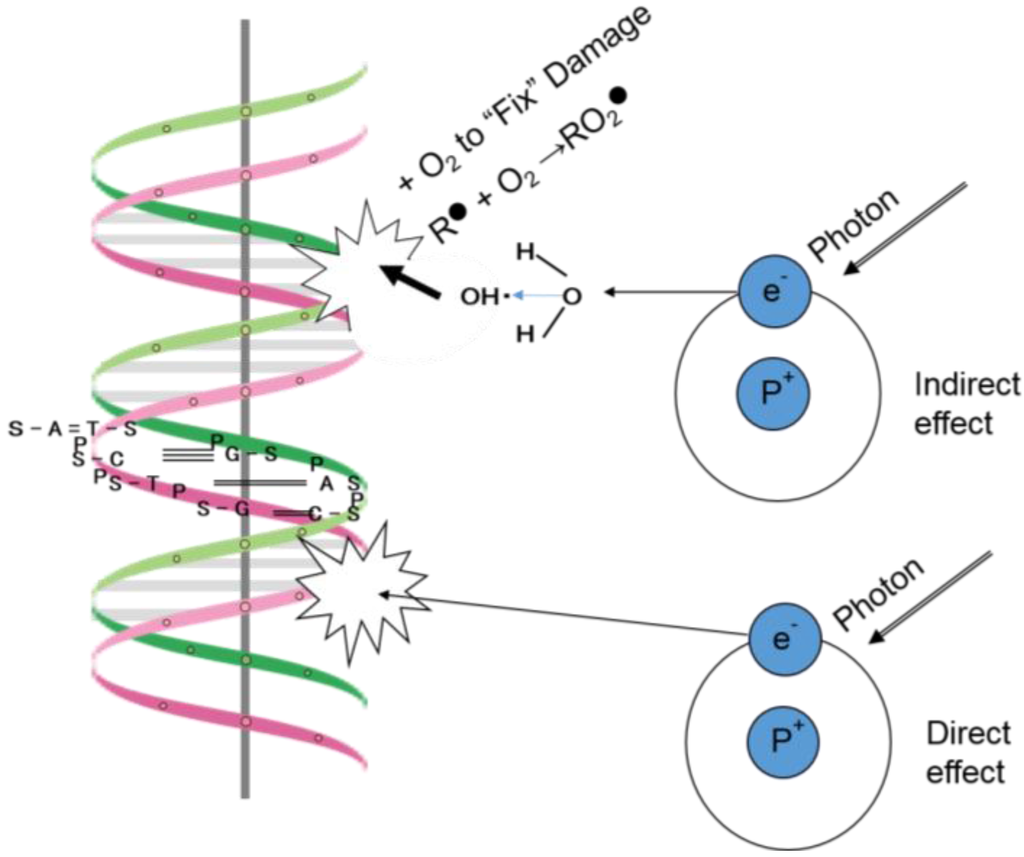 Figure 1
This is an open access article distributed under the
Creative Commons Attribution License
which permits unrestricted use, distribution, and reproduction in any medium, provided the original work is properly cited (CC BY 4.0).

Share & Cite This Article
MDPI and ACS Style
Ogawa, Y. Paradigm Shift in Radiation Biology/Radiation Oncology—Exploitation of the "H2O2 Effect" for Radiotherapy Using Low-LET (Linear Energy Transfer) Radiation such as X-rays and High-Energy Electrons. Cancers 2016, 8, 28.
Note that from the first issue of 2016, MDPI journals use article numbers instead of page numbers. See further details here.
Related Articles
Comments
[Return to top]