Cimetidine and Clobenpropit Attenuate Inflammation-Associated Colorectal Carcinogenesis in Male ICR Mice
1
Department of Diagnostic Pathology (DDP) and Research Center of Diagnostic Pathology (RC-DiP), Gifu Municipal Hospital, 7-1 Kashima-cho, Gifu City, Gifu 500-8513, Japan
2
Department of Tumor Pathology, Gifu University Graduate School of Medicine, 1-1 Yanagido, Gifu City, Gifu 501-1194, Japan
3
Department of Gastroenterology/Internal Medicine, Gifu University Graduate School of Medicine, 1-1 Yanagido, Gifu City, Gifu 501-1194, Japan
4
Department of Pharmacy, Ogaki Municipal Hospital, 4-86 Minaminokawa-cho, Ogaki 503-8502, Japan
*
Author to whom correspondence should be addressed.
Academic Editor: Samuel C. Mok
Received: 26 December 2015 / Revised: 1 February 2016 / Accepted: 16 February 2016 / Published: 20 February 2016
Abstract
Histamine and histamine receptors (Hrhs) have been identified as critical molecules during inflammation and carcinogenesis. This study was conducted to determine the effects of Hrh1-Hrh3 antagonists on inflammation-associated colorectal carcinogenesis. Male ICR mice were treated with azoxymethane (AOM, 10 mg/kg bw, i.p.) and 1.5% dextran sodium sulfate (DSS, drinking water for 7 days) to induce colorectal carcinogenesis. The mice were then fed diets containing test chemical (500 ppm terfenadine, 500 ppm cimetidine or 10 ppm clobenpropit) for 15 weeks. At week 18, feeding with the diets containing cimetidine (Hrh2 antagonist) and clobenpropit (Hrh3 antagonist/inverse agonist) significantly lowered the multiplicity of colonic adenocarcinoma. Terfenadine (Hrh1 antagonist) did not affect AOM-DSS-induced colorectal carcinogenesis. Adenocarcinoma cells immunohistochemically expressed Hrh1, Hrh2, Hrh3 and Hrh4 with varied intensities. Because clobenpropit is also known to be a Hrh4 receptor agonist, Hrh2, Hrh3 and Hrh4 may be involved in inflammation-related colorectal carcinogenesis. Additional data, including the mRNA expression of pro-inflammatory cytokines and inducible inflammatory enzymes in the colonic mucosa, are also presented.
View Full-Text
►

▼

Figures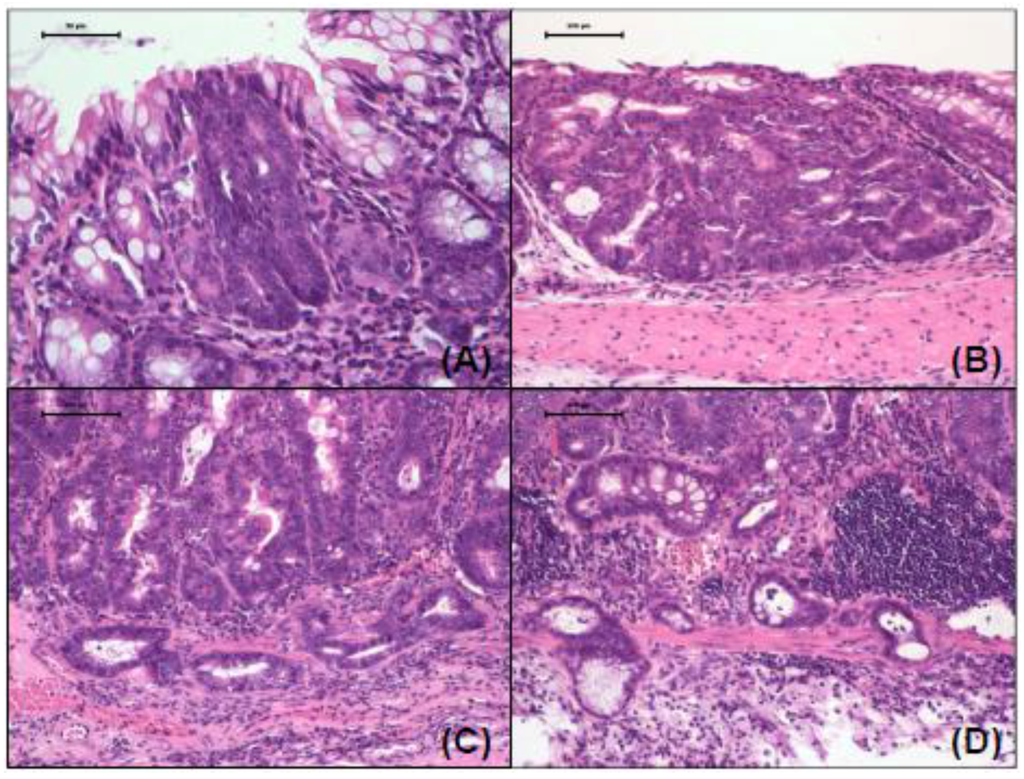 Figure 1
This is an open access article distributed under the
Creative Commons Attribution License
which permits unrestricted use, distribution, and reproduction in any medium, provided the original work is properly cited (CC BY 4.0).

Share & Cite This Article
MDPI and ACS Style
Tanaka, T.; Kochi, T.; Shirakami, Y.; Mori, T.; Kurata, A.; Watanabe, N.; Moriwaki, H.; Shimizu, M. Cimetidine and Clobenpropit Attenuate Inflammation-Associated Colorectal Carcinogenesis in Male ICR Mice. Cancers 2016, 8, 25.
Note that from the first issue of 2016, MDPI journals use article numbers instead of page numbers. See further details here.
Related Articles
Comments
[Return to top]