The HSP90 Inhibitor Ganetespib Radiosensitizes Human Lung Adenocarcinoma Cells
1
The University of Pittsburgh Cancer Institute, Pittsburgh, PA 15213, USA
2
Department of Medicine, The University of Pittsburgh, Pittsburgh, PA 15213, USA
3
Department of Radiation Oncology, The University of Pittsburgh, Pittsburgh, PA 15213, USA
4
Department of Immunology, The University of Pittsburgh, Pittsburgh, PA 15213, USA
5
Department of Biostatistics, The University of Pittsburgh, Pittsburgh, PA 15213, USA
6
Harvard Medical School, Harvard University, 25 Shattuck Street, Boston, MA 02115, USA
7
Synta Pharmaceuticals Corp., 45 Hartwell Avenue, Lexington, MA 02421, USA
*
Author to whom correspondence should be addressed.
†
Current address: Hillman Cancer Center, University of Pittsburgh Cancer Institute, Rm. 1.19c, 5117 Center Ave., Pittsburgh, PA 15213, USA.
Academic Editor: Robert H. Weiss
Received: 6 March 2015 / Accepted: 12 May 2015 / Published: 22 May 2015
Abstract
The molecular chaperone HSP90 is involved in stabilization and function of multiple client proteins, many of which represent important oncogenic drivers in NSCLC. Utilization of HSP90 inhibitors as radiosensitizing agents is a promising approach. The antitumor activity of ganetespib, HSP90 inhibitor, was evaluated in human lung adenocarcinoma (AC) cells for its ability to potentiate the effects of IR treatment in both
in vitro
and
in vivo
. The cytotoxic effects of ganetespib included; G2/M cell cycle arrest, inhibition of DNA repair, apoptosis induction, and promotion of senescence. All of these antitumor effects were both concentration- and time-dependent. Both pretreatment and post-radiation treatment with ganetespib at low nanomolar concentrations induced radiosensitization in lung AC cells
in vitro
. Ganetespib may impart radiosensitization through multiple mechanisms: such as down regulation of the PI3K/Akt pathway; diminished DNA repair capacity and promotion of cellular senescence.
In vivo
, ganetespib reduced growth of T2821 tumor xenografts in mice and sensitized tumors to IR. Tumor irradiation led to dramatic upregulation of β-catenin expression in tumor tissues, an effect that was mitigated in T2821 xenografts when ganetespib was combined with IR treatments. These data highlight the promise of combining ganetespib with IR therapies in the treatment of AC lung tumors.
View Full-Text
►

▼

Figures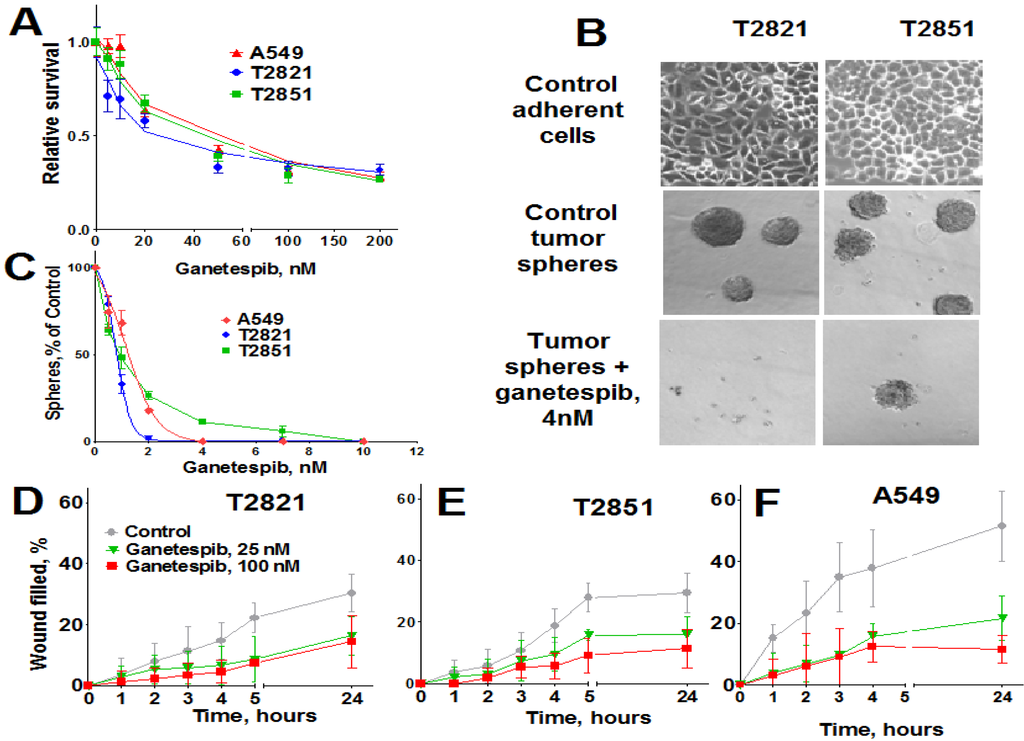 Figure 1
This is an open access article distributed under the
Creative Commons Attribution License
which permits unrestricted use, distribution, and reproduction in any medium, provided the original work is properly cited (CC BY 4.0).

Share & Cite This Article
MDPI and ACS Style
Gomez-Casal, R.; Bhattacharya, C.; Epperly, M.W.; Basse, P.H.; Wang, H.; Wang, X.; Proia, D.A.; Greenberger, J.S.; Socinski, M.A.; Levina, V. The HSP90 Inhibitor Ganetespib Radiosensitizes Human Lung Adenocarcinoma Cells. Cancers 2015, 7, 876-907.
Related Articles
Comments
[Return to top]