Open Access This article is
freely available
re-usable
Review
p53 Acetylation: Regulation and Consequences
1
Department of Pharmacology, The University of Iowa Carver College of Medicine, Iowa City, IA 52242, USA
2
Medical Scientist Training Program, The University of Iowa Carver College of Medicine, Iowa City, IA 52242, USA
3
Department of Pathology, The University of Iowa Carver College of Medicine, Iowa City, IA 52242, USA
*
Author to whom correspondence should be addressed.
Academic Editor: Rebecca S. Hartley
Received: 18 March 2014 / Accepted: 12 December 2014 / Published: 23 December 2014
Abstract
:
Post-translational modifications of p53 are critical in modulating its tumor suppressive functions. Ubiquitylation, for example, plays a major role in dictating p53 stability, subcellular localization and transcriptional
vs.
non-transcriptional activities. Less is known about p53 acetylation. It has been shown to govern p53 transcriptional activity, selection of growth inhibitory
vs.
apoptotic gene targets, and biological outcomes in response to diverse cellular insults. Yet recent
in vivo
evidence from mouse models questions the importance of p53 acetylation (at least at certain sites) as well as canonical p53 functions (cell cycle arrest, senescence and apoptosis) to tumor suppression. This review discusses the cumulative findings regarding p53 acetylation, with a focus on the acetyltransferases that modify p53 and the mechanisms regulating their activity. We also evaluate what is known regarding the influence of other post-translational modifications of p53 on its acetylation, and conclude with the current outlook on how p53 acetylation affects tumor suppression. Due to redundancies in p53 control and growing understanding that individual modifications largely fine-tune p53 activity rather than switch it on or off, many questions still remain about the physiological importance of p53 acetylation to its role in preventing cancer.
Keywords:
p53; acetylation; post-translational modifications; transcription; histone acetyltransferases (HATs); p300/CBP; PCAF; MYST family HATs (Tip60; MOF; MOZ); tumor suppression
1. Introduction to p53 and Acetylation
p53 is one of the most studied proteins in science. To date, over 68,000 papers appear in PubMed containing p53 or
TP53
in the title and/or abstract. Originally described as an oncogene (since a mutated, functionally altered form of the protein was first characterized), p53 is now recognized as the most frequently inactivated tumor suppressors in human cancers. It is a transcription factor that controls the expression of genes and miRNAs affecting many important cellular processes including proliferation, DNA repair, programmed cell death (apoptosis), autophagy, metabolism, and cell migration [
1
,
2
] (
Figure 1
). Many of those processes are critical to a variety of human pathologies and conditions extending beyond cancer, including ischemia, neurodegenerative diseases, stem cell renewal, aging, and fertility [
1
]. Notably, p53 also has non-transcriptional functions, ranging from intrinsic nuclease activity [
3
] to activation of mitochondrial Bak (Bcl-2 homologous antagonist killer) and caspase-independent apoptosis [
4
,
5
,
6
,
7
].
Figure 1. Cellular stress leads to p53 transcriptional activation of downstream targets. Normally, p53 levels are kept low by its major antagonist, Mdm2, an E3 ubiquitin ligase that is itself a transcriptional target of p53. Stress signals, such as DNA damage, oncogene activation and hypoxia, promote p53 stability and activity by inducing posttranslational modifications (PTMs) and tetramerization of p53. p53 functions as a transcription factor that binds to specific p53 response elements upstream of its target genes. p53 affects many important cellular processes linked to tumor suppression, including the induction (green) of senescence, apoptosis, and DNA repair as well as inhibition (red) of metabolism, angiogenesis, and cell migration. These functions are largely mediated through transcriptional regulation of its targets (examples given).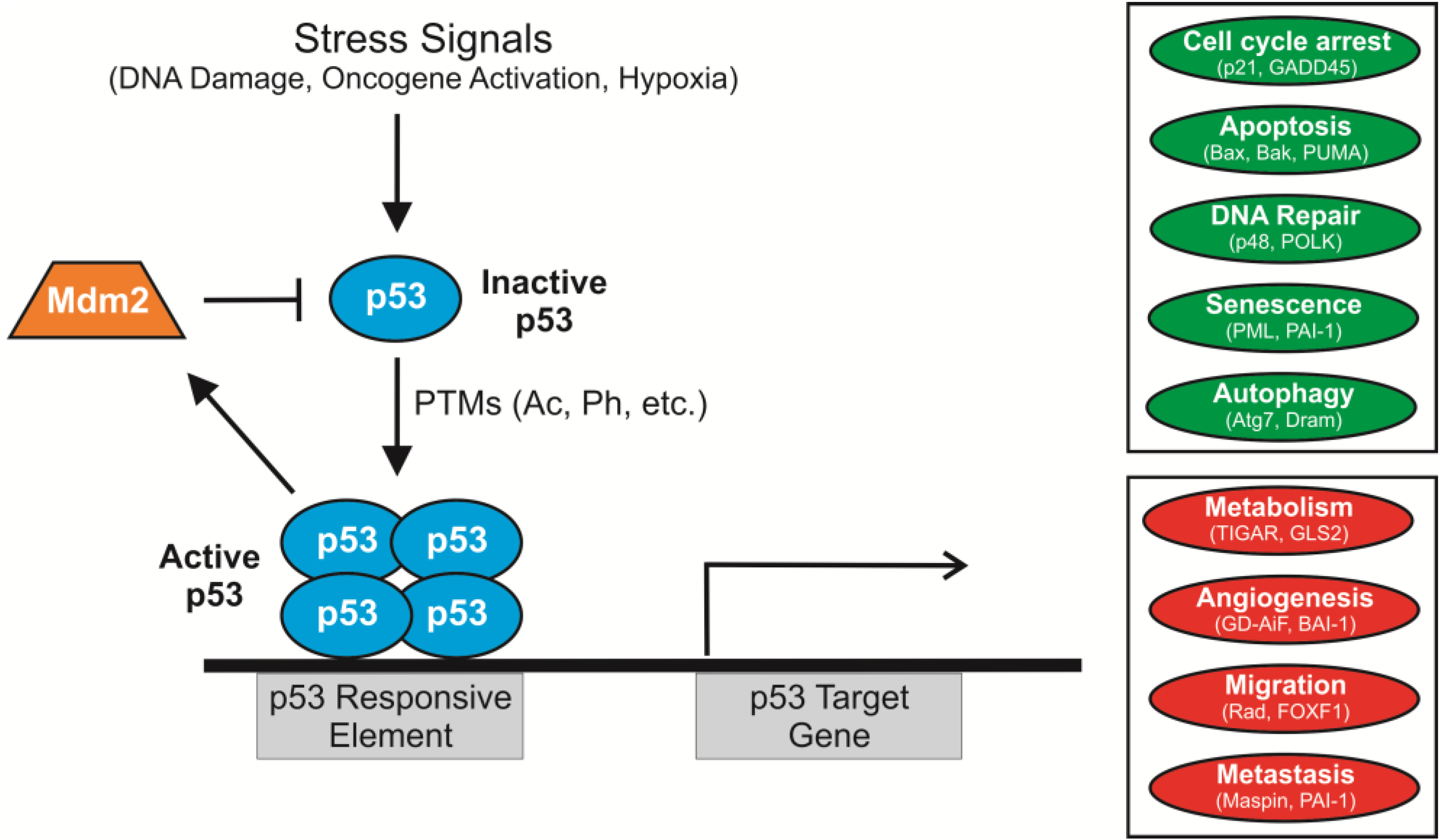 As a transcription factor, p53 responds to various genotoxic insults and cellular stresses (e.g., DNA damage or oncogene activation) by inducing or repressing the expression of over a hundred different genes [
1
,
8
,
9
]. p53 transcriptional regulation plays a dominant role in causing the arrest of damaged cells, facilitating their repair and survival, or inducing cell death when DNA is damaged irreparably. p53 can also cause cells to become permanently growth arrested, and there is compelling
in vivo
evidence that these "senescent" cells secrete factors that enhance their clearance by the immune system, leading to tumor regression [
10
,
11
]. Through these mechanisms, p53 helps maintain genomic stability within an organism, justifying its long-held nickname "guardian of the genome" [
12
]. Other p53 gene targets are involved in inhibiting tumor cell angiogenesis, migration, metastasis and other important processes (such as metabolic reprogramming) that normally promote tumor formation and progression [
1
,
9
,
13
,
14
]. Debate remains about the relative contribution of p53's transcription-independent activities to tumor suppression [
4
,
5
,
15
]. While those activities are sure to play a role, recent
in vivo
data showing that a transactivation-deficient form of p53 (mutated in both transactivation domains, TAD1 and TAD2) fails to inhibit tumor formation firmly establishes that the transcriptional activity of p53 is essential for tumor suppression [
16
,
17
].
Numerous mouse studies have shown that loss of p53 function predisposes cells to permanent damage and neoplastic transformation, greatly increasing the probability of tumor development [
18
,
19
,
20
,
21
]. In people, the p53 network is inactivated in most, if not all, cancers [
2
,
22
,
23
,
24
,
25
,
26
]. Specifically, the
TP53
gene is deleted or mutated in approximately 55% of sporadic human cancers while p53 signaling is disrupted by alterations to its many regulators and/or targets in the remaining tumors (
Figure 2
).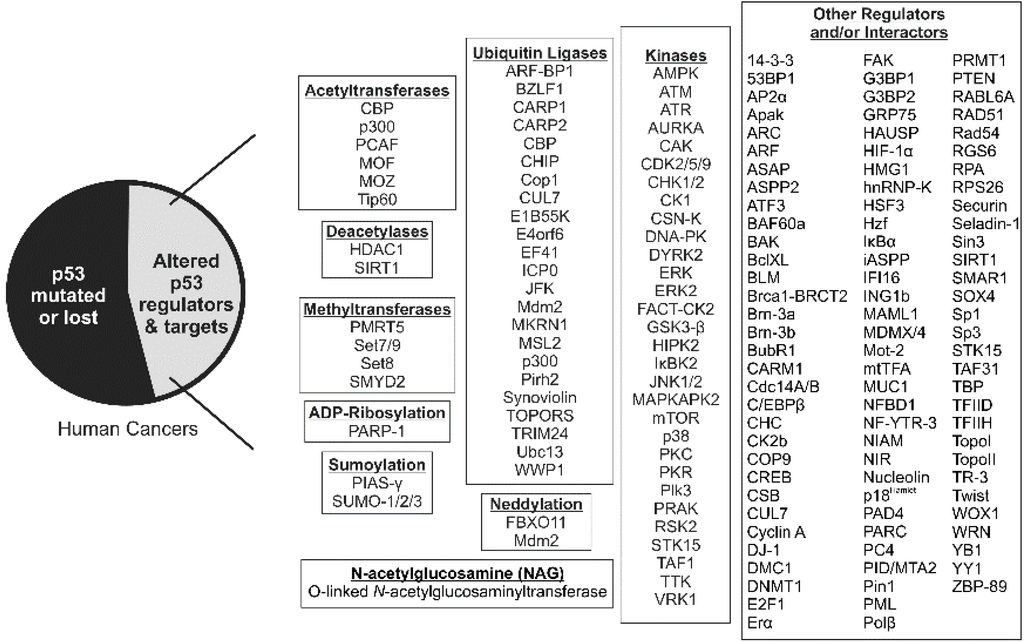 Figure 2.
The p53 signaling pathway is altered in the majority of human cancers. The
TP53
gene is deleted or mutated in approximately 55% of human cancers while its signaling is disrupted by alterations to its many regulators (listed to the right) and/or targets (not listed) in the remaining tumors.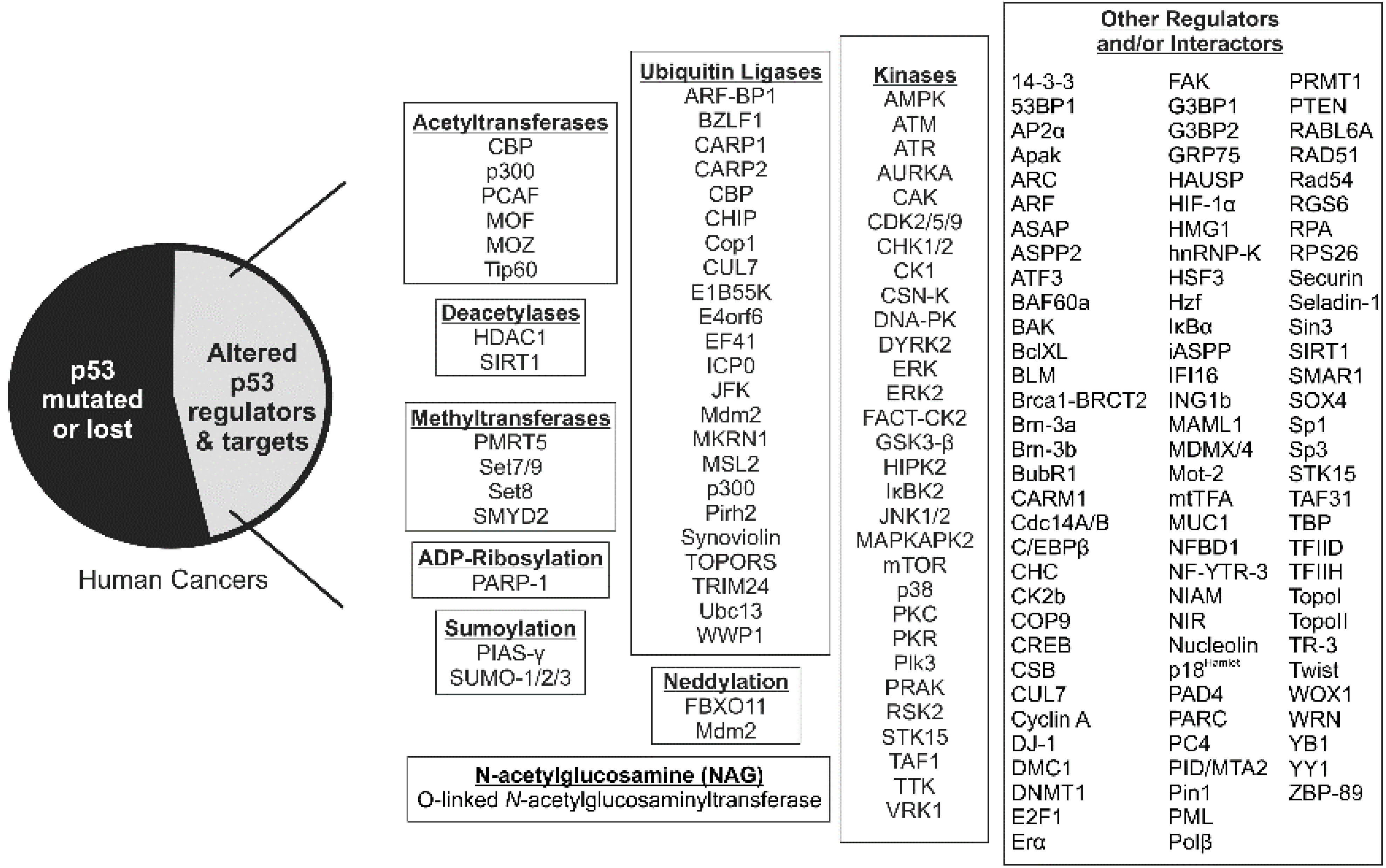 Inherited
TP53
mutation in patients with Li-Fraumeni and Li-Fraumeni-like syndromes also causes a predisposition to early onset cancers including breast carcinomas, brain tumors, leukemias and sarcomas, among others [
24
,
27
]. Given its central role in cancer development, great strides have been taken to determine how p53 functions and how it is normally regulated so that treatments can be developed to restore p53 pathway activity in tumors [
28
,
29
,
30
].
The p53 protein is controlled by many different forms of post-translational modifications, including ubiquitylation, phosphorylation, acetylation, sumoylation, methylation, and neddylation [
31
,
32
,
33
,
34
]. These modifications can dictate the p53 response to diverse cellular signals and help determine its physiological activities. The regulation and effects of p53 ubiquitylation and phosphorylation have been extensively studied and reviewed elsewhere (see above reviews). Comparatively less is known about the other modifications although our understanding of p53 acetylation has grown steadily over the past ten to fifteen years. Acetylation of one or more lysines in a protein can have functional effects by altering its conformation and/or interactions with other proteins. This modification was originally identified on the N-terminal tails of histones and found to neutralize their positive charge, causing decondensation of chromatin and marked changes in gene expression patterns [
35
,
36
,
37
]. Wei Gu and colleagues discovered that p53 can also be acetylated, making it the first non-histone protein shown to undergo that modification [
38
].
Acetylation has many important effects on p53. It increases p53 protein stability, binding to low affinity promoters, association with other proteins, antiviral activities, and is required for its checkpoint responses to DNA damage and activated oncogenes [
39
,
40
,
41
,
42
]. Six acetyltransferases have been identified that modify p53 at lysines predominantly in the C-terminus or its central DNA binding domain (
Figure 3
). Acetylation of p53 directly affects its transcriptional activity by opening up its normally closed conformation or by altering its binding to certain response elements in gene targets (
Figure 4
). In general, these modifications are mediated by two different groupings of acetyltransferases, p300/CBP/PCAF or Tip60/MOF/MOZ. There appears to be significant redundancy in sites of p53 acetylation since loss of one or more sites, including all seven C-terminal lysines in mouse p53, can be largely compensated for by acetylation of remaining lysines [
43
,
44
]. However, combined loss of eight major acetylation sites in human p53 (8KR mutant altered at K120, 164, 370, 372, 373, 381, 382 and 386) renders p53 transcriptionally inert and prevents its induction of cell cycle arrest and/or apoptosis [
40
]. Conversely, in many cell types the inhibition of histone deacetylases (HDACs) that remove acetyl groups from p53 (
i.e.
, HDAC1 and SIRT1) causes increased p53 acetylation and p53-dependent activation of apoptosis and senescence [
45
]. Together, these findings suggested that acetylation is an essential regulator of the anti-cancer functions of p53.
Several excellent reviews consider various aspects of p53 acetylation [
1
,
31
,
45
,
46
,
47
]. This review provides a comprehensive account of the control of p53 acetylation and its effects on p53 transcription and cell fate, with a focus on its acetyltransferases and their regulators, as well as the effect of other post-translational modifications on p53 acetylation. While much more remains to be learned, the role of p53 acetylation in tumor suppression is also considered.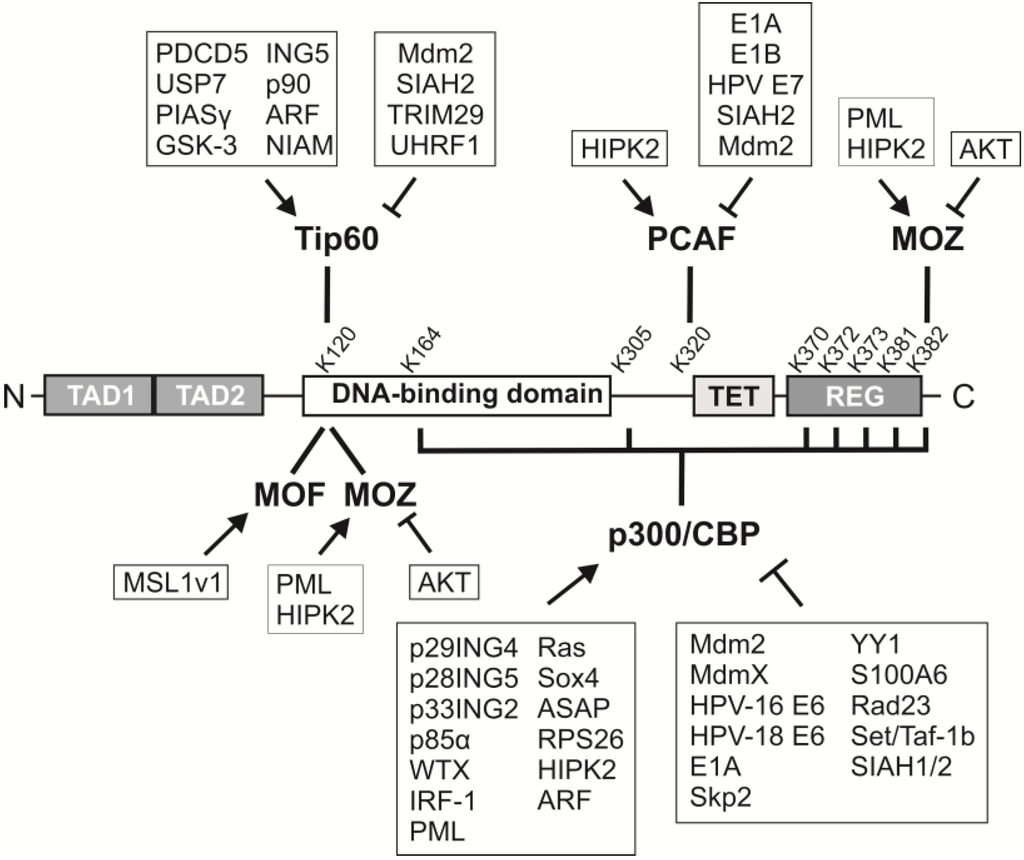 Figure 3. p53 acetyltransferases are targeted by multiple proteins that regulate their function. Schematic of p53 highlighting its acetylation by six different histone acetyltransferases, p300/CBP, PCAF, Tip60, MOF, and MOZ. The ability of these acetyltransferases to regulate p53 is influenced both positively (arrows) and negatively (perpendicular bars) by many types of proteins, including the indicated viral proteins, ubiquitin ligases, kinases, and other cellular factors. TAD, transactivation domain; TET, tetramerization domain, REG, regulatory domain.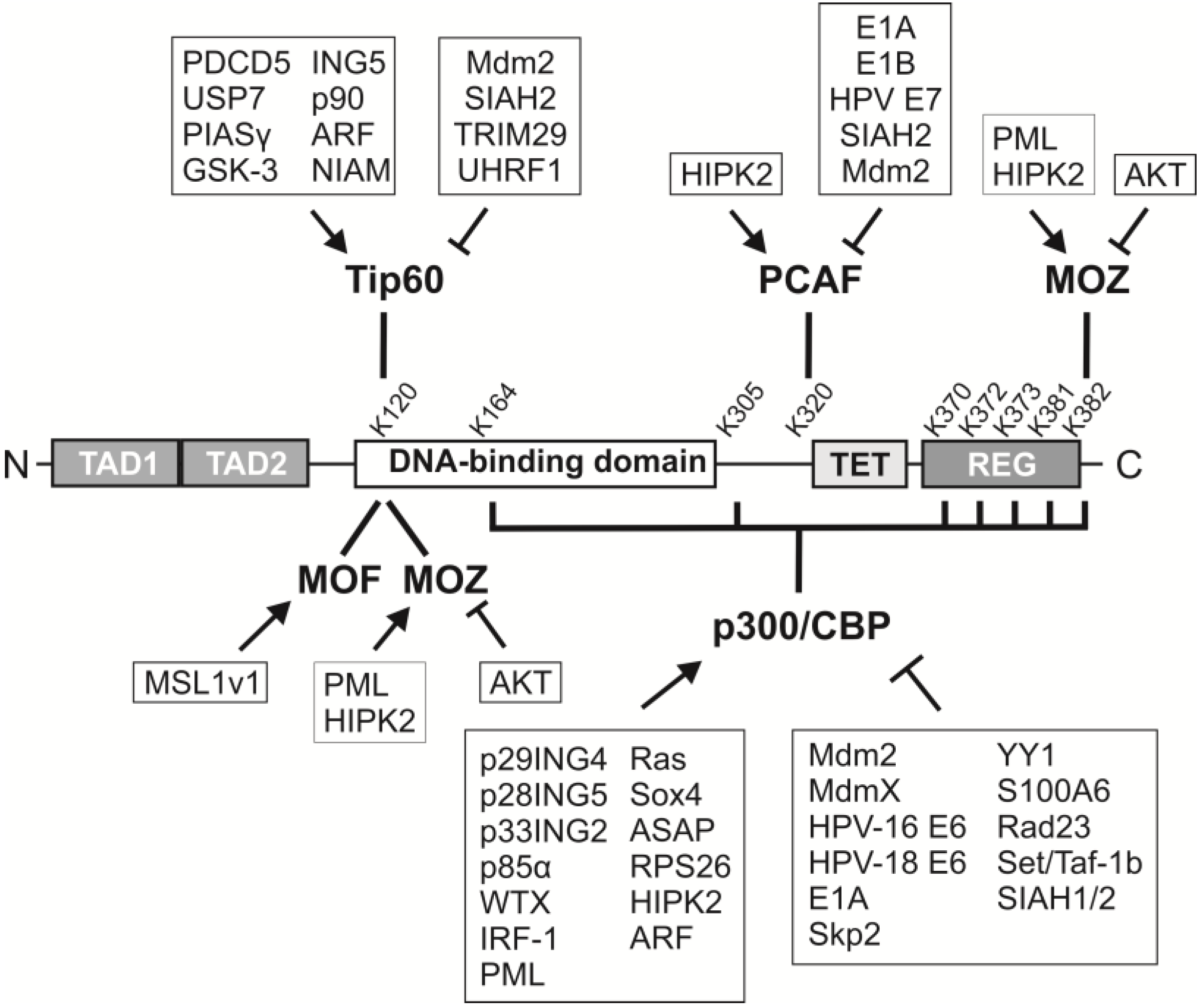 2. p53 Acetylation: Sites, Acetyltransferases and Consequences
2.1. C-Terminal Acetylation
Initial work revealed that several C-terminal lysines in human p53 (K370, K372, K373, K381, K382) are acetylated by p300 and CBP (CREB-binding protein) [
38
]. Acetylation of those residues promotes an open conformation of p53 by inhibiting the ability of its C-terminus to bind and occlude the DNA binding domain, thereby enhancing p53 transcriptional activity (see
Figure 4
) [
38
,
48
,
49
,
50
,
51
]. Each of those lysines is evolutionarily conserved across species [
52
] and their acetylation is induced by various forms of DNA damage, suggesting that p53 acetylation regulates the fate of a cell in response to those signals [
39
,
40
,
50
,
51
,
53
,
54
,
55
].
p300 and CBP are highly similar proteins with acetyltransferase activity that show approximately 91% homology in their histone acetyltransferase (HAT) domains [
56
,
57
,
58
,
59
,
60
]. Consequently, many studies test either p300 or CBP in their experiments while assuming that both contribute to the same functions. Indeed, both p300 and CBP can directly bind to p53 [
38
,
48
,
49
,
61
,
62
,
63
,
64
,
65
] and additional studies confirmed they acetylate the C-terminal sites listed above plus two additional lysine residues, K164 and K305 (
Figure 3
) [
40
,
51
,
53
,
54
]. Depending on the site(s) modified, acetylation is associated with changes in p53 DNA binding affinity and/or cofactor recruitment to particular p53 response elements. For instance, p53 acetylation at K382 and K320 promotes recruitment of its co-activators, p300/CBP and TRRAP (Transformation/transcription domain-associated protein), to the
p21
(
CIP1/WAF1/CDKN1A
) promoter and increases histone acetylation following DNA damage [
66
].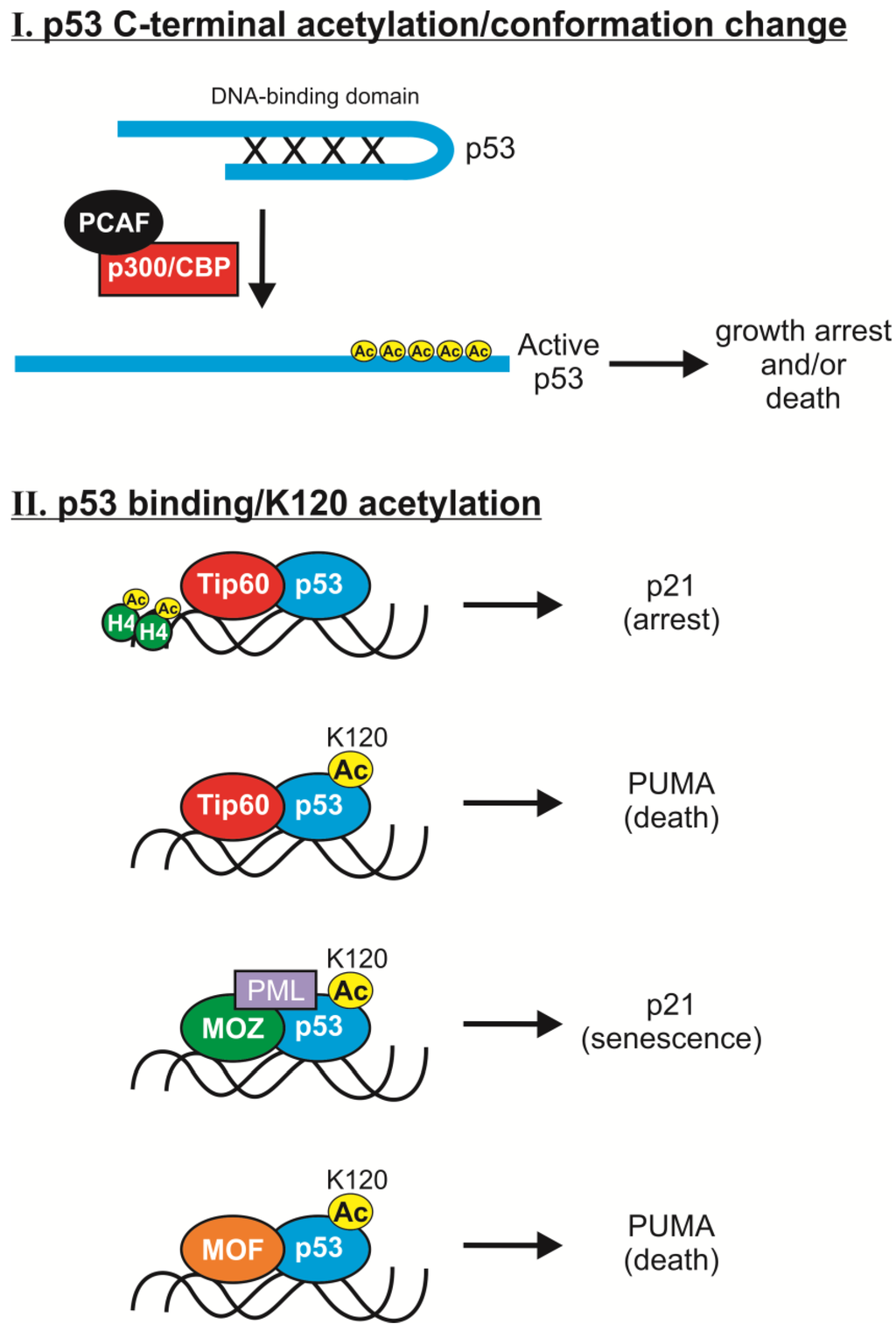 Figure 4. Acetylation-dependent mechanisms of p53 activation. Two primary mechanisms exist by which p53 function is enhanced by its acetyltransferases. (I) C-terminal acetylation of p53 by p300/CBP and PCAF promotes an open conformation of p53 by preventing the occlusion of the DNA binding domain by the C-terminal tail. This enhances p53 transcriptional activity, leading to growth arrest and/or apoptosis; (II) Interactions of MYST HATs with the central domain of p53 containing K120. Tip60 is an essential component of p53 signaling that activates p53 through direct association on target promoters as well as acetylation of p53 at K120. p21 expression is induced by Tip60-p53 complexes that bind to and promote histone H4 acetylation at the p21 promoter, which leads to a potent growth arrest. K120 acetylation mediated by Tip60 and MOF selectively increases p53 binding to apoptotic gene promoters, thus inducing cell death. Unlike Tip60 and MOF, MOZ-mediated K120 acetylation of p53 specifically induces senescence by promoting transactivation of the p21 promoter. For simplicity, other concomitant p53 acetylation events and association with p300/CBP and/or PCAF are not shown.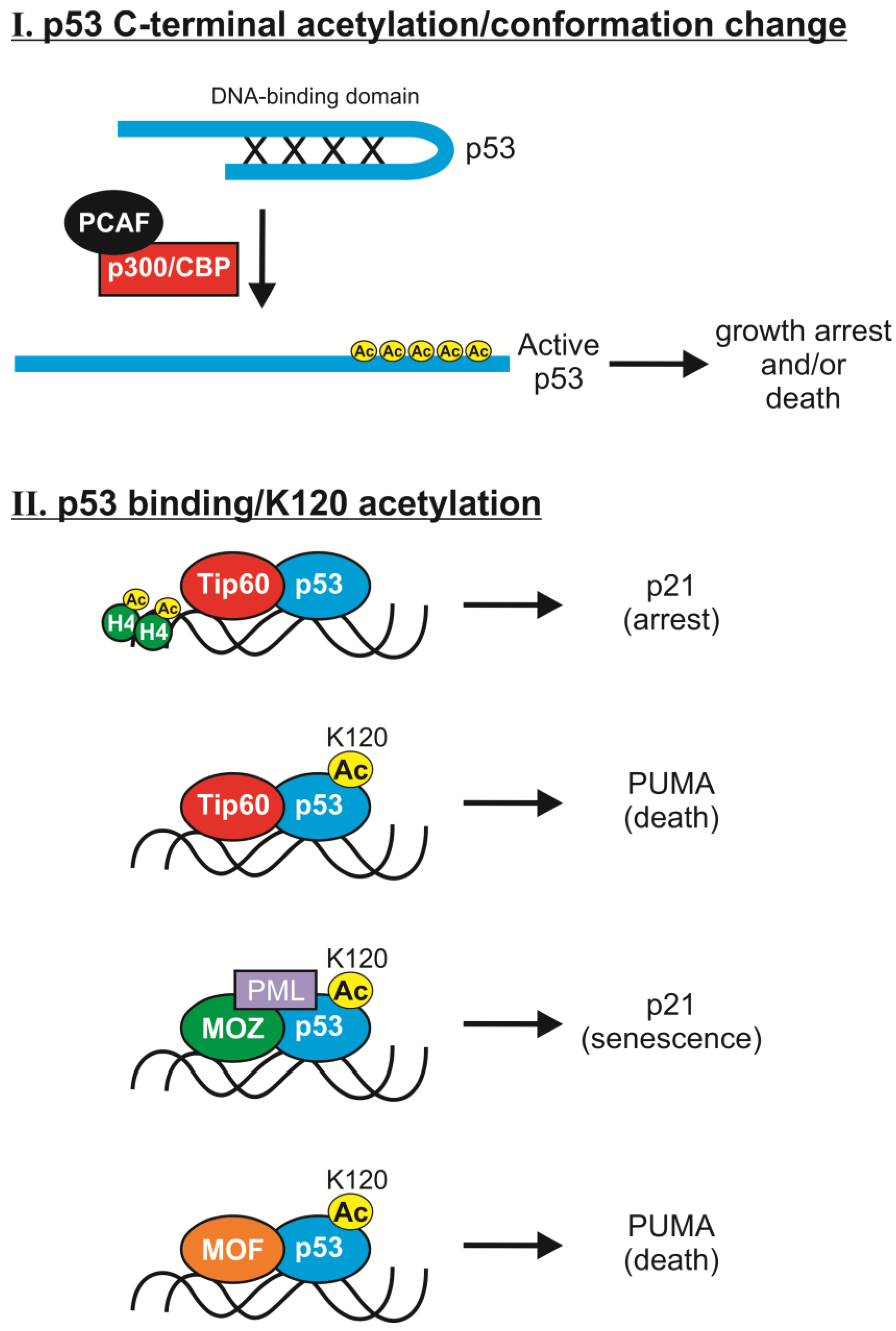 Acetylation of p53 by p300 and CBP acetyltransferases is generally considered activating, but that is not always the case. The biological consequences of p53 acetylation by p300 may depend significantly on cellular context, such as cell type and/or transformation status (
i.e.
, primary, immortalized or tumor-derived). As a case in point, p300-mediated acetylation of p53 in human cancer cell lines has been shown to be essential for
p21
promoter transactivation and cell cycle arrest [
63
,
66
,
67
,
68
]. p21 is a cyclin-dependent kinase inhibitor and important negative regulator of proliferation whose transcriptional upregulation by p53 provokes transient cell cycle arrest or senescence [
69
,
70
]. Yet analyses of primary mouse embryo fibroblasts (MEFs) lacking both p300 and CBP revealed those factors are not required for p53-mediated upregulation of
p21
and
Mdm2
following DNA damage, although it is notable that the magnitude of their induction was reduced [
71
].
Cell type differences also influence the role of p300 in apoptosis. Most work agrees with early findings that p300 is required for p53 acetylation and p53-dependent apoptosis [
48
]. Numerous cell types were examined in those analyses, including primary MEFs and various human cancer lines. In contrast, loss of p300-mediated p53 acetylation in HCT116 colorectal cells resulted in increased expression of
PUMA
(p53 upregulated modulator of apoptosis) and apoptosis following DNA damage, suggesting p300 expression normally suppresses p53-dependent apoptosis in those cells [
67
]. Intriguingly, p300 may act similarly in neurons. p53 acetylation at K381 and K382 in neuronal cells specifically inhibits p53 binding to the
PUMA
promoter, preventing PUMA expression and DNA damage-induced cell death [
72
]. Observations that p53 C-terminal acetylation enhances neuronal survival yet typically causes tumor cell death led the authors to propose that strategies aimed at promoting p53 acetylation (
i.e.
, HDAC inhibition) might be beneficial for preventing neuronal cell degeneration without compromising tumor suppression [
72
].
Another histone acetyltransferase, PCAF (p300-CBP associated factor), was found to acetylate p53 at lysine 320 (K320) and improve its ability to bind to particular DNA sequences [
51
,
54
,
73
]. Microarray studies showed that K320 acetylation promotes cell survival by selectively inducing expression of anti-apoptotic genes and repressing pro-apoptotic genes [
74
]. Likewise, results from a mouse knock-in model showed that acetylation of murine p53 at K317 (equivalent to K320 in humans) normally prevents p53-dependent induction of apoptotic genes,
Noxa
(Bcl-2 homology 3-only apoptotic protein) and
Pidd
(p53-Induced protein with a Death Domain), and inhibits apoptosis following DNA damage [
75
]. Expression of PCAF is also essential for the induction of p21 expression, although this upregulation does not require K320-p53 acetylation [
76
]. Overall, it has been suggested that PCAF-mediated K320 p53 acetylation suppresses apoptosis and provides the cell with time to repair DNA and continue proliferating if the cellular damage does not reach a critical threshold [
74
].
3. p53 Deacetylation
Activation of p53 by acetylation suggests that its deacetylation would play an important role in down-regulating p53 transcriptional activity and promoting cell survival following a stress response. In fact, distinct mammalian histone deacetylase (HDAC) complexes containing HDAC1 [
103
] or SIRT1 [
104
,
105
] can deacetylate p53 and strongly repress p53-dependent transcription, thereby reversing p53-mediated cell growth arrest and apoptosis following DNA damage or oxidative stress. p53 is deacetylated at C-terminal lysines K320, K373 and K382 by HDAC1 while SIRT1 acts more specifically on K382. Interestingly, Mdm2 facilitates HDAC1-mediated p53 deacetylation by recruiting HDAC1 to the p53 complex [
106
]. The loss of p53 acetylation enables the same lysines to be ubiquitylated by Mdm2 [
107
], resulting in p53 degradation, whereas expression of a dominant-negative HDAC1 increases DNA damage-induced p53 acetylation, stability and transcriptional activity [
106
]. Other HDACs (2, 3 and 6) may also down-regulate p53 acetylation and function although more evidence is needed to establish those interactions and their biological significance [
108
,
109
].
Table 1. Molecular and Cellular Consequences Associated with p53 Acetylation a.

| Sites of p53 Acetylation | p53 HATs Involved | Concurrent p53 Phosphorylation | Cell Stimulus | Key p53 Gene Targets | Molecular Phenotype | Biological Consequences |
| --- | --- | --- | --- | --- | --- | --- |
| None | None | T377, S378 | Mitogens | Increased Mdm2,Pirh2 | p53 ubiquitylation & degradation | Cell survival & proliferation |
| C-terminal | P300/CBP, PCAF; binding by Tip60 w/o acetylation | N-terminal (including S15, T18, S20, S33, and S37) | DNA damage, other genotoxic stresses b | Increased p21, GADD45; Decreased Noxa, Pidd | Inhibition of Mdm2-p53 interaction; Inhibition of Cdk activity c | Cell cycle arrest (G1, G2 and/or S phase); DNA repair |
| K120, K320 and K382 | MOZ, PCAF, p300 | S15, S20 | DNA damage, oncogene activation (e.g., Ras) | Increased p21 | Localization of MOZ-p53 complexes in PML-NBs d | Cellular senescence |
| K120 and C-terminal | Tip60, MOF, p300/CBP, PCAF | S46 | DNA damage, other genotoxic stresses b | Increased Bax, Fas, Noxa and PUMA | p53 binding to low affinity, apoptotic gene promoters | Cellular apoptosis |
a Incomplete summary highlighting key modifications of human p53 associated with certain molecular and cellular events; b The magnitude and type of cellular damage may differentially modulate the extent and pattern of p53 acetylation, thereby specifying its biological effects. For instance, more extensive, irreparable stress-induced DNA damage is associated with more complete p53 acetylation and induction of apoptosis; c p21-mediated inhibition of cyclin-dependent kinases (Cdks), including cyclin D-Cdk4, E-Cdk2 and A-Cdk2 complexes; d PML-NBs, Promyelocytic leukemia protein-nuclear bodies.
The p53-SIRT1 relationship is somewhat complicated. Many studies support the conclusion that SIRT1 is an important negative regulator of p53. Early work showed SIRT1 co-localizes with p53 in PML nuclear bodies [
42
,
110
] where it deacetylates p53 and antagonizes p53-mediated cellular senescence [
110
]. Others found the DBC-1 (deleted in breast cancer gene 1) tumor suppressor inhibits SIRT1-mediated p53 deacetylation [
111
,
112
], while a positive activator of SIRT1 named AROS promotes cell survival in the face of DNA damage by enhancing SIRT1-mediated deacetylation and inactivation of p53 [
113
]. In addition, tenovin-6, a small molecule inhibitor of SIRT1 promotes p53 hyperacetylation and activation in cancer cells [
114
]. However, SIRT1 knockout mice display genomic instability and tumorigenesis [
115
] and SIRT1-null fibroblasts have an extended replicative lifespan, increased proliferation following low level oxidative stress and defective DNA damage response [
115
,
116
,
117
]. This occurs despite a high level of acetylated p53 and may reflect the ability of SIRT1 to promote DNA repair through deacetylation of other targets that help repair damaged DNA including XPA [
118
], NBS1 [
119
] and WRN [
120
]. It has been suggested that deacetylation of p53 by SIRT1 (at K382) may be essential for the induction of cellular senescence in response to minimal DNA damage, helping cells recover from mild genotoxic insults [
115
]. That notion supports a broader concept that the magnitude and type of cellular damage may differentially modulate the extent and pattern of p53 acetylation, thereby specifying its biological effects (see
Table 1
).
4. Crosstalk between p53 Ubiquitylation and Acetylation
5. Effects of p53 Phosphorylation on Acetylation
6. Acetylation
vs.

Other Post-Translational Modifications
7. Regulators of Acetyltransferases
7.2. PCAF
Like p300/CBP, PCAF activity towards p53 is regulated by both viral and mammalian proteins (
Figure 3
). This includes negative regulation by adenoviral E1A and E1B proteins, which prevent PCAF-mediated acetylation and activation of p53 [
206
,
213
,
214
], thereby removing one of the strongest cellular barriers to viral-induced transformation. E1A can compete with PCAF for p300/CBP binding, perhaps preventing PCAF recruitment to certain promoters, and thus antagonize PCAF-mediated cell cycle arrest [
73
]. E1B interrupts the interaction between PCAF and p53 and prevents p53 from binding to specific DNA sequences that would normally be promoted by its acetylation [
213
]. Both high and low risk HPV E7 proteins can bind PCAF and potentially inhibit its acetyltransferase activity [
214
].
Most of the cellular factors that act on PCAF also directly regulate p53. For example, SIAH2 and Mdm2 are able to bind and ubiquitylate PCAF, promoting its degradation at the proteasome [
142
,
202
,
215
]. These events directly reduce PCAF-mediated acetylation of p53 and interrupt its transcriptional activation [
142
,
202
]. HIPK2 is a positive regulator of PCAF that interacts with both p53 and PCAF [
161
]. As part of checkpoint responses to cisplatin, HIPK2 induces PCAF-mediated acetylation of p53 at K320, which leads to p53-dependent transactivation of
p21
but not other targets (e.g.,
p53AIP1
) [
161
,
216
]. Increased levels of acetylated K320-p53 and H4 acetylation were found at the
p21
promoter when HIPK2 was present [
216
]. Notably, increased K320 acetylation of p53 was only associated with the growth inhibitory dose of cisplatin, not the dose that induces apoptosis. This supports the idea that the type and amount of stress can engage certain acetylation events and determine the affinity of p53 for specific transcriptional targets (see
Table 1
).
7.4. MOF and MOZ
The regulation of p53 acetylation by MOF and MOZ has not been as well studied as that for p300/CBP, PCAF and Tip60. MOF is positively regulated toward p53 thru its interaction with MSL1v1, which stabilizes the MOF-p53 complex and facilitates p53-K120 acetylation (
Figure 3
) [
78
,
94
]. By comparison, MOZ colocalizes with p53 and PML in PML-NBs in response to cellular stress, which enhances its acetylation of p53 at not only K120 but also K382 [
85
]. Conversely, an Akt (Ak mouse strain thymoma protein) / protein kinase B phosphorylation site exists within the PML binding domain of MOZ and phosphorylation at that site (T369) by Akt inhibits MOZ association with PML and p53 acetylation. MOZ is also a co-activator for AML1 (acute myeloid leukemia 1 protein) and forms complexes containing AML1, PML and other HATs, such as p300/CBP, to activate transcription [
229
]. Therefore, it may be significant that HIPK2 can also interact with those complexes and phosphorylate MOZ [
200
], as it suggests another possible mechanism by which MOZ-mediated acetylation of p53 might be controlled. Little else is known regarding MOF or MOZ regulation as it relates to their acetylation of p53, indicating that more studies are needed to determine the identity and function of regulators controlling these two p53 acetyltransferases.
8. Role of p53 Acetyltransferases in Development and Cancer
9. p53 Acetylation and Tumor Suppression
So, what is the role of p53 acetylation in tumor suppression by p53? The preponderance of data discussed in this review suggests it is essential since disruption of p53 acetylation generally results in loss of p53-mediated cell cycle arrest, senescence and/or apoptosis. Since its discovery, it has been widely accepted that p53 suppresses tumorigenesis through its transcriptional induction of one or more of those three key responses to cellular stress [
1
,
2
,
13
,
14
]. That prevailing view greatly influenced how researchers assessed p53 function over the years since nearly all studies of p53 acetylation (and other post-translational modifications) focused on how they affected p53 transcriptional control of cell cycle inhibitory and apoptotic genes, like
p21
and
Puma
. Indeed, one of the most compelling findings supporting a critical role for p53 acetylation in tumor suppression was the inability of an acetylation-deficient p53 mutant (8KR) to induce cell cycle arrest or apoptosis [
40
]. Yet recent work from the same group challenges the importance of p53 acetylation (at least at certain sites) and p53's traditional functions (cell cycle arrest, senescence and apoptosis) to tumor suppression [
261
].
Specifically, Li
et al.
showed that mice defective for p53 acetylation at three sites (the 3KR mutant) retained the ability to suppress early-onset spontaneous tumorigenesis despite lacking p53-mediated cell cycle arrest, senescence and apoptosis [
261
]. The 3KR mouse p53 protein contains arginine mutations at K117, K161 and K162, analogous to a dual mutation of human p53 at K120 and K164. Mice bearing a single mutation at K117 (K120 in human p53), which are selectively defective in p53-dependent apoptosis, were likewise fully competent for inhibiting
de novo
tumor formation. These findings suggested that acetylation of those sites is dispensable for tumor suppression, at least for spontaneous thymic lymphoma. The role of other established sites of p53 acetylation, such as K320 and other C-terminal lysines, in p53-mediated tumor suppression still needs to be tested. Knock-in mice deficient in C-terminal acetylation (namely 6KR and 7KR mice) were generated but spontaneous tumorigenesis was not reported [
43
,
44
]. Moreover, the importance of p53 acetylation in stress-induced (e.g., radiation- or oncogene-mediated) tumorigenesis is a key unanswered question. Prior work suggests it may be essential for tumor suppression under those settings. That is because p53 acetylation is required for its canonical functions (cell arrest, senescence or apoptosis) following DNA damage and oncogene activation in cell lines, and retention of at least one of those functions is critical for tumor suppression in mice challenged with those stresses. For example, in a mouse model of irradiation-induced lymphoma, ARF-mediated p53-dependent senescence has been shown to be required for preventing tumor formation [
262
].
A key aspect of future studies will be determining the contribution of p53 acetylation to the regulation of its less conventional gene targets and how that relates to tumor suppression. In particular, emerging evidence suggests that p53 control of cellular metabolism and reactive oxygen species (ROS) levels may be critical for cancer prevention [
13
,
14
]. Li
et al.
found that the tumor suppressive 3KR mutant of p53 retains the ability to regulate genes (e.g.,
TIGAR
,
GLS2
and
GLUT3
) that limit glucose uptake, glycolysis and ROS generation, implying those activities may be vital to tumor suppression [
261
]. Clearly, acetylation of the lysines mutated in p53-3KR is not required for regulating those metabolic genes but the involvement of other p53 acetylation events is not known. More recently, p53 transcriptional repression of malic enzymes and consequent NADPH production (critical for anabolic metabolism) was found to drive p53-mediated senescence and suppress the growth of xenograft tumors [
263
]. While these exciting findings are consistent with the paradigm that metabolic reprogramming promotes cancer [
264
], more studies are needed to test and verify the importance of metabolic gene control by p53 (as well as other non-traditional targets) to tumor suppression. In turn, studies exploring the role of p53 acetylation in regulating those genes and pathways should provide much needed insight into the significance of p53 acetylation to tumor suppression.
Acknowledgments
In this review, we attempted to cite original research articles as well as appropriate reviews and apologize for any unintentional omission of relevant publications. This work was supported by NIH/NCI awards (P30CA086862 Cancer Center Support Grant and F30CA8396126 fellowship to Sara M. Reed) and an NIH Pharmacological Sciences Training Grant (T32GM067795 to Sara M. Reed).
Author Contributions
This manuscript was conceived, drafted and revised through the combined efforts of Sara M. Reed and Dawn E. Quelle.
Conflicts of Interest
The authors declare no conflicts of interest.
© 2014 by the authors; licensee MDPI, Basel, Switzerland. This article is an open access article distributed under the terms and conditions of the Creative Commons Attribution license (http://creativecommons.org/licenses/by/4.0/).