Open Access This article is
freely available
re-usable
Review
Lentiviral Vectors for Cancer Immunotherapy and Clinical Applications
1
University College London, 5 University Street, London, WC1E 6JF, UK
2
Navarrabiomed Fundacion Miguel Servet, 3 Irunlarrea St., Hospital Complex of Navarra, 31008 Pamplona, Navarra, Spain
*
Author to whom correspondence should be addressed.
Received: 10 May 2013; in revised form: 7 June 2013 / Accepted: 21 June 2013 / Published: 2 July 2013
Abstract
:
The success of immunotherapy against infectious diseases has shown us the powerful potential that such a treatment offers, and substantial work has been done to apply this strategy in the fight against cancer. Cancer is however a fiercer opponent than pathogen-caused diseases due to natural tolerance towards tumour associated antigens and tumour-induced immunosuppression. Recent gene therapy clinical trials with viral vectors have shown clinical efficacy in the correction of genetic diseases, HIV and cancer. The first successful gene therapy clinical trials were carried out with onco(γ-)retroviral vectors but oncogenesis by insertional mutagenesis appeared as a serious complication. Lentiviral vectors have emerged as a potentially safer strategy, and recently the first clinical trial of patients with advanced leukemia using lentiviral vectors has proven successful. Additionally, therapeutic lentivectors have shown clinical efficacy for the treatment of HIV, X-linked adrenoleukodystrophy, and β-thalassaemia. This review aims at describing lentivectors and how they can be utilized to boost anti-tumour immune responses by manipulating the effector immune cells.
Keywords:
lentiviral vector; cancer immunotherapy; gene therapy; antigen presentation; dendritic cells
1. Introduction
Cancer represents a significant health burden, especially in developed countries, and one of the priorities of the medical sciences is to find new and more targeted therapies. One of these strategies has utilized gene therapy techniques to enhance the natural anti-tumour activities of the immune system. Briefly, gene therapy aims at modifying the functions of cellular targets by the introduction of therapeutic genes or silencing of disease-causing genes. The overall objective for cancer immunotherapy is to enhance tumour-associated antigen (TAA) presentation to effector cytotoxic T cells, and gene therapy techniques can be used to manipulate the functions of anti-tumour effector cells. The success of gene therapy depends on the efficient, stable, and targeted incorporation as well as adequate expression of transgenes [
1
]. During the last decades several methods have been applied to deliver therapeutic/antigenic genes to increase anti-tumour immune responses [
2
,
3
,
4
] and these are extensively reviewed elsewhere [
5
,
6
,
7
,
8
]. Nevertheless, a popular strategy is the use of virus-derived vectors to introduce genes of choice into target cells. From these vectors, one of the most widely used virus vector is the one based on the human immunodeficiency virus 1 (HIV-1) lentivirus.
Gene therapy has moved from experimental models to its medical application quite rapidly during the last decade. The first gene therapy human clinical trials that could be considered a clinical success were performed with γ-retrovirus vectors, exemplified in the study published in 2000 by Cavazzana-Calvo [
9
]. They successfully corrected severe combined immunodeficiency (SCID)-X1 in 11 children using a mouse leukemia virus-based vector (MLV) as the gene transfer vehicle. However, the appearance of leukemia in a significant number of treated children due to insertional mutagenesis was a major setback. The integration of the therapeutic retroviral vector genome close to proto-oncogenes led to their upregulation in corrected T cells, resulting in uncontrolled T cell clonal amplification. These serious genotoxic effects were not limited to this particular clinical trial and other serious outcomes have been observed at least for the correction of chronic granulomatous disease. In recent years, lentiviral vectors (lentivectors) have been applied in human therapy replacing γ-retrovirus vectors as they seem to be less genotoxic and therefore might represent a safer option.
In the case of cancer immunotherapy, the objective is not to correct a genetic/metabolic disease, but rather to enhance anti-tumour immune responses by genetic manipulation of cells from the immune system. Cancer immunotherapy is in fact benefiting from gene therapy as immune cells can be relatively easily modified to increase their anti-tumour activities. In addition, gene therapy is already being applied in human therapy and this will facilitate the application of virus vectors such as lentivectors for the treatment of human cancer [
9
,
10
].
3. Lentivectors in Cancer Immunotherapy
Lentivectors pose several advantages that make them suitable for their application in immunotherapy, whether to raise immune responses against cancer/infectious diseases or to treat auto-immunity where the immune response needs to be suppressed. In general terms, lentivectors can be targeted to specific cell types
in vivo
. For example the choice of promoters inserted into the transfer plasmid can lead to gene expression in a cell-specific manner, constitutively or upon induction [
1
]. Pseudotyping with envelope glycoproteins derived from a wide range of virus species can lead to preferential transduction of specific cell types [
49
,
50
]. Alternatively, antibodies can be incorporated within the lentivector envelope membrane so that specific antigens expressed by target cell types can be bound by these antibodies, favouring lentivector transduction [
1
,
51
,
52
].
In the case of cancer immunotherapy, establishment of potent and long-lasting CD8 T cell immunity is critical for the eradication of tumours and the elimination of metastases. Interestingly, viral vectors are amongst the most potent and efficient tools to raise strong T cell responses, possibly due to their inherent adjuvant capacities [
29
,
53
]. This is particularly the case for virus vectors based on adenoviruses and poxviruses, for example. So far, the efficacy of cancer immunotherapy has been limited by two major stumbling blocks; natural tolerance towards TAAs (tumour-associated antigens) and the strongly immunosuppressive tumour microenvironment. As a matter of fact, it has to be noted that in general terms cancer immunotherapy is largely inefficient, possibly due to the strongly immunosuppressive tumour environment. Interestingly, this observation might be extended to routine vaccination procedures as a recent study has demonstrated that anti-tumour vaccines containing TAAs and incomplete Freund's adjuvant (IFA) are ineffective by sequestration and deletion of TAA-specific T cells at the vaccination site [
54
]. This phenomenon was clearly independent from cancer-induced immunosuppression, but was mainly caused by the strong pro-inflammatory effects of IFA. TAA-IFA deposits at the site of injection effectively expanded TAA-specific CD8 T cells, but they were sequestered at the antigen deposit sites losing their cytotoxic activities [
54
]. TAA delivery alone did not form these antigen deposits, but it failed to raise a strong enough cytotoxic T cell (CTL) response for tumour eradication. This study has significant implications for human cancer immunotherapy as IFA analogs are frequently used as adjuvants in vaccination. Consequently, TAAs should be delivered in an appropriate way to prevent T cell sequestration and inactivation [
54
]. We propose that lentivector vaccines would represent a better option. Firstly, lentivector transduction at the injection site does not produce antigen deposits but stably transduces cells leading to relatively long-term transgene expression. These transgenes can be efficiently processed for class I (and class II in the case of antigen presenting cell transduction) antigen presentation, so that the particular HLA (human leukocyte antigen) type of the patient would not be necessary for the TAA design. Unmodified full-length TAAs can be expressed in professional antigen presenting cells (APCs), which will process them to provide the appropriate peptide epitopes [
55
]. Alternatively, mutations can also be introduced in these TAAs to enhance effector T cell activation, although a previous identification of the antigen peptide epitopes would be desirable [
4
,
56
]. Lentivector delivery could be targeted either to the tumour itself, or specifically to APCs such as dendritic cells (DCs). Intratumour delivery or injection close by would ensure that all CTLs are activated at the tumour site rather than at the vaccination site.
3.1. Genetic Modification of T Cells for Adoptive Cell Immunotherapy
Successful cancer immunotherapy needs to tackle two major issues. The first is to effectively prime TAA-specific effector CD8 T cells, and the second is to counteract tumour-induced immunosuppression that inhibits the activity of anti-tumour T cells. Genetic cancer immunotherapy is therefore targeted towards two main immune cell types; CTLs as the main anti-tumour effector cells, and DCs as key T cell activators. In the first case, gene therapy aims at generating CTLs with TAA-specific T cell receptors (TCRs) exhibiting high affinities. It has to be noted that endogenous TAA-specific T cells frequently express low-affinity TCRs as the high-affinity autoreactive T cells are removed by clonal deletion in the thymus or differentiated into natural regulatory T cells (nTregs). Thus, an attractive strategy is the introduction of high-affinity TAA-specific TCRs or chimeric antigen receptors (CARs) to effector T cells (
Figure 4
). This can be achieved by transducing T cells with either retrovirus vectors or lentivectors. While resting T cells are more resistant to transduction than DCs [
57
,
58
] their modification still remains a very effective treatment option [
59
]. This can be easily accomplished by their
in vitro
activation, genetic modification, and expansion before transfer to patients [
60
,
61
]. Briefly, tumour-reactive TCRs can be isolated from patients possessing highly reactive T cells that can recognize and kill tumor cells [
62
,
63
]. The isolated TCR α and β chains are cloned into the virus vectors and genetically introduced into autologous T cells from patients, which can then be expanded and adoptively transferred back to the patient [
58
,
60
,
61
]. These TCR-modified T cells are capable of expanding upon antigen encounter and lysing specific tumour cells. Of note, in many instances the selected T cell clones exhibiting TAA-specific TCRs still exhibit low antigen affinities and further protein engineering steps have to be undertaken to improve their performance [
63
]. Even so, these T cells are still subjected to the strong tumour-induced immunosuppressive environment. Other disadvantages remain as TCR-engineered lymphocytes are still restricted to only one specific HLA type and that only one tumour antigen is targeted [
63
]. A significant chance of selection of cancer variants that have lost the targeted antigen expression or down-modulated MHC (major histocompatibility complex) molecules remains [
64
].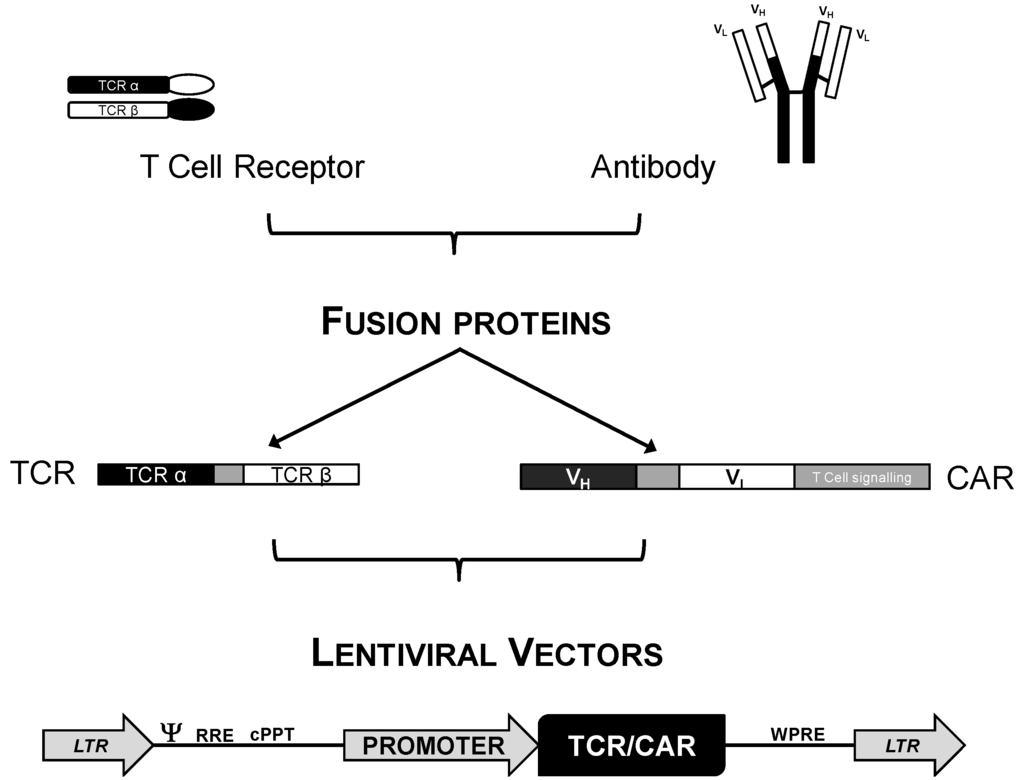 Figure 4. Introduction of TAA-specific TCRs or CARs to autologous T cells for cancer immunotherapy. Tumour-reactive T cells are isolated from patients that underwent tumour remission after "conventional" immunotherapy. The genes encoding both TCR chains are amplified by PCR and cloned into retrovirus/lentivirus vectors (top left of the figure). CARs are produced by engineering a fusion gene between the antigen-binding region of an antibody with selected intracellular T cell signalling domains (top right of the figure). Lentivectors are depicted here as an example of TCR/CAR gene carriers. VH and VL, immunoglobulin variable regions; LTR, long terminal repeat; Ψ, packaging signal; RRE, rev responsive element; cPPT, central polypurine flap; WPRE, woodchuck post-transcriptional element.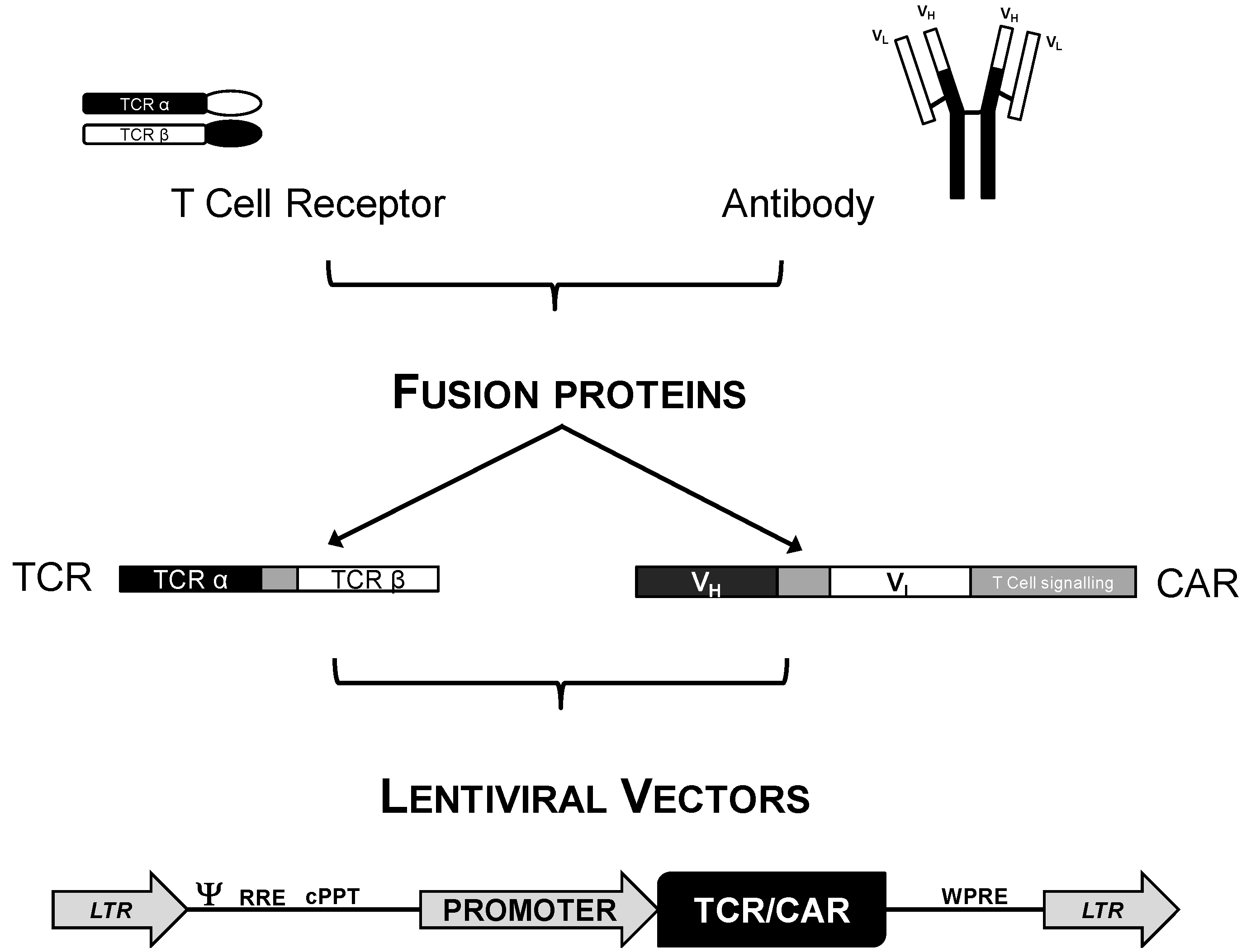 To overcome some of these problems, CARs (chimeric antigen receptors) have been developed, in which a TAA-binding domain of an antibody is fused to intracellular T cell signaling domains, such as CD3 chains [
65
]. This strategy might be more therapeutically attractive because antibodies exhibit higher affinities for the target peptides than TCRs. In addition, they recognize antigens in a non-MHC-restricted manner [
65
]. Other than that, their application in human therapy is fairly similar to that of TCR-engineered T cells. Importantly, they are still subject to inactivation by tumour-induced immune suppression.
The use of vectors expressing high-affinity TCRs/CARs and their adoptive transfer into human patients is already being applied in several clinical trials. Some of these TCRs have been isolated from patients undergoing remission and are specific towards human antigens such as NY-ESO and MELAN-A [
66
]. In the past few years these strategies have exhibited some clinical efficacy in different cancer types, such as melanoma [
10
], lymphoma [
67
,
68
], colorectal cancer [
69
], and neuroblastoma [
63
,
70
]. Even so, several challenges still remain to be solved in immunotherapy with gene-modified T cells. On-target/off-tumour toxicity has been a major issue, especially in earlier clinical trials [
10
,
71
], as well as poor persistence of adoptively transferred T cells. These problems are mainly caused by the need of their activation and maturation
ex vivo
before their adoptive transfer [
58
] and secondly by immune responses against CAR-modified T cells themselves [
72
,
73
]. Of note, none of these clinical trials used lentivectors to modify T cells. In fact, experimental evidence suggests that lentivector transfer of TCRs to T cells is more efficient than transfer with retrovirus vectors, at least for a melanoma (MelanA)-specific TCR clone [
74
]. A recent clinical trial using lentivectors to deliver CARs to T cells in patients with advanced leukemia has proven successful. In this case, a CAR directed against CD19 containing the CD137 co-stimulatory domain and TCR ζ chain was expressed by adoptively transferred autologous T cells. The subsequent T cell responses caused complete remission in 2 of 3 patients. There were no acute toxic effects and the only serious adverse events were tumour lysis syndrome and lymphopenia [
75
,
76
].
3.2. Genetic Modification of DCs for Cancer Immunotherapy
3.3. Myeloid-Derived Suppressor Cells. A New Target for Lentivector Immunotherapy?
While DCs and T cells are the main targets of cancer immunotherapy a "new" cell type emerges as a key therapeutic target, the myeloid-derived suppressor cell (MDSC). MDSCs are a heterogeneous group of myeloid-derived cells that acquire strong immunosuppressive activities in a high tumour burden environment [
104
,
105
,
106
]. This results in a strong systemic immunosuppression that compromises the overall health of the cancer patient. The patient is thereby rendered highly susceptible to opportunistic infections and several other complications. MDSCs can inhibit T cell activities at several levels, through antigen-specific and non-specific mechanisms. As MDSCs hamper CTL responses they represent a good target to significantly boost anti-tumour immune responses by counteracting their functions. MDSCs have been shown to exhibit a relatively high plasticity and it has been reported that pro-inflammatory cytokines can convert them into APCs [
104
,
105
]. This property makes them attractive targets for gene modification by lentivectors, to induce their differentiation into efficient APCs and overcome their suppressive activities.
4. Clinical Feasibility
As mentioned earlier, the first "successful" clinical trial with retroviral vectors was performed in the 2000s and while curing X-SCID, they caused leukemia in some of the treated children due to insertional mutagenesis [
107
]. There is increasing experimental evidence that lentivectors may be safer and less mutagenic than retroviral vectors [
40
,
108
]. Moreover, the list of gene therapy models in which lentivectors are used as gene carriers is constantly increasing [
1
]. Two main problems have been associated with viral vector-mediated gene therapy, as highlighted in the retroviral clinical trials. These problems are the potential generation of replication-competent vectors and the oncogenic potential through insertional mutagenesis and genetic instability. The development of different generations of lentivectors (
Figure 3
) and safety improvements ensure that lentivectors will continue to improve as therapeutic products. The 3rd generation of lentivectors is devoid of any viral protein encoding sequences and contains self-inactivating LTR promoters, which increases their safety and decreases their immunogenicity. It was also reported that lentiviral vectors, in contrast to γ-retroviral vectors, possess a lower oncogenic potential as they do not preferentially insert close to oncogenes or cell cycle genes. In fact, some studies have shown that they do not accelerate tumour growth in tumour-prone mice [
108
]. However, there is also experimental evidence showing that lentivector integration alters gene regulation and leads to aberrant splicing events [
109
]. Therefore, non-integrating lentivectors have been developed as a safer alternative. A mutated form of integrase prevents the lentivector genome from integrating into the host genome. Cells can be targeted with these vectors and lead to prolongued transgene expression as long as the target cells do not divide after transduction [
53
,
110
]. Non-integrating lentivectors can in fact transduce DCs, drive their maturation, and stimulate their antigen-presenting capabilities to launch strong immune responses against the antigens of interest [
81
]. These non-integrating lentivectors have been shown to induce potent and long-lasting immunity in mice in cancer and infectious models [
81
,
111
,
112
].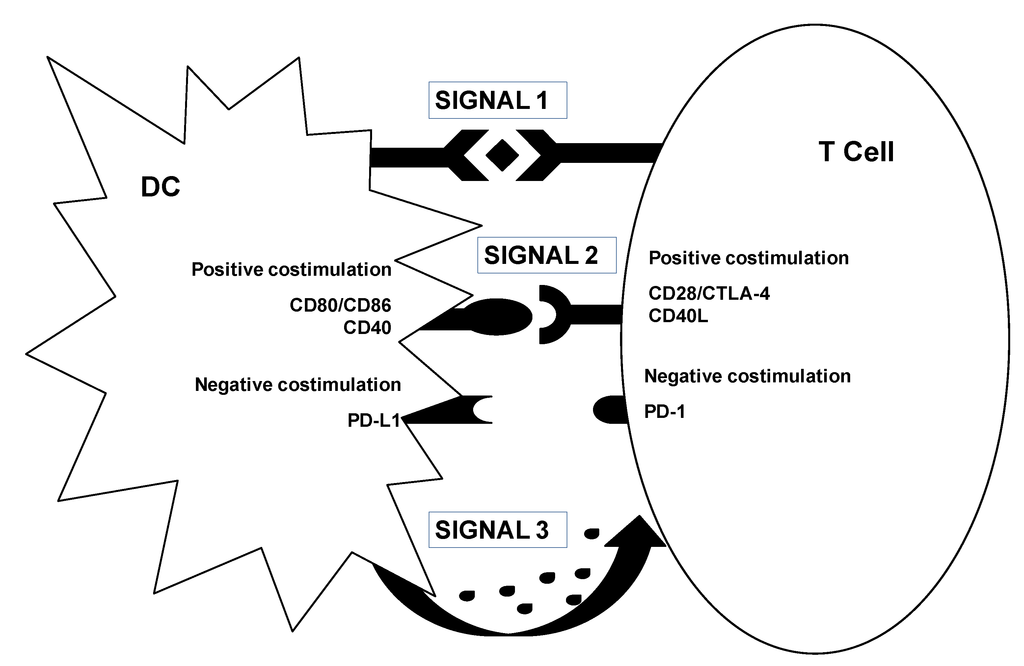 Figure 5. Three signal crosstalk between DCs and T cells. It is widely accepted that three signals have to be provided to T cells (cell on the right) by professional APCs such as DCs (cell on the left). The three T cell-stimulatory signals are indicated in the figure as boxes. The first signal (top interaction) is delivered upon binding of the peptide-MHC complex with the TCR on T cells. This interaction is not sufficient to activate T cells but rather drives them into anergy or tolerance. Integration of positive and negative co-stimulatory interactions delivers the second signal (central interaction). Some of the receptors and ligands involved in these interactions are indicated within each cell type. The release of cytokines or signal three (bottom interaction) completes the final activation of T cells by driving their differentiation into different T cell subtypes.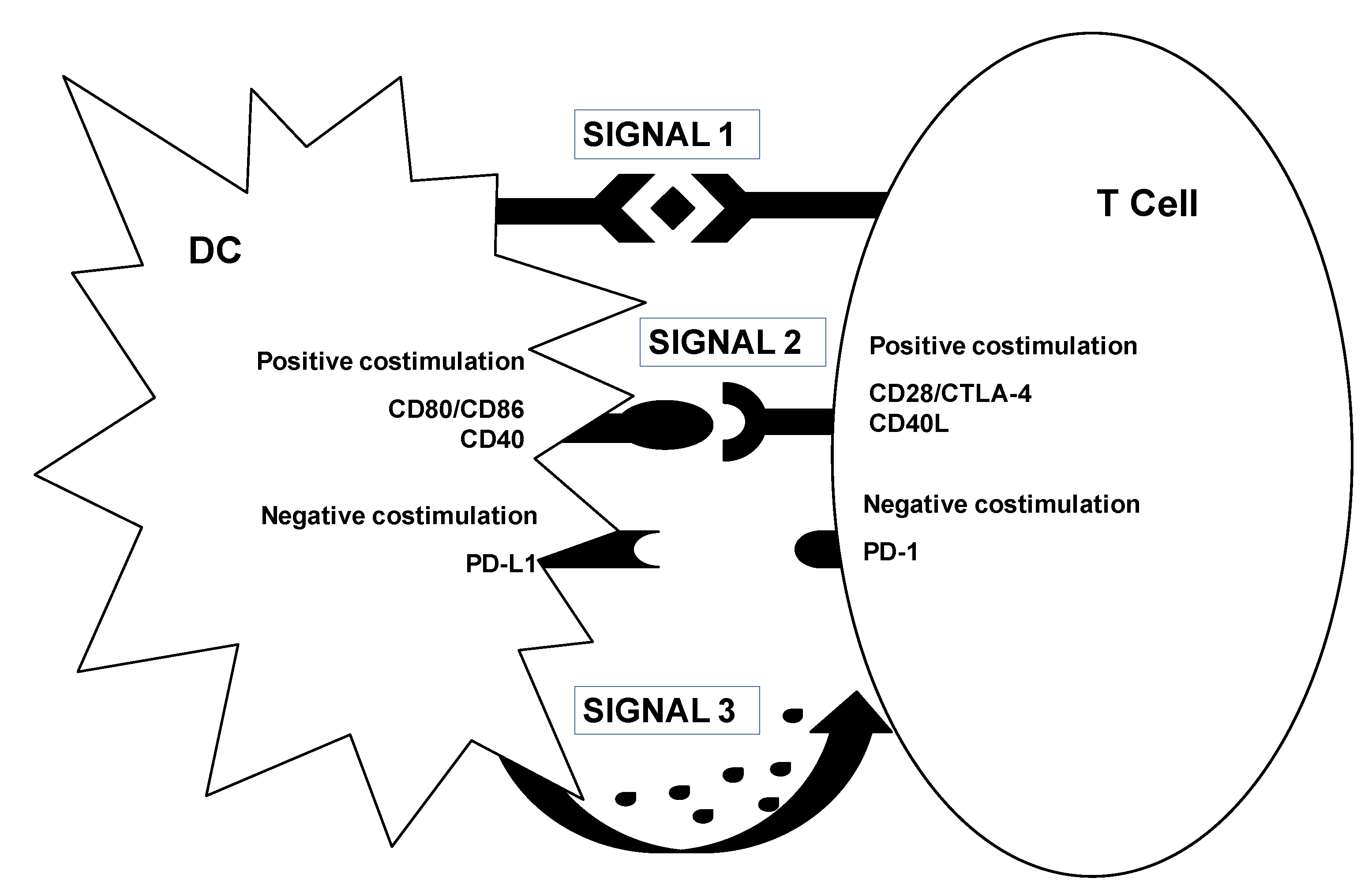 Several clinical trials with 3rd generation lentiviral vectors have been launched so far. In 2006 Levine
et al.
[
114
] adoptively transferred transduced T cells in HIV patients. So far, no sign of insertional mutagenesis or development of replication-competent viruses arising from recombination between the therapeutic lentivector with the endogenous HIV-1 have been observed [
113
]. This clinical trial was a success from the safety as well as from the therapeutic point of view. Four out of five patients showed clearly improved immune function [
114
,
115
]. Recently, the first successful human clinical trials for the correction of β-thalassaemia and X-linked adrenoleukodystrophy have been reported. In these trials, hematopoietic stem cells were transduced
ex vivo
and adoptively transferred to patients [
116
,
117
]. Additionally, the first successful immunotherapy clinical trial using lentivectors has been completed in patients with advanced leukemia. As already discussed above, adoptive transfer of T cells expressing a CAR containing the CD137 co-stimulatory domain and TCR ζ chain caused complete remission in two of three patients [
75
,
76
].
Lentivector gene therapy has been shown to be safe so far and feasible albeit still costly. Adoptive cell transfer is very costly and patient-specific. Therefore, at least to induce immunization against infectious diseases and cancer, direct vaccination with lentivectors could be used as an alternative. However, treatment with clinical-grade lentiviral vectors for clinical use remains costly but will surely improve in the future.
5. Conclusions and Future Perspectives
Immunotherapeutic strategies directed towards infectious diseases have been rather successful through vaccination with attenuated pathogen strains, or with recombinant protein vaccines. But cancer is a fiercer opponent as strong endogenous tolerogenic mechanisms towards TAAs have to be broken.
Several clinical trials have shown therapeutic efficacy in human gene therapy and immunotherapy. HIV-1-based lentivectors overcome several of the problems caused by retroviral vectors, resulting in improved biosafety and performance. Therefore, there is a tendency nowadays to substitute retroviral vectors by lentivectors in experimental models and clinical applications. Lentivectors are effective at inducing potent and long-lasting cellular and humoral immune responses and induce protective tumour immunity in mice [
28
,
88
,
118
]. They have recently shown clinical efficacy for the treatment of cancer and HIV in humans [
75
,
76
,
114
]. Their efficacy at raising potent immune responses may in part be due to their capability of transducing non-dividing cells, particularly DCs, which are the key APCs and master regulators of innate and adaptive immunity. Not only do lentivectors transduce DCs but they also ensure the persistent expression of the desired antigen, which leads to efficient priming of effector T cell functions. Besides DCs, other cells of the immune system can be targeted by lentivectors
ex vivo
for adoptive cell transfer or
in vivo
through direct vaccination. Many promising studies have been done introducing TCRs or CARs into T cells but in the future MDSCs could represent another important target for lentivector-based cancer immunotherapy.
The costs of adoptive transfer of transduced immune cells as well as the production of clinical-grade lentivectors still remain a general hurdle. However, with their increased application and/or replacement with direct vaccination strategies the costs will decrease in the future and make lentivector gene therapy more accessible for biomedical applications.
Acknowledgments
Therese Liechtenstein is funded by a University College London Overseas PhD Scholarship. Noemi Perez-Janices is funded from an APPICS scholarship from the Health Department and European Social Fund (PO Navarra 2007–2013) and the Basque Country Foundation for Health Innovation and Research (Bioef). David Escors was funded by an Arthritis Research UK Career Development Fellowship (18433) and currently by a Miguel Servet Fellowship from the Instituto de Salud Carlos III, Spain.
Conflict of Interest
The authors declare no conflict of interest.
© 2013 by the authors; licensee MDPI, Basel, Switzerland. This article is an open access article distributed under the terms and conditions of the Creative Commons Attribution license (http://creativecommons.org/licenses/by/3.0/).