Synthetic Vulnerabilities in the KRAS Pathway
Department of Pediatrics, University of California San Francisco, San Francisco, CA 94158, USA
*
Author to whom correspondence should be addressed.
Academic Editor: George Mosialos
Received: 26 April 2022
/
Revised: 3 June 2022
/
Accepted: 5 June 2022
/
Published: 8 June 2022
Simple Summary
Despite recent dramatic progress, developing drugs that target oncogenic KRAS or its key effectors remains a major challenge for cancer research. Improving our understanding of the underlying biology of KRAS in cancer will identify potential codependent vulnerabilities or synthetic lethal partners that are essential specifically in the context of KRAS mutations. Aberrant alterations in the KRAS oncogene not only favor cancer cell survival and proliferation, but also trigger oncogenic stress and compensatory mechanisms in cancer cells. These effectors are, thus, rational targets for defining synthetic lethal approaches to form the basis for effective therapies directed at KRAS-mutant tumors.
Mutations in
Kristen Rat Sarcoma
viral oncogene (
KRAS)
are among the most frequent gain-of-function genetic alterations in human cancer. Most
KRAS
-driven cancers depend on its sustained expression and signaling. Despite spectacular recent success in the development of inhibitors targeting specific
KRAS
alleles, the discovery and utilization of effective directed therapies for
KRAS
-mutant cancers remains a major unmet need. One potential approach is the identification of
KRAS
-specific synthetic lethal vulnerabilities. For example, while
KRAS
-driven oncogenesis requires the activation of a number of signaling pathways, it also triggers stress response pathways in cancer cells that could potentially be targeted for therapeutic benefit. This review will discuss how the latest advances in functional genomics and the development of more refined models have demonstrated the existence of molecular pathways that can be exploited to uncover synthetic lethal interactions with a promising future as potential clinical treatments in
KRAS
-mutant cancers.
View Full-Text
►

▼

Show Figures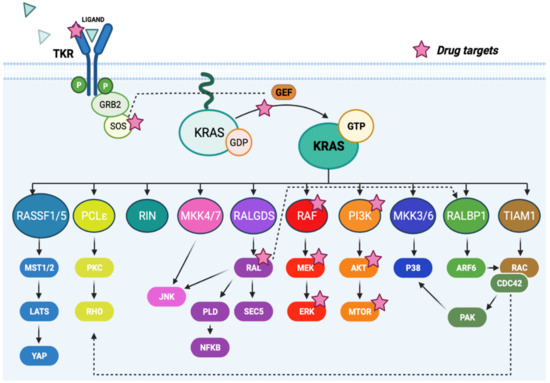 Figure 1
This is an open access article distributed under the
Creative Commons Attribution License
which permits unrestricted use, distribution, and reproduction in any medium, provided the original work is properly cited.

MDPI and ACS Style
Roman, M.; Hwang, E.; Sweet-Cordero, E.A. Synthetic Vulnerabilities in the KRAS Pathway. Cancers 2022, 14, 2837. https://doi.org/10.3390/cancers14122837
AMA Style
Roman M, Hwang E, Sweet-Cordero EA. Synthetic Vulnerabilities in the KRAS Pathway. Cancers. 2022; 14(12):2837. https://doi.org/10.3390/cancers14122837
Chicago/Turabian Style
Roman, Marta, Elizabeth Hwang, and E. Alejandro Sweet-Cordero. 2022. "Synthetic Vulnerabilities in the KRAS Pathway" Cancers 14, no. 12: 2837. https://doi.org/10.3390/cancers14122837
Note that from the first issue of 2016, MDPI journals use article numbers instead of page numbers. See further details
here
.