Advances in Targeting Cutaneous Melanoma
1
European Center for Angioscience (ECAS), Medical Faculty Mannheim, Heidelberg University, 68167 Mannheim, Germany
2
Division of Vascular Oncology and Metastasis, German Cancer Research Center Heidelberg (DKFZ-ZMBH Alliance), 69120 Heidelberg, Germany
3
Department of Dermatology, Skin Cancer Center, Ruhr-University Bochum, 44801 Bochum, Germany
*
Author to whom correspondence should be addressed.
Academic Editor: Francesca Ricci
Received: 21 March 2021 / Revised: 16 April 2021 / Accepted: 21 April 2021 / Published: 26 April 2021
Simple Summary
Cutaneous Melanoma (CM), arising from pigment-producing melanocytes in the skin, is an aggressive cancer with high metastatic potential. While cutaneous melanoma represents only a fraction of all skin cancers (<5%), it accounts for most skin-cancer-related deaths worldwide. Immune checkpoint inhibition has been the first therapeutic approach to significantly benefit patient survival after treatment. Nevertheless, the immunosuppressive tumor microenvironment and the intrinsic and acquired treatment resistance of melanoma remain crucial challenges. Combining local and systemic treatment offers the potential to augment therapeutic response and overcome resistance, although, complex drug combinations can harbor an increased risk of immune-related adverse events. The aim of this review is to give current insight into studies combining systemic and local therapeutic approaches to overcome drug resistance, prime melanoma cells for therapy, and improve overall treatment response in CM patients.
To date, the skin remains the most common cancer site among Caucasians in the western world. The complex, layered structure of human skin harbors a heterogenous population of specialized cells. Each cell type residing in the skin potentially gives rise to a variety of cancers, including non-melanoma skin cancer, sarcoma, and cutaneous melanoma. Cutaneous melanoma is known to exacerbate and metastasize if not detected at an early stage, with mutant melanomas tending to acquire treatment resistance over time. The intricacy of melanoma thus necessitates diverse and patient-centered targeted treatment options. In addition to classical treatment through surgical intervention and radio- or chemotherapy, several systemic and intratumoral immunomodulators, pharmacological agents (e.g., targeted therapies), and oncolytic viruses are trialed or have been recently approved. Moreover, utilizing combinations of immune checkpoint blockade with targeted, oncolytic, or anti-angiogenic approaches for patients with advanced disease progression are promising approaches currently under pre-clinical and clinical investigation. In this review, we summarize the current 'state-of-the-art' as well as discuss emerging agents and regimens in cutaneous melanoma treatment.
View Full-Text
►

▼

Show Figures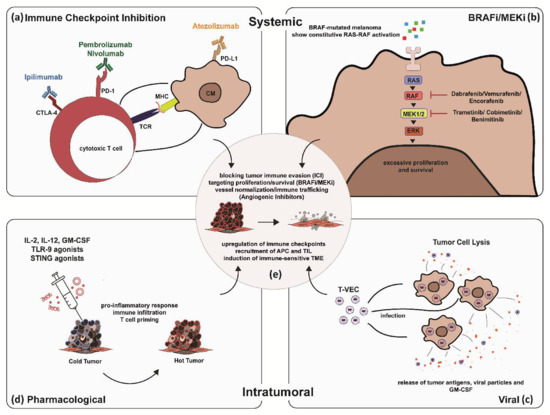 Figure 1
This is an open access article distributed under the
Creative Commons Attribution License
which permits unrestricted use, distribution, and reproduction in any medium, provided the original work is properly cited

MDPI and ACS Style
Kasakovski, D.; Skrygan, M.; Gambichler, T.; Susok, L. Advances in Targeting Cutaneous Melanoma. Cancers 2021, 13, 2090. https://doi.org/10.3390/cancers13092090
AMA Style
Kasakovski D, Skrygan M, Gambichler T, Susok L. Advances in Targeting Cutaneous Melanoma. Cancers. 2021; 13(9):2090. https://doi.org/10.3390/cancers13092090
Chicago/Turabian Style
Kasakovski, Dimitri, Marina Skrygan, Thilo Gambichler, and Laura Susok. 2021. "Advances in Targeting Cutaneous Melanoma" Cancers 13, no. 9: 2090. https://doi.org/10.3390/cancers13092090
Note that from the first issue of 2016, MDPI journals use article numbers instead of page numbers. See further details
here
.