Lights and Shadows in Immuno-Oncology Drug Development
1
Clinical Studies and Clinical Trials and Statistics Unit, The Institute of Cancer Research, London SM2 5NG, UK
2
Department of Medical Oncology, Catalan Institute of Oncology—ICO, L'Hospitalet de Llobregat, 08908 Barcelona, Spain
3
Breast Cancer Group, Institut d'Investigacio Biomedica de Bellvitge—IDIBELL, L'Hospitalet de Llobregat, 08908 Barcelona, Spain
*
Authors to whom correspondence should be addressed.
Academic Editor: David Wong
Received: 30 December 2020
/
Revised: 4 February 2021
/
Accepted: 5 February 2021
/
Published: 9 February 2021
Simple Summary
The introduction of immunotherapy has had a significant impact on the cancer treatment landscape, with unprecedented survival outcomes in some tumor types. However, clinical development of immune-oncology (IO) agents presents both opportunities and challenges, and not all patients benefit to the same extent. Many factors influence trial designs and could potentially threaten the success of promising IO drugs: 1. Most IO trials still rely on response evaluation criteria based on image assessment only, while new approaches including biomarkers tracking response should be incorporated. 2. Surrogate endpoints for efficacy are still inferred from classical anticancer drugs that have not been specifically validated for IO trials. 3. There is a need for biomarker-driven clinical studies in order to select appropriated patients. 4. Long-term toxicity monitoring is needed, and dosage calculation should not rely on dose-dependent toxicities. 5. Optimizing the design of new IO agents with collaborative approaches assessing multiple drugs on a biomarker-based basis is needed.
The rapidly evolving landscape of immuno-oncology (IO) is redefining the treatment of a number of cancer types. IO treatments are becoming increasingly complex, with different types of drugs emerging beyond checkpoint inhibitors. However, many of the new drugs either do not progress from phase I-II clinical trials or even fail in late-phase trials. We have identified at least five areas in the development of promising IO treatments that should be redefined for more efficient designs and accelerated approvals. Here we review those critical aspects of IO drug development that could be optimized for more successful outcome rates in all cancer types. It is important to focus our efforts on the mechanisms of action, types of response and adverse events of these novel agents. The use of appropriate clinical trial designs with robust biomarkers of response and surrogate endpoints will undoubtedly facilitate the development and subsequent approval of these drugs. Further research is also needed to establish biomarker-driven strategies to select which patients may benefit from immunotherapy and identify potential mechanisms of resistance.
View Full-Text
►

▼

Show Figures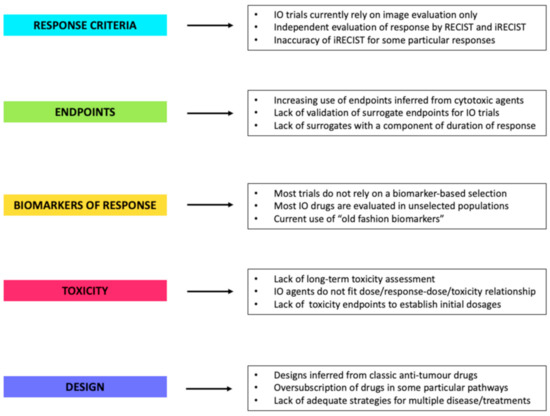 Figure 1
This is an open access article distributed under the
Creative Commons Attribution License
which permits unrestricted use, distribution, and reproduction in any medium, provided the original work is properly cited

MDPI and ACS Style
Bergamino Sirvén, M.; Pernas, S.; Cheang, M.C.U. Lights and Shadows in Immuno-Oncology Drug Development. Cancers 2021, 13, 691. https://doi.org/10.3390/cancers13040691
AMA Style
Bergamino Sirvén M, Pernas S, Cheang MCU. Lights and Shadows in Immuno-Oncology Drug Development. Cancers. 2021; 13(4):691. https://doi.org/10.3390/cancers13040691
Chicago/Turabian Style
Bergamino Sirvén, Milana, Sonia Pernas, and Maggie C.U. Cheang. 2021. "Lights and Shadows in Immuno-Oncology Drug Development" Cancers 13, no. 4: 691. https://doi.org/10.3390/cancers13040691
Note that from the first issue of 2016, MDPI journals use article numbers instead of page numbers. See further details
here
.