Biparatopic Protein Nanoparticles for the Precision Therapy of CXCR4+ Cancers
1
Nanoligent SL, Edifici EUREKA, Universitat Autònoma de Barcelona, Bellaterra, 08193 Barcelona, Spain
2
Institut de Biotecnologia i de Biomedicina, Universitat Autònoma de Barcelona, Bellaterra, 08193 Barcelona, Spain
3
CIBER de Bioingeniería, Biomateriales y Nanomedicina (CIBER-BBN), C/Monforte de Lemos 3-5, 28029 Madrid, Spain
4
Instituto de Investigación Biomédica Sant Pau (IIB Sant Pau), Sant Antoni Ma Claret 167, 08025 Barcelona, Spain
5
Instituto de Investigación Contra la Leucemia Josep Carreras, 08025 Barcelona, Spain
6
Departament de Genètica i de Microbiologia, Universitat Autònoma de Barcelona, Bellaterra, 08193 Barcelona, Spain
7
Departament de Biologia Evolutiva, Ecologia i Ciències Ambientals, Facultat de Biologia, Universitat de Barcelona, Av. Diagonal 643, 08028 Barcelona, Spain
8
Servei de Microscòpia, Universitat Autònoma de Barcelona, Bellaterra, 08193 Barcelona, Spain
9
Unitat de Microscòpia Confocal i Imatge Cel·lular, Servei de Medicina Genètica i Molecular, Institut Pediàtric de Malalties Rares (IPER), Hospital Sant Joan de Déu, Esplugues de Llobregat, 08950 Barcelona, Spain
10
Institut de Recerca Sant Joan de Déu, Esplugues de Llobregat, 08950 Barcelona, Spain
*
Authors to whom correspondence should be addressed.
Academic Editor: Clare Hoskins
Received: 10 April 2021
/
Revised: 28 May 2021
/
Accepted: 7 June 2021
/
Published: 11 June 2021
Simple Summary
Aimed at minimizing side toxicities cancer therapies require appropriate functional vehicles at the nanoscale, for receptor-mediated tumor-targeted drug delivery. The aim of the present study was to explore the human peptide EPI-X4 as a CXCR4-targeting agent in self-assembled, protein-only nanoparticles. While the systemic tumor biodistribution of EPI-X4-based materials is modest, this peptide shows potent proapoptotic effects on CXCR4+ cancer cells. Interestingly, the in vivo selectivity of EPI-X4 was dramatically improved, once combined into biparatopic nanoparticles, with a second CXCR4 ligand, the peptide T22. Biparatopic nanoparticles promote a highly selective tumor destruction in a mouse model of human colorectal cancer, probably associated to the CXCR4 antagonist role of EPI-X4. This study not only validates a new human ligand of the tumoral marker CXCR4, but it also offers a novel strategy for the combination, in protein nanoparticles, of dual acting ligands of tumoral markers for highly selective drug delivery.
The accumulated molecular knowledge about human cancer enables the identification of multiple cell surface markers as highly specific therapeutic targets. A proper tumor targeting could significantly avoid drug exposure of healthy cells, minimizing side effects, but it is also expected to increase the therapeutic index. Specifically, colorectal cancer has a particularly poor prognosis in late stages, being drug targeting an appropriate strategy to substantially improve the therapeutic efficacy. In this study, we have explored the potential of the human albumin-derived peptide, EPI-X4, as a suitable ligand to target colorectal cancer via the cell surface protein CXCR4, a chemokine receptor overexpressed in cancer stem cells. To explore the potential use of this ligand, self-assembling protein nanoparticles have been generated displaying an engineered EPI-X4 version, which conferred a modest CXCR4 targeting and fast and high level of cell apoptosis in tumor CXCR4
+
cells, in vitro and in vivo. In addition, when EPI-X4-based building blocks are combined with biologically inert polypeptides containing the CXCR4 ligand T22, the resulting biparatopic nanoparticles show a dramatically improved biodistribution in mouse models of CXCR4
+
human cancer, faster cell internalization and enhanced target cell death when compared to the version based on a single ligand. The generation of biparatopic materials opens exciting possibilities in oncotherapies based on high precision drug delivery based on the receptor CXCR4.
View Full-Text
►

▼

Show Figures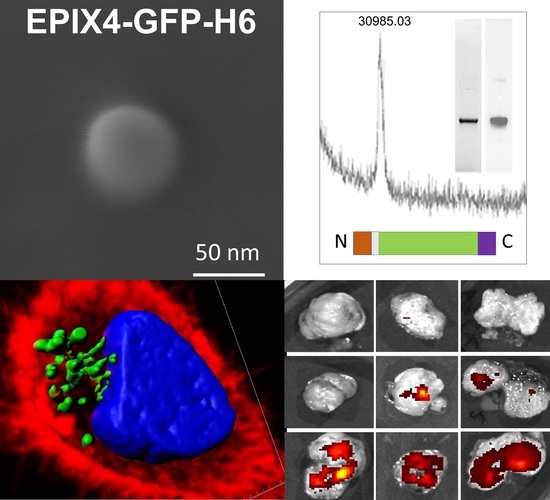 Graphical abstract
This is an open access article distributed under the
Creative Commons Attribution License
which permits unrestricted use, distribution, and reproduction in any medium, provided the original work is properly cited

MDPI and ACS Style
Cano-Garrido, O.; Álamo, P.; Sánchez-García, L.; Falgàs, A.; Sánchez-Chardi, A.; Serna, N.; Parladé, E.; Unzueta, U.; Roldán, M.; Voltà-Durán, E.; Casanova, I.; Villaverde, A.; Mangues, R.; Vázquez, E. Biparatopic Protein Nanoparticles for the Precision Therapy of CXCR4+ Cancers. Cancers 2021, 13, 2929. https://doi.org/10.3390/cancers13122929
AMA Style
Cano-Garrido O, Álamo P, Sánchez-García L, Falgàs A, Sánchez-Chardi A, Serna N, Parladé E, Unzueta U, Roldán M, Voltà-Durán E, Casanova I, Villaverde A, Mangues R, Vázquez E. Biparatopic Protein Nanoparticles for the Precision Therapy of CXCR4+ Cancers. Cancers. 2021; 13(12):2929. https://doi.org/10.3390/cancers13122929
Chicago/Turabian Style
Cano-Garrido, Olivia, Patricia Álamo, Laura Sánchez-García, Aïda Falgàs, Alejandro Sánchez-Chardi, Naroa Serna, Eloi Parladé, Ugutz Unzueta, Mònica Roldán, Eric Voltà-Durán, Isolda Casanova, Antonio Villaverde, Ramón Mangues, and Esther Vázquez. 2021. "Biparatopic Protein Nanoparticles for the Precision Therapy of CXCR4+ Cancers" Cancers 13, no. 12: 2929. https://doi.org/10.3390/cancers13122929
Note that from the first issue of 2016, MDPI journals use article numbers instead of page numbers. See further details
here
.