Monitoring DNA Damage and Repair in Peripheral Blood Mononuclear Cells of Lung Cancer Radiotherapy Patients
1
Research Division, Peter MacCallum Cancer Centre, Melbourne, VIC 3000, Australia
2
Advanced Analytical Technologies, Montmorency, VIC 3094, Australia
3
Department of Radiation Oncology, Peter MacCallum Cancer Centre, Melbourne, VIC 3000, Australia
4
Sir Peter MacCallum Department of Oncology, The University of Melbourne, Melbourne, VIC 3010, Australia
5
Melbourne Medical School, The University of Melbourne, Melbourne, VIC 3010, Australia
6
Physics Department, Peter MacCallum Cancer Centre, Melbourne, VIC 3000, Australia
*
Author to whom correspondence should be addressed.
†
These authors contributed equally to this work as first authors.
‡
These authors contributed equally to this work as last authors.
Received: 3 August 2020 / Revised: 28 August 2020 / Accepted: 31 August 2020 / Published: 4 September 2020
Simple Summary
Every patient responds to radiotherapy in individual manner. Some suffer severe side-effects because of normal tissue toxicity. Their radiosensitivity can be caused by inability of DNA repair system to fix radiation-induced damage. The γ-H2AX assay can detect such deficiency in untransformed primary cells (e.g., peripheral blood mononuclear cells, PBMC), over a period of only hours post ex-vivo irradiation. Earlier we have shown that the level and kinetics of decline (repair) of radiation-induced DNA damage detected by the assay is a measure of the cellular radiosensitivity. In this study, we applied the γ-H2AX assay to judge the radiosensitivity of lung cancer radiotherapy patients as normal or abnormal, based on kinetics of DNA damage repair. Considering the potential of the assay as a clinical biodosimeter, we also monitored DNA damage in serial samples of PBMC during the course of radiotherapy. This study opens an opportunity to monitor individual response to radiotherapy treatment.
Thoracic radiotherapy (RT) is required for the curative management of inoperable lung cancer, however, treatment delivery is limited by normal tissue toxicity. Prior studies suggest that using radiation-induced DNA damage response (DDR) in peripheral blood mononuclear cells (PBMC) has potential to predict RT-associated toxicities. We collected PBMC from 38 patients enrolled on a prospective clinical trial who received definitive fractionated RT for non-small cell lung cancer. DDR was measured by automated counting of nuclear γ-H2AX foci in immunofluorescence images. Analysis of samples collected before, during and after RT demonstrated the induction of DNA damage in PBMC collected shortly after RT commenced, however, this damage repaired later. Radiation dose to the tumour and lung contributed to the in vivo induction of γ-H2AX foci. Aliquots of PBMC collected before treatment were also irradiated ex vivo, and γ-H2AX kinetics were analyzed. A trend for increasing of fraction of irreparable DNA damage in patients with higher toxicity grades was revealed. Slow DNA repair in three patients was associated with a combined dysphagia/cough toxicity and was confirmed by elevated in vivo RT-generated irreparable DNA damage. These results warrant inclusion of an assessment of DDR in PBMC in a panel of predictive biomarkers that would identify patients at a higher risk of toxicity.
View Full-Text
►

▼

Show Figures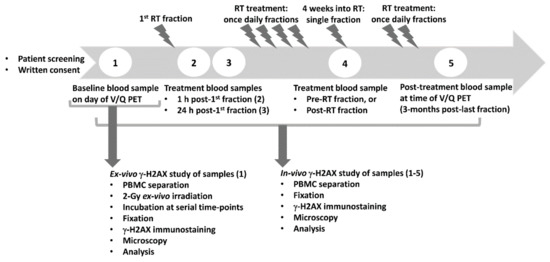 Figure 1
This is an open access article distributed under the
Creative Commons Attribution License
which permits unrestricted use, distribution, and reproduction in any medium, provided the original work is properly cited

MDPI and ACS Style
Lobachevsky, P.N.; Bucknell, N.W.; Mason, J.; Russo, D.; Yin, X.; Selbie, L.; Ball, D.L.; Kron, T.; Hofman, M.; Siva, S.; Martin, O.A. Monitoring DNA Damage and Repair in Peripheral Blood Mononuclear Cells of Lung Cancer Radiotherapy Patients. Cancers 2020, 12, 2517.
Show more citation formats
Show less citations formats
Note that from the first issue of 2016, MDPI journals use article numbers instead of page numbers. See further details
here
.