Prognostic Significance of Oxidation Pathway Mutations in Recurrent Laryngeal Squamous Cell Carcinoma
1
Department of Otolaryngology–Head and Neck Surgery, University of Michigan, Ann Arbor, MI 48109, USA
2
Department of Otolaryngology–Head and Neck Surgery, University of California Davis, Sacramento, CA 95817, USA
3
Department of Pathology, University of Michigan, Ann Arbor, MI 48109, USA
4
Rogel Cancer Center, University of Michigan Medical School, Ann Arbor, MI 48109, USA
5
Department of Internal Medicine, Division of Hematology/Oncology, University of Michigan Medical School, Ann Arbor, MI 48109, USA
6
Department of Pharmacology, University of Michigan Medical School, Ann Arbor, MI 48109, USA
*
Author to whom correspondence should be addressed.
†
Authors contributed equally.
Received: 20 September 2020 / Revised: 19 October 2020 / Accepted: 19 October 2020 / Published: 22 October 2020
Simple Summary
Organ preservation protocols have become first line therapy for the majority of advanced laryngeal cancers. Unfortunately, up to one third of patients will develop recurrent disease requiring salvage surgery. These tumors tend to display aggressive features when compared to primary disease. The aim of this study is to identify genomic alterations associated with poor prognosis in the recurrent setting to guide precision therapy and identify potential targetable pathways. Here we show that mutations in the oxidation pathway, specifically the KEAP1-NFR2 pathway, predict survival in a cohort of patients undergoing salvage laryngectomy.
Organ preservation protocols are commonly used as first line therapy for advanced laryngeal cancer. Recurrence thereafter is associated with poor survival. The aim of this study is to identify genetic alterations associated with survival among patients with recurrent laryngeal cancer undergoing salvage laryngectomy. Sixty-two patients were sequenced using a targeted panel, of which twenty-two also underwent transcriptome sequencing. Alterations were grouped based on biologic pathways and survival outcomes were assessed using Kaplan-Meier analysis and multivariate cox regression. Select pathways were evaluated against The Cancer Genome Atlas (TCGA) data. Patients with mutations in the Oxidation pathway had significantly worse five-year disease specific survival (1% vs. 76%,
p
= 0.02), while mutations in the HN-Immunity pathway were associated with improved five-year disease specific survival (100% vs. 62%,
p
= 0.02). Multivariate analysis showed mutations in the Oxidation pathway remained an independent predictor of disease specific survival (HR 3.2, 95% CI 1.1–9.2,
p
= 0.03). Transcriptome analysis of recurrent tumors demonstrated that alterations in the Oxidation pathway were associated a positive Ragnum hypoxia signature score, consistent with enhanced pathway activity. Further, TCGA analyses demonstrated the prognostic value of oxidation pathway alterations in previously untreated disease. Alterations in the Oxidation pathway are associated with survival among patients with recurrent laryngeal cancer. These prognostic genetic biomarkers may inform precision medicine protocols and identify putatively targetable pathways to improve survival in this cohort.
View Full-Text
►

▼

Show Figures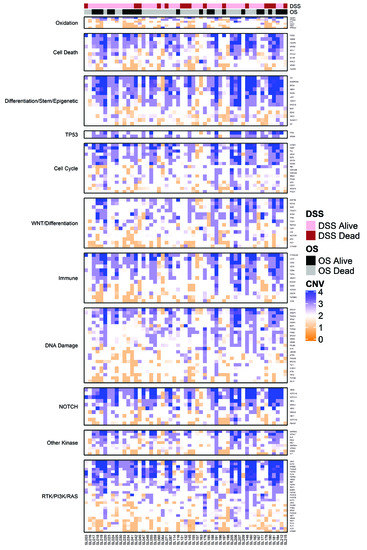 Figure 1
This is an open access article distributed under the
Creative Commons Attribution License
which permits unrestricted use, distribution, and reproduction in any medium, provided the original work is properly cited

MDPI and ACS Style
Heft Neal, M.E.; Bhangale, A.D.; Birkeland, A.C.; McHugh, J.B.; Shuman, A.G.; Rosko, A.J.; Swiecicki, P.L.; Spector, M.E.; Brenner, J.C. Prognostic Significance of Oxidation Pathway Mutations in Recurrent Laryngeal Squamous Cell Carcinoma. Cancers 2020, 12, 3081.
Show more citation formats
Show less citations formats
Note that from the first issue of 2016, MDPI journals use article numbers instead of page numbers. See further details
here
.