FGF2-Derived PeptibodyF2-MMAE Conjugate for Targeted Delivery of Cytotoxic Drugs into Cancer Cells Overexpressing FGFR1
1
Department of Protein Engineering, Faculty of Biotechnology, University of Wroclaw, 50383 Wroclaw, Poland
2
Department of Molecular Cell Biology, Institute for Cancer Research, The Norwegian Radium Hospital, Oslo University Hospital, 0379 Oslo, Norway
3
Department of Radiobiology and Radiation Protection, Military Institute of Hygiene and Epidemiology, 01163 Warsaw, Poland
4
Center for Cancer Cell Reprogramming, Institute of Clinical Medicine, Faculty of Medicine, University of Oslo, 0379 Oslo, Norway
*
Author to whom correspondence should be addressed.
Received: 27 September 2020 / Accepted: 10 October 2020 / Published: 15 October 2020
Simple Summary
Current approaches to treat cancer include eg. targeted therapies, employing agents, such as antibodies, aimed directly at molecules expressed in cancerous cells. Here we present a targeting molecule alternative to antibodies-peptibodyF2-composed of a peptide responsible for its targeting properties, and an immunoglobulin fragment increasing its stability and improving pharmacokinetic properties. Peptibody F2 specifically binds to fibroblast growth factor receptors (FGFRs) upregulated in multiple types of cancers. Moreover, peptibodyF2 conjugated with the cytotoxic drug (MMAE) serves as an efficient and selective drug carrier delivering cytotoxic payload to cancerous cells expressing FGFR1, leading to their death.
Fibroblast growth factor receptors (FGFRs) are emerging targets for directed cancer therapy. Presented here is a new FGFR1-targeting conjugate, the peptibodyF2, which employs peptibody, a fusion of peptide and the Fc fragment of human IgG as a selective targeting agent and drug carrier. Short peptide based on FGF2 sequence was used to construct a FGFR1-targeting peptibody. We have shown that this peptide ensures specific delivery of peptibodyF2 into FGFR1-expressing cells. In order to use peptibodyF2 as a delivery vehicle for cytotoxic drugs, we have conjugated it with MMAE, a drug widely used in antibody–drug conjugates for targeted therapy. Resulting conjugate shows high and specific cytotoxicity towards FGFR1-positive cells, i.e., squamous cell lung carcinoma NCI-H520, while remaining non-toxic for FGFR1-negative cells. Such peptibody–drug conjugate can serve as a basis for development of therapy for tumors with overexpressed or malfunctioning FGFRs.
View Full-Text
►

▼

Show Figures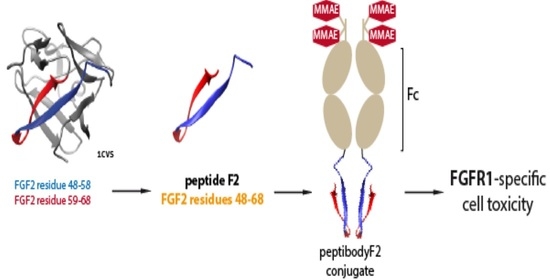 Graphical abstract
This is an open access article distributed under the
Creative Commons Attribution License
which permits unrestricted use, distribution, and reproduction in any medium, provided the original work is properly cited

MDPI and ACS Style
Jendryczko, K.; Chudzian, J.; Skinder, N.; Opaliński, Ł.; Rzeszótko, J.; Wiedlocha, A.; Otlewski, J.; Szlachcic, A. FGF2-Derived PeptibodyF2-MMAE Conjugate for Targeted Delivery of Cytotoxic Drugs into Cancer Cells Overexpressing FGFR1. Cancers 2020, 12, 2992.
Show more citation formats
Show less citations formats
Note that from the first issue of 2016, MDPI journals use article numbers instead of page numbers. See further details
here
.