Distinct Pattern of Endoplasmic Reticulum Protein Processing and Extracellular Matrix Proteins in Functioning and Silent Corticotroph Pituitary Adenomas
1
Section of Specialized Endocrinology, Department of Endocrinology, Oslo University Hospital (OUS), 0424 Oslo, Norway
2
Research Institute for Internal Medicine, Oslo University Hospital (OUS), 0372 Oslo, Norway
3
Institute of Clinical Medicine, Faculty of Medicine, University of Oslo, 0318 Oslo, Norway
4
Department of Medical Genetics, University of Oslo, Oslo University Hospital (OUS), 0450 Oslo, Norway
5
Department of Immunology, Oslo University Hospital (OUS), 0424 Oslo, Norway
*
Author to whom correspondence should be addressed.
†
These authors contributed equally to this work.
Received: 5 August 2020 / Revised: 30 September 2020 / Accepted: 5 October 2020 / Published: 14 October 2020
Simple Summary
Corticotroph pituitary adenomas present a spectrum of functionality regarding hormonal production, ranging from functioning to silent tumors. Moreover, they show different invasiveness and recurrent behavior profiles, the silent being considered an aggressive type of adenomas. Through analyses of global transcriptome and proteome, we show that both groups expressed genes and protein related to protein synthesis and vesicular transport, and present a distinct pattern of collagen/ extracellular matrix proteins. Endoplasmic reticulum protein processing is a key factor for hormone production in functioning corticotroph adenomas. Furthermore, a distinct cell adhesion profile in silent corticotroph adenomas may explain the aggressive behavior. Together, our findings shed light on the different repertoires of activated signaling pathways in corticotroph pituitary adenomas and may reveal new potential medical targets.
Functioning (FCA) and silent corticotroph (SCA) pituitary adenomas act differently from a clinical perspective, despite both subtypes showing positive TBX19 (TPIT) and/or adrenocorticotropic hormone (ACTH) staining by immunohistochemistry. They are challenging to treat, the former due to functional ACTH production and consequently hypercortisolemia, and the latter due to invasive and recurrent behavior. Moreover, the molecular mechanisms behind their distinct behavior are not clear. We investigated global transcriptome and proteome changes in order to identify signaling pathways that can explain FCA and SCA differences (e.g., hormone production vs. aggressive growth). In the transcriptomic study, cluster analyses of differentially expressed genes revealed two distinct groups in accordance with clinical and histological classification. However, in the proteomic study, a greater degree of heterogeneity within the SCA group was found. Genes and proteins related to protein synthesis and vesicular transport were expressed by both adenoma groups, although different types and a distinct pattern of collagen/extracellular matrix proteins were presented by each group. Moreover, several genes related to endoplasmic reticulum protein processing were overexpressed in the FCA group. Together, our findings shed light on the different repertoires of activated signaling pathways in corticotroph adenomas, namely, the increased protein processing capacity of FCA and a specific pattern of adhesion molecules that may play a role in the aggressiveness of SCA.
View Full-Text
►

▼

Show Figures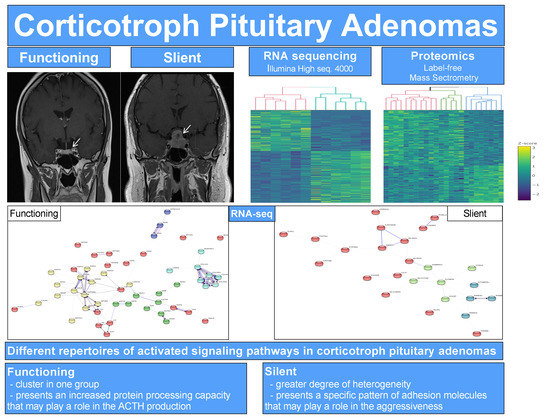 Graphical abstract
This is an open access article distributed under the
Creative Commons Attribution License
which permits unrestricted use, distribution, and reproduction in any medium, provided the original work is properly cited

MDPI and ACS Style
Eieland, A.K.; Normann, K.R.; Sundaram, A.Y.M.; Nyman, T.A.; Øystese, K.A.B.; Lekva, T.; Berg, J.P.; Bollerslev, J.; Olarescu, N.C. Distinct Pattern of Endoplasmic Reticulum Protein Processing and Extracellular Matrix Proteins in Functioning and Silent Corticotroph Pituitary Adenomas. Cancers 2020, 12, 2980.
Show more citation formats
Show less citations formats
Note that from the first issue of 2016, MDPI journals use article numbers instead of page numbers. See further details
here
.