Cancer-Associated Fibroblasts: Accomplices in the Tumor Immune Evasion
1
Department of Medical Oncology, Curie Institute, University of Versailles Saint-Quentin, 92210 Saint-Cloud, France
2
GERCOR, 151 rue du Faubourg Saint-Antoine, 75011 Paris, France
3
Programme Cartes d'Identité des Tumeurs (CIT), Ligue Nationale Contre Le Cancer, 75013 Paris, France
4
Cancer Research Center of Toulouse (CRCT), INSERM UMR 1037, University Toulouse III Paul Sabatier, ERL5294 CNRS, 31000 Toulouse, France
5
Institut Curie, Cell Migration and Invasion, UMR144, PSL Research University, 26, rue d'Ulm, F-75005 Paris, France
*
Author to whom correspondence should be addressed.
Received: 10 September 2020 / Revised: 4 October 2020 / Accepted: 12 October 2020 / Published: 14 October 2020
Simple Summary
A growing number of studies suggest that cancer-associated fibroblasts (CAFs) modulate both myeloid and lymphoid cells through secretion of molecules (i.e., chemical function) and production of the extracellular matrix (ECM), i.e., physical function. Even though targeting functions CAFs is a relevant strategy, published clinical trials solely aimed at targeting the stroma showed disappointing results, despite being based on solid preclinical evidence. Our review dissects the interactions between CAFs and immune cells and explains how a deeper understanding of CAF subpopulations is the cornerstone to propose relevant therapies that will ultimately improve survival of patients with cancer.
Cancer-associated fibroblasts (CAFs) are prominent cells within the tumor microenvironment, by communicating with other cells within the tumor and by secreting the extracellular matrix components. The discovery of the immunogenic role of CAFs has made their study particularly attractive due to the potential applications in the field of cancer immunotherapy. Indeed, CAFs are highly involved in tumor immune evasion by physically impeding the immune system and interacting with both myeloid and lymphoid cells. However, CAFs do not represent a single cell entity but are divided into several subtypes with different functions that may be antagonistic. Considering that CAFs are orchestrators of the tumor microenvironment and modulate immune cells, targeting their functions may be a promising strategy. In this review, we provide an overview of (i) the mechanisms involved in immune regulation by CAFs and (ii) the therapeutic applications of CAFs modulation to improve the antitumor immune response and the efficacy of immunotherapy.
View Full-Text
►

▼

Show Figures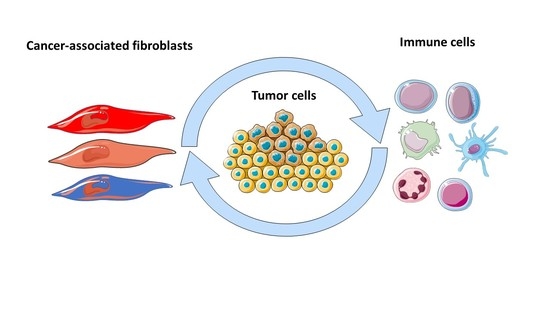 Graphical abstract
This is an open access article distributed under the
Creative Commons Attribution License
which permits unrestricted use, distribution, and reproduction in any medium, provided the original work is properly cited

Note that from the first issue of 2016, MDPI journals use article numbers instead of page numbers. See further details
here
.