Nrf2 in Neoplastic and Non-Neoplastic Liver Diseases
1
Department of Oncology, University of Torino, 10060 Candiolo, Italy
2
Candiolo Cancer Institute-FPO, IRCCS, 10060 Candiolo, Italy
3
Unit of Oncology and Molecular Pathology, Department of Biomedical Sciences, University of Cagliari, 09042 Monserrato, Italy
*
Authors to whom correspondence should be addressed.
Received: 9 September 2020 / Revised: 29 September 2020 / Accepted: 8 October 2020 / Published: 12 October 2020
Simple Summary
Although the Keap1-Nrf2 pathway represents a powerful cell defense mechanism against a variety of toxic insults, its role in acute or chronic liver damage and tumor development is not completely understood. This review addresses how Nrf2 is involved in liver pathophysiology and critically discusses the contrasting results emerging from the literature. The aim of the present report is to stimulate further investigation on the role of Nrf2 that could lead to define the best strategies to therapeutically target this pathway.
Activation of the Keap1/Nrf2 pathway, the most important cell defense signal, triggered to neutralize the harmful effects of electrophilic and oxidative stress, plays a crucial role in cell survival. Therefore, its ability to attenuate acute and chronic liver damage, where oxidative stress represents the key player, is not surprising. On the other hand, while Nrf2 promotes proliferation in cancer cells, its role in non-neoplastic hepatocytes is a matter of debate. Another topic of uncertainty concerns the nature of the mechanisms of Nrf2 activation in hepatocarcinogenesis. Indeed, it remains unclear what is the main mechanism behind the sustained activation of the Keap1/Nrf2 pathway in hepatocarcinogenesis. This raises doubts about the best strategies to therapeutically target this pathway. In this review, we will analyze and discuss our present knowledge concerning the role of Nrf2 in hepatic physiology and pathology, including hepatocellular carcinoma. In particular, we will critically examine and discuss some findings originating from animal models that raise questions that still need to be adequately answered.
View Full-Text
►

▼

Show Figures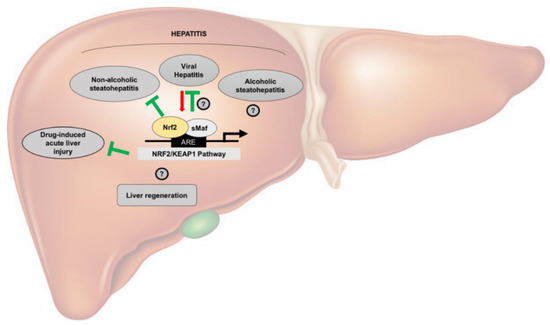 Figure 1
This is an open access article distributed under the
Creative Commons Attribution License
which permits unrestricted use, distribution, and reproduction in any medium, provided the original work is properly cited

Note that from the first issue of 2016, MDPI journals use article numbers instead of page numbers. See further details
here
.