Radio-Resistance and DNA Repair in Pediatric Diffuse Midline Gliomas
1
Brain Tumor Biology, Danish Cancer Society Research Center, Strandboulevarden 49, DK-2100 Copenhagen, Denmark
2
Department of Paediatrics and Adolescent Medicine, Rigshospitalet, Copenhagen University Hospital, Juliane Maries Vej 8, DK-2100 Copenhagen, Denmark
3
Department of Clinical Medicine, Faculty of Health and Medical Sciences, University of Copenhagen, Blegdamsvej 3B, DK-2200 Copenhagen, Denmark
4
Department of Drug Design and Pharmacology, Faculty of Health and Medical Sciences, University of Copenhagen, Jagtvej 160, DK-2100 Copenhagen, Denmark
*
Author to whom correspondence should be addressed.
Received: 14 August 2020 / Revised: 27 September 2020 / Accepted: 28 September 2020 / Published: 30 September 2020
Simple Summary
Approximately 50% of high-grade gliomas (HGG) in children are diffuse midline gliomas (DMGs), which carry the worst prognosis of all HGG, with a 2-year survival of less than 10%. DMGs are characterized by H3K27M mutation, rampant genomic instability, infiltrative growth, and radio-resistance. Recent large-scale profiling studies have identified some of the key molecular drivers underpinning DMG biology and therapeutic resistance. Here, we provide a comprehensive overview of studies that focus on DMG in the context of radio-resistance. We speculate that the aberrant activation of DNA damage response pathway (DDR) represents a druggable vulnerability, which could be leveraged to radio-sensitize DMGs.
Malignant gliomas (MG) are among the most prevalent and lethal primary intrinsic brain tumors. Although radiotherapy (RT) is the most effective nonsurgical therapy, recurrence is universal. Dysregulated DNA damage response pathway (DDR) signaling, rampant genomic instability, and radio-resistance are among the hallmarks of MGs, with current therapies only offering palliation. A subgroup of pediatric high-grade gliomas (pHGG) is characterized by H3K27M mutation, which drives global loss of di- and trimethylation of histone H3K27. Here, we review the most recent literature and discuss the key studies dissecting the molecular biology of H3K27M-mutated gliomas in children. We speculate that the aberrant activation and/or deactivation of some of the key components of DDR may be synthetically lethal to H3K27M mutation and thus can open novel avenues for effective therapeutic interventions for patients suffering from this deadly disease.
View Full-Text
►

▼

Show Figures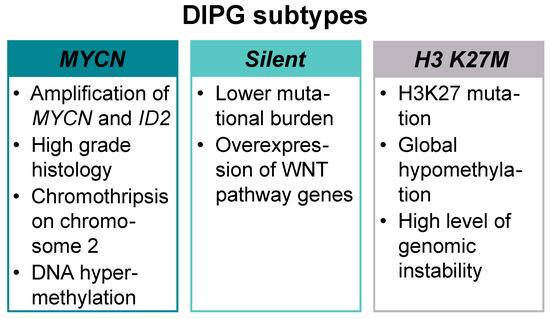 Figure 1
This is an open access article distributed under the
Creative Commons Attribution License
which permits unrestricted use, distribution, and reproduction in any medium, provided the original work is properly cited

Note that from the first issue of 2016, MDPI journals use article numbers instead of page numbers. See further details
here
.