HSPA2 Chaperone Contributes to the Maintenance of Epithelial Phenotype of Human Bronchial Epithelial Cells but Has Non-Essential Role in Supporting Malignant Features of Non-Small Cell Lung Carcinoma, MCF7, and HeLa Cancer Cells
1
Center for Translational Research and Molecular Biology of Cancer, Maria Sklodowska-Curie National Research Institute of Oncology, Gliwice Branch, 44-102 Gliwice, Poland
2
International Institute of Molecular and Cell Biology, 02-109 Warsaw, Poland
3
Department of Bone Marrow Transplantation and Oncohematology, Maria Sklodowska-Curie National Research Institute of Oncology, Gliwice Branch, 44-102 Gliwice, Poland
*
Author to whom correspondence should be addressed.
Received: 29 July 2020 / Revised: 8 September 2020 / Accepted: 19 September 2020 / Published: 24 September 2020
Simple Summary
Heat shock proteins A (HSPA) are molecular chaperones that play a central role in the cellular protein quality control. One of them is HSPA2 which recently was indicated as a novel cancer-related protein due to its elevated expression in various tumors and reported prognostic significance. Several previous in vitro studies have shown significant role of HSPA2 in supporting cancer cells growth and invasiveness. Our data presented in this article contradict the current belief of the essential role of HSPA2 chaperone and show that HSPA2 is not crucial for maintenance of the malignant phenotype of lung, breast, and cervical cancer cells. Instead, we revealed HSPA2's role in supporting clonogenic potential and adhesive ability of bronchial epithelial cells. Therefore, further research should concentrate on elucidating HSPA2 roles in epithelial cells.
Heat Shock Protein A2 (HSPA2) is a member of the HSPA (HSP70) chaperone family and has a critical role for male fertility. HSPA2 is present in a number of somatic organs. Limited evidence suggests that HSPA2 may be involved in regulating epithelial cell differentiation. HSPA2 also emerged as a cancer-related chaperone; however, no consensus on its functional significance has been reached so far. In this study, we compared the phenotypic effects of HSPA2 deficit in non-transformed human bronchial epithelial cells (HBEC), and in lung, breast, and cervical cancer cells. We used various techniques to inhibit the
HSPA2
gene expression in order to examine the impact of HSPA2 deficiency on cell growth, migration, adhesion, and invasion. Our results show that HBEC but not cancer cells are sensitive to HSPA2 deficit. HSPA2 knockdown in HBEC cells impaired their clone-forming ability and adhesiveness. Thus, our results indicate that epithelial cells can rely on a specific activity of HSPA2, but such dependence can be lost in epithelial cells that have undergone malignant transformation.
View Full-Text
►

▼

Show Figures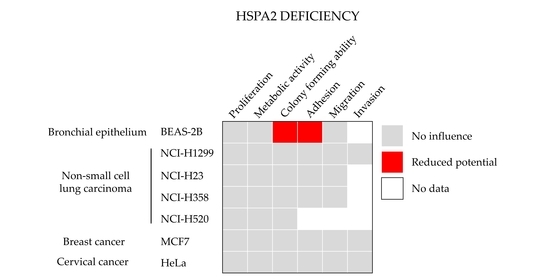 Graphical abstract
This is an open access article distributed under the
Creative Commons Attribution License
which permits unrestricted use, distribution, and reproduction in any medium, provided the original work is properly cited

MDPI and ACS Style
Sojka, D.R.; Gogler-Pigłowska, A.; Klarzyńska, K.; Klimczak, M.; Zylicz, A.; Głowala-Kosińska, M.; Krawczyk, Z.; Scieglinska, D. HSPA2 Chaperone Contributes to the Maintenance of Epithelial Phenotype of Human Bronchial Epithelial Cells but Has Non-Essential Role in Supporting Malignant Features of Non-Small Cell Lung Carcinoma, MCF7, and HeLa Cancer Cells. Cancers 2020, 12, 2749.
Show more citation formats
Show less citations formats
Note that from the first issue of 2016, MDPI journals use article numbers instead of page numbers. See further details
here
.