Open Access This article is
freely available
re-usable
Review
Role of the Microenvironment in Regulating Normal and Cancer Stem Cell Activity: Implications for Breast Cancer Progression and Therapy Response
1
Department of Immunology, Max Rady Faculty of Health Sciences, University of Manitoba, Winnipeg, MB R3E 0T5, Canada
2
Research Institute in Oncology and Hematology, CancerCare Manitoba, Winnipeg, MB R3E 0V9, Canada
3
London Regional Cancer Program, London Health Science Centre, London, ON N6A 5W9, Canada
4
Department of Anatomy & Cell Biology and Oncology, Western University, London, ON N6A 3K7, Canada
*
Author to whom correspondence should be addressed.
Received: 26 July 2019 / Accepted: 19 August 2019 / Published: 24 August 2019
Abstract
:
The epithelial cells in an adult woman's breast tissue are continuously replaced throughout their reproductive life during pregnancy and estrus cycles. Such extensive epithelial cell turnover is governed by the primitive mammary stem cells (MaSCs) that proliferate and differentiate into bipotential and lineage-restricted progenitors that ultimately generate the mature breast epithelial cells. These cellular processes are orchestrated by tightly-regulated paracrine signals and crosstalk between breast epithelial cells and their tissue microenvironment. However, current evidence suggests that alterations to the communication between MaSCs, epithelial progenitors and their microenvironment plays an important role in breast carcinogenesis. In this article, we review the current knowledge regarding the role of the breast tissue microenvironment in regulating the special functions of normal and cancer stem cells. Understanding the crosstalk between MaSCs and their microenvironment will provide new insights into how an altered breast tissue microenvironment could contribute to breast cancer development, progression and therapy response and the implications of this for the development of novel therapeutic strategies to target cancer stem cells.
Keywords:
microenvironment; mammary stem cells; breast cancer stem cells; hypoxia; immune cells; cytokines
Author Contributions
Conceptualization, A.R. and A.L.A.; Literature review, V.B.; Writing-Original draft preparation, V.B.; Writing-Review and Editing, V.B., A.R. and A.L.A.
Funding
Research in the lab of A.R. on normal breast development is funded by National Sciences and Engineering Research Council of Canada. Research in the lab of A.L.A. on breast cancer stem cells and the tumor microenvironment is funded by grants from the Canadian Cancer Research Society Research Institute and the U.S. Army Department of Defense Breast Cancer Program (Grant # BC160912). A.L.A. is supported by the Breast Cancer Society of Canada.
Acknowledgments
We thank members of our laboratories for their helpful discussions and support. Although we sought to summarize a broad body of work on normal and cancer stem cells, due to space limitations we sincerely apologize to those authors whose work is not discussed/cited.
Conflicts of Interest
The authors declare no conflict of interest.
Figure 1. Schematic representation of the breast tissue microenvironment showing bilayered arrangement of ducts and alveolar structures consisting of luminal and myoepithelial cells. These structures are embedded in fibrous stroma consisting of fibroblasts, adipocytes, and immune cells. The luminal cells in the ducts are surrounded by a continuous lining of myoepithelial cells, while the myoepithelial cells lining the luminal cells in alveoli are discontinuous, which allows luminal cells to interact with surrounding stroma.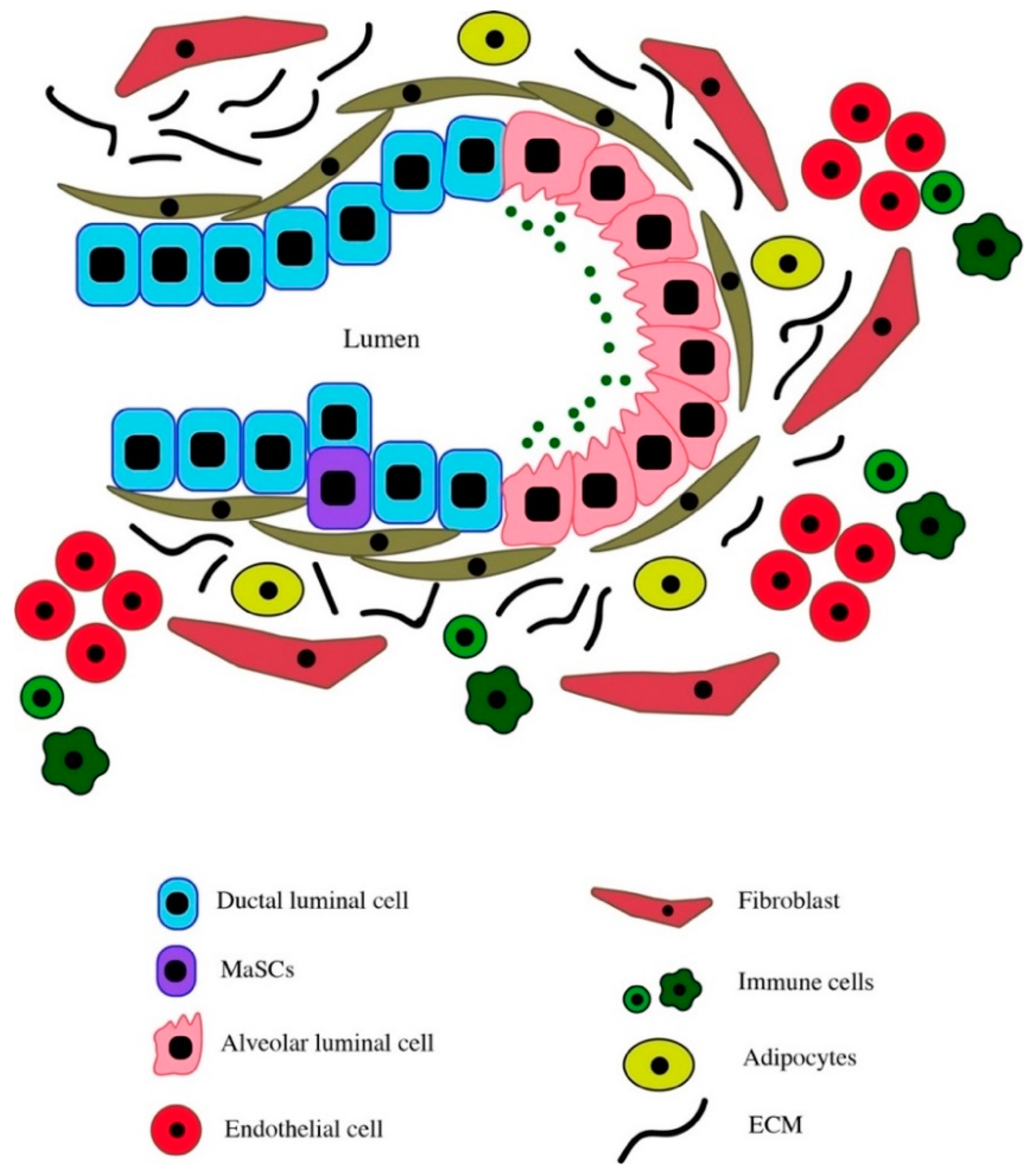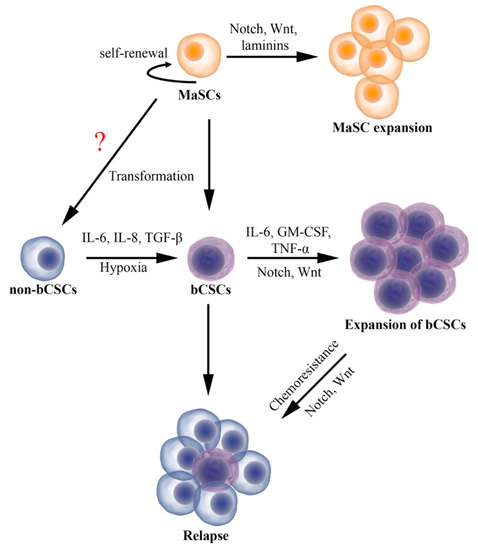 Figure 2. Schematic representation of mammary stem cell (MaSC) expansion, breast cancer stem cell (bCSC) plasticity, development of chemoresistance and relapse. Different cytokines released by immune cells, fibroblasts, adipocytes along with tumor cells in the tumor microenvironment regulate both MaSC and bCSC activity. It is possible that MaSCs could acquire sufficient genetic changes that allow them to transform directly into malignant cancer cells devoid of stem cell properties (non-bCSCs). However, this hypothesis requires further experimental evidence.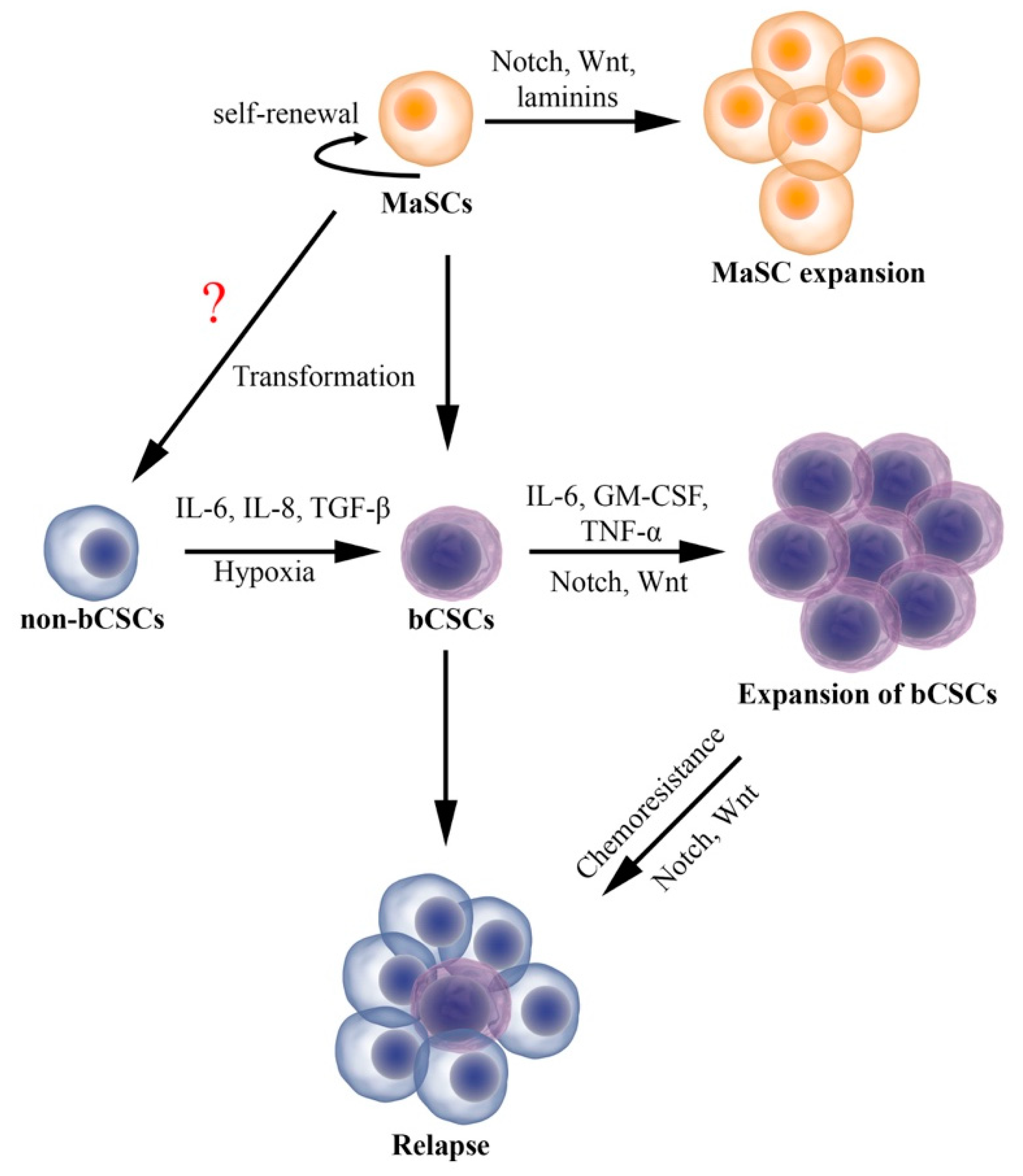 Table 1. Summary of the role of cytokines, immune cells, and stromal cells in regulating breast cancer stem cell (bCSC) activity in the tumor microenvironment.
Stimulant
Action
References
Interleukin-6
• Dedifferentiation of CD44low MCF10A to CD44high cells
[125]
• Activation of JAK1/STAT3 signaling pathway in TNBC cell lines
[126]
• Activation of JAG1-NOTCH3 signaling pathway in ER+ breast cancer cell lines
[127]
Interleukin-8
• Enhances bCSC activity and induction of chemoresistance in TNBC cells
[128]
• Regulation of bCSCs in HER2+ breast cancers via activation of IL-8-CXCR1 signaling axis
[129]
TGFβ
• Increases the number of CD44high CD24low cell population
[130]
TNFα
• Enriches the CD44+CD29+ bCSC population in Luminal-A breast cancer cells
[83]
Oncostatin-M
• Upregulation of SNAIL and CD44 expression in TNBC cell lines
[86]
• Enhances tumor forming ability of TNBC cells
[86]
CD8+ T cells
• Promotes bCSCs expansion and EMT
[131]
TAMs
• Promotes secretion of cytokine such as IL-6, IL-8 and GM-CSF and maintenance of bCSCs
[132]
Stromal Cells

⚬

Pre-adipocytes

⚬

Adipocytes

⚬

MSCs

⚬

CAFs

• Enhances bCSC self-renewal via exosome secretion
[133]
• Secretes adipsin and enhances bCSC activity through activation of C3a-C3aR signaling
• Increases mammosphere-forming ability of breast cancer cell via activation of P2 purinergic pathway
[134]
• Secretes IL-6 and CXCL7 and enhances bCSC self-renewal and proliferation in mouse xenograft model
[135]
• Secretes prostaglandin and enhances bCSC expansion
[136]
• Promotes bCSC self-renewal via CCL2 secretion
[137,138]
• Secretes IL-6 and IL-8 thereby protects bCSCs from chemotherapeutic agents
[139]

© 2019 by the authors. Licensee MDPI, Basel, Switzerland. This article is an open access article distributed under the terms and conditions of the Creative Commons Attribution (CC BY) license (http://creativecommons.org/licenses/by/4.0/).