Predicting Visual Acuity Deterioration and Radiation-Induced Toxicities after Brachytherapy for Choroidal Melanomas
1
Department of Oncology, Section of Radiotherapy, Copenhagen University Hospital, Rigshospitalet, 2100 Copenhagen, Denmark
2
Department of Ophthalmology, Copenhagen University Hospital, Rigshospitalet, 2100 Copenhagen, Denmark
3
Leeds Institute of Medical Research at St James's, University of Leeds, Leeds LS9 7TF, UK
4
Department of Physical Sciences, The Peter MacCallum Cancer Centre, Melbourne 3000, Australia
5
Department of Radiation Oncology, Centre Francois Baclesse, 14000 Caen, France
6
Laboratoire de Physique Corpusculaire IN2P3/ENSICAEN, 14000 Caen, France
7
Laboratoire de Physique Corpusculaire IN2P3/ENSICAEN-UMR6534, Unicaen–Normandy University, 14000 Caen, France
*
Author to whom correspondence should be addressed.
Received: 28 June 2019 / Revised: 23 July 2019 / Accepted: 29 July 2019 / Published: 6 August 2019
Abstract
Ruthenium-106 (Ru-106) brachytherapy is an established modality for eye-preserving treatment of choroidal melanoma. To achieve optimal treatment outcomes, there should be a balance between tumour control and the risk of healthy tissue toxicity. In this retrospective study, we examined normal tissue complication probability (NTCP) for visual acuity deterioration and late complications to aid the understanding of dose-dependence after Ru-106 treatments. We considered consecutive patients diagnosed with choroidal melanoma and primarily treated at a single institution from 2005–2014. Treatment plans were retrospectively recreated using dedicated software and image guidance to contour the tumour and determine the actual plaque position. Dose distributions were extracted from each plan for all relevant anatomical structures. We considered visual acuity deterioration and late complications (maculopathy, optic neuropathy, ocular hypertension, vascular obliteration, cataract and retinal detachment). Lasso statistics were used to select the most important variables for each analysis. Outcomes were related to dose and clinical characteristics using multivariate Cox regressions analysis. In total, 227 patients were considered and 226 of those were eligible for analysis. Median potential follow-up time was 5.0 years (95% CI: 4.5–6.0). Visual acuity deterioration was related to optic disc-tumour distance and dose metrics from the retina and the macula, with retina V10Gy showing the strongest correlation. Macula V10Gy was the only dose metric impacting risk of maculopathy, while optic disc-tumour distance also proved important. Optic disc V50Gy had the largest impact on optic neuropathy along with optic disc-tumour distance. Optic disc V20Gy was the only variable associated with vascular obliteration. Lens D2% had the largest impact on the risk of cataract along with older age and the largest base dimension. We found no variables associated with the risk of ocular hypertension and retinal detachment. Visual acuity deterioration and most late complications demonstrated dependence on dose delivered to healthy structures in the eye after Ru-106 brachytherapy for choroidal melanomas.
View Full-Text
►

▼

Figures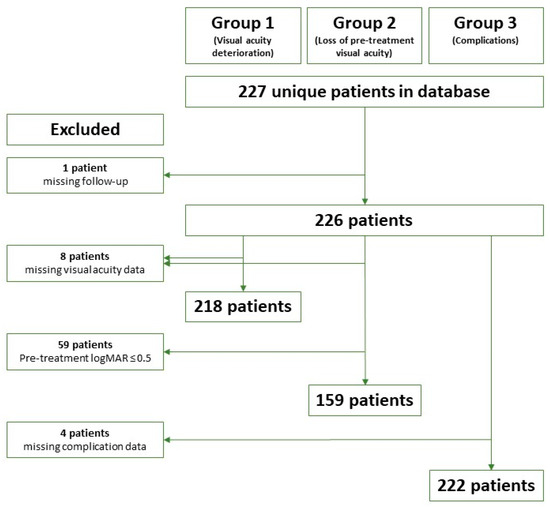 Figure 1
This is an open access article distributed under the
Creative Commons Attribution License
which permits unrestricted use, distribution, and reproduction in any medium, provided the original work is properly cited (CC BY 4.0).

Share & Cite This Article
MDPI and ACS Style
Espensen, C.A.; Appelt, A.L.; Fog, L.S.; Gothelf, A.B.; Thariat, J.; Kiilgaard, J.F. Predicting Visual Acuity Deterioration and Radiation-Induced Toxicities after Brachytherapy for Choroidal Melanomas. Cancers 2019, 11, 1124.
Note that from the first issue of 2016, MDPI journals use article numbers instead of page numbers. See further details here.
Related Articles
Comments
[Return to top]