NPM-ALK Is a Key Regulator of the Oncoprotein FOXM1 in ALK-Positive Anaplastic Large Cell Lymphoma
1
Department of Laboratory Medicine and Pathology, University of Alberta, Edmonton, AB T6G2R3, Canada
2
Electron Microscopy Center, Basic Medical Science College, Harbin Medical University, Harbin 150080, Heilongjiang, China
3
Eppley Institute and Fred & Pamela Buffett Cancer Center, University of Nebraska Medical Center, Omaha, NE 68198, USA
4
Department of Hematology, University of Alberta, Edmonton, AB T6G2R3, Canada
5
Division of Cellular and Molecular Pathology, Department of Pathology, University of Cambridge, Cambridge CB20QQ, UK
6
Department of Oncology, University of Alberta, Edmonton, AB T6G2R3, Canada
*
Author to whom correspondence should be addressed.
†
Member of the European Research Initiative for ALK related malignancies.
Received: 11 June 2019 / Revised: 23 July 2019 / Accepted: 29 July 2019 / Published: 6 August 2019
Abstract
Forkhead Box M1 (FOXM1) is an oncogenic transcription factor implicated in the pathogenesis of solid and hematologic cancers. In this study, we examined the significance of FOXM1 in NPM-ALK-positive anaplastic large cell lymphoma (NPM-ALK + ALCL), with a focus on how it interacts with NPM-ALK, which is a key oncogenic driver in these tumors. FOXM1 was expressed in NPM-ALK + ALCL cell lines (5/5), patient samples (21/21), and tumors arising in NPM-ALK transgenic mice (4/4). FOXM1 was localized in the nuclei and confirmed to be transcriptionally active. Inhibition of FOXM1 in two NPM-ALK + ALCL cells using shRNA and pharmalogic agent (thiostrepton) resulted in reductions in cell growth and soft-agar colony formation, which were associated with apoptosis and cell-cycle arrest. FOXM1 is functionally linked to NPM-ALK, as FOXM1 enhanced phosphorylation of the NPM-ALK/STAT3 axis. Conversely, DNA binding and transcriptional activity of FOXM1 was dependent on the expression of NPM-ALK. Further studies showed that this dependency hinges on the binding of FOXM1 to NPM1 that heterodimerizes with NPM-ALK, and the phosphorylation status of NPM-ALK. In conclusion, we identified FOXM1 as an important oncogenic protein in NPM-ALK+ ALCL. Our results exemplified that NPM-ALK exerts oncogenic effects in the nuclei and illustrated a novel role of NPM1 in NPM-ALK pathobiology.
View Full-Text
►

▼

Figures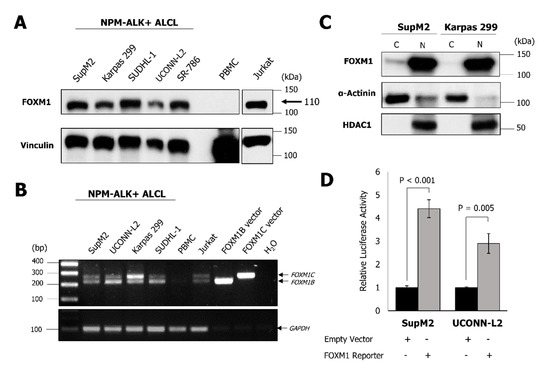 Figure 1
This is an open access article distributed under the
Creative Commons Attribution License
which permits unrestricted use, distribution, and reproduction in any medium, provided the original work is properly cited (CC BY 4.0).

Share & Cite This Article
MDPI and ACS Style
Haque, M.; Li, J.; Huang, Y.-H.; Almowaled, M.; Barger, C.J.; Karpf, A.R.; Wang, P.; Chen, W.; Turner, S.D.; Lai, R. NPM-ALK Is a Key Regulator of the Oncoprotein FOXM1 in ALK-Positive Anaplastic Large Cell Lymphoma. Cancers 2019, 11, 1119.
Note that from the first issue of 2016, MDPI journals use article numbers instead of page numbers. See further details here.
Related Articles
Comments
[Return to top]