The Efficacy of miR-20a as a Diagnostic and Prognostic Biomarker for Colorectal Cancer: A Systematic Review and Meta-Analysis
1
Division of Nutritional Sciences, University of Illinois at Urbana-Champaign, Urbana, IL 61801, USA
2
Department of Kinesiology and Community Health, University of Illinois at Urbana-Champaign, Urbana, IL 61801, USA
3
Department of Kinesiology and Community Health, Division of Nutritional Sciences, University of Illinois at Urbana-Champaign, Urbana, IL 61801, USA
4
Carle Physician Group, Carle Cancer Center, Carle Foundation Hospital, Urbana, IL 61802, USA
5
Department of Food Science and Human Nutrition, Division of Nutritional Sciences, and Illinois Informatics Institute, University of Illinois at Urbana-Champaign, Urbana, IL 61801, USA
*
Author to whom correspondence should be addressed.
Received: 12 July 2019 / Revised: 28 July 2019 / Accepted: 30 July 2019 / Published: 3 August 2019
Abstract
Background
: MicroRNAs have altered expression levels in various diseases and may play an important role in the diagnosis and prognosis of colorectal cancer (CRC).
Methods
: We systemically reviewed and quantitatively synthesized the scientific evidence pertaining to microRNA-20a (miR-20a) as a CRC biomarker. A keyword and reference search in PubMed yielded 32 studies, in which miR-20a was measured in feces, serum, or tumor tissue. Data were extracted from a total of 5014 cancer cases and 2863 controls.
Results
: Twenty out of 21 relevant studies found that miR-20a was upregulated in CRC patients compared to controls. Meta-analysis revealed a pooled miR-20a fold change of 2.45 (95% CI: 2.24–2.66) in CRC patients versus controls. To estimate sensitivity and specificity of miR-20a as a diagnostic biomarker of CRC, a pooled area under the receiver operating characteristic curve (AUROC) was calculated (0.70, 95% CI: 0.63–0.78). The prognostic capacity of miR-20a was assessed using hazard ratios (HRs) for the overall survival (OS). The meta-analysis estimated the pooled HR for OS to be 2.02 (95% CI: 0.90–3.14) in CRC patients with high miR-20a expression.
Conclusions
: miR-20a may be a valid biomarker for CRC detection but may not be a strong predictor of poor prognosis in CRC.
View Full-Text
►

▼

Figures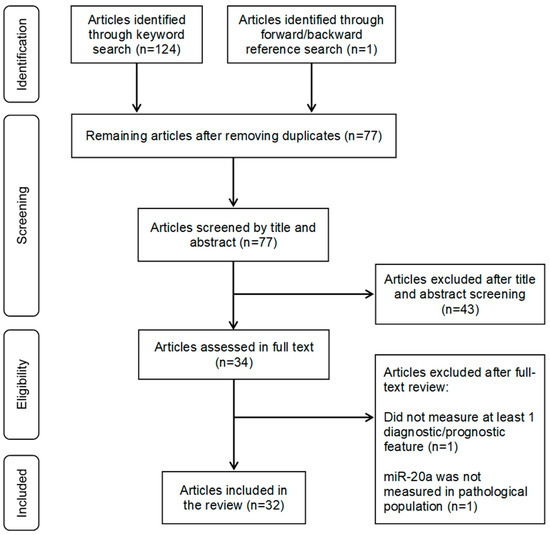 Figure 1
This is an open access article distributed under the
Creative Commons Attribution License
which permits unrestricted use, distribution, and reproduction in any medium, provided the original work is properly cited (CC BY 4.0).

Share & Cite This Article
MDPI and ACS Style
Moody, L.; Dvoretskiy, S.; An, R.; Mantha, S.; Pan, Y.-X. The Efficacy of miR-20a as a Diagnostic and Prognostic Biomarker for Colorectal Cancer: A Systematic Review and Meta-Analysis. Cancers 2019, 11, 1111.
Note that from the first issue of 2016, MDPI journals use article numbers instead of page numbers. See further details here.
Related Articles
Comments
[Return to top]