Open Access This article is
freely available
re-usable
Article
Synergistic Effects of Melittin and Plasma Treatment: A Promising Approach for Cancer Therapy
1
Research Group PLASMANT, Department of Chemistry, University of Antwerp, BE-2610 Wilrijk-Antwerp, Belgium
2
Laboratory of Protein Science, Proteomics & Epigenetic Signaling, Department of Biomedical Sciences, University of Antwerp, BE-2610 Wilrijk-Antwerp, Belgium
*
Authors to whom correspondence should be addressed.
Received: 18 June 2019 / Accepted: 1 August 2019 / Published: 3 August 2019
Abstract
:
Melittin (MEL), a small peptide component of bee venom, has been reported to exhibit anti-cancer effects in vitro and in vivo. However, its clinical applicability is disputed because of its non-specific cytotoxicity and haemolytic activity in high treatment doses. Plasma-treated phosphate buffered saline solution (PT-PBS), a solution rich in reactive oxygen and nitrogen species (RONS) can disrupt the cell membrane integrity and induce cancer cell death through oxidative stress-mediated pathways. Thus, PT-PBS could be used in combination with MEL to facilitate its access into cancer cells and to reduce the required therapeutic dose. The aim of our study is to determine the reduction of the effective dose of MEL required to eliminate cancer cells by its combination with PT-PBS. For this purpose, we have optimised the MEL threshold concentration and tested the combined treatment of MEL and PT-PBS on A375 melanoma and MCF7 breast cancer cells, using in vitro, in ovo and in silico approaches. We investigated the cytotoxic effect of MEL and PT-PBS alone and in combination to reveal their synergistic cytological effects. To support the in vitro and in ovo experiments, we showed by computer simulations that plasma-induced oxidation of the phospholipid bilayer leads to a decrease of the free energy barrier for translocation of MEL in comparison with the non-oxidized bilayer, which also suggests a synergistic effect of MEL with plasma induced oxidation. Overall, our findings suggest that MEL in combination with PT-PBS can be a promising combinational therapy to circumvent the non-specific toxicity of MEL, which may help for clinical applicability in the future.
Keywords:
melittin; reactive oxygen and nitrogen species; oxidation; molecular dynamics; permeation free energy; cold atmospheric plasma
Author Contributions
Conceptualization, N.K.; Funding acquisition, A.B.; Investigation, P.S.; Methodology, P.S., D.H. and A.P.-M.; Project administration, A.B.; Software, P.S.; Supervision, N.K., S.D. and A.B.; Writing—original draft, P.S.; Writing—review and editing, N.K, A.P.-M and A.B.
Funding
This research was funded by Research Foundation—Flanders, grant number 12J5617N.
Acknowledgments
We gratefully acknowledge financial support from the Research Foundation—Flanders (FWO), grant number 12J5617N. We are thankful to Maksudbek Yusupov for his valuable discussions, and to the Center for Oncological Research (CORE), for providing the facilities for the experimental work. The computational work was carried out using the Turing HPC infrastructure at the CalcUA core facility of the University Antwerp, a division of the Flemish Supercomputer Center VSC, funded by the Hercules Foundation, the Flemish Government (department EWI), and the University of Antwerp.
Conflicts of Interest
The authors declare no conflict of interest.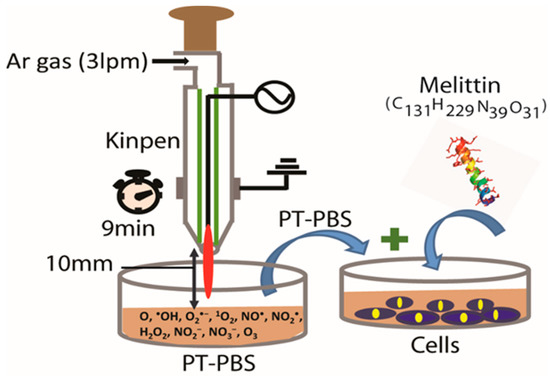 Figure 1. Schematic diagram of the kINPen® IND device. Argon is used as feeding gas with a flow rate of 3 lpm (liter per minute).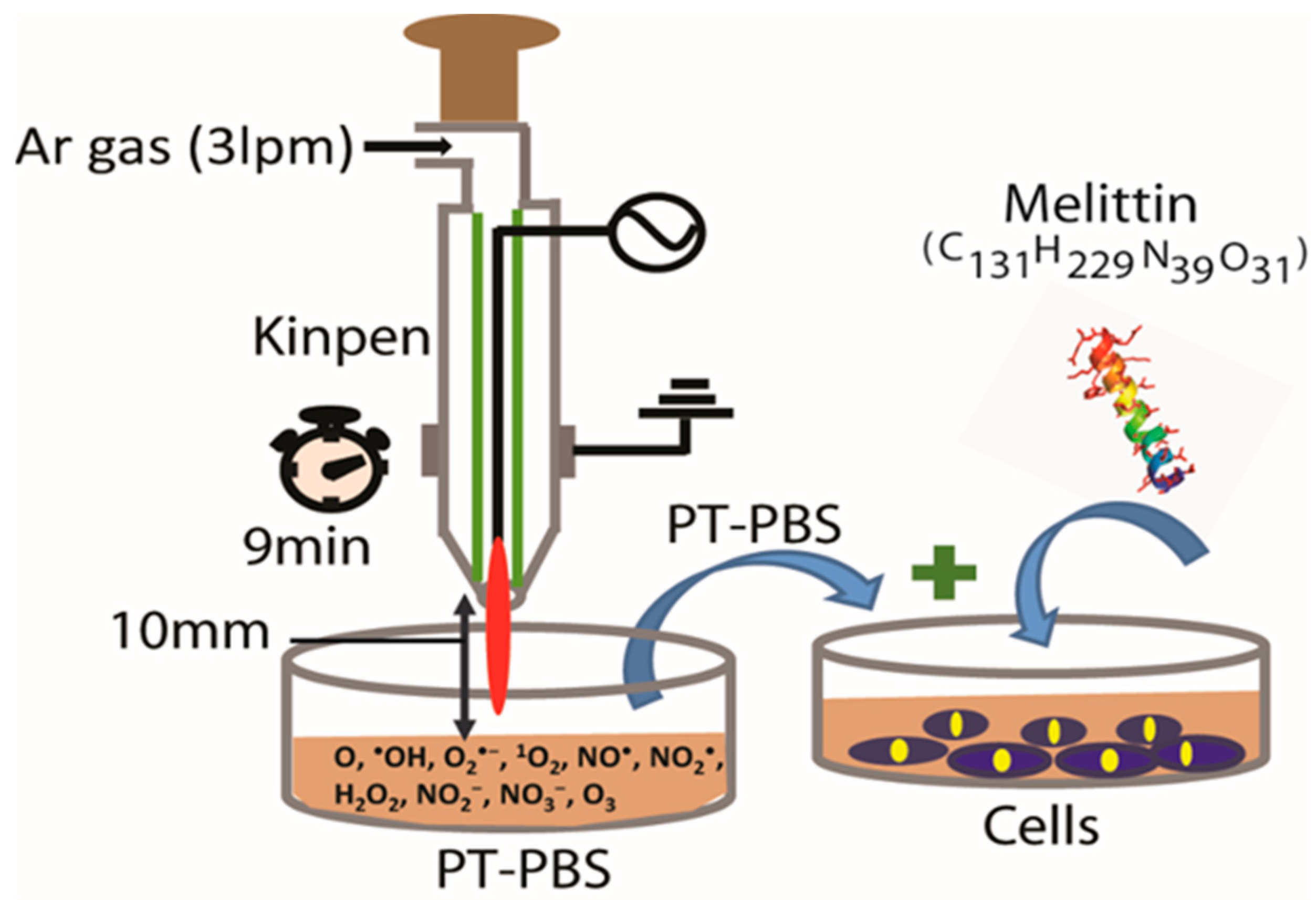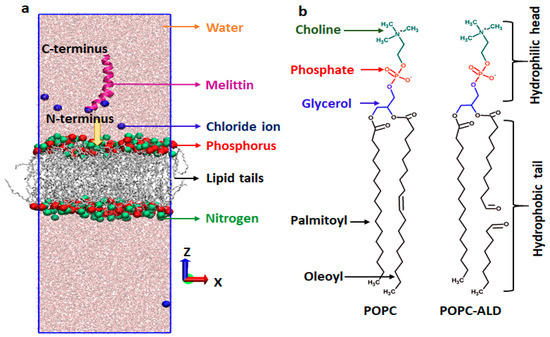 Figure 2. (a) Intact (or native) palmitoyl-oleoyl-phosphatidylcholine phospholipid bilayers (POPC PLB), together with melittin (MEL) in the water region. For the sake of clarity, the N and P atoms of POPC are shown with bigger beads and the lipid tails are in grey. The yellow arrow indicates the pulling direction of MEL. (b) Schematic illustration of native (POPC) and oxidized (into aldehyde; POPC-ALD) phospholipids. The head group consists of choline, phosphate and glycerol, whereas the lipid tails are two fatty acid chains.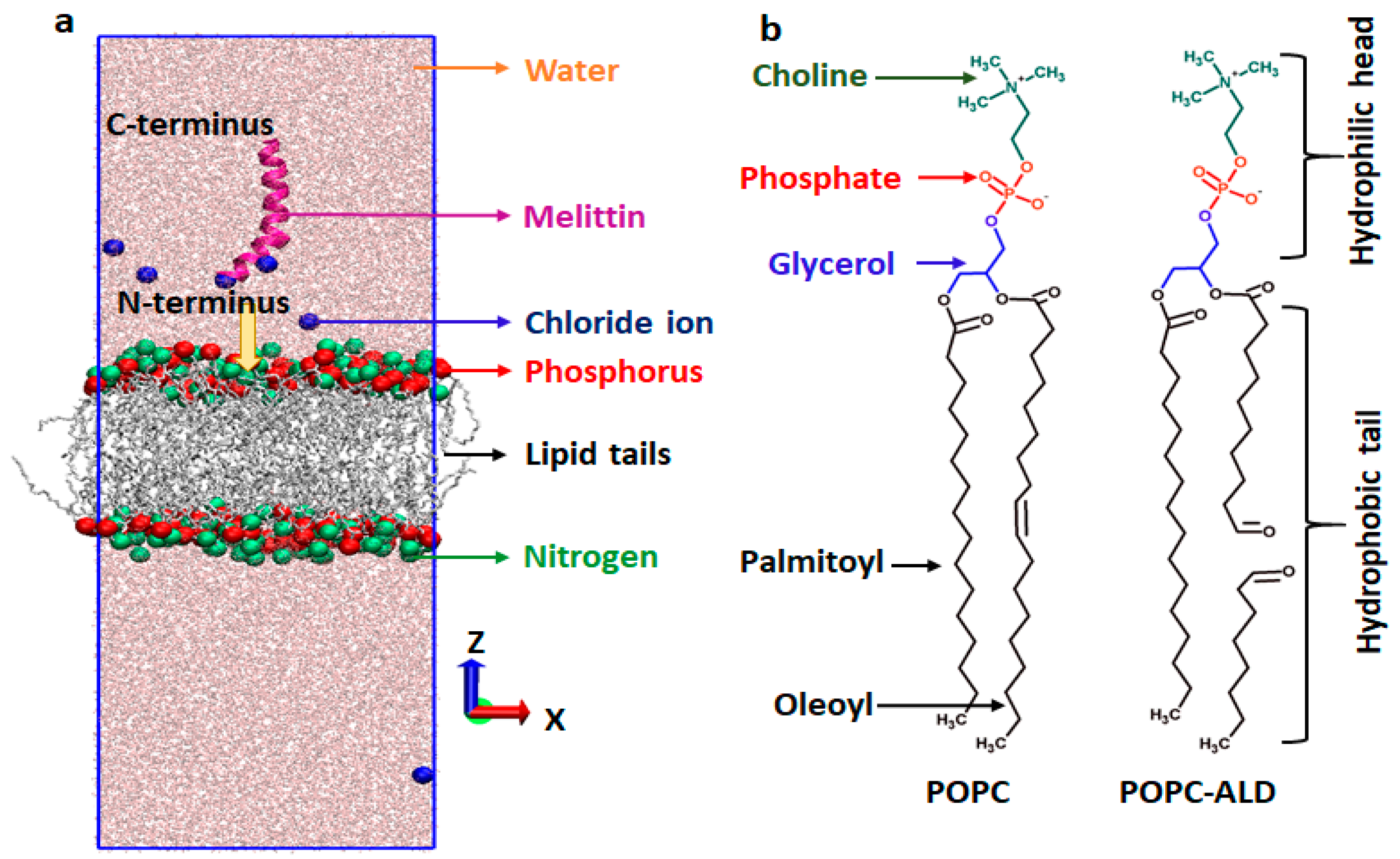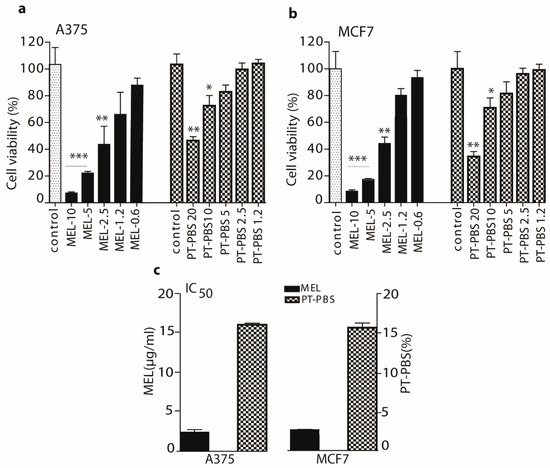 Figure 3.
Estimation of optimal doses of MEL and PT-PBS alone, for the cytotoxicity of A375 and MCF7 cells. We measured the cell viability of (
a
) A375 cells, and (
b
) MCF7 cells, at different doses of MEL and PT-PBS, after 24 h incubation. (
c
) Half maximal inhibitory concentration (IC
50
) values of MEL and PT-PBS. Data shown as mean ± SD; * =
p
≤ 0.05; ** =
p
≤ 0.01; *** =
p
≤ 0.001.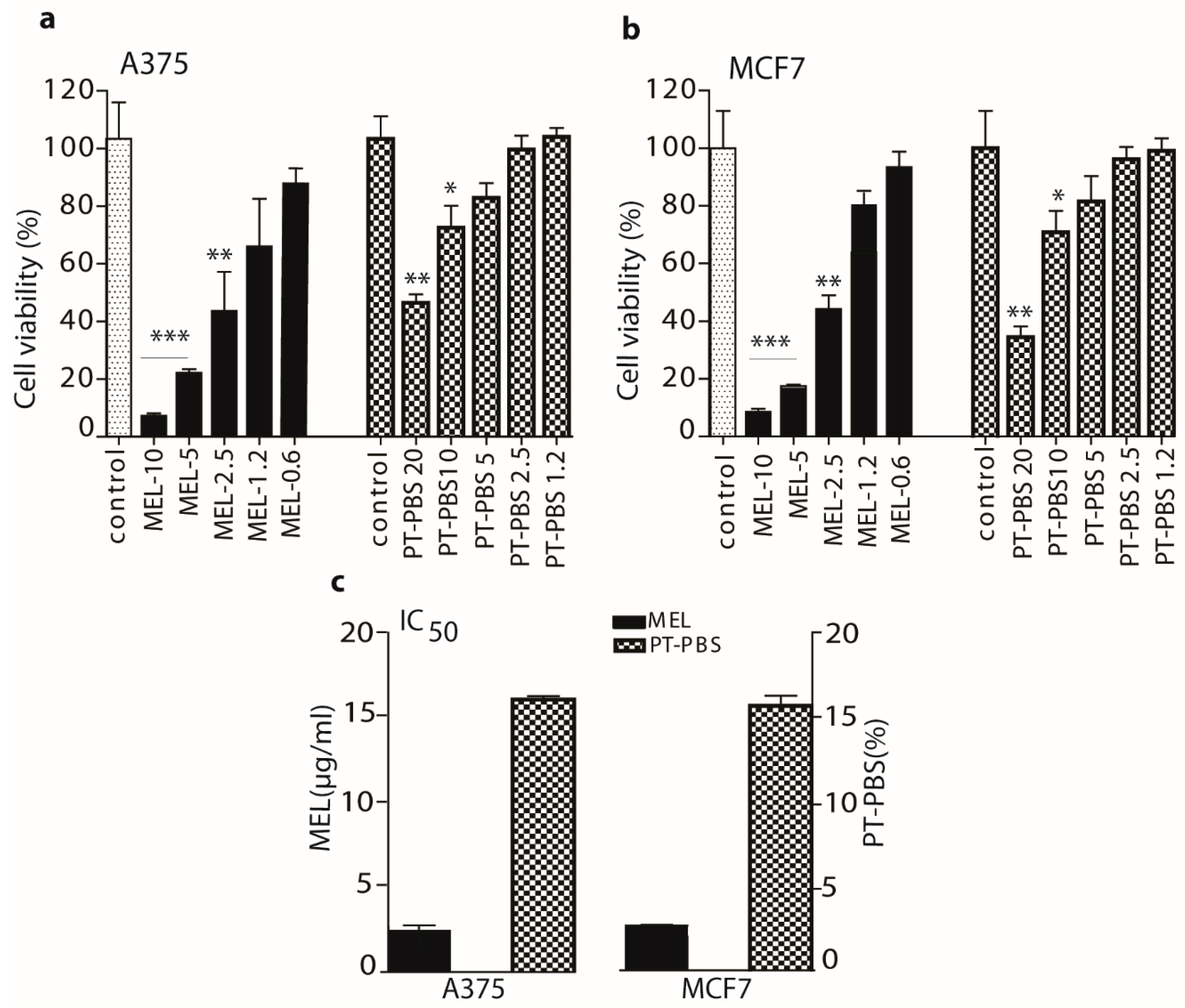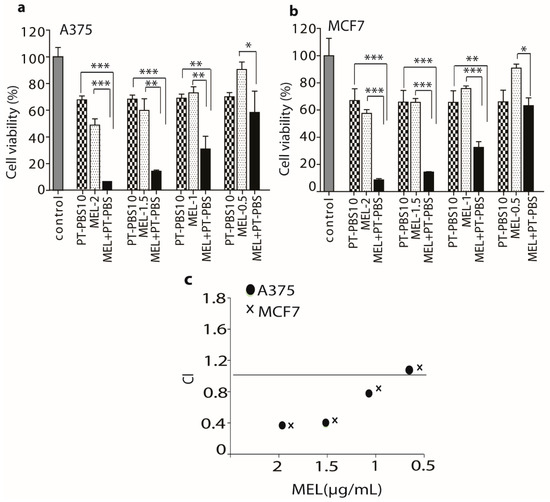 Figure 4.
Analysis of cell viability of (
a
) A375 and (
b
) MCF7 cells treated with a fixed dose of PT-PBS (10%), and varying doses of MEL (i.e., 2, 1.5, 1 and 0.5 µg/mL) alone and in combination, 24 h after treatment. (
c
) Combination index (CI) of PT-PBS (10%) with MEL (at 2, 1.5, 1 and 0.5 µg/mL), in A375 and MCF7 cells (see text). All values are expressed as mean ± SD; * =
p
≤ 0.05; ** =
p
≤ 0.01; *** =
p
≤ 0.001.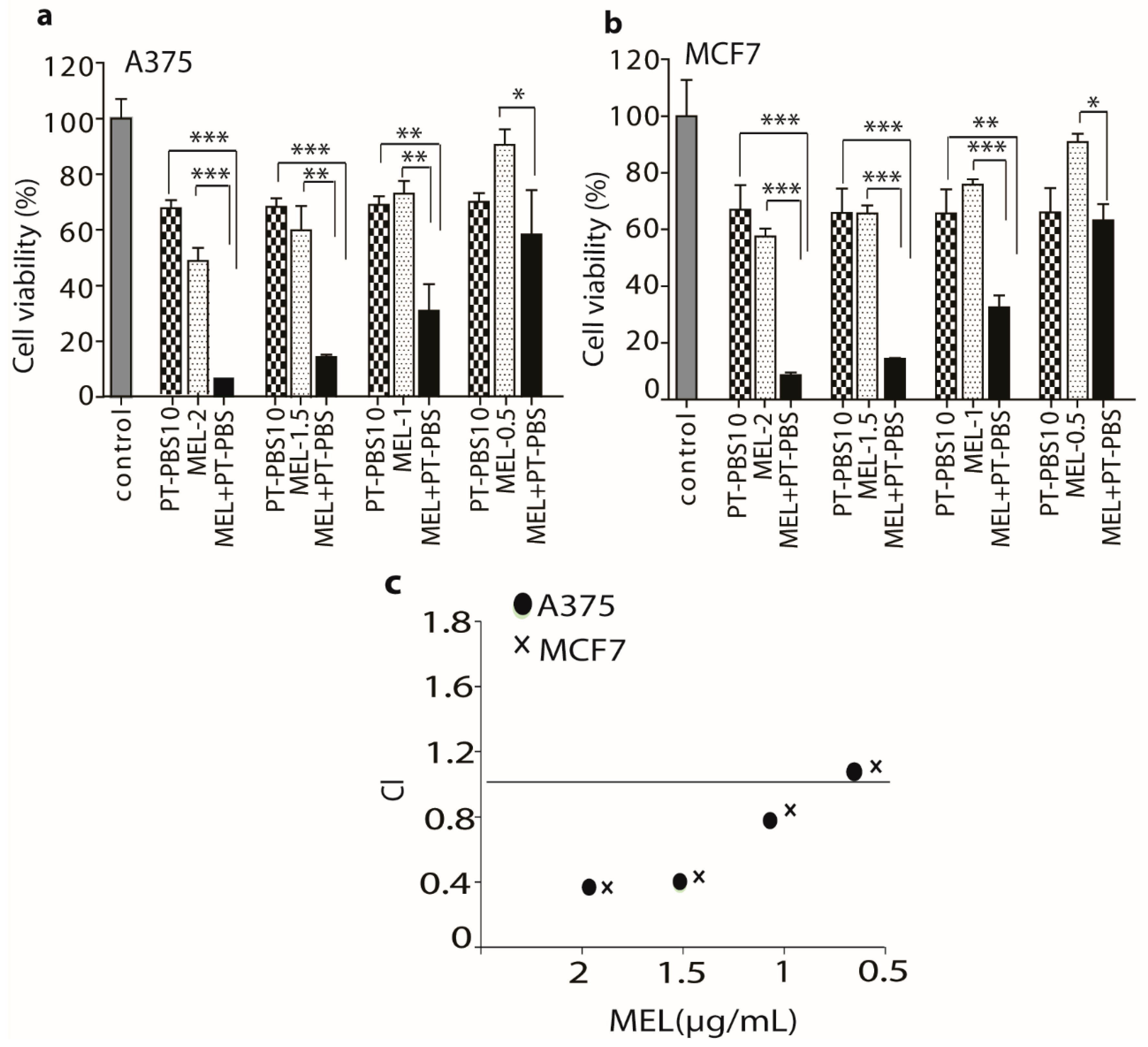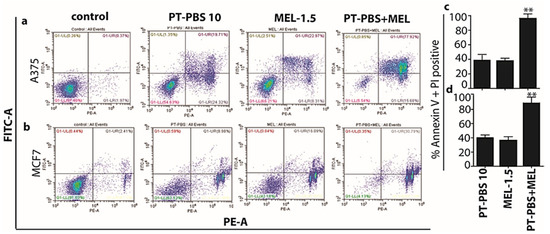 Figure 5.
Flow cytometry analysis of the (
a
) A375 and (
b
) MCF7 untreated control cells, or treated with PT-PBS 10, MEL-1.5, and combined treatment (PT-PBS 10 and MEL-1.5). Percentage of cell death in (
c
) A375 and (
d
) MCF7 upon treatment with PT-PBS 10, MEL-1.5 and in combination. All values are expressed as mean ± SD; ** =
p
≤ 0.01.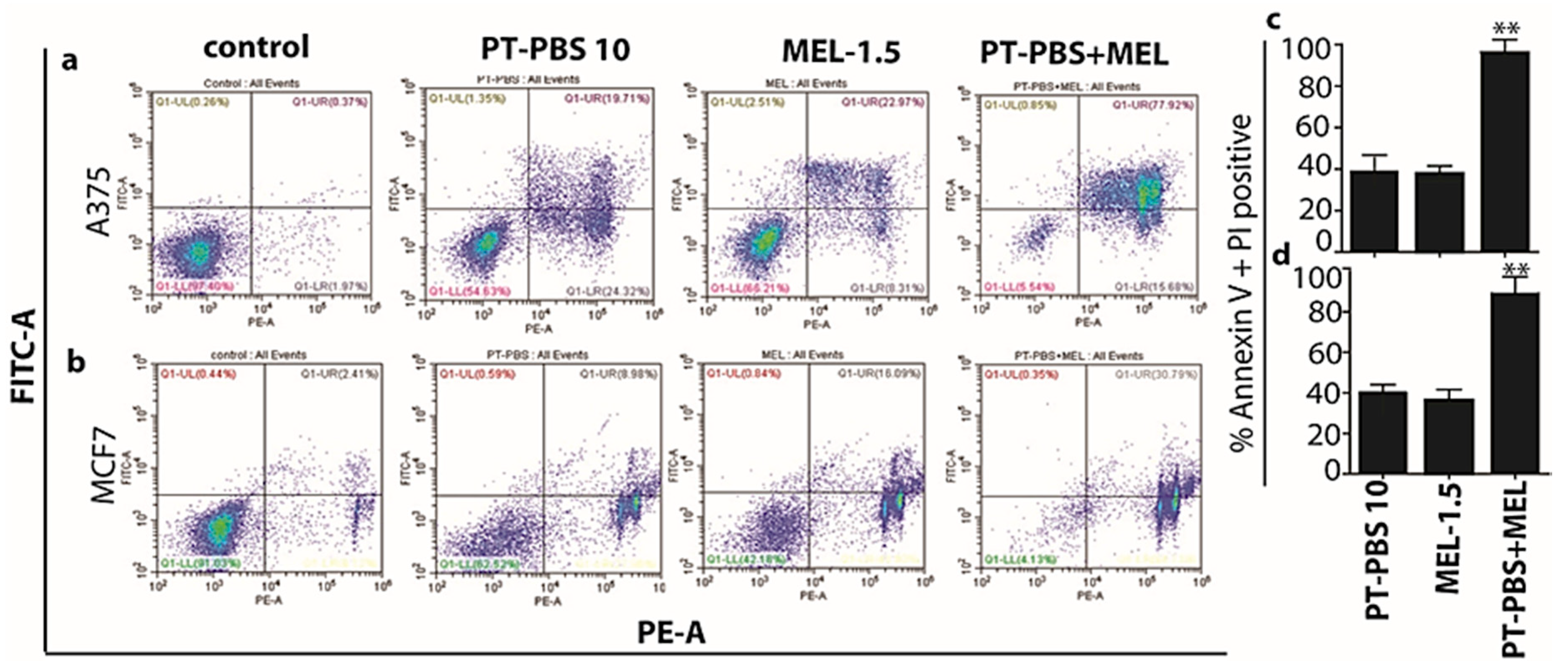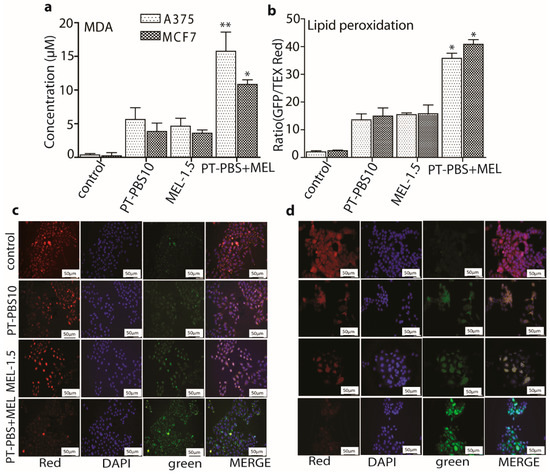 Figure 6.
Change in membrane integrity upon PT-PBS 10, MEL-1.5 and combined treatment in both cancer cell lines, by (
a
) measurement of the concentration of the peroxidation product malondialdehyde (MDA), and (
b
) flow cytometry analysis with a fluorescent probe. All values are expressed as ± SD; * =
p
≤ 0.05; ** =
p
≤ 0.01. Fluorescence images of (
c
) A375 and (
d
) MCF7 cells, stained with lipid/lipid peroxide detection reagents. Red fluorescence represents non-oxidized membrane lipids, DAPI (blue) represents the nuclear counterstain and green represents the oxidized membrane lipids. Scale bars = 50 µm.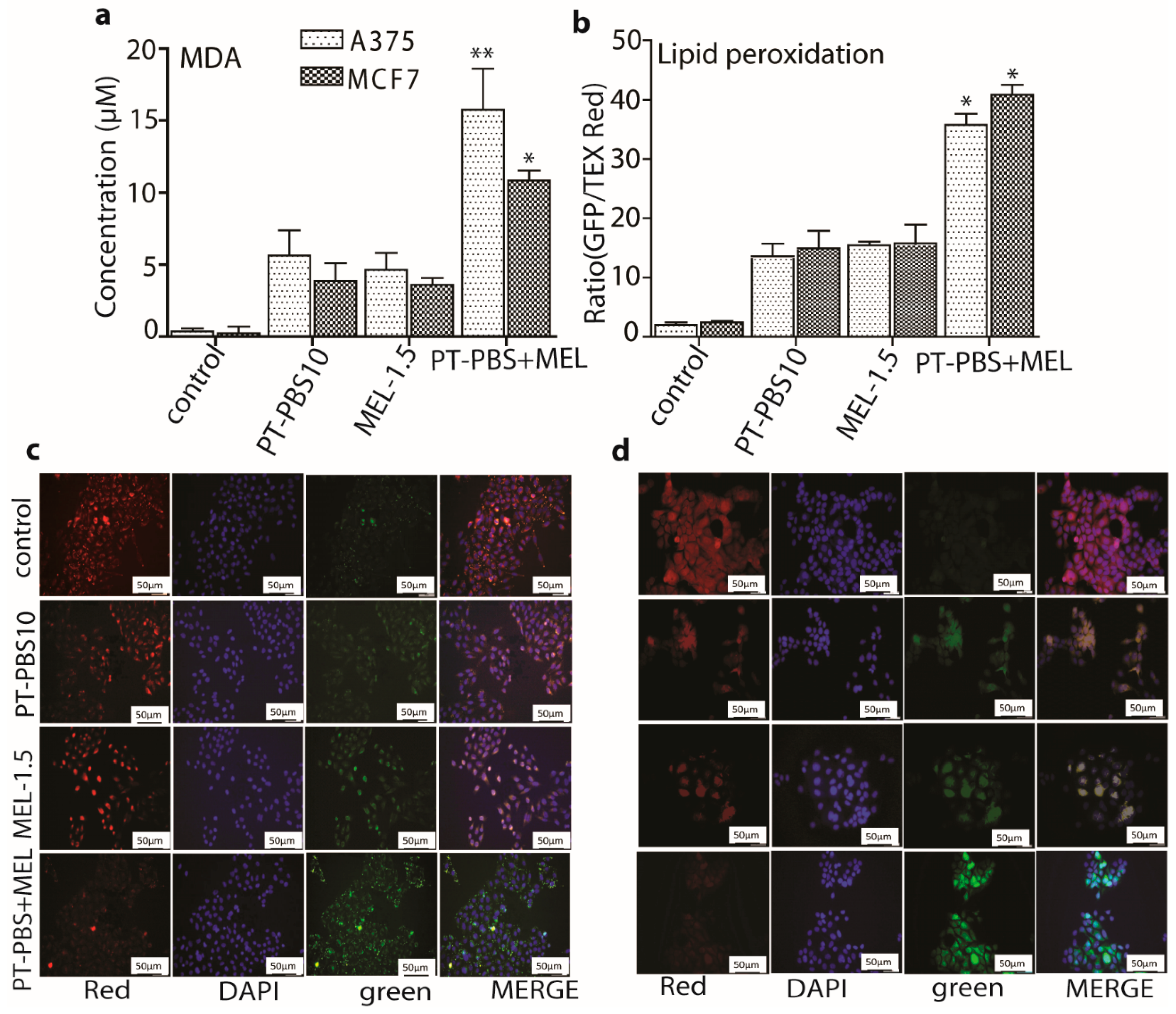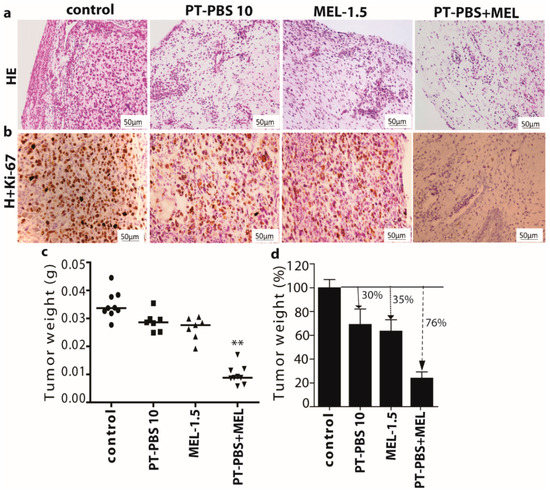 Figure 7.
The combined treatment reduced the tumour size and expression of the proliferative marker Ki-67 in melanoma cancer tumours in ovo. (
a
) Representative images of HE and (
b
) Ki-67 staining of tumours exposed to PT-PBS 10, MEL-1.5 or combined treatment. Scale bars represent 50 µm. (
c
) Weight reduction upon treatments in tumours in ovo. Each dot represents one tumour. (
d
) Quantification of tumour weight in percentage (treated/control * 100%) after treatment (PT-PBS 10, MEL-1.5 or combined treatment). Vertical arrows indicate reduction in tumour weight. All values are expressed as ± SD; ** =
p
≤ 0.01.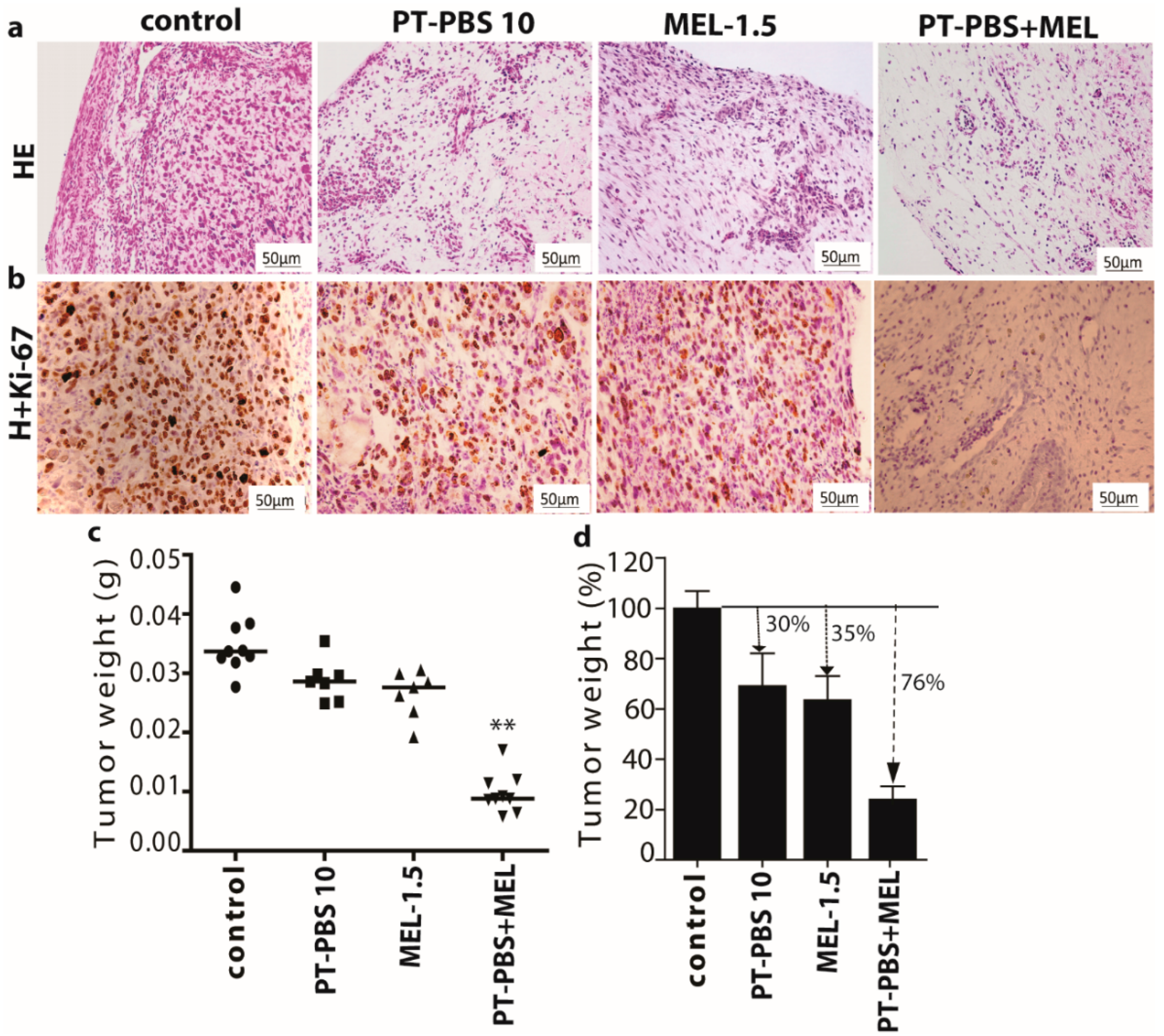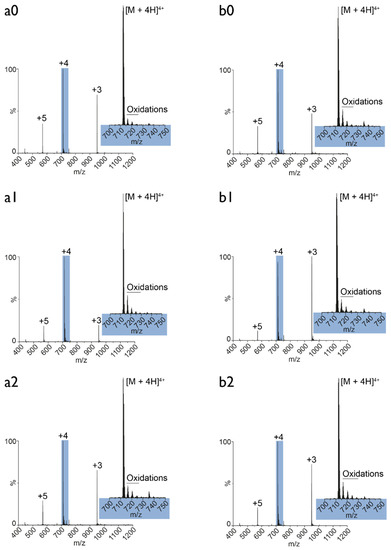 Figure 8.
Native mass spectrometry (MS) of MEL. The figure shows an overview of native MS spectra of MEL solubilized either in (
a
) untreated or (
b
) plasma-treated PBS buffer after different time points of incubation (0: 1 min; 1: 60 min; 2: 120 min). The inset in each spectrum displays the
m
/
z
region from 700 to 750 (zoom-in of the [M + 4H]
4+
species). The satellite peaks highlighted in the insets correspond to oxidations of MEL.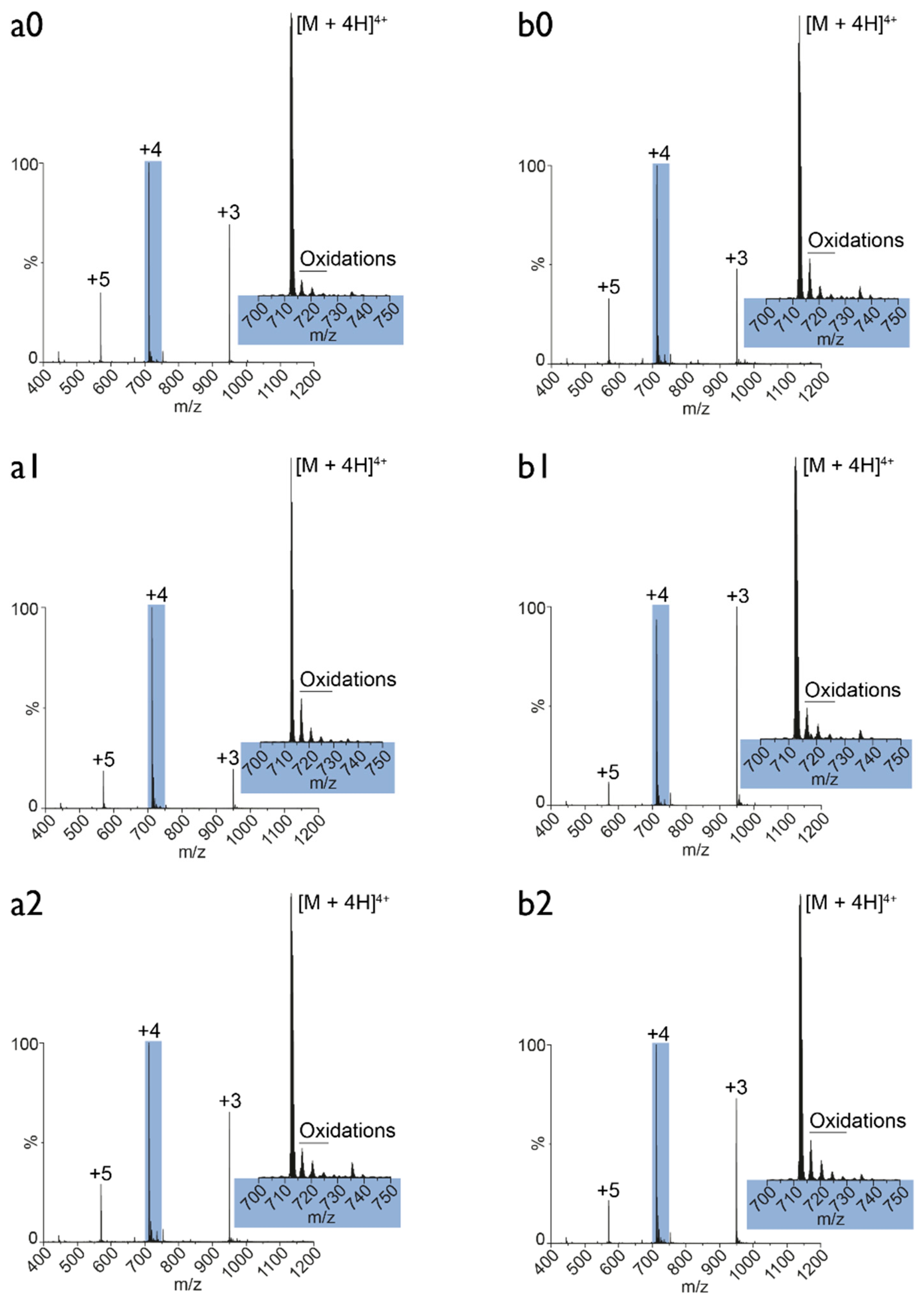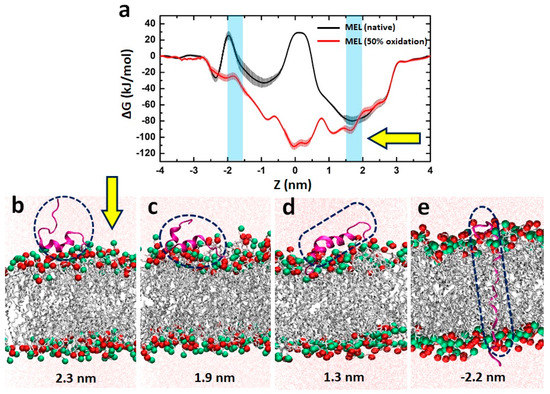 Figure 9. (a) Free energy profiles for translocation of MEL across the native and 50% oxidized PLB. (b–e) MEL at different positions of the native PLB. P and N atoms in the PLB are shown in red and green, respectively. MEL (shown within dashed circles/ovals) and the lipid tails are presented in magenta and grey, respectively. The light blue colour in (a) represents the upper (right) and lower (left) head groups of the PLB. The yellow arrows in (a,b) indicate the direction of MEL translocation. At the bottom of (b–e), the respective positions of the N-terminal of MEL are indicated, referring to the x-axis of (a).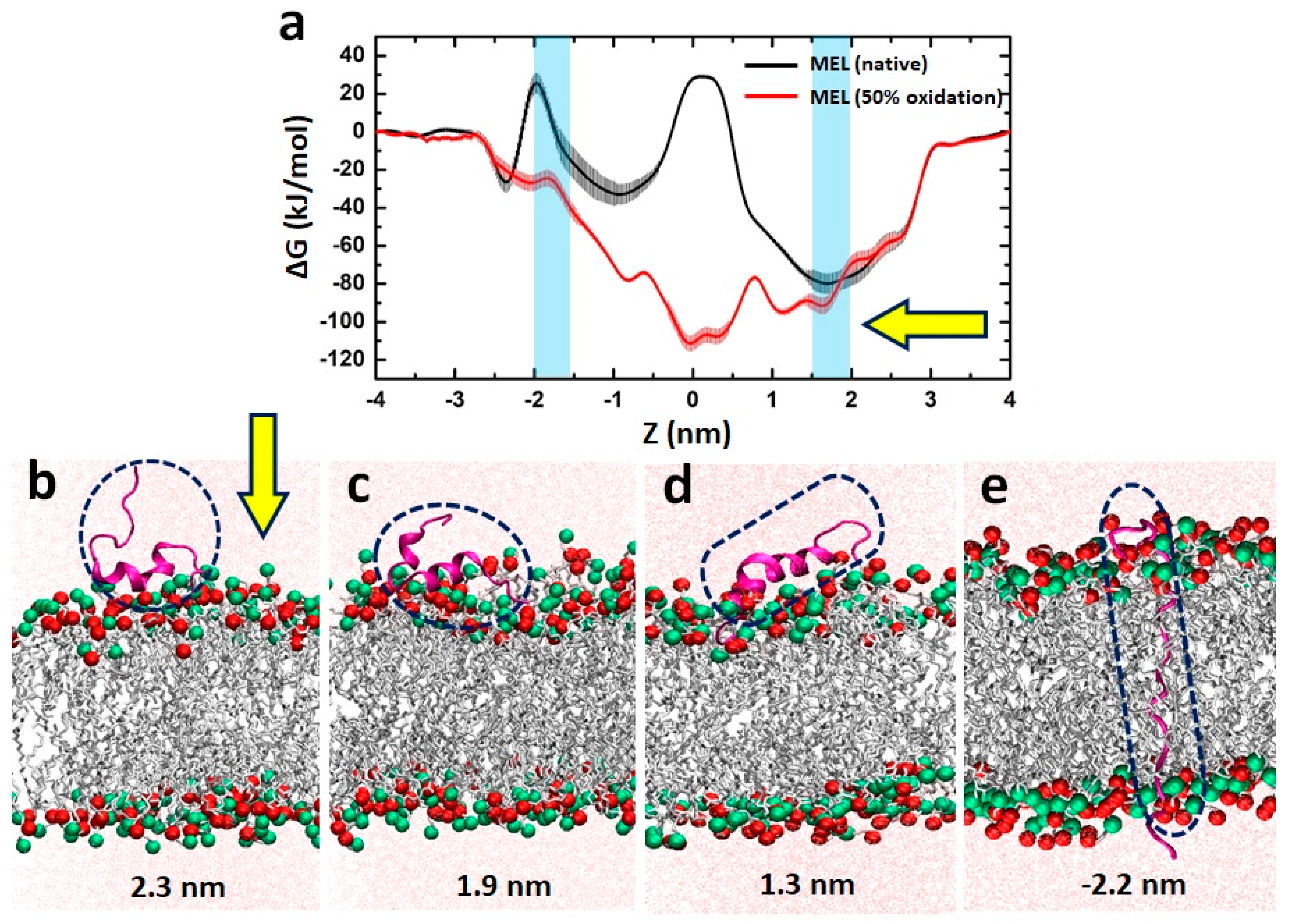 © 2019 by the authors. Licensee MDPI, Basel, Switzerland. This article is an open access article distributed under the terms and conditions of the Creative Commons Attribution (CC BY) license (http://creativecommons.org/licenses/by/4.0/).